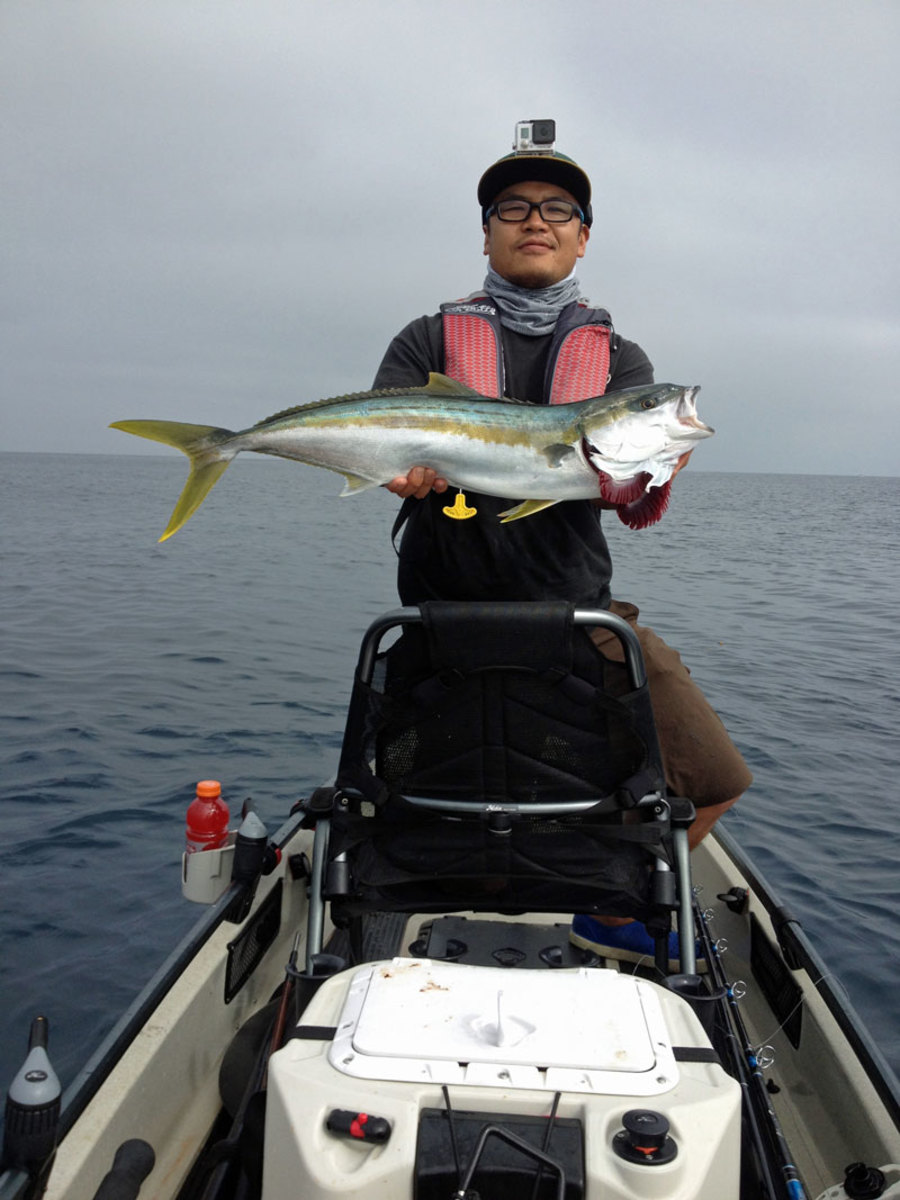 Words and photos by Kevin Nakada
Kevin Nakada runs the Sea Samurai kayak fishing guide service out of La Jolla, a business he launched years before he signed on with Hobie to manage their fishing pro staff and help with marketing and product development. He recently test fished the just announced Hobie Mirage Pro Angler 17T with a guide client. He shared an exclusive report on this intriguing and full-featured fishing platform, one that is inspiring intense interest from fans and detractors alike. – Ed.
Yeah it's big. What's wrong with being big? There was a moment of hesitation when I saw the first Pro Angler 17T come out of the factory line fully rigged. The hesitation lasted one millisecond before I was dreaming about hooking big, pissed off yellowtail from arguably one of the most innovative kayak designs in years. Love at first sight? NO DOUBT! In the words of California anglers, "Rad."
When I saw this boat the first thing that came to mind was guiding platform. Foreseeing the ability to watch your customer's technique, find fish together, put on bait quicker and angle the kayak to increase landing ratio, ultimately led me to believe in this "boat." Put yourself in a guide's shoes. Imagine how cool it would be to watch the rod tip frantically shake from a nervous bait then suddenly watch all hell break loose as the rod bends, teeth grit, and drags scream ZZZZZZZZZZ!!!!!
RELATED: Seeing Double, Hobie Introduces the Mirage Pro Angler 17T Tandem
So I had to test this bad boy out, and test it under the ideal conditions: brand new client and fish on the chew. After a brief email conversation the plans were finalized and Jon was booked on the very first guided kayak trip aboard the Pro Angler 17T. Not nearly excited enough, we met on the beach for what felt like the normal weekend trip. The usual breakdown on the technique was given and mental preparation began to sink in for what could be Jon's first Southern California yellowtail. Then reality struck… surf launch…
"Oh boy! Nearly forgot about that," I nervously joked. While I did witness Hobie Cat Fishing Product Manager, Morgan Promnitz, launch the Pro Angler 17T through the surf the day before without any problems I had no idea what to expect. But it was unexpected to pedal the kayak through the surf without worry. Of course timing the swell always plays a big part, but it handles great and I primarily attribute that to its speed and stability. Almost like launching a skiff through the surf.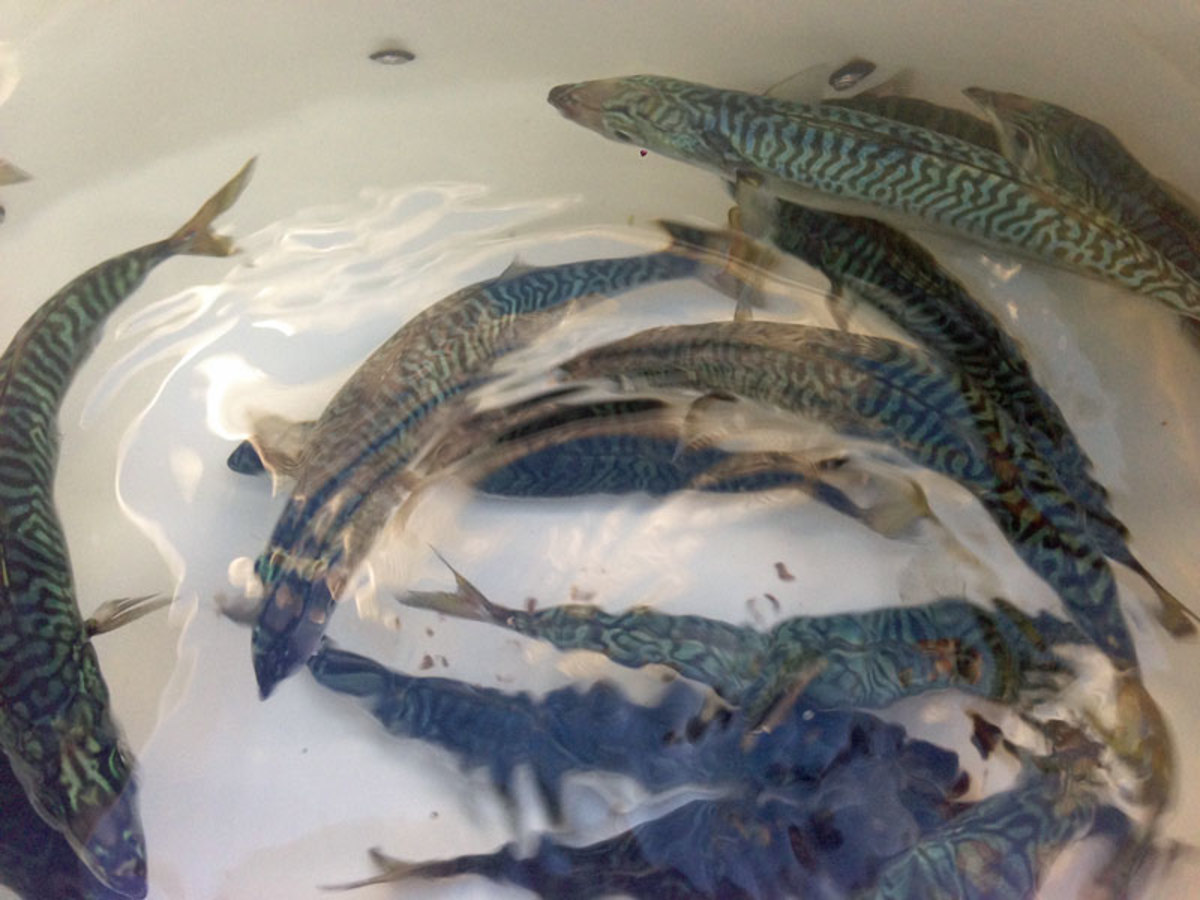 We got down to business and I made really healthy slimed up greenbacks for the day. A steady two at a time went directly into the Livewell XL and they were liking the new expansion. Hot and ready to go the first mac was pinned on the j-hook and off we go. Just like the visions running through my head, I was watching Jon using the technique we talked about on the beach and on the first pass along the recently hot area, the rod tip shook violently followed by a freshly dumped spool and splintering rod spline. HOOK UP!!!
Quickly I spun the boat towards structure to redirect the fish away from it (yellowtail will run in the opposite direction pressure is coming from). A hard left turn put Jon in the perfect position to have the fish run away from the dreaded bull kelp. Keep in mind that I am maneuvering the kayak from the rear seat and Jon is fighting the fish in the front seat in the normal tandem arrangement, facing the same direction. This is ideal for the live bait technique used for yellowtail and the fist clenching fight soon following.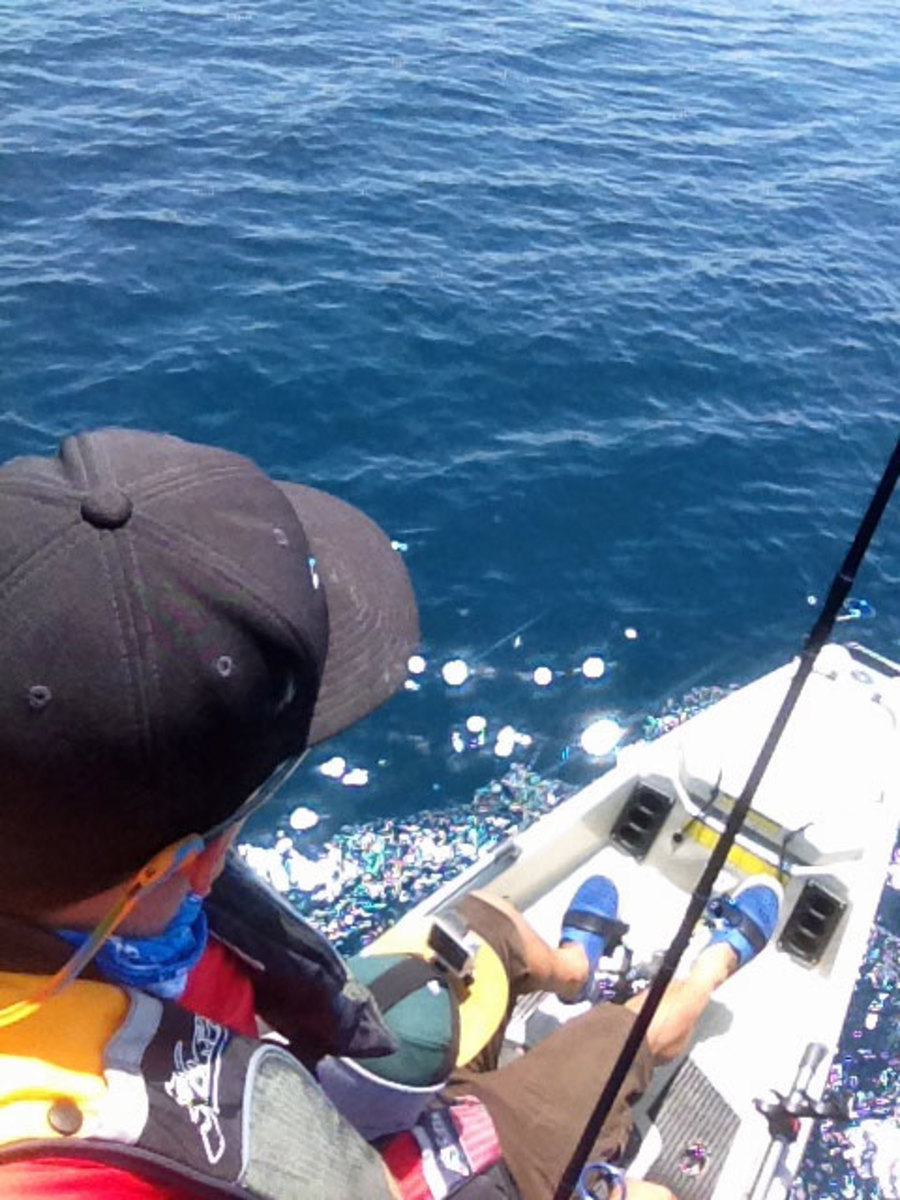 We were right on top of the fish, grinding California gold up slowly. The fish came to color laid out and ready to come aboard the mother ship. A quick gaff shot to the lower cheek meant Jon could relax with La Jolla's true treasure. All anglers feel that certain moment of posterity as they reflect on one of the true joys in life. No matter how hardcore you are the sense of honor and majesty keeps us coming back for more.
We continued on a little longer with many nervous baits without firm hookups. Our time was up and we decided to work our way in… slowly (mostly because I wanted to stay out on the water). I tested one last trick before heading in. Risking falling overboard I stood on top of the Livewell XL to find amplified sight fishing range. Not a recommended standing platform, but sight fishing has just been taken to the next level. I could see many guides using raised platforms to pole from and put clients right in front of unwary flats species. Justin Carter, eat your heart out.
If you ever imagined two Pro Angler kayaks merged together you wouldn't end up with the Pro Angler 17T. It's truly more unique than a tandem Pro Angler. Sure it's big. I think we all are shocked about just how big. From a boating perspective how big is it really? A johnboat that is the same length would weigh 150 percent more. So aside from its size and moving forward, only the angler will know what makes this boat truly unique.
PS. We did not flip in the surf coming in. The boat was very comfortable landing amongst swell and crowded waters. Timing the swell played a big part.
The article was originally published on Kayak Fish
For access to exclusive gear videos, celebrity interviews, and more, subscribe on YouTube!