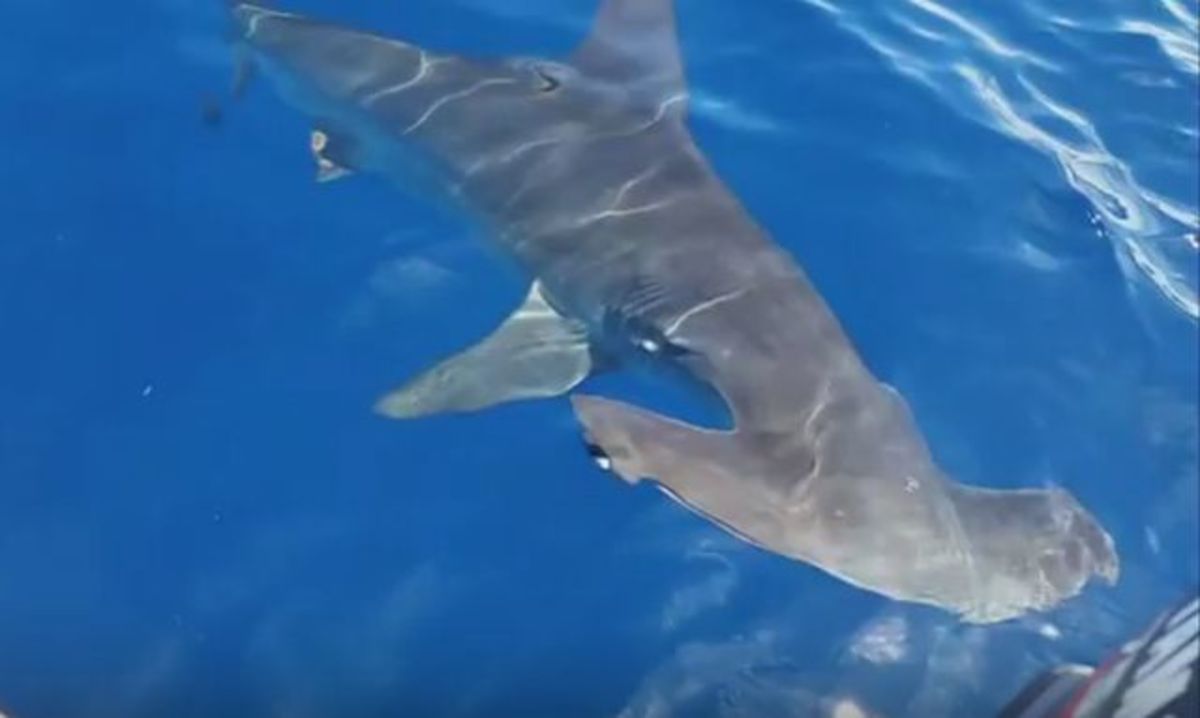 A 58-year-old man is recovering at at San Diego hospital after being bitten on the right hand by a hammerhead shark at the Cortes Bank, 100 miles off the coast.
The incident occurred Monday night as divers were exploring the offshore seamount. A U.S. Coast Guard helicopter picked up the victim and delivered him in stable condition to UCSD Medical Center.
The Coast Guard released footage of its rescue on Thursday.
<script height="340px" width="620px" src="http://player.ooyala.com/iframe.js#pbid=7f13b2020e924f7bb1bc00c770ee5d24&ec=hva2YwdzpPbJbzgOD1YuwVv9MLYLJ1be"></script>
According to Fox 5, the man's hand was bitten off in a rare attack by a shark species that's not considered particularly dangerous to humans.
NBC 7 reports that this is the first time a hammerhead shark has been implicated in an attack on a human off Southern California.
The man was reportedly diving aboard the Ventura-based vessel, Peace. Calls placed to the dive company's office on Friday were not returned, and the circumstances surrounding the incident are unclear.
Hammerhead sharks are rarely encountered off Southern California, but unusually warm water has lured hammerheads and other tropical and semi-tropical species of fish and mammals into the region.
<iframe width="620″ height="340″ src="https://www.youtube.com/embed/VwYkAJfUIGY" frameborder="0″ allowfullscreen></iframe>
There have been several hammerhead sightings during the past few weeks, mostly off San Diego and Orange County.
A 6-foot hammerhead shark was caught from the Santa Monica Pier in Los Angeles County earlier this month, and last week off north San Diego County a fisherman videotaped a 7-foot hammerhead circling his boat as an angler was fighting a tuna.
Capt. Ryan Gillette watched as the shark bit his motor, and then thrashed with its tail, splashing the captain. (Video posted above.)
Water temperatures are as high as 75 degrees in some offshore areas.
There's a strengthening El Niño in the equatorial Pacific, and it could become the most powerful warm-water event on record.
But the current warm temperatures, which are 2-5 degrees above normal, are most likely the lingering effects of another phenomenon described by scientists as the "warm blob."
The blob was first detected last spring and summer as a vast swath of warm surface water that developed because of a prolonged absence of prevailing westerly winds off Baja California and Southern California.
Those winds typically cause upwelling of cooler water, which keeps surface temperatures down. The blob eventually spanned most of the West Coast.
Hammerhead shark sightings were high last summer, too, but there were no reported incidents involving attacks on swimmers.
More from GrindTV
Great white attacks leave Gold Coast surfers calling for shark cull
8 reasons why Teahupoo is the most dangerous wave in the world
For access to exclusive gear videos, celebrity interviews, and more, subscribe on YouTube!