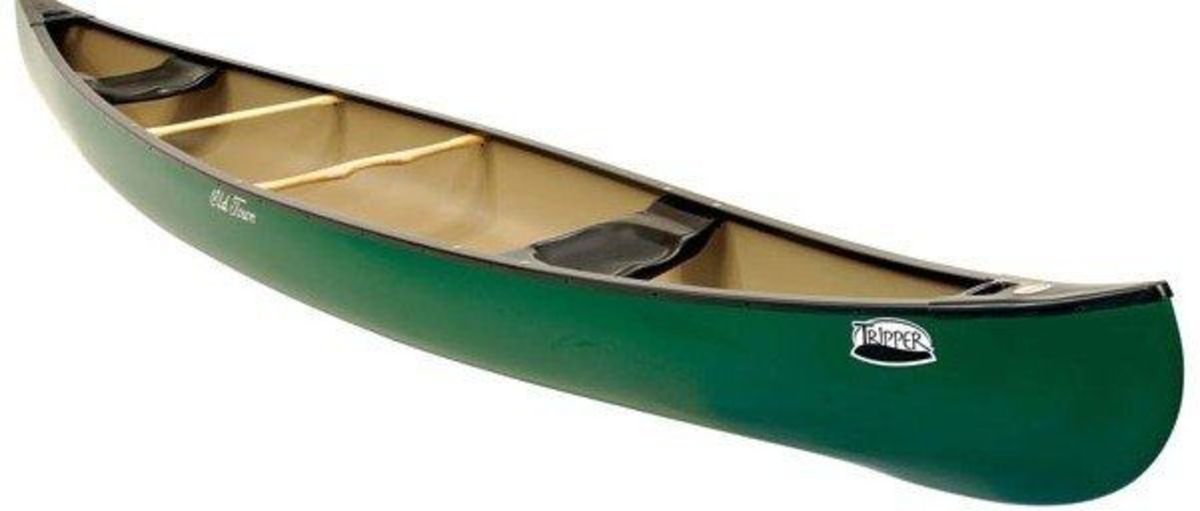 The End of the Royalex Canoe
By Eugene Buchanan
In early August, PolyOne in Avon Lake, Ohio announced that it is closing its plants and ceasing production of Royalex, one of the most revolutionary materials to come to the canoeing world since birch bark. The closings should be completed by the end of 2014 and are expected to save the company $25 million annually. It could also mean the end of the Royalex canoe.
But they won't save canoeists from making it easier to paddle one of the best materials ever to come along for paddling, especially in the impact arena of whitewater.
"Royalex was soft, quiet and slippery on rocks, and not too heavy if you kept the gunnels light," says three-time national C-1 champion Kent Ford. "It replaced aluminum back in the early '70s, which was noisy, heavy and hot."
Manufacturers, as well as paddlers, were quick to note its benefits, especially for whitewater. "Its advantages for whitewater were obvious," says Dagger Canoe Co. founder Joe Pulliam. "Royalex dented and even if folded, could be brought back to shape. And it didn't hang up on rocks like aluminum, which dented, creased easily and stayed that way. Pretty much every serious whitewater canoeist abandoned any other material quickly—unlike kayakers, many of whom stayed with composite boats for a long time."
The first Royalex canoe was reportedly built by Maine's Thompson Boat Company in 1964. Old Town Canoe later popularized it in its 16-foot Chipewyan in 1972, with Mad River Canoe following on its heels with the Explorer.
"Then more and more companies started making general purpose designs out of Royalex," says Pulliam, adding that Dagger's first Royalex canoe, the Caper, came out in 1988. "It made for a less pricey and more durable boat than a composite canoe, and way lighter than the cheaper polyethylene canoes. We started in whitewater, but within three years, our general purpose Royalex canoes, particularly our popular Reflection series, were outselling our whitewater models. At our peak, Dagger made about 3,500 Royalex canoes a year."
Another company likely to be affected by Royalex ceasing production is Wenonah Canoe, which currently offers 19 models in Royalex construction. "The sunset of Royalex certainly impacts the global canoe market," says Wenonah Vice President Bill Kueper. But he adds that nearly all of its Royalex models are manufactured in composite as well. "Wenonah is well diversified with three brands and several manufacturing technologies, each affording unique value propositions in performance and price. As a material for canoe construction, Royalex offers a robust and durable hull at a modest price point; albeit with weights considerably higher than composites."
If no other companies pick up the rights to manufacture Royalex from PolyOne, which bought out Spartech in 2012, the jury's out as far as current alternatives, save for heavier polyethylene. While plenty of materials are available for flatwater canoes, the material market shrinks when it comes to whitewater.
"I'm betting we will find a better material," says Ford. "In the late '90s companies were showing off a tough-molded material for kayaks, challenging people to hit it with a sledge hammer. But I think problems with aesthetics and seaming the two kayak halves kept that material from production. But canoes don't have that seam problem, and perhaps someone can figure out the process."
Kueper, for one, agrees and feels there shouldn't be too many ripples. "We've always looked for materials and technologies capable of manufacturing watercraft that meet or exceed global market needs," he says. "The loss of Royalex as a manufacturing material, while significant, is only one material in our repertoire. We're now even more encouraged to identify and develop alternative materials and technologies capable of addressing the market soon to be vacated by Royalex."
Pulliam has no magic answers, but also feels something will surface, just like a Royalex canoe hull coming through a hydraulic "The canoe market is struggling, and the death of Royalex will be a significant blow to many brands," he says. "More rec/touring boats will be composites. Solo whitewater boats, from Esquif and others, are increasingly being made from polyethylene, but this material lacks structural integrity for larger models. Will whitewater canoeing sadly die away? History would say no, that some new material will be found that lends itself well to making canoes, particularly ones for whitewater. Perhaps long-fiber thermoplastics, like Twin-Tex, will work, though attempts at canoes made of these materials haven't proven commercially viable yet. Perhaps necessity will lead to something better that's stronger, lighter and less expensive. Let's hope so."
Sidebar: Royalex Canoe Background
Consisting of a single inner layer of heat- expandable acrylonitrile butadiene styrene (ABS) foam, a mid-layer of ABS plastic and an exterior layer of sun-resistant vinyl, Royalex—a vulcanized plastic designed to be heat-molded into impact-resistant shapes—was first invented by the Uniroyal Tire Company in the mid-20th century (hence the "royal" name).
Plastics company Spartech acquired it from Uniroyal in 2000, and PolyOne acquired it from Spartech in 2012. Today, canoe manufacturers build boats out of it by heating sheets of the material and then vacuum-forming it over a mold.
The article was originally published on Canoe & Kayak
For access to exclusive gear videos, celebrity interviews, and more, subscribe on YouTube!