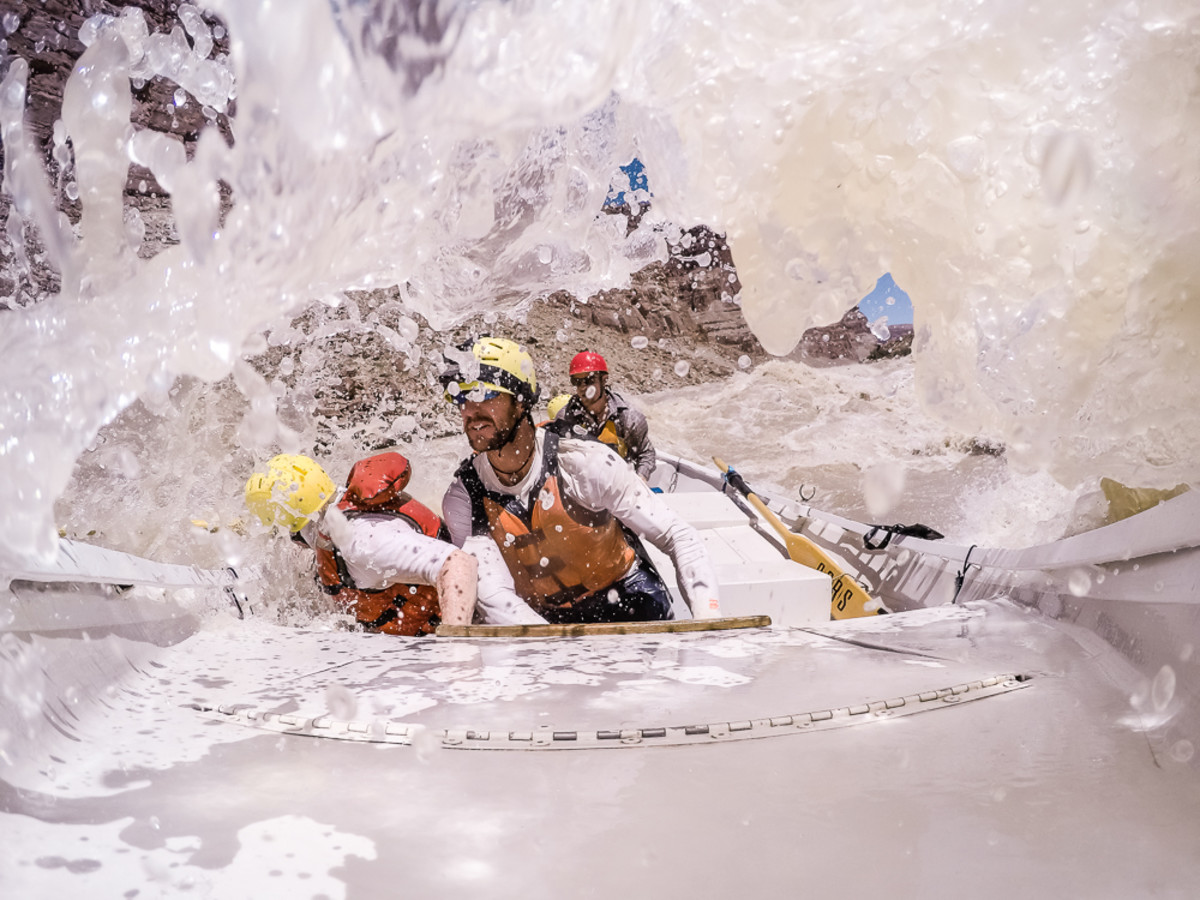 At the state park in Green River, Utah, two friends and I unloaded equipment with excitement and trepidation. We exchanged greetings with a group of rafters and kayakers preparing to launch their four-day flotilla through Labyrinth Canyon to Mineral Bottom.
"How far are you going?" asked a friendly woman, looking up from sorting straps.
"All the way to the lake." I answered, meaning Powell. Then added with a sheepish grin: "We hope."
"You're going through Cataract?" said her husband, pausing the rig-job on his 18' raft. "In those boats?"
I glanced at my 14-foot raft and the two kayaks we were readying for an eight-day 165-mile trip down to the Dirty Devil. It was late-May 2017, and the first 120 miles would be flowing but flat river, mostly through Canyonlands National Park. The last 30 miles would be up-wind lake. And the 15 miles in between would include some of the lower-48's beefiest rapids in Cataract Canyon, which was currently running 32,000 cfs—and rising from snowmelt.
My throat felt dry, so I conserved energy by nodding.
"You're gonna be fine," said the woman, who offered a double high-five. Then she realized something else might help. "Just put a lot of weight in your bow."
I gestured at the half-dozen water containers I'd use as ballast. "I don't even drink the stuff," I said.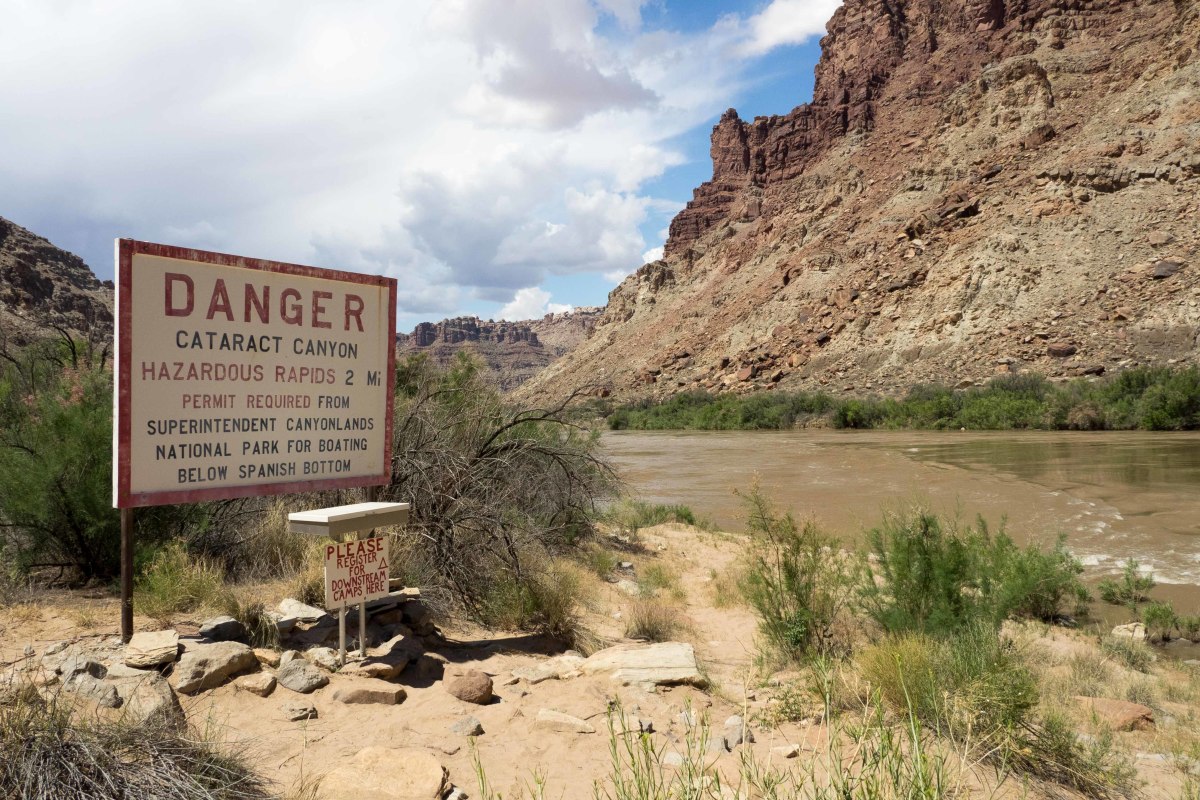 While the flotilla pushed off, Mick and I drove our shuttle down through sandstone layers toward takeout. On the return, we chatted about plans for six days hence, if things went wrong in Cataract.
"I think I'll be fine," said Mick. "But I have no idea how you're not going to flip that raft."
A retired Ozarks dentist, here was Mick's ex-Army bluntness. Like we were about to rush a battlefield—when he suddenly stopped, slapped my shoulder, and said he doubted I'd make it back alive.
"Gee, thanks," I joked. "Could we just argue about politics, instead?"
For five days we floated through the sinuous curves and dramatic landscapes of Canyonlands. We hiked side canyons to rock formations, ruins, and pictographs. And we encountered occasional boating groups, each offering heartfelt words of incredulity.
"Wait! Did you say Cataract?" blurted a harried dad on a family trip, eyeing us like he might swap allegiances and come aboard.
"You're going in at highwater?" said a double-taking woman on a hike to a stone ruin.
"Exsqueeze me? A baking powder?" deadpanned a Gen-X paddler in a ducky, as I rowed past.
Camped on a high sandbar near Upheaval Dome, even the deafening frogs seemed to have an opinion. "Really? Really? Really?" they croaked all night.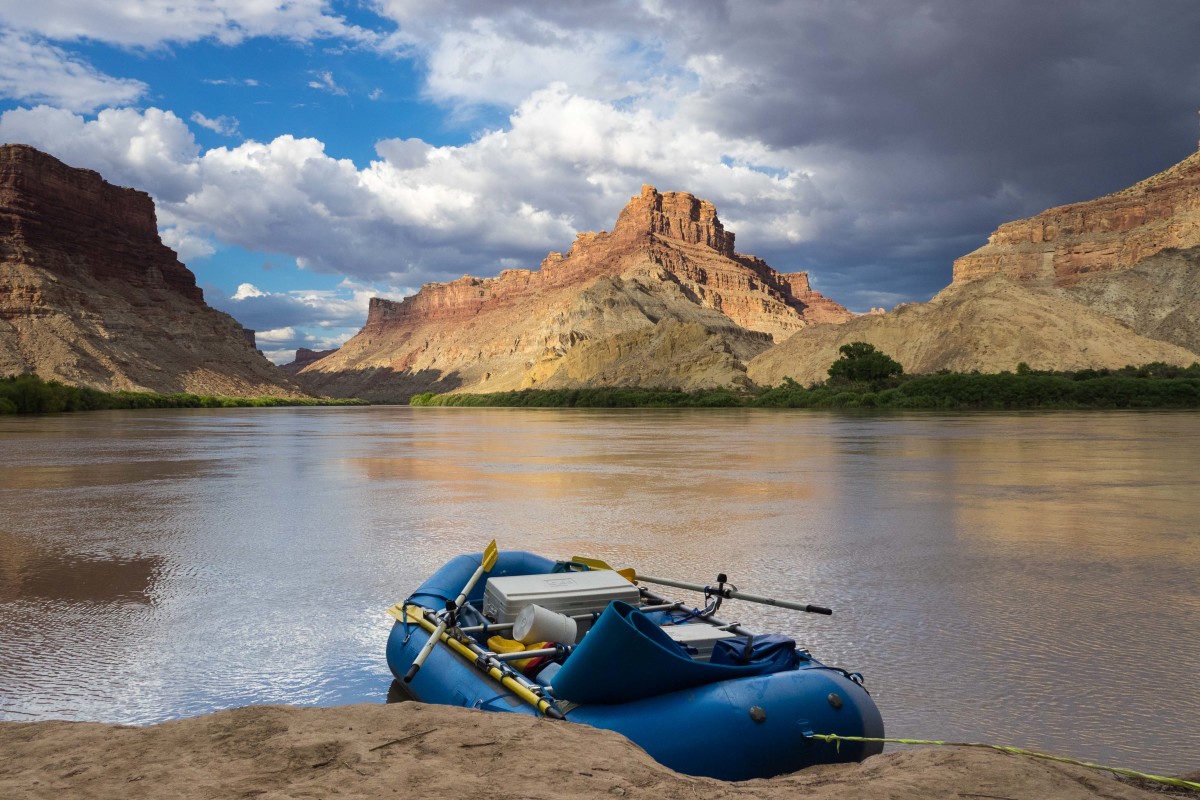 One afternoon we passed a trio of older fellas, sit-down drunk on shore, whose purpose in river life seemed to be arriving early to camp for a half-day cocktail hour.
"Watch out for Big Drop!" one yelled from his camp chair. The others guffawed.
"There's three Big Drops!" Kat yelled back.
This was a fact. Another fact was that none of our trio had ever boated Cataract—at any level. As part of my project on exploring the John Wesley Powell route, this trip was yet another "fresh eyes" descent. A self-guided, self-supported, personal first descent for all involved. Having no familiar veteran telling us when to scout, what to hike, or where to camp offered a real exploratory feel. We had to figure it out ourselves—which also amped the jitters for a new run at high water. But lately I've embraced a philosophy of stepping out my paddling for new experiences. Here was an excellent opportunity.
My raft carried enough food and drinking water for up to 3 weeks. If we didn't like the level, we could wait around until flows dropped. At least, that was the plan the previous year when we scheduled the trip. Then the biggest snowpack in recent memory dropped on the headwaters. Concerned, I'd called the river ranger so he could talk us out of going. After sharing our highwater credentials, he joked he'd like to come along. If worse came to worse, he said, we could line the big drops. So, I'd packed 20 feet of static line, too.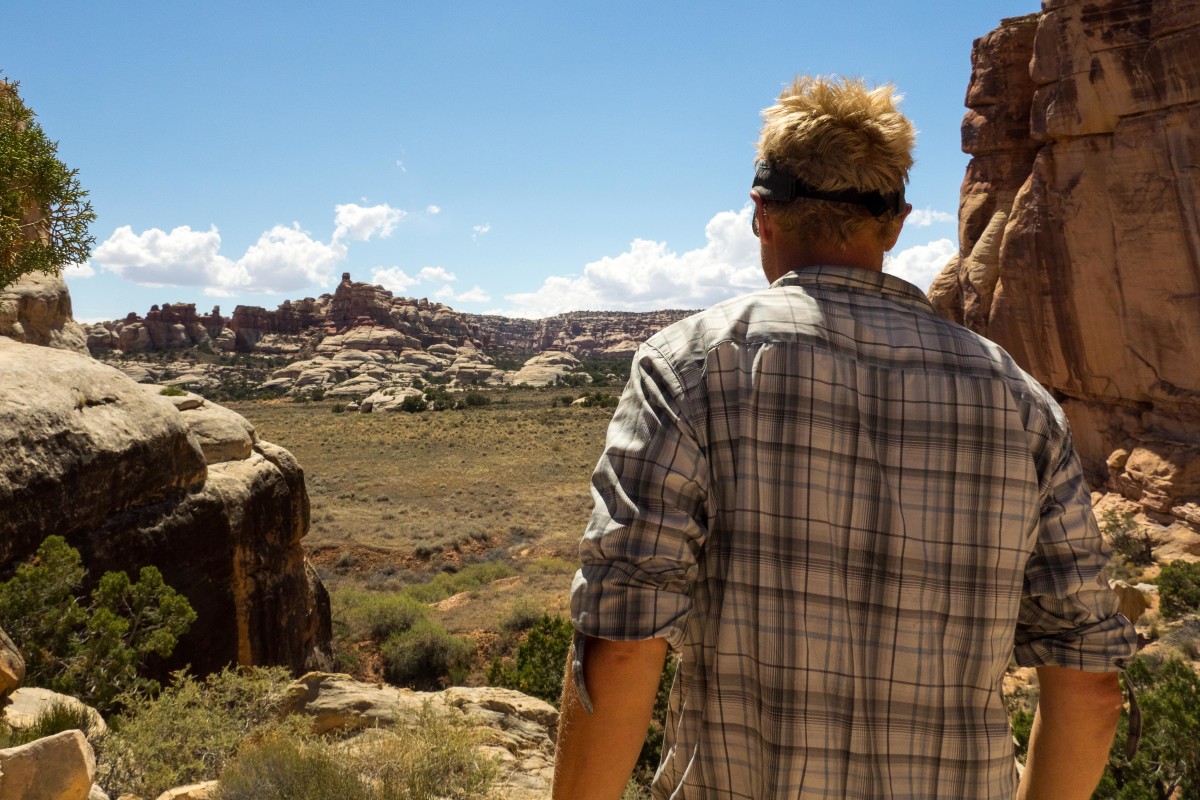 We averaged 25-mile days as we pushed toward the confluence of the Green and Colorado Rivers. On day 6, we passed the infamous danger sign and set camp at lower Spanish Bottom. From across the river, a camped commercial trip motored over for the steep hike to the Doll's House.
After introductions, one of the guides gave us a casual once-over. "When does your support boat arrive?"
I glanced at my raft. "I thought I was the support boat."
"You don't have a motor rig coming?" said the other guide. Everyone tuned into the conversation. Explaining the fresh eyes concept, I noticed some widening eyes—seemingly morbid curiosity toward people who might soon become statistics.
The guides, from Sherri Griffith Expeditions, generously answered our questions about levels, lines, and landmarks—before leading their group uphill. We met again on the ascent to the Dollhouse, a collection of sandstone spires. Then hiked together to the granaries, sharing stories of our trip down the Green and theirs down the Colorado. Returning to the beach, the guides pulled me aside.
"We'll keep an eye out for you tomorrow," said one. "If you have problems, we'll send the J-rig over."
The next morning, my eyes snapped open at 4 am. In the darkness, I considered deflating the raft so I wouldn't have to row the thing. The guides had explained the flow crested several days before near 40,000 before leveling off at a more reasonable 35,000. All I could think about was never having rowed or kayaked anything over 20,000.
While rolling my tent, I spotted something between my legs and jumped back. A baby rattlesnake coiled on the footprint. Great omen.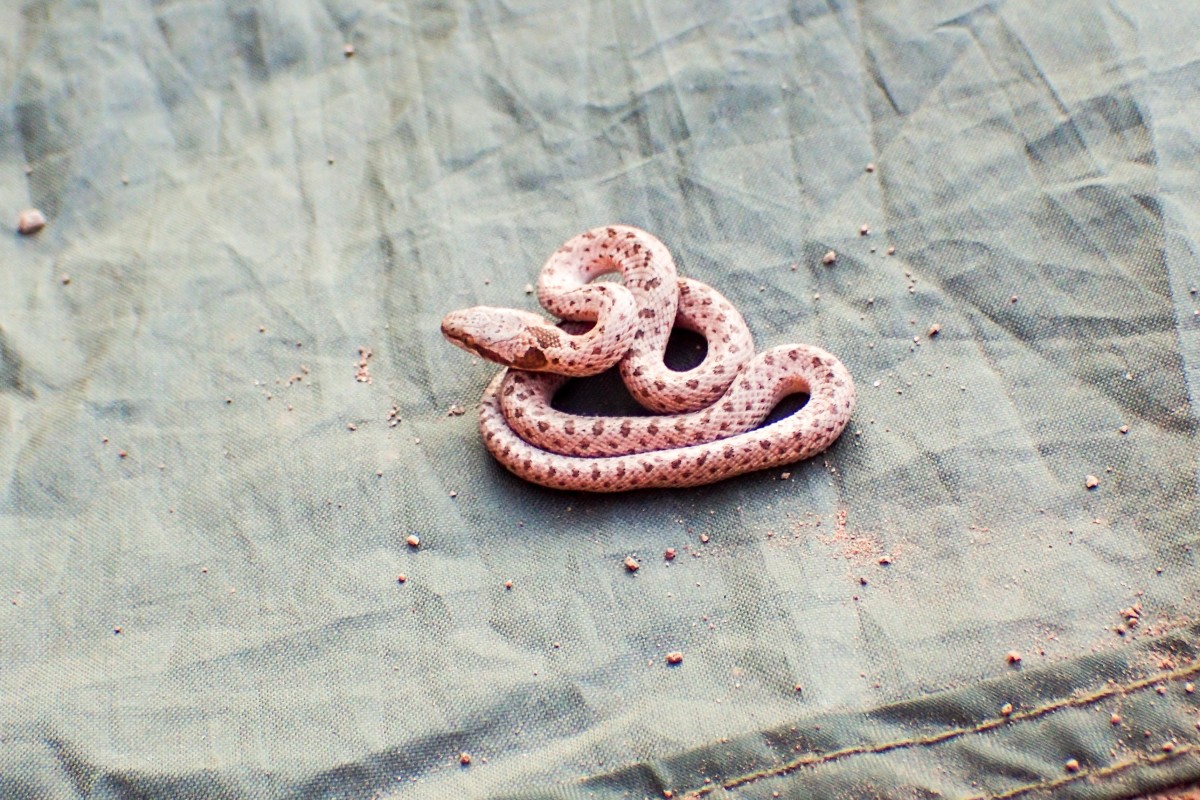 At breakfast, Mick said both Kat and I hadn't slept well due to nervousness. Shouldn't let it control us, he declared. Didn't happen to him because he knew the cure—apparently constantly talking. And whiskey before bed. For five days, Mick had regularly shared his concerns about me flipping and us not being able to right the raft. Of course, he was right on both accounts, but the constant reminders felt pretty aggravating at the moment. Firing back, I asked how Mick had slept. Not well, he admitted. Seeing the commercial 18-footer made him realize how much smaller fourteen was—only seven feet wide vs. nine. Not to mention a pair of 9-foot whitewater kayaks, I grumbled.
Soon we suited up and shoved off. Despite temps climbing toward the 80s, we'd previously decided to wear drysuits. Even with our new friends around, a highwater swim might last a mile or more. Approaching the Griffith camp, the guides waved us over and asked if we'd like to run with them for safety. High-minded ideals about fresh eyes descents, say what? I was like "Heck. Yeah."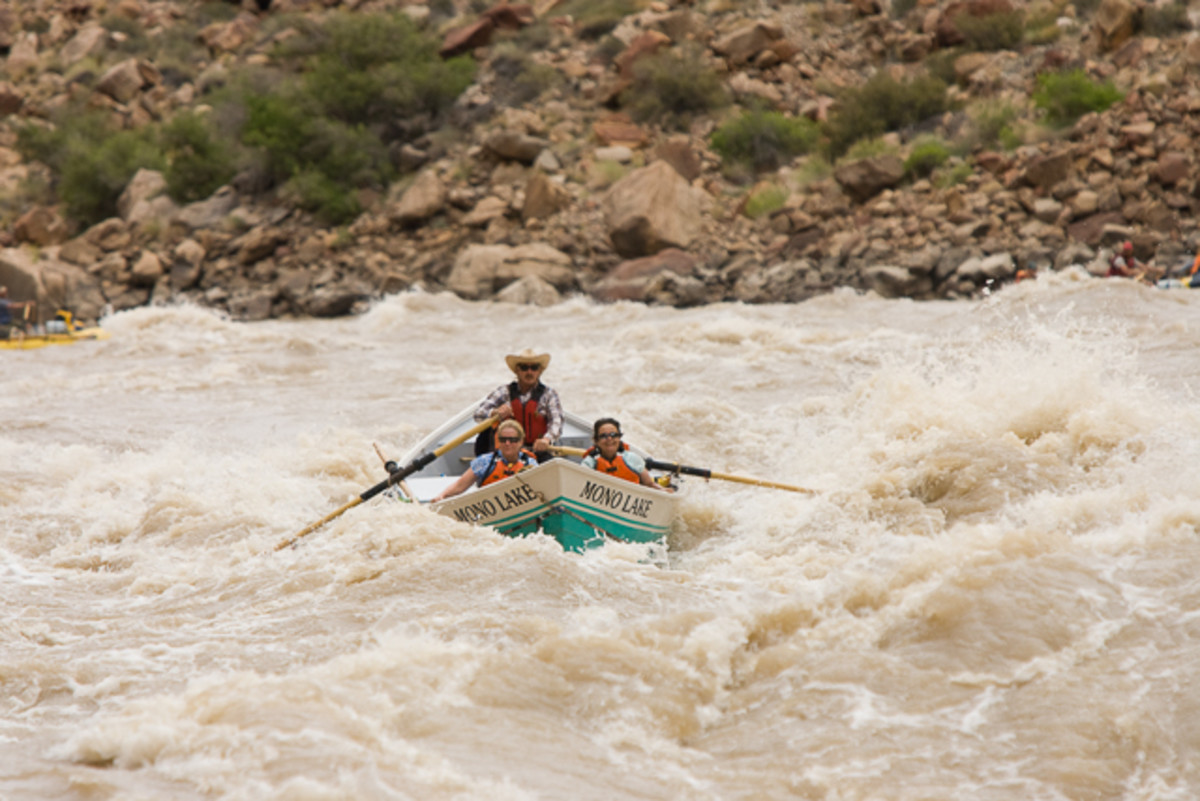 Two oar rigs with commercial guests ran first, followed by a training boat, my raft, and the two kayaks. Our trio drifted back to not overtake the heavy barges ahead. Meanwhile, the twin pontoon, double-prop J-rig motored ahead for safety. Brown-water waves formed as the current accelerated. Boats rose in slow motion, crested, and surged down the backside.
"How's it look?" Mick called in a lull between rapids.
I stared ahead at the next constriction rapid, which funneled current into a nearly endless line of steepening haystacks. Occasional collapses created massive recirculations, which bubbled and reformed into cresting waves. In spots, water plummeted over steep ledges into churning holes. Overall, the current wasn't moving that fast, but with more tumult and power than I'd ever seen at river-level.
"It looks big," I shouted as we entered the next rapid. "But manageable."
Instead of manageable, I should have said surreal. One moment my raft climbed a giant wave that had three smaller waves refracting along its crest. Next, I watched Kat get back-surfed by a rebounding lateral. Another moment, I shouted at the training boat that these were the biggest wave trains I'd ever seen. They gave me a look like just wait.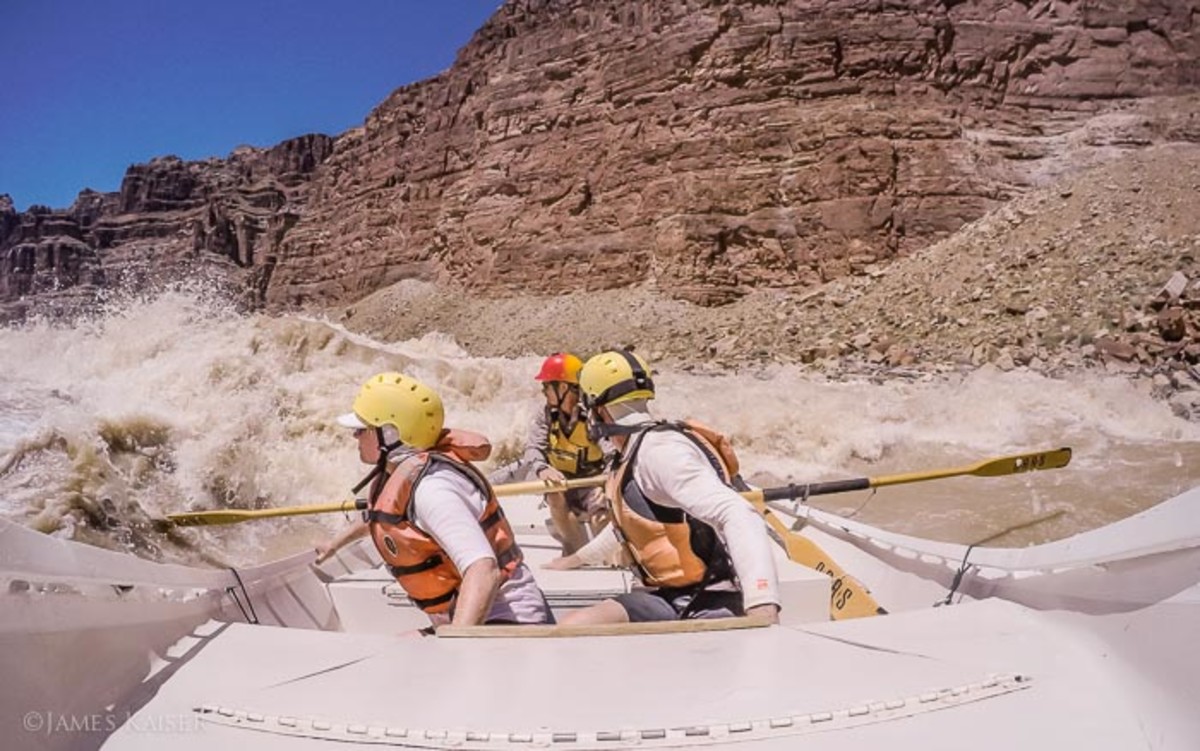 The scout for the Big Drops was on Poop Rock, a left-side bluff a quarter-mile from Satan's Gut. The rock is named for an extrusive coprolitic series in the Cataract lithological sequence—put another way, people have shit themselves here. Our vantage point gave a clear look at the features but little indication of scale. After the haystacks of Big Drop 1, our line through Big Drop 2 split the left-side ledge and the marker hole. This would take us below Little Niagara into the chaotic tail waves, through which the goal was to move right around Satan's Gut in Big Drop 3. A slight consolation: the Claw, a recirculating feature previously encountered center-left amid the tail waves was completely gone—the rock apparently dislodged during recent high flows. Gosh darn we missed it, I thought while debating the merits of puking now vs. waiting for a more dramatic moment later.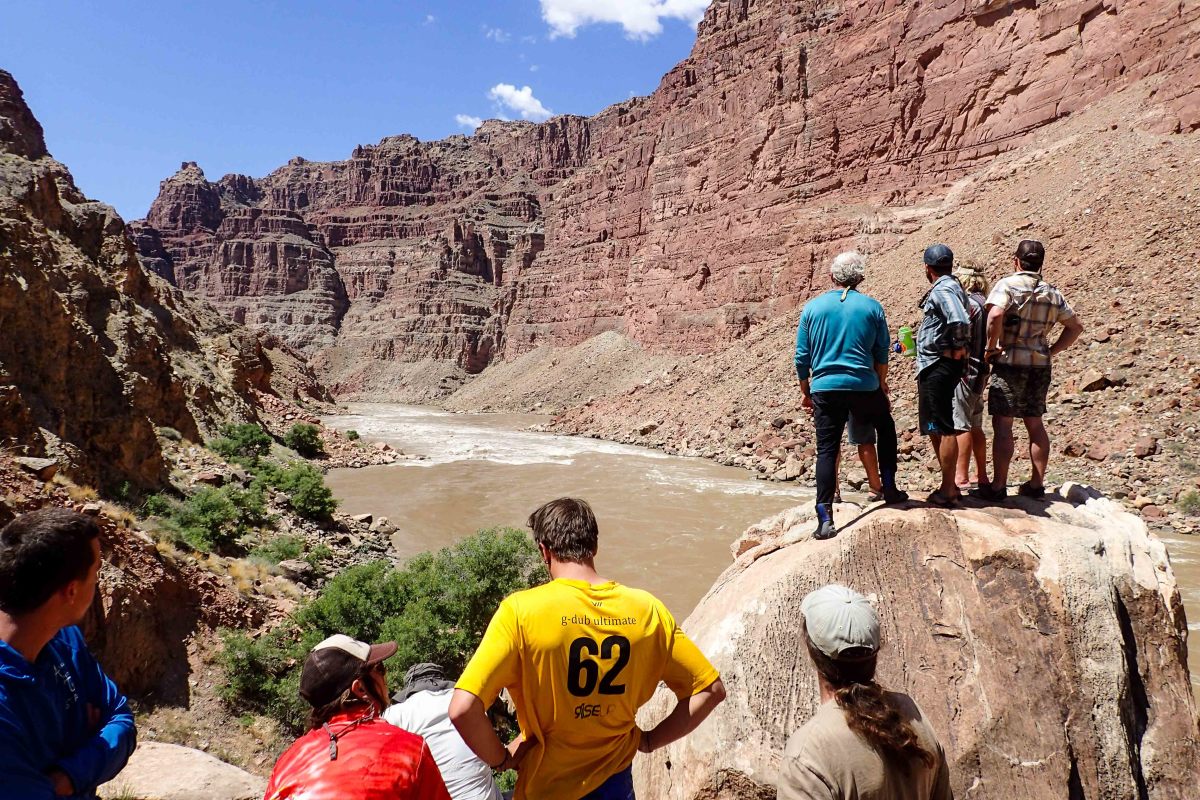 The next half hour was a series of snapshots. Navigating the straightforward Big 1. Pushing down a brown-liquid ramp into 2. Swiveling my bow left and right, as I rolled up waves crashing from all sides—like boxing with my oars. Watching a distant yellow raft stand nearly upright as it slammed against a wall of water. Trying to pull right through chaos, yet finding no break from relentlessly squaring waves that collapsed over the raft. Cresting a high point and realizing I was too left. Pushing hard through diminishing tail waves. Rising up the laterals ricocheting off Satan's Gut. Plunging my upstream oar deep and hurling my body at the high tube. Cantilevering over the crest and floating out from the rapid, arms burning as I gasped for air.
I glanced back to see Mick rolling upright, while the J-rig motored over hillocks into Purgatory Eddy. Two rafts were eddied and the other was floating downriver a hundred yards across the river. Where was Kat? My arms burned as I pulled for shore, finally eddying out a quarter mile downstream.
An endless ten minutes passed before the J-Rig motored around the corner, Kat and kayak aboard. The crew triumphantly whooped as we regrouped.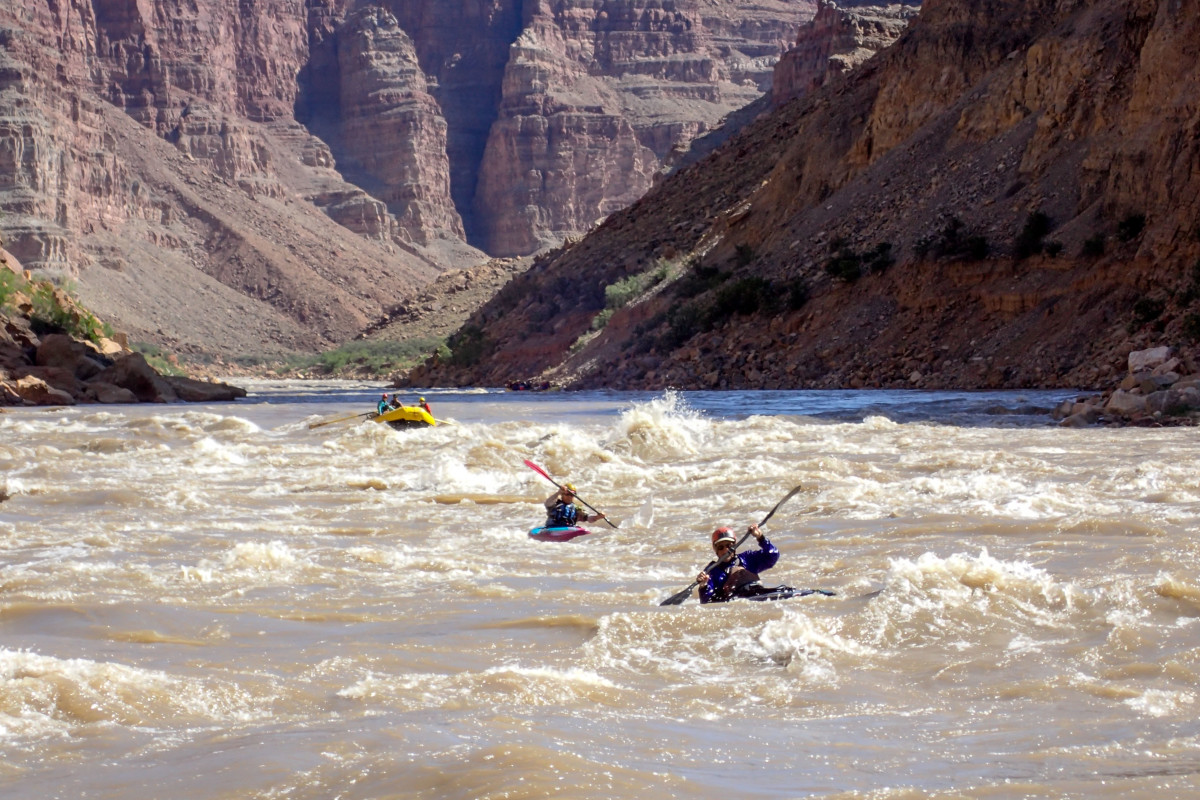 We floated in a swirling pool, everyone in a decompressed daze. Occasionally, folks chattered about the Big Drops, trying to piece together exactly what happened. But the details seemed muddled and the discussions disjointed. Eventually, we went into camp together for a great afternoon of lounging and swimming.
Later, at the fire ring, the Big Drops came up again, but facts seemed jumbled between accounts, like were discussing different rapids, or didn't have the vocabulary to fully share experiences.
That night, I lay awake in my tent gazing at stars. When I closed my eyes I saw a freight train of brown water churning past. Individual features, moves, and landmarks blended together like a collage. Like a dream one awakes from with only partial memories that soon fade to just a feeling.
Many months later, that same feeling lingers, with the eeriness of a chill on the back of the neck. The vagueness of a forgotten reminder. I know two things about our trip through Cataract. I feel haunted by the high water. And I want to go back.
Acknowledgements: A big thanks to the June 2017 crew at Sherri Griffith Expeditions for inviting us to team up during our two highwater days in CAT. Thank you to OARs for connecting me with three awesome adventure photographers: James Kaiser, Justin Bailie, and Whit Richardson whose great images appear in this article and my upcoming guidebook Paddling the John Wesley Powell Route: Exploring the Green and Colorado Rivers.
---
Read more by Mike Bezemek, who writes and photographs Regular Paddler, Remarkable Waters for C&K, a paddling series about "stepping down" the intensity and "stepping out" the experience. He is author of Paddling the Ozarks for Falcon Guides and Twit Lit Classics® for Skyhorse Publishing, a book series which reimagines classic works of adventure literature as Twitter feeds. Learn more at mikebezemek.com.
The article was originally published on Canoe & Kayak
For access to exclusive gear videos, celebrity interviews, and more, subscribe on YouTube!