This weekend, residents of Leilani Estates on Hawaii's Big Island evacuated their homes as the volcano Kilauea spewed molten lava, volcanic ash, and toxic gases into the streets. About 1,500 residents had been evacuated, according to The Associated Press. By Sunday night, 10 fissures had opened, and eruptions had destroyed 26 homes, according to a Hawaii Civil Defense Update.
An active volcano on Hawai'i (the Big Island's Hawai'ian name), Kilauea started erupting on May 3, sending lava seeping from fissures in Kilauea's East Rift Zone. (Nearby Mauna Lea, the largest active volcano on Earth, has not erupted, but the USGS has set an advisory.) The eruption was also heralded by a magnitude 6.9 earthquake, Hawaii's largest since 1975.
An erupting volcano like Kilauea is hellaciously dangerous. There's the risk of lava inundation, deadly gas, burning homes and vegetation, stray spatters of lava, and more earthquakes. Of course, that didn't stop intrepid photographers and scientists from getting close to the lava to capture awe-inspiring video of the eruptions.
Lava erupted as high as about 330 feet from some fissures, including this one in Kilauea's lower East Rift Zone. (Video by Bruce Houghton, U.S. Geological Survey and University of Hawaii, via the USGS's Volcano program on Facebook.)
Much of the fissure eruptions have emerged in the middle of the Leilani Estates neighborhood:
A relative filmed this at the end of his street near Leilani Estates on #Hawaii's Big Island. Eruptions coming up in cracks left from the earthquake with uncertainty of the lava's trajectory.

This was BEFORE the 6.9 struck. pic.twitter.com/gSfuuORIiB

— Jessica Christian (@jachristian) May 4, 2018
Speaking of adventurous living: Credit to CNN producer Jason Kravarik, who snuck close enough to film a fissure eruption:
Caught amazing video for @cnn of a lava eruption. This is one of six fissures in a small #Hawaii neighborhood, part of the #Kīlauea #Volcano eruption and ensuing earthquakes. pic.twitter.com/spSWpzHKtI

— Jason Kravarik (@jasonkCNN) May 5, 2018
Kilauea's East Rift Zone has been erupting nearly continuously since 1983, and is believed to be one of the most active volcanoes on Earth—so much so that Kilauea's plumes produce "vog" (for "volcanic fog"), and, when lava enters the ocean, "laze" (for "lava haze"). (Lava haze is roughly the acidity of battery acid, according to the USGS, and is so acidic that it can potentially be deadly.)
Hawaii-based photographer Demian Barrios braved the nightmarish conditions to capture shots of "fissure fountains," where the lava burst from cracks in the ground:
Barrios even clambered within range of erupting gouts of lava:
Even people out of the lava's immediate range confronted huge plumes of volcanic gas and flying lava: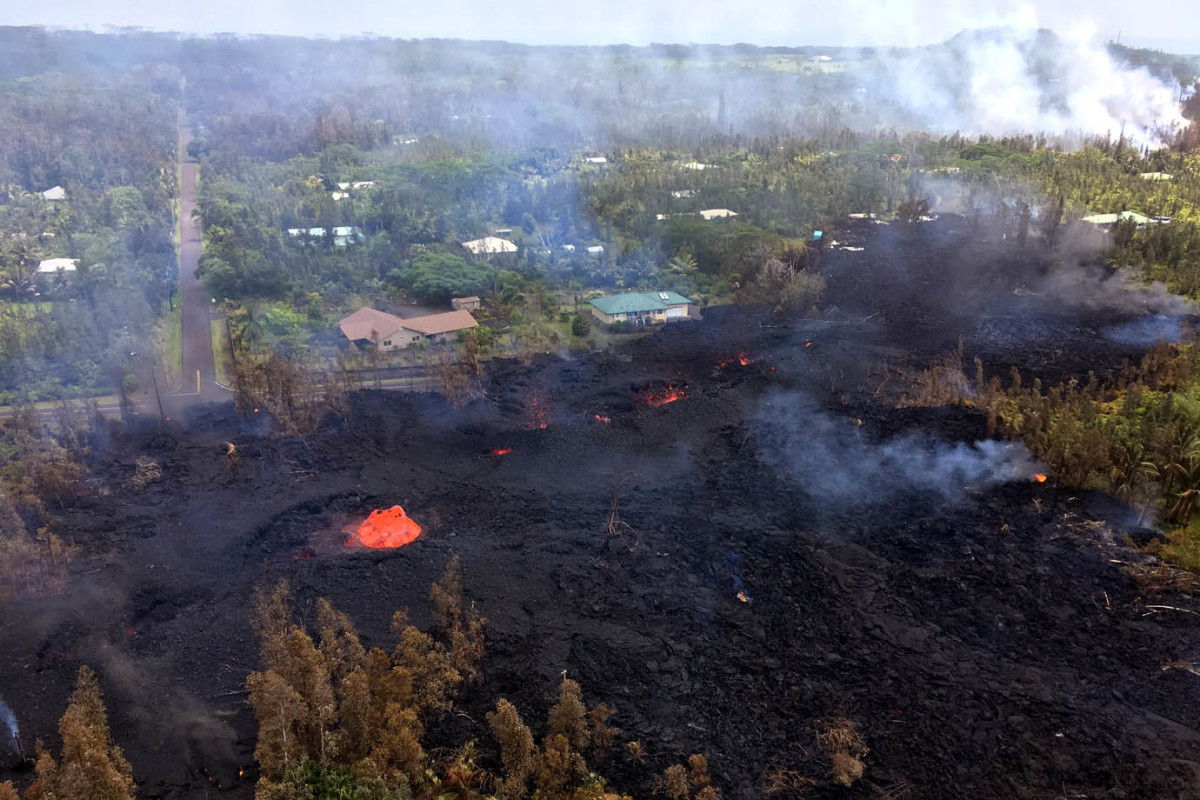 While Kilauea's lava seemed to ebb on Sunday night, the USGS predicted it would pick up again: "This is likely only a pause in activity; additional outbreaks or a resumption of activity are anticipated as seismicity continues in the area."