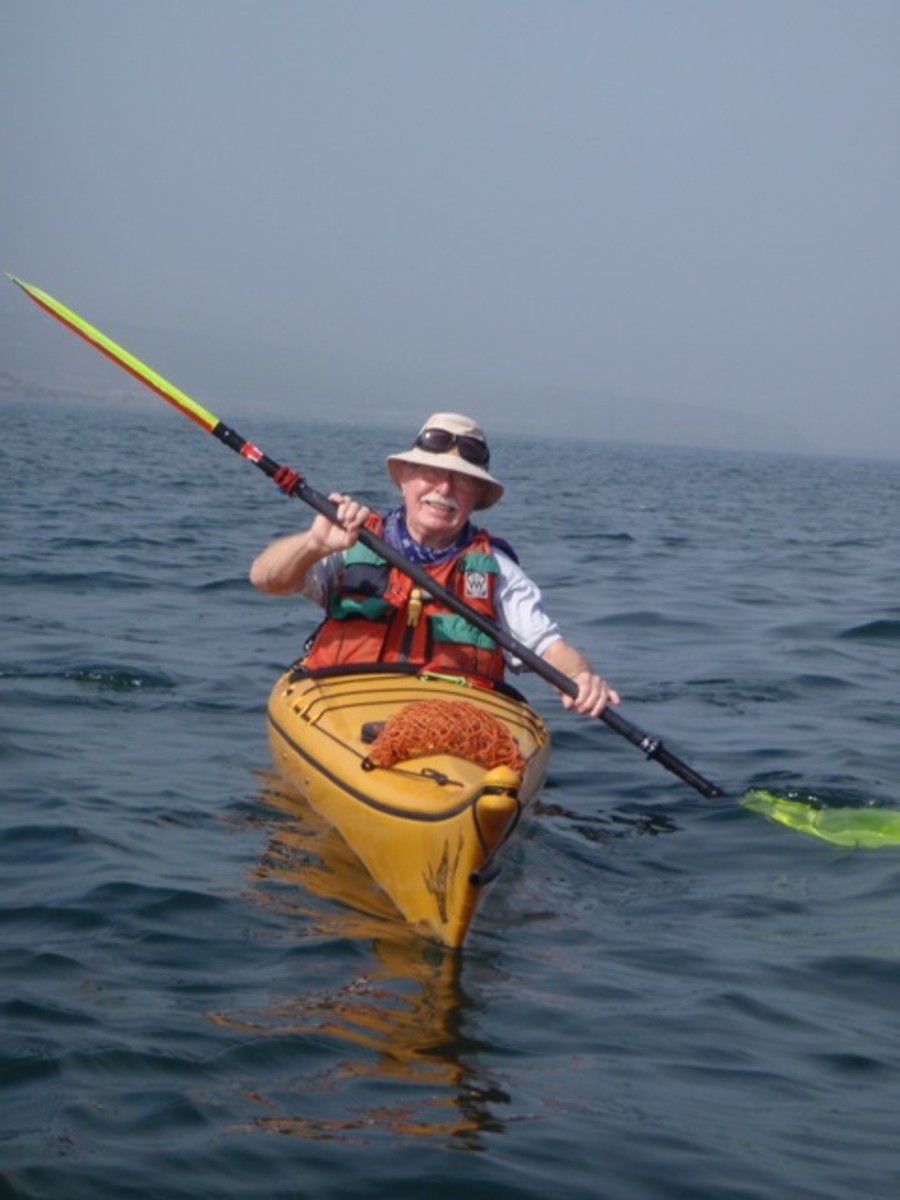 By Conor Mihell
Love him or hate him, it is impossible to deny the influence that outspoken Briton Derek Hutchinson had on the development and popularization of sea kayaking around the world. Just as the sport was gaining popularity in England and beginning to take root in North America in the mid-1970s, Hutchinson, a British Canoe Union (BCU) coach and veteran whitewater kayaker, penned Sea Canoeing, a game-changing textbook that described fundamental paddle strokes and offered innovative, step-by-step strategies for open-water rescues. He wrote it after setting a modern standard for expedition paddling: his 100-mile crossing of the North Sea from England to Belgium in 1976, piloting the "Baidarka" sea kayak he designed expressly for the purpose of tripping on big water.
Hutchinson went on to design 18 sea kayaks for manufacturers such as P&H and Current Designs. He called his classic Baidarka "the model upon which all sea kayaks are now based," and controversially took credit for inventing decklines, bulkheads and hatches—key features that facilitate open-water rescue and that he claimed "probably saved thousands of lives." These statements are hotly contended, but the fact remains that Hutchinson played a key role in pioneering the British style of sea kayak and later introducing the graceful curving lines, rubber hatch covers and skegs which define the genre to North American paddlers with the launch of the Current Designs Gulfstream in 1996.
"I owe Derek so much for what I know about sea kayaking, and for inspiring me to go for it and pursue my kayaking dreams," wrote the late Eric Soares, co-founder of California's Tsunami Rangers troupe of rough-water kayakers, on his blog in 2011. "We consider him our Sea Daddy."
It took Hutchinson two tries to complete the North Sea crossing. His first attempt in 1975 ended with a rescue eight miles off the coast of France, after 34 grueling hours on the water. "It was 100 miles of the most unpredictable sea in the world," he said. "No part of it's more than 100 fathoms deep, so the slightest barometric alterations give huge seas, and the winds are dreadful." Undeterred, Hutchinson returned to successfully complete the crossing in 31 hours the next year. Later, this same daunting stretch of open water thwarted an attempt by a team of sea kayakers led by accomplished Brit Sean Morley.
Besides his sea kayak designs and texts (The Complete Book of Sea Kayaking is now in its fifth edition), Hutchinson made waves in North American with his stylish paddling demonstrations and strong opinions. He partnered with Wayne Horodowich, the founder of Washington's University of Sea Kayaking, to produce Beyond the Cockpit, an 111-minute video demonstrating Hutchinson's trademark extended paddle turns and braces, among other feats of advanced boat control. In a 2007 interview at the West Coast Sea Kayak Symposium in Port Townsend, Wash., Hutchinson lambasted today's BCU as being "consumed by bureaucracy." Then he opined that most North American paddlers overdress and have fallen victim to gimmicky paddle designs.
"People I paddle with don't dress for immersion … it's been our philosophy to dress like sensible hill walkers," he said. "Once you learn to roll you find you don't have to roll … [Rolling is] a bit like asking a 747 pilot how often he has to use his parachute."
Controversy aside, Hutchinson's greatest contribution to sea kayaking relates to the generations of paddlers he inspired. "Sea kayaking gives a person the opportunity to venture on to a wild, unpredictable expanse in a craft that moves solely by the strength of their arm, directed by their experience and knowledge," he wrote in The Complete Book of Sea Kayaking. "Facing the challenge of the sea in this way causes a paddler to journey into the genuine unknown—the unknown and untried areas of his own soul."
Last Wednesday, Hutchinson died at his home in England. He was 79.
The article was originally published on Canoe & Kayak
For access to exclusive gear videos, celebrity interviews, and more, subscribe on YouTube!