By: Paul Lebowitz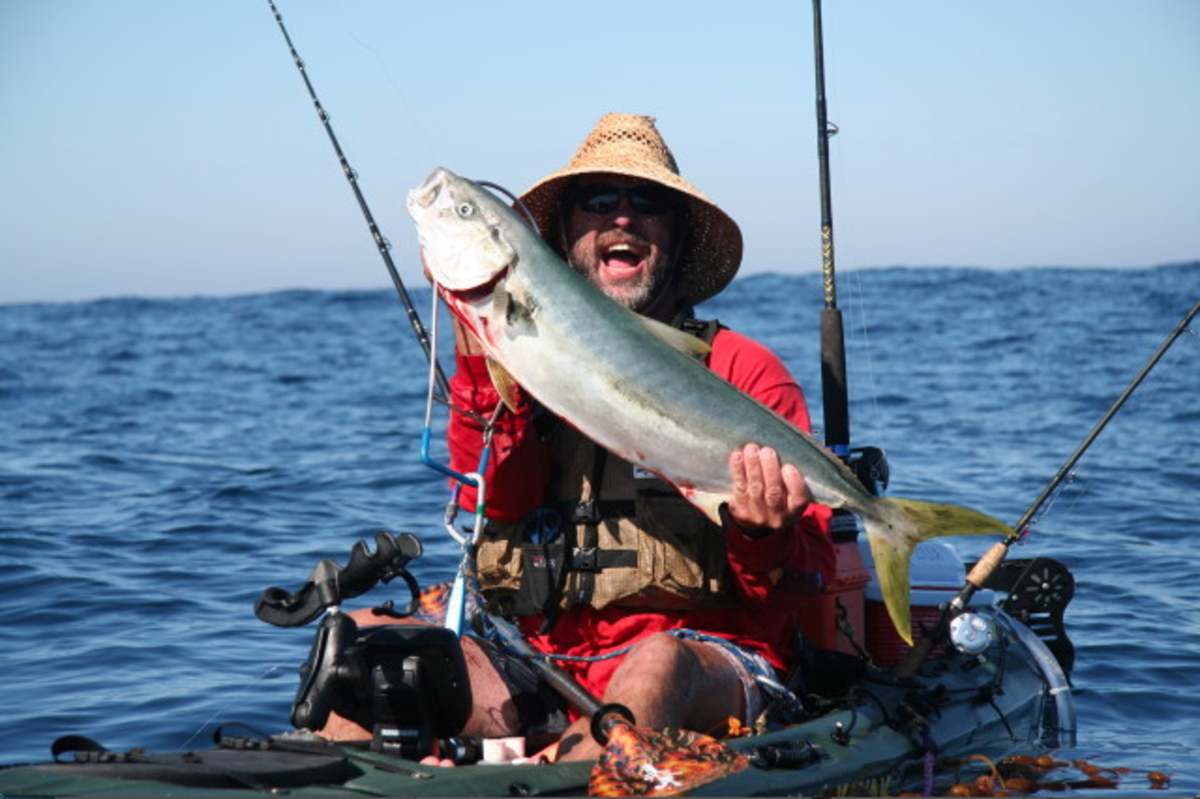 Incredible. Amazing. Stupendous. Crazy. The stories behind the world's top three documented solo kayak fishing catches beat anything in Hemmingway's famous man versus fish epic The Old Man and the Sea.
Old Santiago had a skiff, a bona fide boat, however small. Our true-life protagonists faced their piscatorial adversaries from glorified scraps of floating plastic. There's scarcely room for an angler and gear aboard these tiny human-powered craft. Landing a monster in such close quarters is a knife fight in a photo booth.
Before we get to the good stuff, this note. With no worldwide organization to sanction record kayak fishing catches, the big-fish frontier is a wild west of rumor carried on the salt wind, celebrated by grassroots word of mouth and Internet dispatches. There are other kayak catches in this class, but lacking a trip to a certified scale, any objective ranking is forever out of reach.
Philip Lee Harvey / Getty Images

This Fish is so Big It might Sink Me

"I had to stand and lean over the side to pull it in the 'yak. All that weight made the kayak extremely tipsy. A couple times I almost went in. The nose of the kayak was out of the water, and the back and amas were submerged."
Of Angry Fish and Chips

"The fish felt like it was way too big to get in a kayak, and after awhile I decided I just wanted to see what I was fighting. So I kept fighting. The strong currents had pulled me way too far out for comfort in a notoriously rough and unpredictable area."
Big marlin by kayak. Photo credit: Andy Cho

F.B.I. Gets His Marlin

It is August 30. For the first time, Cho trails in the Makahiki race. He won't for long. At 7:30 am, his live opelu takes a crushing hit. "It started taking off and I thought, "Ho, what is this?" he says.
Gareth Mccormack / Getty Images

Brotherly Tandem Tackles Blue Marlin

"There's no such thing as too big," says Kevin, and he means it. "Our goal is to catch the biggest fish possible." If anyone breaks the 200-pound kayak tuna mark, it's likely to be these guys.
Big salmon shark. Photo credit: Allen Sansano

Shark! The Heaviest Catch Ever

What constitutes an unassisted catch? For Howard McKim, man of the solo 183-pound Pacific halibut, the answer is cut and dried. Can you hook, fight and land a fish on your own, retrieving the hook without help? If the answer is yes, count it.
The article was originally published on Canoe & Kayak
For access to exclusive gear videos, celebrity interviews, and more, subscribe on YouTube!