Once considered the end of the world by European explorers, Portugal has turned into one of Europe's most exotic surf destinations. Featuring big waves and rugged coastline, this tip of the Iberian Peninsula offers a tasty wave for any appetite and a festive South American flair that sets it apart from the rest of the continent.
The country is also home to one of the world's most interesting surf cities: Lisbon, its capital and cultural center. Situated along the mouth of the Tagus River, Lisbon receives swell from every direction and has slowly compiled a community of countrymen and ex-pats alike who hit the water over 300 days a year.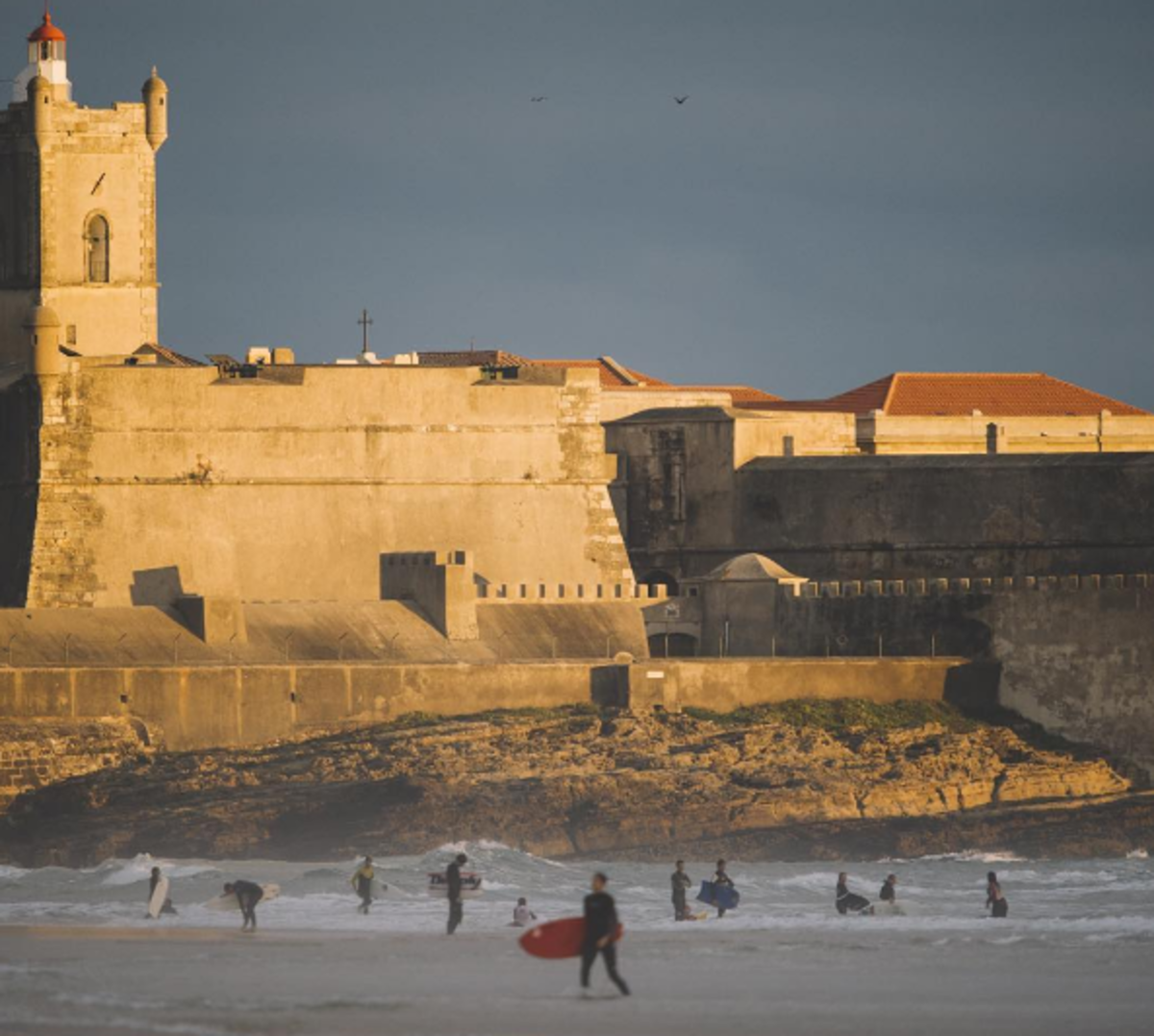 The scene is uniquely urban, with surfboards spotted on the subway and beaches accessed via graffiti-laced tunnel systems, but it works with beautiful and varied spots from sandy beachbreaks to jagged reef pointbreaks and everything in between.
RELATED: Why you need to take a surf trip to Portugal, any time of year
It doesn't hurt that Portugal is about as cheap as it gets in Europe, making it the ideal locale for any traveling surf fanatic. If you're looking for isolation, Lisbon might not be your surf destination of choice, but if you want to enjoy some impressive waves in the heart of one of Europe's most lively metropolises all year long, Lisbon has to be at the top of your list.
Here's how to do it.
Where to surf
Along the Cais do Sodré to Cascais train, Carcavelos is a lively beachbreak with a number of peaks to keep you happy. Best around high tide, this city beach is on the bay side, sheltering waves from the winds that usually pound the Portuguese coast and allowing for clean rides when the swell is right.
Carcavelos has a full boardwalk with food and rental options, making it the easiest beach to access from Lisbon. That being said, the easy approach can equate to crowds, so be ready to share your waves.
If sharing isn't in your vocabulary, around the corner from Cascais is Praia do Guincho, a rugged, cliffed beach with big-wave potential. For those seeking a wild, secluded feel, the rolling Portuguese hillside and dramatic sandstone cliffs surrounding Praia do Guincho should do the trick. Beware: The wind can start honking here, and the conditions will go with it.
How to get there
Lisbon is a port city at the mouth of the Tagus, so you won't be finding any surf beaches along the downtown docks and wharfs. However, surfers can be strapping leashes on in a little under 30 minutes thanks to a train that runs west along the coast. Stopping at several surf breaks, the train from Cais do Sodré to Cascais costs around 5 euro round-trip and is local surfers' transportation of choice.
RELATED: The case for taking a holiday to surf, do yoga and drink wine in Portugal
To get to the ocean-side breaks, link up with the surf bus that leaves from the Cascais bus station across the street from the train station. This ticket costs around 3.50 euro and will deliver you to a couple of ruggedly stunning breaks, including Praia do Guincho.
Tip: Save your train ticket, as recharging an old ticket will save about 1.50 euro per trip.
Where to rent
Most of the surf breaks around Lisbon offer surf rentals for the day right on the beach for about 20 euro. While that may be the most expensive expenditure you have in Lisbon, the rental also usually comes with a shower and a safe place to stash your valuables at a public beach — which is almost worth the price in itself.
If you want to step up your board options, check out Spinlister to find local surfers listing their own boards for cheap, or, if you're staying for a while, cruise Craigslist and buy a used board for your stay.
What to eat
In Lisbon, it's not necessarily where you eat, but what you eat. The city is known for its sardines (known as sardinhas) and simple, yet delicious pork sandwiches (known as bifanas).
If you pay any more than 2.50 euro for either, you are in the wrong place. Check out O Trevo, directly uphill from the Cais do Sodré station, for the best cheap bifana in town and finish it off with a pastel de nata, Lisbon's signature custard dessert, a block away at Manteigaria.
What to drink
Lisbon has all but accepted public drinking, so take advantage at any of the city's numerous viewpoints by grabbing a liter of Super Bock beer or Vinho Verde. (Green wine is the new rosé, after all.)
If you're really looking to spend over 2 euro for a drink, grab a fancy cocktail (OK, they're only 6 euro) at PARK, a rooftop bar on the top of a parking garage in the Bairro Alto neighborhood. Careful, there are no signs, so head to the fifth floor and hope that you picked the right piece of concrete.
Where to stay
Around Carcavelos, Praia do Guincho, Estoril and many of the Lisbon surf breaks are nicer beach-resort hotels, but to get the full experience of the urban surf culture, there are a handful of peaceful hostels right in the heart of Lisbon that connect surfers and travelers alike.
The Urban Garden Hostel, located just off the Marques de Pombal metro stop, offers beds for as cheap as 11 euro a night with a free pancake breakfast and check-in beer — perfect for the budget surf journeyman in all of us.
Plus, once you drop the board off and hang the wetsuit up, Europe's most vibrant city is right out your front door.
Best time to visit
Lisbon has the luxury of having consistent swell and surf breaks for any condition, making it one of the best urban surf destinations in the world. That being said, summertime and winter holidays are peak season in and around the city.
Shoulder seasons are ideal, with fall receiving a more active swell pattern. However, the month of June, just before summer kicks into full tourist swing, is Lisbon's festival season. If you want to combine parties like Lisbon's massive Festival do Santo Antonio with your wave time, June might be your ticket to paradise.
For access to exclusive gear videos, celebrity interviews, and more, subscribe on YouTube!