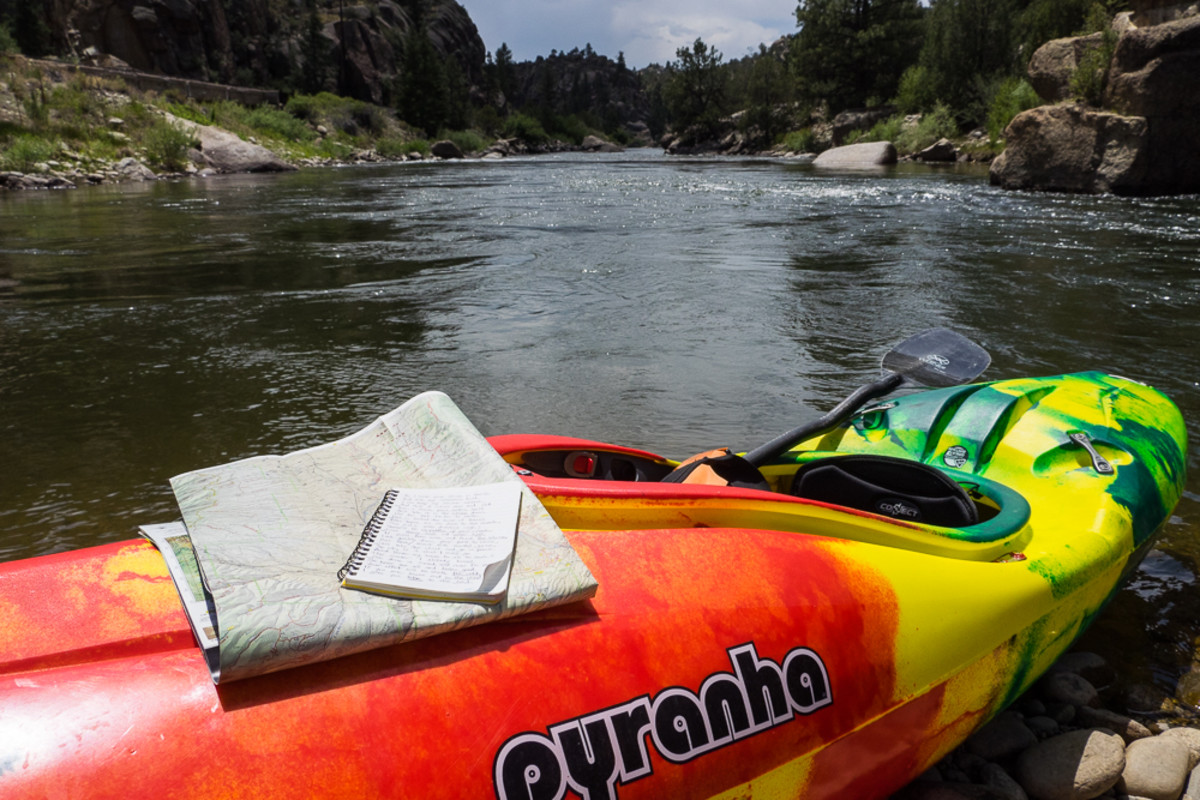 "I'll tell you where that treasure is," declared a local fella at the bar.
Me and my best buddies were in the mountains of Colorado. And our conversation had all the implications of a cowboy film—with a few exceptions. We weren't in a sawdust and whiskey saloon but a bright-windows and white-walls micro-brewery in a riverside development in Buena Vista. This weekend was the oldest whitewater festival in the country, FIBArk. Instead of horses and stage coaches, the streets were full of camper-shell pickups and custom vans with roof racks toting five kayaks across.
We all leaned in as the fella used a mapping app on his phone to zoom in on a steep creek high above Cañon City, about 80 miles downstream. Item by item, he went through Forest Fenn's poem, which supposedly contains around 10 clues that lead to the $1 million treasure. This wasn't the first time I'd encountered such declarations about the secret location. And I had my doubts about this fella's ironclad confidence even before he zoomed in on a rugged gorge with rushing cascades. Next, he explained the line "Your effort will be worth the cold" as referring to the lack of trail along this creek. Meaning the 79-year-old Fenn would have had to ford and scramble, for several miles, through icy runoff and tumbled boulders. My skepticism turned to dismissal.
"I don't think so," whispered Boberts, as we shook our heads discreetly.
Cole asked the fella if he'd searched up there, himself. He hadn't, being too busy with work. But that's where it was. If he ever got around to going and finding it. We thanked him for his theory but had no intention of following the tip. We had our own plan.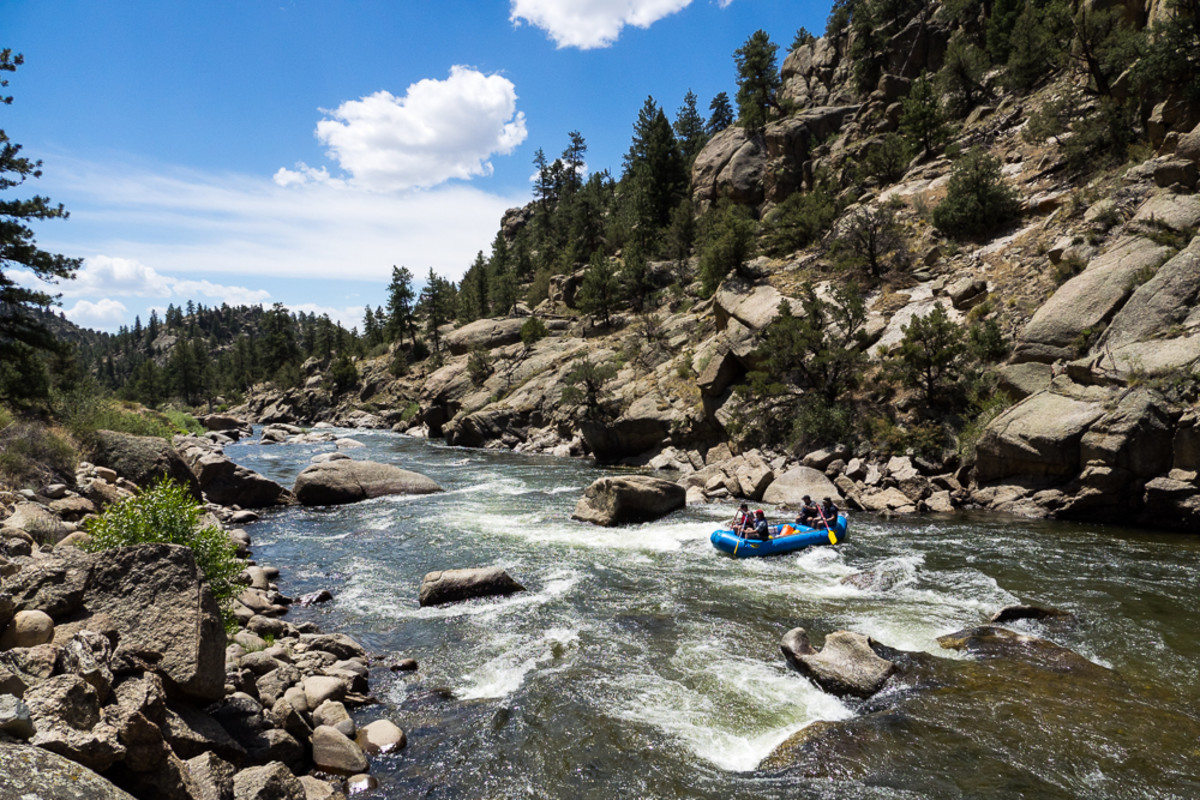 On a warm Friday morning in mid-June, we launched from Ruby Mountain campground into the Arkansas River for a day trip through class III Browns Canyon. Six of us spread out in a hardshell, ducky, and raft. We would run the rapids and search on shore for the treasure. We held no false certainty any such treasure was here. In fact, like many familiar with this hunt, we weren't entirely certain there is a treasure. The whole thing might be a publicity stunt. But the idea of a treasure hunt is most of the fun, and things lined up just enough to get us excited for the search. With lines like "Take it in the canyon down" and "Put in below the home of Brown," our plan was to run past Hecla Junction, a popular take-out for the Browns Canyon run. Then we'd hike a few lower side canyons that seemed promising.
The first half of the day was a splashy blast. The water was low this season, about 900 cfs the day we ran, but that was fine by us. In the search for Forest Fenn's treasure, already four people have died while searching. This includes a rafter who drowned in Class IV Royal Gorge in 2017. For our trip, we agreed that safety was more important than treasure.
With a half-season of guiding experience, right before going off to medical school ten years before, Boberts guided the raft. Twizz and I kayaked. Each time we looked back, we saw the guys cheering and yelling through the rapids. Meanwhile, Boberts tried to convince them that paddling was also part of the fun. For their part, the others had plenty of experience in rafts, having joined me many times during the old guiding days or more recently while exploring the John Wesley Powell route. So, they usually compromised by giving Boberts a good two strokes for every ten he requested by shouting.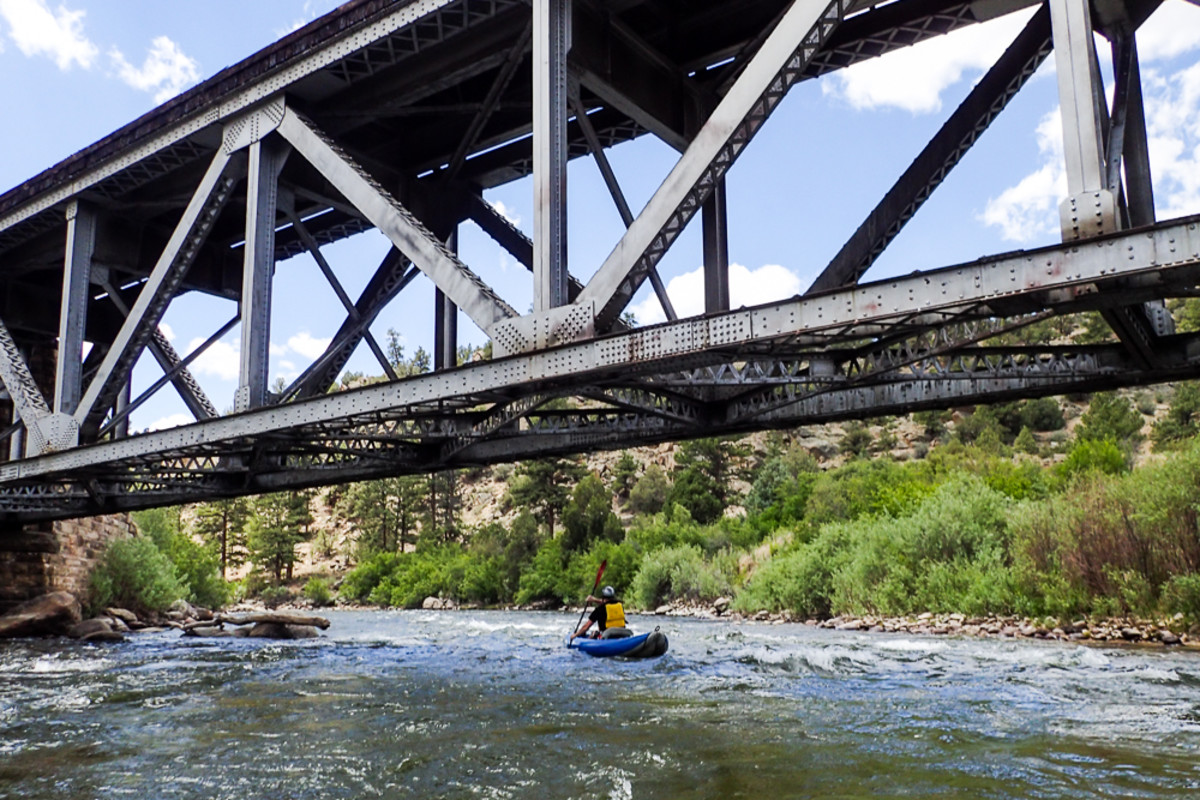 "Are they trying to hit every rock?" asked Twizz, while we shot photos from shore.
I watched the raft—my raft—bounce off rocks with a grimace—err, I mean grin. "It's like they're scoring points or something."
Twizz slapped me on the shoulder. "Seems like a nice boat."
It was mid-afternoon when we passed Hecla and began our search. One reason we liked this starting point was that just up the creek-bed from the boat ramp emerged a tiny Warm Springs. This aligned with Fenn's stanza "Begin it where warm waters halt."
Next, we'd homed-in on the line "There'll be no paddle up your creek / Just heavy loads and water high." From these clues, I'd suggested we stop on river-left, where old railroad tracks—which once carried heavy mining loads—followed the length of the canyon. Above the tracks were several dry-creek drainages that only ran during high water. Ideally, we'd search for a dry narrows to match the clue "The end is ever drawing nigh." There, hopefully, we'd match the few final clues.
The search for Forest Fenn's treasure has spawned a hunting subculture across the Rocky Mountains, north of Fenn's home in Santa Fe, where Fenn claims to have hidden the treasure. From the many online discussion groups, we'd gathered a few additional details, which come from Fenn's interviews and book passages. (The books, themselves, are so in demand they each cost around $100—money which we wisely saved for the weekend's ample barbecue budget.)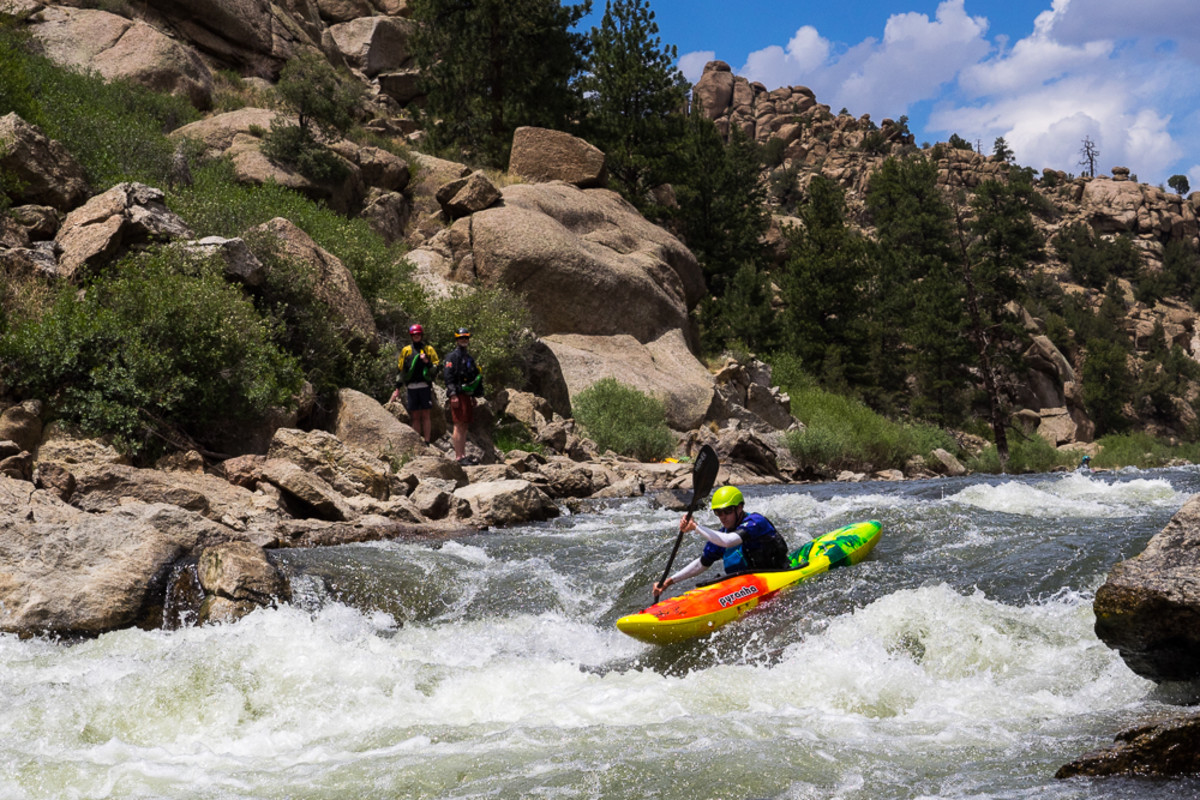 Fenn claims it took him only a day to bury the treasure, which required a drive from Santa Fe to a parking location. Then he hiked the heavy treasure—supposedly gems, jewelry, gold, and rare coins—to its hiding place, in two loads. Fenn has claimed it's not hard to find if you know where to look. And it won't be found anywhere that's too challenging for an old man to reach without much difficulty.
My interpretation was this: Hecla Junction is a four-hour drive from Santa Fe, and a popular fly-fishing location, a favorite activity of Fenn. From the parking lot, there's a fishing trail that runs along the river-right shore for a few miles. In the half-mile downstream from Hecla, the river runs wide and shallow, a popular spot for fishermen to wade across. Was it possible that "Your effort will be worth the cold," referred to fording the river from right to left?
We pulled the rafts over on river-left where a small railroad bridge crossed a dry wash. After tying up, we walked up-creek. The slopes were pocked by stands of pinyon pines. The visual matched the latter part of the line, "If you are brave and in the wood." But there wasn't much bravery to our little side hike.
Cole offered an alternative understanding related to timber frames and the history of mineral extraction in the area. "I think it's in an old mine shaft."
As we continued, we fanned out and scanned the canyon. Occasionally, a few of us diverted into intersecting ravines. We were looking for the final clue.
"If you've been wise and found the blaze, look quickly down your quest to cease."
Cole, a former forest firefighter and lumberjack, felt confident that "blaze" referred to a tree-bark slash used to mark a trail. Boberts and Jed-O were focused on old forest fire damage—possibly black stains on the many sandstone outcrops? Bear wondered if "blaze" might be a burned-out tree. Twizz—tired from paddling the ducky (and being a dad to two kids under four)—wondered when it was time to go make dinner?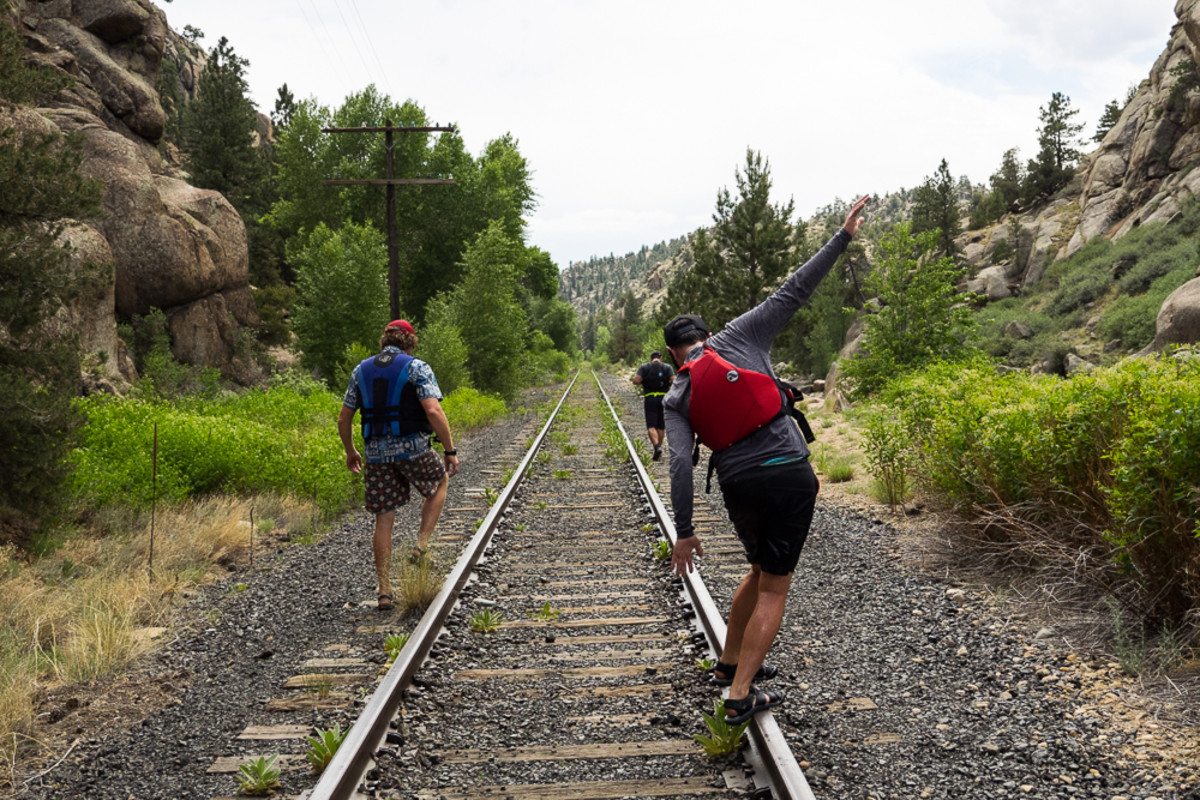 Everyone had their own interpretation of the clues, and I was no different as I scanned the topography. I really liked the mine shaft idea, and entering one certainly fit the "brave" quality. But something about pairing "wise" with "blaze" had me pondering another track.
In the few years I'd been researching Forrest Fenn's treasure, I'd discovered how convinced so many hunters become about their theorized locations—despite the ambiguity of the clues. My own brother got a slightly suspicious look when he learned about our plan to search for the treasure.
"Did you learn about that from us?" he asked, explaining him and his girlfriend had hopes to search mountains in New Mexico someday.
We were visiting in California, a thousand miles from the Rockies, and I had to explain I learned about it like everyone else. Online. While still living in Missouri. That my plan was to search in Colorado seemed to convince him I wasn't trying to shoulder in on his spot.
Meanwhile, another hyper-focused hunter had fallen to his death in Yellowstone during 2017. The national park certainly fell into the defined search area, but Yellowstone seemed to violate some of the key additional details. Should those details even be correct, that is. Who knew where this treasure was? Or even if there were a treasure? So, I tossed out my idea.
"What if the blaze isn't literal," I said, "but figurative."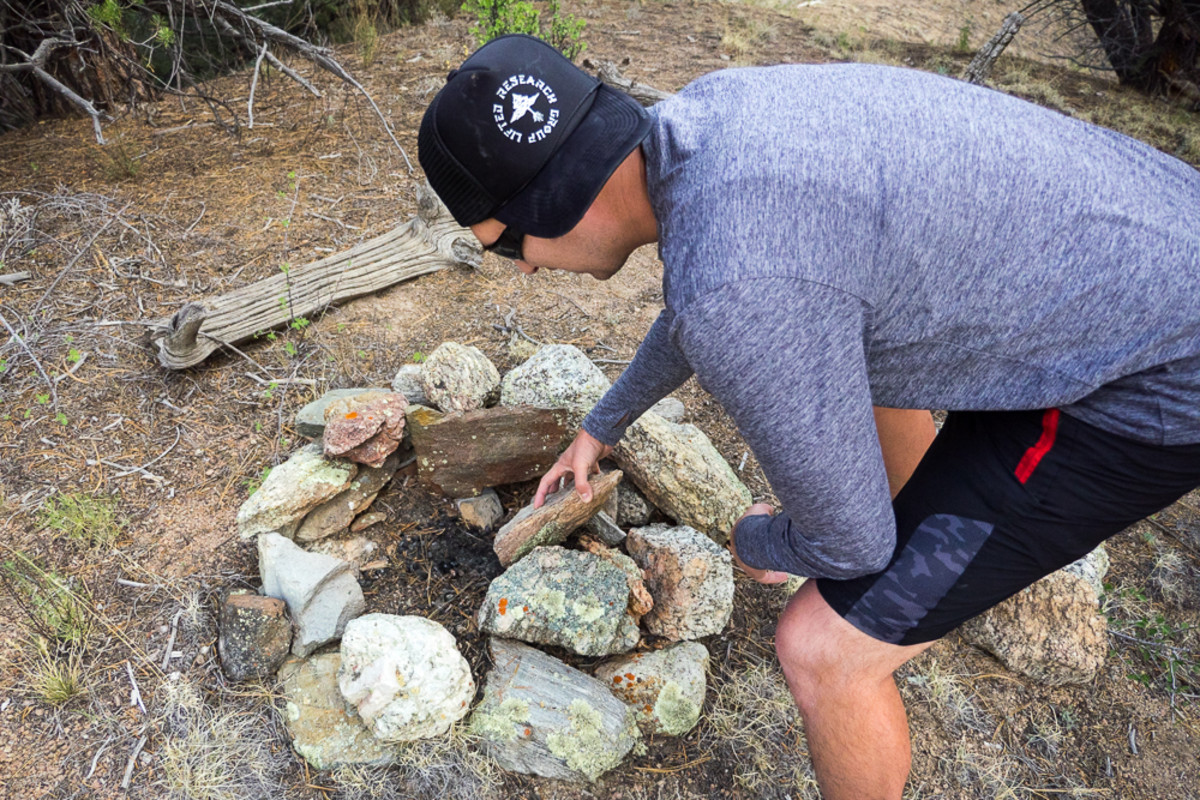 I pointed out some outcrops of reddish sandstone rising above tree-line overhead. They resembled licks of flame.
We all shrugged. It was mid-afternoon, Twizz had low blood sugar, and there were no mine shafts in sight. We were ready for anything exciting. So, we scrambled uphill, chattering as we peered under downed trees and between fallen boulders. We searched small caves and sunken hollows. Climbed butte after butte until we congregated on a cliff-side and looked out across the valley. The Collegiate peaks, snow-capped and massive, rose in the distance. Far below, the river flowed onward, split by a colorful center-line of rafts and kayaks. Our hunt wasn't done by a long-shot. We still had another day of searching, a night of brewery touring. We'd be so caught up in the hunt, the six of us would barely visit the actual FIBArk Festival.
One thing Forrest Fenn has stated, in his defense—as the deaths and rescues have mounted, and as authorities and concerned observers have asked him to end the search by removing the treasure—is that the hunt has brought people into the outdoors who might not have otherwise come.
"Maybe the search," joked Bear, "wasn't about the gold at all. But about bringing us together."
"Hold this treasure," joked Jed-O, reaching out with his hand. In his fingers, he clutched a few ice-bold beers he'd hidden in his backpack.
"We should probably do this again sometime," said Twizz, taking a beer. "Just maybe with more snacks and less sappy moralizing."
"Well, you know," I began. "The clues actually all line up for another, completely different, and even more remote, whitewater river over by the Utah border."
Cole looked at me. "How come we picked this one, then?"
"Well," I stammered. "You see, this river is much closer to an airport."
"More breweries, too," offered Boberts.
Everyone nodded, as we sat on the cliff and stared out at the view.
Photos by Twizz and Bez.

Read more by Mike Bezemek, who writes and photographs the series Regular Paddler, Remarkable Waters and Weekend Expeditions for C&K. He is author of Paddling the John Wesley Powell Route and Paddling the Ozarks for Falcon Guides and Twit Lit Classics® for Skyhorse Publishing, a book series which reimagines classic works of adventure literature as tweets for a 21st century audience. Learn more at mikebezemek.com.
The article was originally published on Canoe & Kayak
For access to exclusive gear videos, celebrity interviews, and more, subscribe on YouTube!