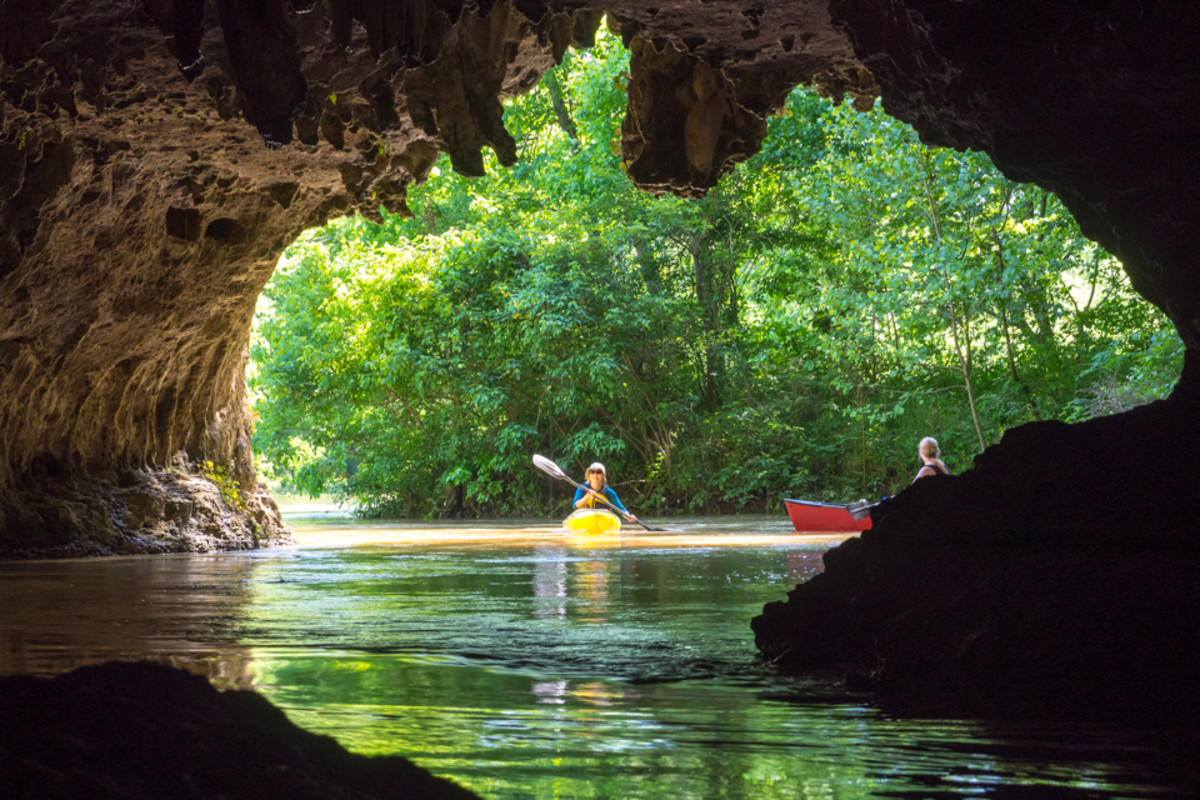 "Highest I've ever seen the spring," said the canoeist, floating in an eddy near the cave mouth. I paddled up the gentle current, leaving hot sunlight and plunging into cool darkness. As my eyes adjusted, I felt water dripping from hanging stalactites. I attained up a narrow channel into an inner pool where Cave Spring burbled from under a rock wall. Having never run a riffle inside a cave, I turned downstream and zipped with the current to where Lara was paddling in.
Only hours before, we'd descended to the gaping mouth of Devil's Well. Called a karst window, it's a limestone sink hole swallowing a small creek. The water falls 100 feet through a cavern, feeding a subterranean lake, before flowing underground for a mile and discharging at Cave Spring on the Current River. We'd hiked the recharge route for a few miles on an overgrown trail. Suddenly, I realized I was standing in chest-high poison ivy. I practically ran back to Devil's Well, where I took a mildly-hysterical, partly-clothed, semi-public shower under the icy waters. It's fair to say I'm somewhat allergic.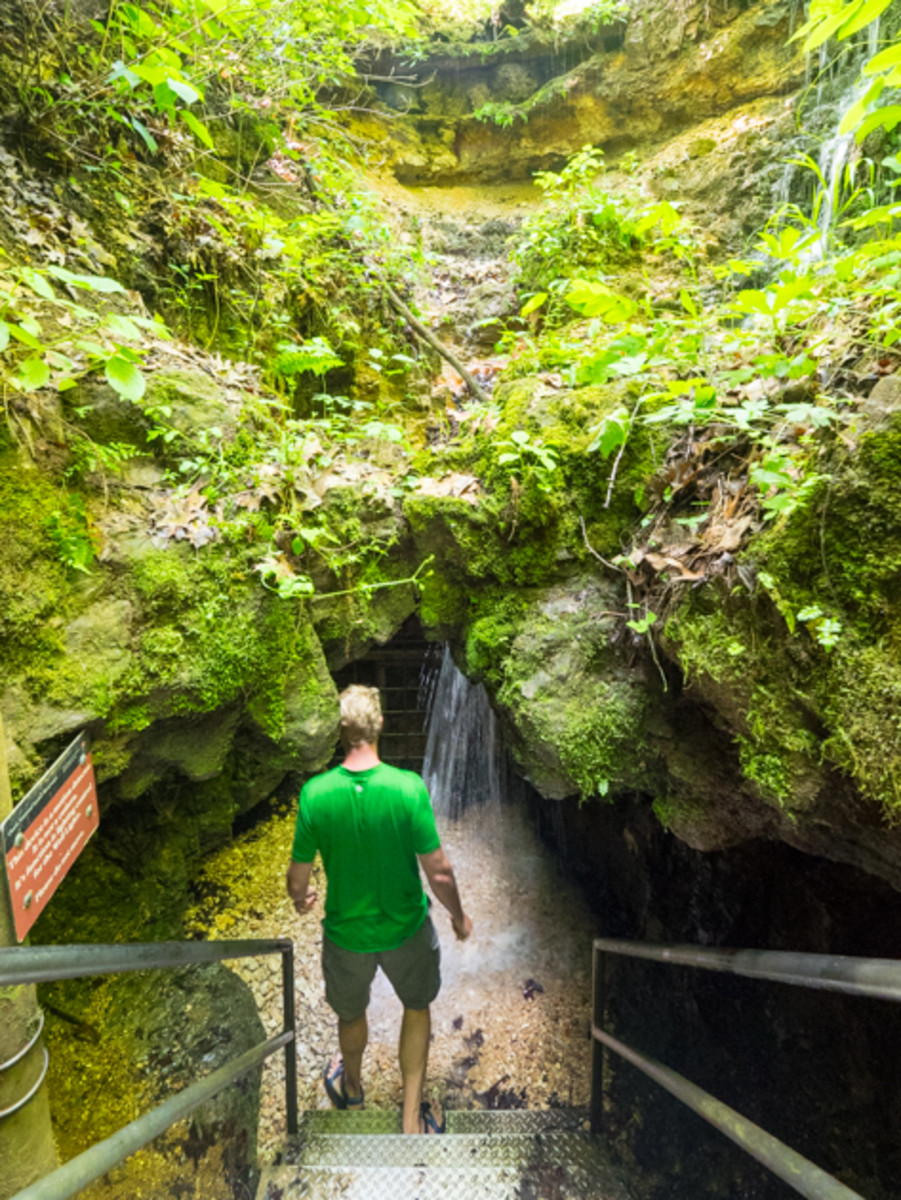 Downstream, the silty waters rebounded off a sharp bluff. Riverside sycamores angled out from collapsing banks, like we were passing through a hall of green flags. The Current was up. A midweek spring storm had slammed the Ozarks. All but one friend had bailed to the whitewater Saint. I normally would have, too, but lately I've embraced a philosophy of stepping down my paddling and upping the experience. Sticking with Ozark National Scenic Riverways, for a high-water look at an old favorite, seemed the right choice.
For the remaining 4 miles of the 9 mile run, we struggled to take our time, stopping on gravel bars, swinging in and out of eddies. At the forested Pulltite Campground, we dropped boats at our lovely site, and I changed to run the bike shuttle. The hosts puttered over in their golf cart with friendly waves. That morning the husband had declared he was off to hunt a hog—if successful, he'd generously share for lunch. And dinner. And tomorrow's breakfast, lunch, and dinner. His hungry look confirmed no luck.
"You're not going to bike your shuttle, are you?" he said. "The drivers are crazy."
"Think I'll be alright?" I asked. "People ride around here?"
The husband squinted at me and shook his head sadly, like this was the last time he'd ever see me on this earth.
His wife nodded, saying, "From all over the world."
I tucked these contradictory messages, along with a first aid kit, into my hydration pack and pedaled up the steep hill. It wasn't the access roads that worried me, but windy Highway 19. Eastern neighbor MO-21 is called "Blood Alley"—and not because of a great selection of blood pudding stands.
Soon, I was cresting and falling with the rolling hills of 19 at an all out sprint. I passed a church playground where kids squealed and pointed. I passed a double-wide where a Friday evening BBQ was underway. The fella manning the grill looked up, lost grip on his tongs, and dropped a hot-dog into the fire. I passed an oncoming dually truck straddling the yellow line at 85 mph and was glad he hadn't come from behind. When I reached my truck, 16 miles later, I felt like an escaped zoo animal who made it to the wilderness.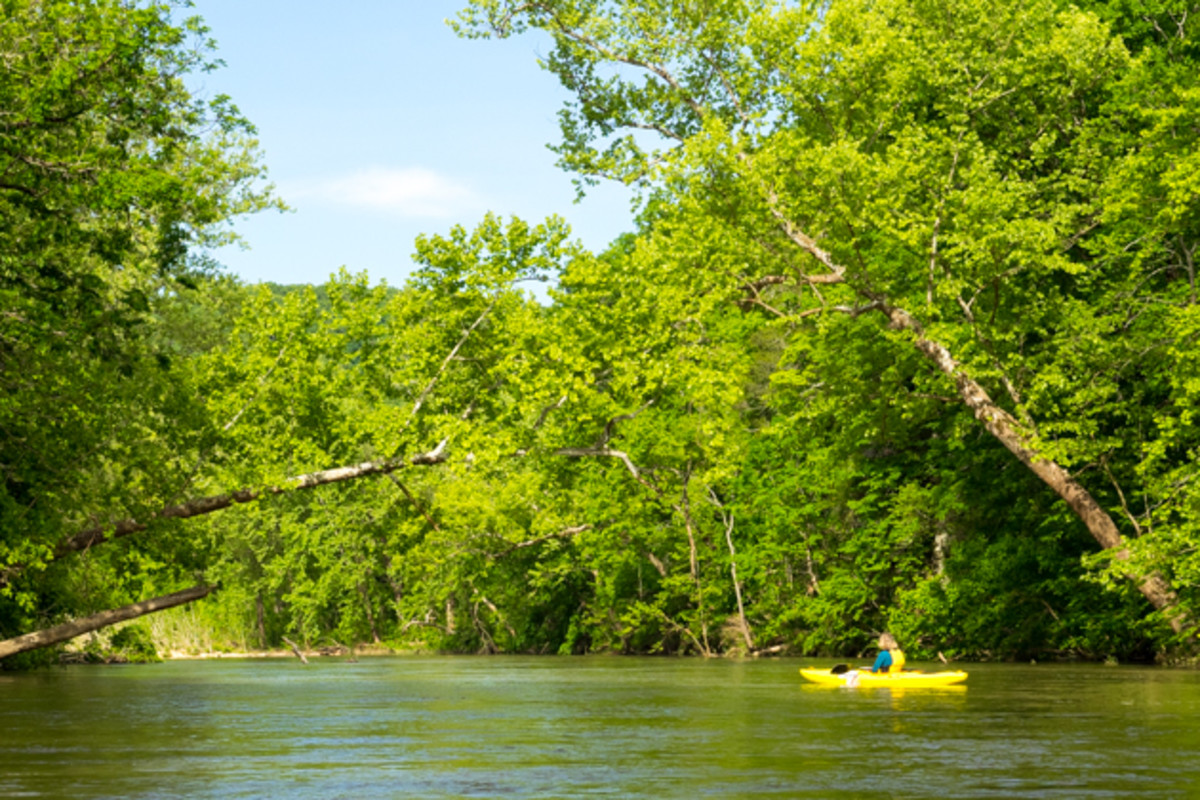 Back at camp, our friend Molly arrived. While grilling burgers in the twilight, a trio of canoeists carried past. "Did you get stuck here, too?" asked one in a tipsy voice. I wasn't sure how to answer—luckily he clarified. They'd intended a 3-day trip from the headwaters at Baptist Camp down to Two Rivers, the confluence with the Jacks Fork, camping nights on gravel bars. But today, the Park Service had closed the river below Pulltite due to the high level. I'd learned this information from the park's remarkably casual Facebook feed, complete with humorous animal memes, but these men had been caught unaware.
"There's real Germans over there," said the second man, pointing at a couple, within earshot, sitting beside a rental camper.
"Like, from Germany," said the third, slightly slurring—it appeared they'd drowned their sorrows by drinking Day 2's beer on Day 1. "Who speak real German."
Lara—a real German, born in Germany, who speaks real German—averted her eyes suspiciously.
"They're friendly," said the first guy. "They know some English. You should talk to them."
"They're Austrians," said Lara, once the canoeists were gone.
I went over to say hello, deploying my non-conversant German enough to learn they're from near Salzburg, following old Route 66 for three weeks, from Chicago to Vegas. They were one week into their trip, and they'd become smitten by the Ozarks. I tried to suggest not short-changing the deserts and mountains yet to come, but the only words I could manage were alles stein in der West. Roughly, "Everything stone in the west"—which probably sounded as exciting as a cinderblock. The man replied he was buying a Missouri fishing "lee-cense" tomorrow. Clearly, I'd make a terrible travel agent. They're probably still in that campsite to this day.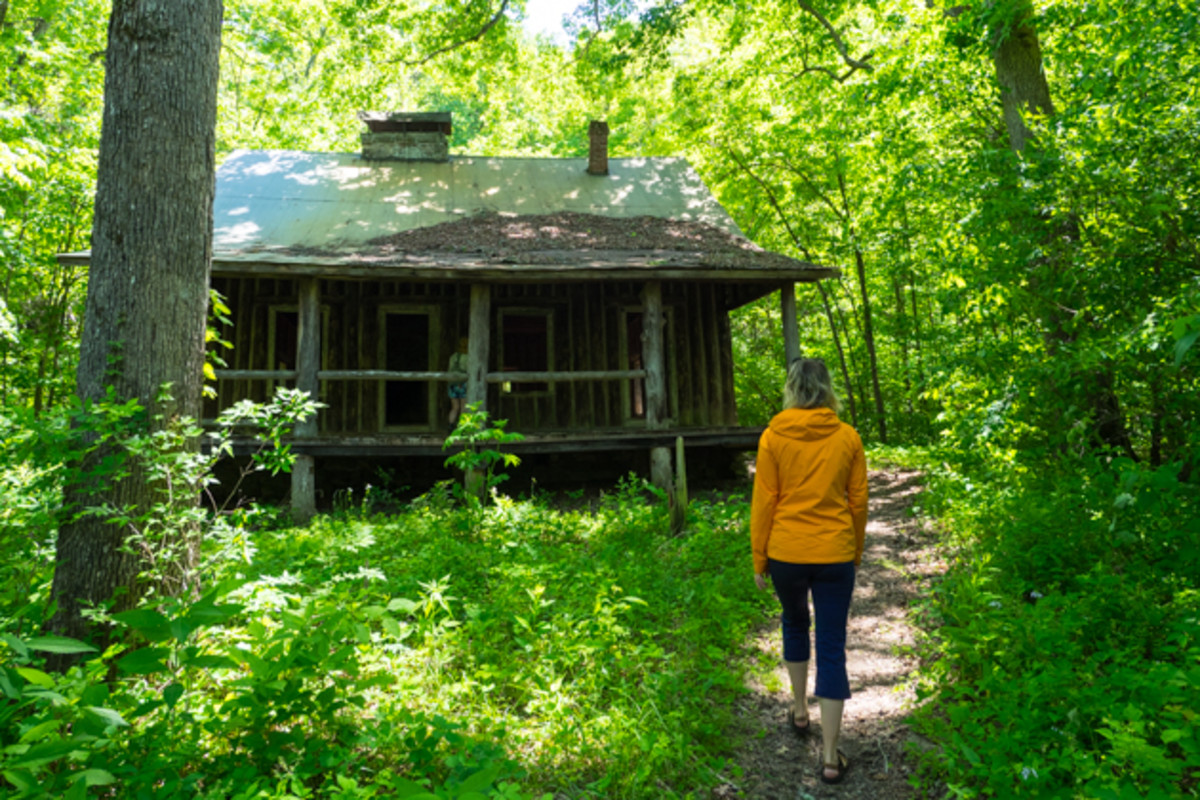 The next morning, we hiked an interpretive forest trail—spoiler alert: mostly broad-leaf deciduous hardwoods. After putting on, our trio paddled up the Pulltite Spring branch, then hiked to the eponymous cabin. Completed in 1913 as a retreat, the cabin was hand-built in the French style by erecting massive logs upright. The name Pulltite came from the steep hillside access to the mill once occupying the site. To descend, the wagon driver would drag an anchoring tree limb, while pulling tightly on the reins to keep from overrunning the horses.
Following the trail, we reached Pulltite Spring, which discharges an average 46 CFS or 30 million gallons per day. Today it was spitting out even more. It's the countless perennial springs and historical sites like this that make Ozark National Scenic Riverways such a great paddling destination year-round. After an hour, we turned downstream for another pleasant day floating the high-water Current, trying to take our time.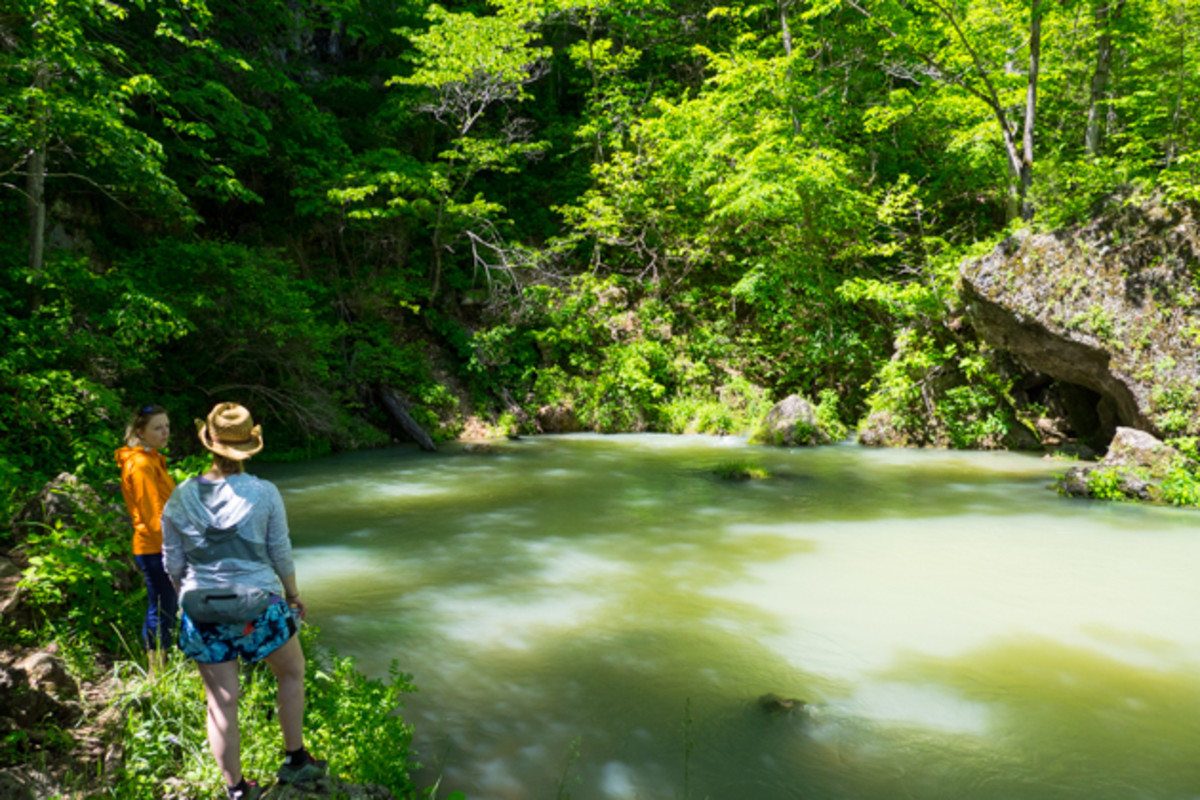 More from Mike Bezemek's 'Regular Paddler, Remarkable Waters' series:
Paddling St. Louis's Forest Park
The Benefits of Stepping Out Your Paddling
Make Your Paddling Glow in Puerto Rico's Bio Bays
A Belated Return to the Jacks Fork
I Bought a Raft! (Doesn't mean I'll carry your crap)
A Friendly Paddle in Central Germany
Flaming Gorge, Wyoming: Following J.W. Powell on little-known desert reservoir
The Benefits of Stepping Down your Paddling
The article was originally published on Canoe & Kayak
For access to exclusive gear videos, celebrity interviews, and more, subscribe on YouTube!