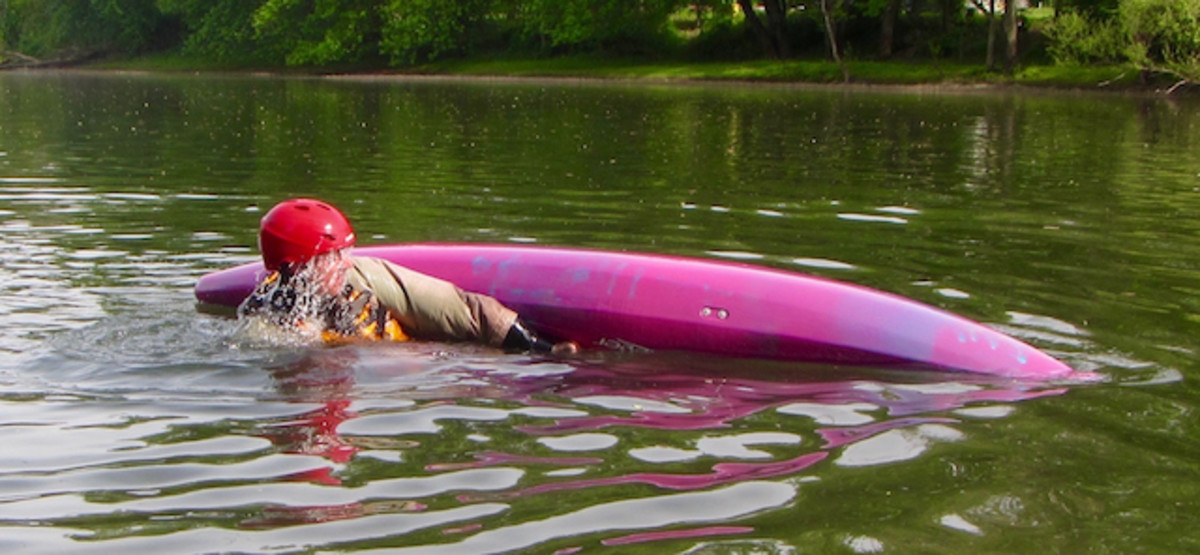 By Jeff Little
In 1998, I bought my first fishing kayak, an Old Town Loon 138. The first time in it, I ran White Horse Rapids on the Potomac River south of Harper's Ferry, West Virginia. The cold haystack waves soaked my cotton hooded sweatshirt and blue jeans. I dragged that big open boat to shore and flipped it over to unload a bathtub's worth of 52 degree river water.
On the second trip, I piloted the boat down the remnants of the Potomac Canal. This structure was built during construction of the C & O Canal to circumnavigate Seneca Breaks, a mile long series of class 2 rapids. At some point in that run, I made it through another series of haystack waves. This time, a nylon spray skirt to kept the water out. Proud of having successfully run a big rapid, I turned around to snap a quick photo of the whitewater.
The nearly 14 foot long kayak drifted sideways into a log undercut by swift current, and I was quickly flipped underneath it. Emerging on the downstream side of the log without my glasses, I grasped firmly to my fishing rod and paddle. Extricating the boat from the jumble of limbs took me 20 minutes. Once free of the strainer, I clearly exhibited the symptoms of hypothermia.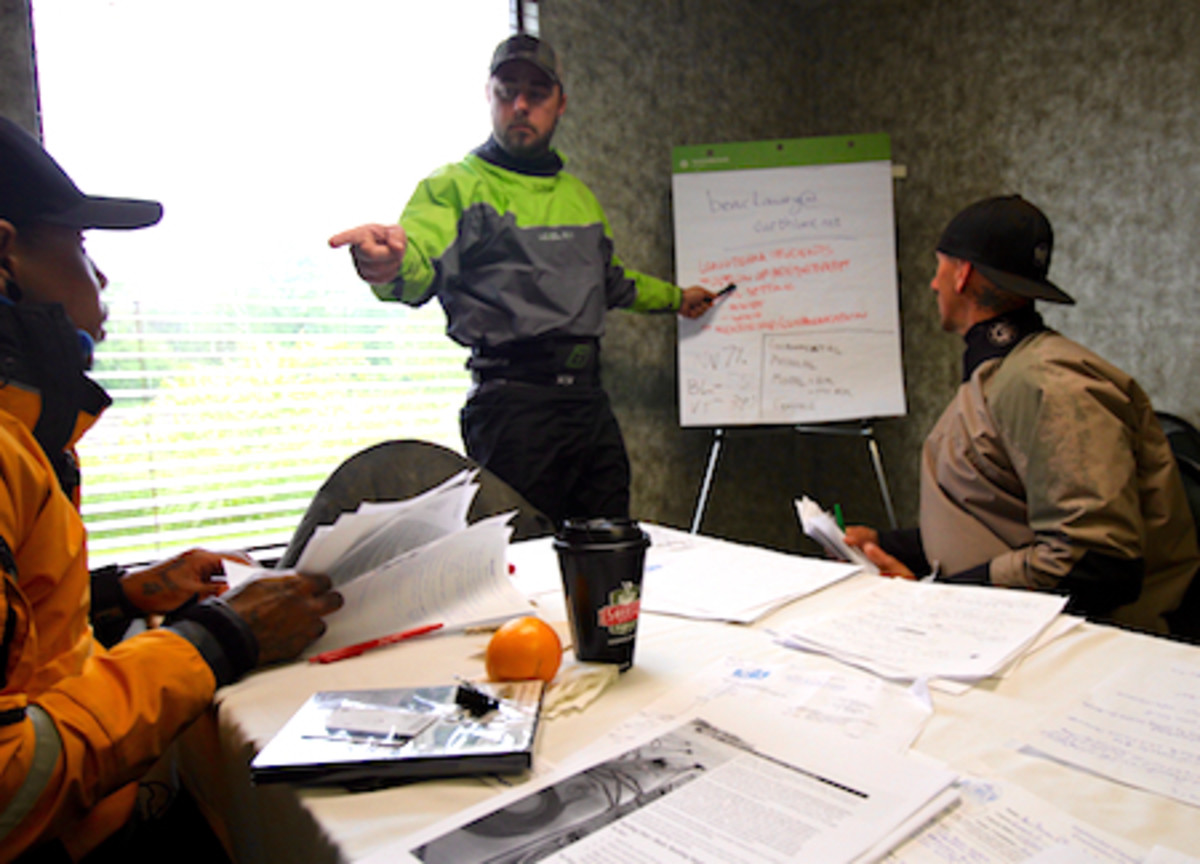 These two events early in my kayak fishing career launched me into a series of classes to better understand the river, kayaks, and how to do something that had yet to be termed kayak fishing. Maybe it was acknowledged as a "thing" in other regions of the country, but nobody else was doing it locally, and certainly not in whitewater.
With a neoprene skirted kayak more appropriate for whitewater, I took beginning and intermediate whitewater courses. I learned to Eskimo roll. In swift water rescue classes I learned how to use a throw bag and how to stabilize and rescue a paddler who had experienced a foot entrapment. My education continued through a three day American Canoe Association course that certified me to teach Basic River Kayak.
Using that certification, I wrote a curriculum specific to what kayak anglers do on rivers. I founded Blue Ridge Kayak Fishing LLC and taught classes through 2010 on topics ranging from river safety, to ferrying, to pattern development and maintaining boat position. The core of the class was still the ACA's Basic River Kayak, but I had made it my own. It was made for kayak anglers.
Fifteen years after my initial ACA certification class, I found myself doing it all over again. Juan Veruete, who has also earned ACA instructor certification has been collaborating with the ACA and Ben Lawry, the National Technical Instructor of Paddlesports for Confluence Outdoor (Wilderness Systems), on a curriculum that is kayak fishing specific.
The inaugural instructor certification class was held this past May 20-22 on the upper Juniata River in Pennsylvania. River Kayak Fishing Instructor Candidates came from Virginia, Maryland, West Virginia and Pennsylvania to learn. In doing so, they also helped shape the still fledgling curriculum.
Juan Veruete's years of teaching the sport of kayak fishing, combined with Ben Lawry's decades of paddling instruction, made for a rigorous and ambitious challenge for candidates. Those who earned certification are eligible to teach the new kayak fishing endorsement of an existing ACA course Essentials of River Kayaking. ACA certified instructors are also able to receive inexpensive liability insurance through the ACA for those classes.
As I learned the hard way, river kayak fishing is no simple task. Even if you manage to survive the hazards of strainers, hydraulics, rock broaches and hypothermia, there's no guarantee that you'll catch fish. That requires an additional skill set in terms of putting the kayak where it needs to be, and holding position. It requires an ability to develop patterns for the season, river level and trend that each day presents. If you are looking to improve your river kayak fishing skills, consider contacting one of the ACA certified instructors who have earned the River Kayak Fishing endorsement and enrolling in one of their classes.
The article was originally published on Kayak Fish
For access to exclusive gear videos, celebrity interviews, and more, subscribe on YouTube!