Adventure
The Historical Significance (and Continued Relevance) of Sunset Beach
The booms sounds from the reef like thunder. The tropical morning mist gives way to bluebird skies. Fluid mountains of blue rise up and lurch forward.
It's the first real swell of the year for the North Shore. With the transition of the seasons, an early winter haymaker system is tearing up the North Pacific Ocean just before Halloween. And some 2,000 miles away, the energy from this storm unloads its full potential at Sunset Beach on this northwestern facing shoreline of the island of Oahu.
Billy Kemper, who has won the Sunset Pro twice – not to mention the three Big Wave World Tour victories he has at Pe'ahi – has just come in from treating the huge lines like a jungle gym, simply playing with the heavy water, winning his first heat of the Vans Pro presented by HIC.
Hawaiians famously downplay the size and severity of the surf, but Kemper throws no shade.
"I'd call it 10- to 12-foot Hawaiian, 15- to 25-foot faces. It's what I dream about competing in at Sunset Beach. This is the angle. These are the conditions. It's a blessing to have this to open up the first event of the season," says Kemper.
It's an understatement to call Sunset Beach an iconic surf break. There are few surf spots that have the competitive longevity of Sunset Beach … None actually.
First ridden by the pioneering hellmen of the 1950s, it was the big-wave litmus test prior to Waimea Bay and Pipeline. At the very dawn of professional surfing in the early 70s, Sunset Beach was the home of the World Pro-Am Championships. Prior to moving to Waimea, Sunset was the original venue of the Quiksilver In Memory of Eddie Aikau. There was also a Women's CT event called the Gidget Pro. Even the Backdoor Shootout was moved to Sunset in 2000.
"There's so much history on this shoreline. This sand and this parking lot right here," adds Kemper, unable to take his eyes off the next set blasting onto the reef. "It's the most challenging, yet most rewarding venue to ever compete at. If you can be consistent out here, your name will be remembered forever."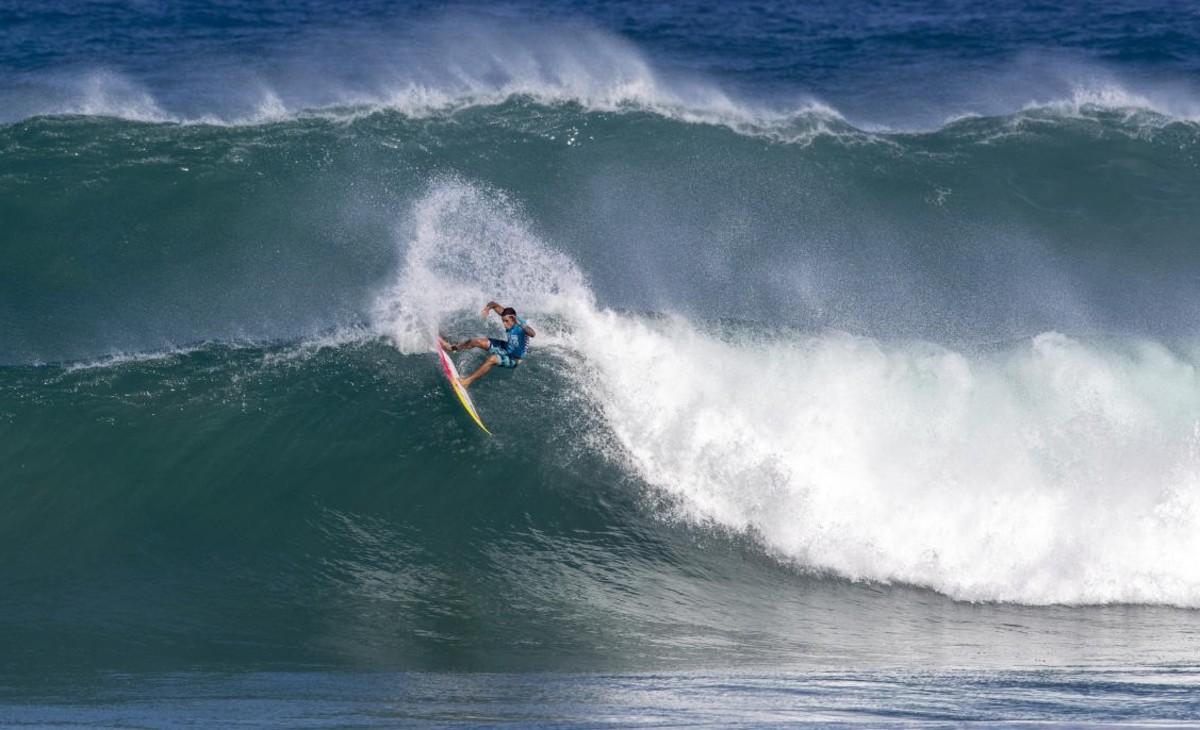 While other tour stops get added and dropped from the circuit, Sunset remains a constant. Today there are three WSL Qualifying Series events held here – the Vans Pro in October, the Sunset Open in January, and the Vans World Cup (which is the second jewel of the Vans Triple Crown, the pinnacle of the professional surfing year).
"Back in the '60s, it was the place to prove yourself," says Randy Rarick, the 70-year-old surfer/shaper/retired event director who has surfed Sunset for over 50 years. "In the early days I considered Jeff Hackman the best at Sunset. Then Paul Strauch. Gary Elkerton was the guy in the '80s. In the '90s it was Sunny Garcia and Johnny Boy Gomes. And they were bigger, stronger guys. Then, of course Andy Irons. I always felt like Joel Parkinson surfed really well here, too. I think Jordy Smith is still a standout today with Zeke Lau. And again, these are bigger guys. It could always make or break a career because it just had so much diversity."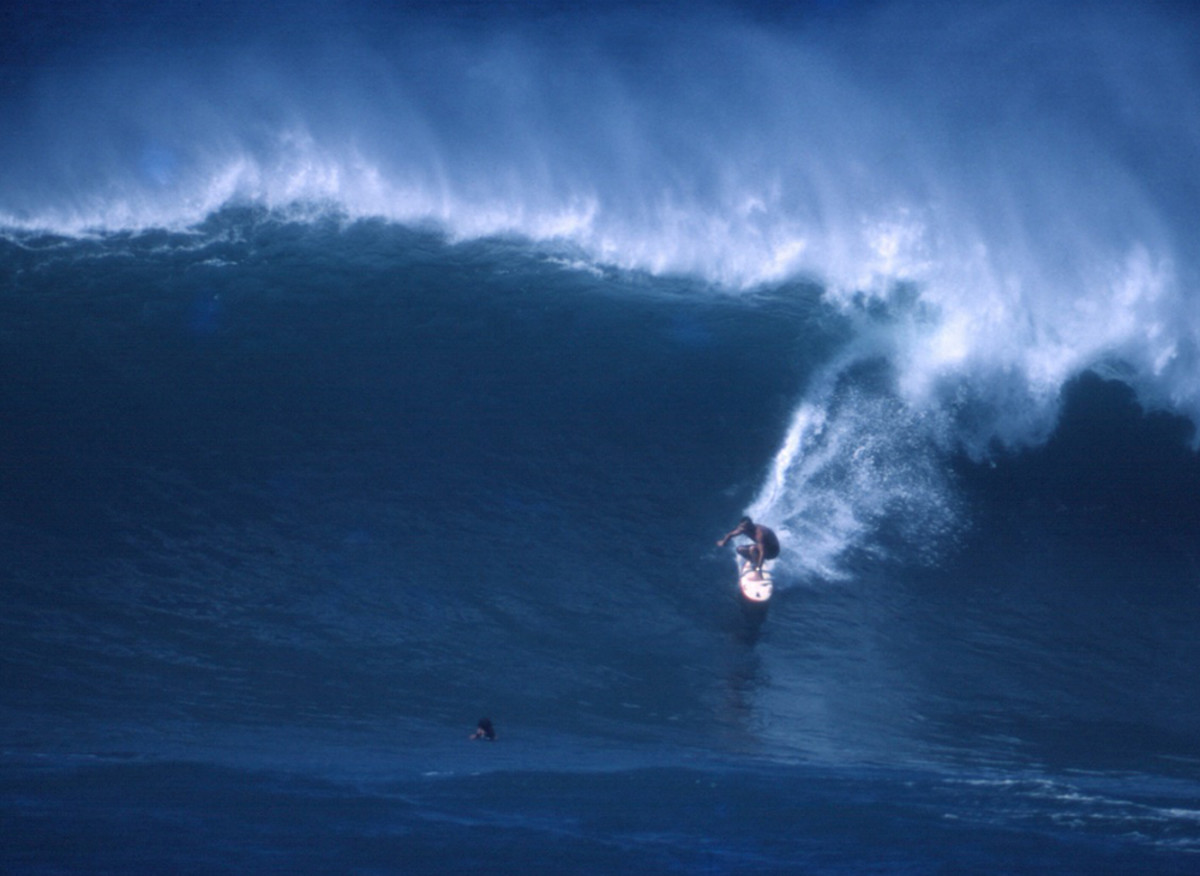 He's right. Careers are made and broken at Sunset. Each year, the Vans World Cup is the final QS event of the season, worth 10,000 points toward qualification to surfing's Championship Tour. Aside from the rare charger who's already amassed enough points earlier to qualify, mosts hopefuls' ultimate fate is decided at Sunset.
And Rarick understands its importance more than anyone. He never wanted to see it dropped from the World Championship Tour but feels that it was largely because of Kelly Slater.
"Kelly took the emphasis off Sunset because he was so good but he never did well here. He had such a presence at Pipe that was well-documented. He shifted surfing's focus from Sunset to Pipe and Backdoor. But there are so many well-rounded surfers that do well at Sunset. A guy can surf well all year in small waves but he has to prove himself at the end of the year at Sunset," Rarick explains.
Patrick Gudauskas has just descended a round one Sunset behemoth and tore the face off it as if it were a chest-high nugget in his hometown of San Clemente, California. Gudauskas and his two brothers, Tanner and Dane, are among the most lovable pro surfers on the planet. Pat has maintained rotating duties with the qualifying series, the CT and professional freesurfing for the last decade.
"My whole career has been so intertwined with Sunset," says Gudauskas. "My highest peaks and my lowest valleys have all been here. I'm absolutely in love with it. It's my favorite wave in the world. It's always challenging. It's always something new. You really never get the same section out there twice. It's the full proving ground."
Like most, his fate has also been decided here.
"In 2010, my brothers and I were all in the same heat in the quarterfinals here. I had already qualified and Tanner needed to qualify. The odds were astronomical that we'd all be in the same heat together and we all qualified," he recalls.
The swell pumps and at the end of the third day, Hawaiian CT surfer, Ezekiel Lau makes the finals of this year's Vans Pro. He came out of the gate with a 7.67 and a 6.5, relegating the other three finalists into a combo situation. The 202-pound 25-year-old is of the younger generation to get Sunset wired. He's won both the Sunset Pro and World Cup here and admits that when he's been struggling for results, Sunset has saved him.
When he was younger, Lau's coach was Dave Riddle, famous for having coached Andy and Bruce Irons.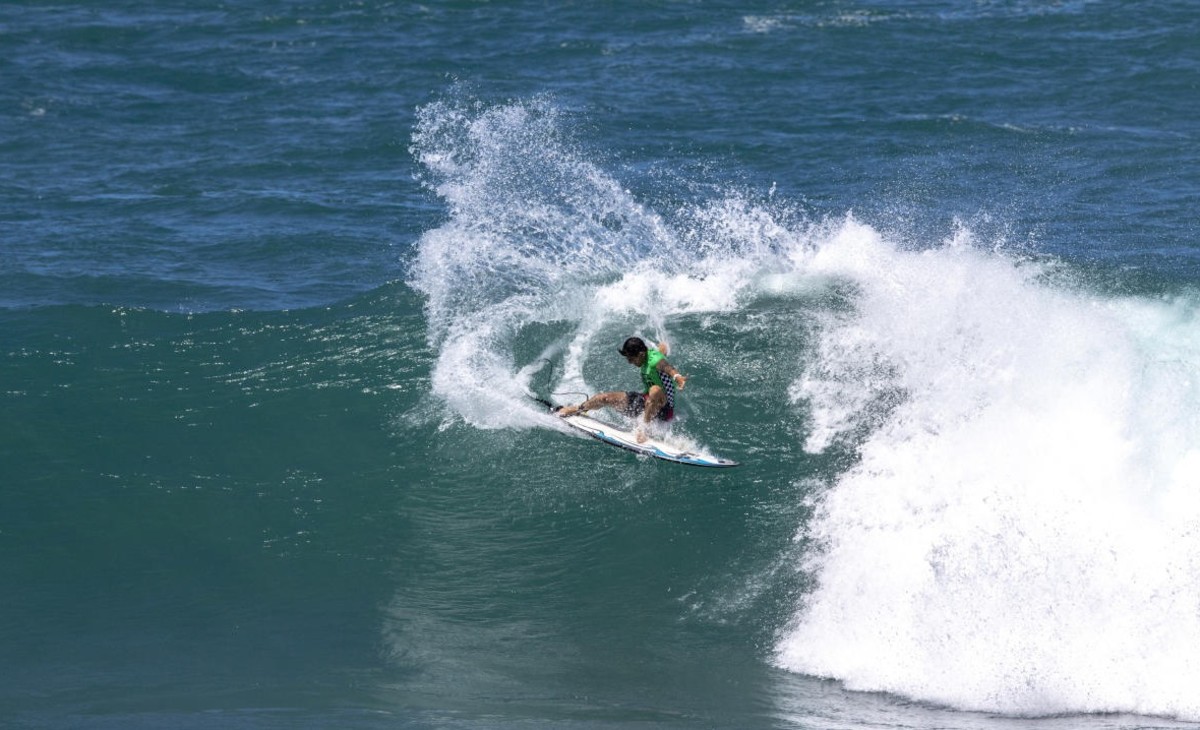 "Dave always put a lot of emphasis on me going out here and practicing, ever since I was young," says Lau, after having just collected his second place trophy. "Surfing Pipe is easy. We all love to get barreled. But to do well at Sunset, you have to be disciplined and put in the time. It's different lines, different equipment. You have to hunt the line up. It's not just a big wave, it's a big playing field."
For every surfer that has pulled out of this parking lot a made-man, the are countless competitors who make the disappointed walk back down the North Shore bike path, knowing they have to start their campaign all over again the next year.
"We started using it as a training ground for all the big-wave spots outside of Hawaii. We'd see it washing through huge and we'd just go sit in the impact zone, just loving it," says Gudauskas. "I had one wave our first year over here that I air dropped and hit really hard. I was almost knocked out and was being held under. I climbed my leash up to the top. It was maybe the closest to drowning that I've maybe ever been. That one rung my bell and really humbled me. I was at that point where I was like, 'I got Sunset.' And Sunset was like 'No you don't.'"
Rarick's scariest moment came after four decades of surfing the place, as big as it gets on a 10-foot gun, to as small as it gets on a 10-foot noserider.
"I checked the surf one day and it looked about 8-foot. I had to take care of something in Honolulu and I was going to surf when I got back. But I made the mistake of not checking it again and I grabbed my 8-foot board. As I got down there, I could see that the surf was 10-foot, but I figured I have enough experience and I would be ok," explains Rarick. "But as I'm paddling out, a 12-foot set came through. I was scratching for the horizon and got caught inside. My leash broke. The second wave pummeled me. It was huge. And then I took the third wave on the head. That was 15-foot. I came up from the fourth wave, completely out of breath. I remember thinking that if there was a fifth wave, I was done."
Fortunately, Rarick didn't get caught in Sunset's infamous rip tide. He swam to the shore and crawled up the beach.
"I just turned 70 [years old]. Eight-foot is my limit now," he laughs.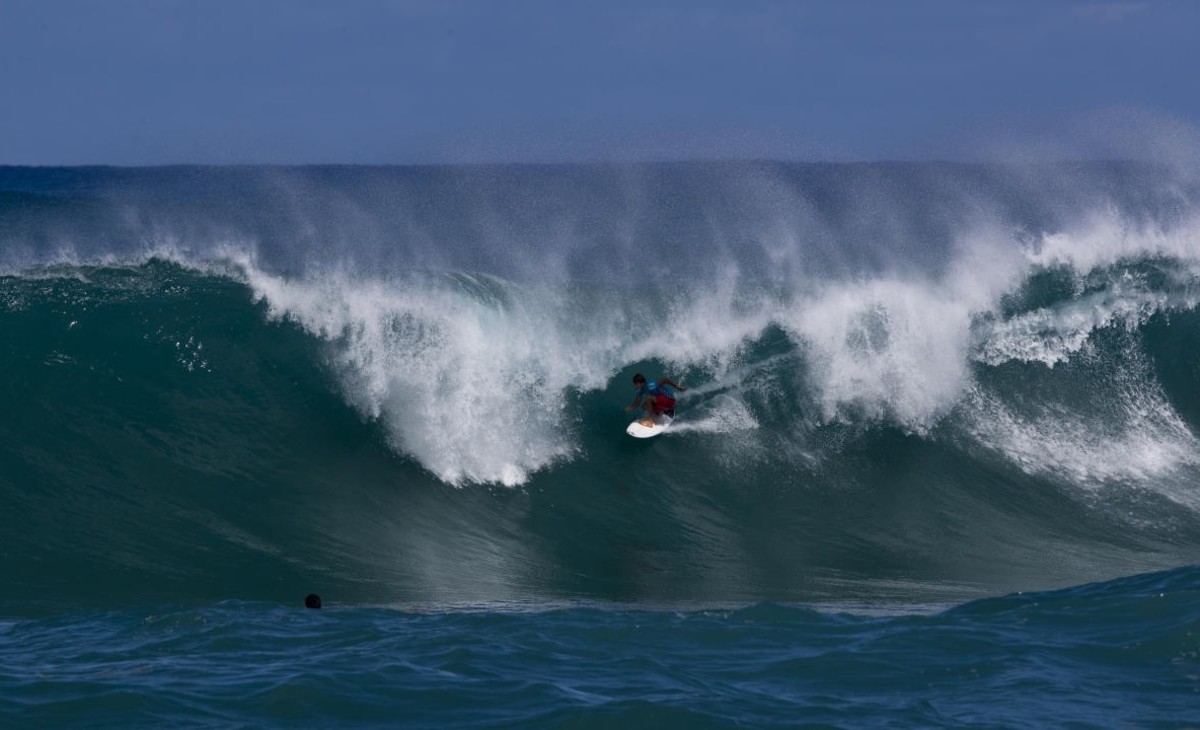 Spots like Pipeline and Teahupoo are all about about tube-time. And while Sunset's barrels are more elusive and shifty, a heaving section can get a surfer spit into the next round. Aussie Jack Robinson's impossibly deep round-three barrel in the Sunset Pro earned him a perfect 10. But Sunset has always been known for more. Where else does anyone talk about a smooth bottom turn anymore? And Sunset is the standard for power carves.
"It's the ultimate performance big wave. When you think of Jaws, Mavericks or Waimea, it's very rare to see people doing performance turns at the other big-wave spots," says Gudauskas.
The 2019 Vans Pro ran in three short days. The surf had pumped the whole time. In the end, South Africa's David Van Zyl took the win with vertical turns that signify the direction that surfing Sunset Beach is going.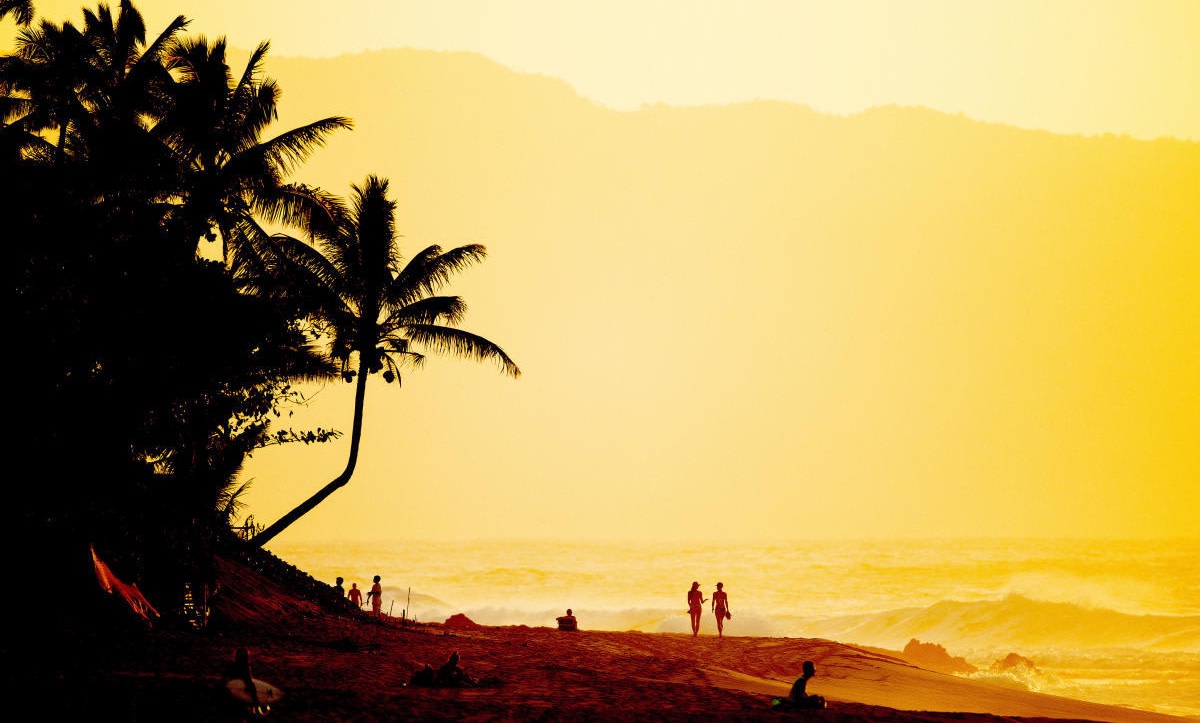 It takes commitment, dedication and strength.
Kemper looks to his Hawaiian roots for that. He grew up admiring power surfers Sunny Garcia, Pancho Sullivan, and Kahea Hart.
"You know, they ride the wave. The wave doesn't ride them," he says. "A lot of people, when you watch them ride Sunset, they don't look like they're in control. But those guys were in control. And that's kind of been my whole mindset, growing up and competing out here – to actually ride the wave, take advantage of the opportunities and just surf it like I'm riding a little wave."
The Vans World Cup of Surfing runs Nov. 25 – Dec. 7. And as it has been the last six decades, it's always exciting.
For access to exclusive gear videos, celebrity interviews, and more, subscribe on YouTube!