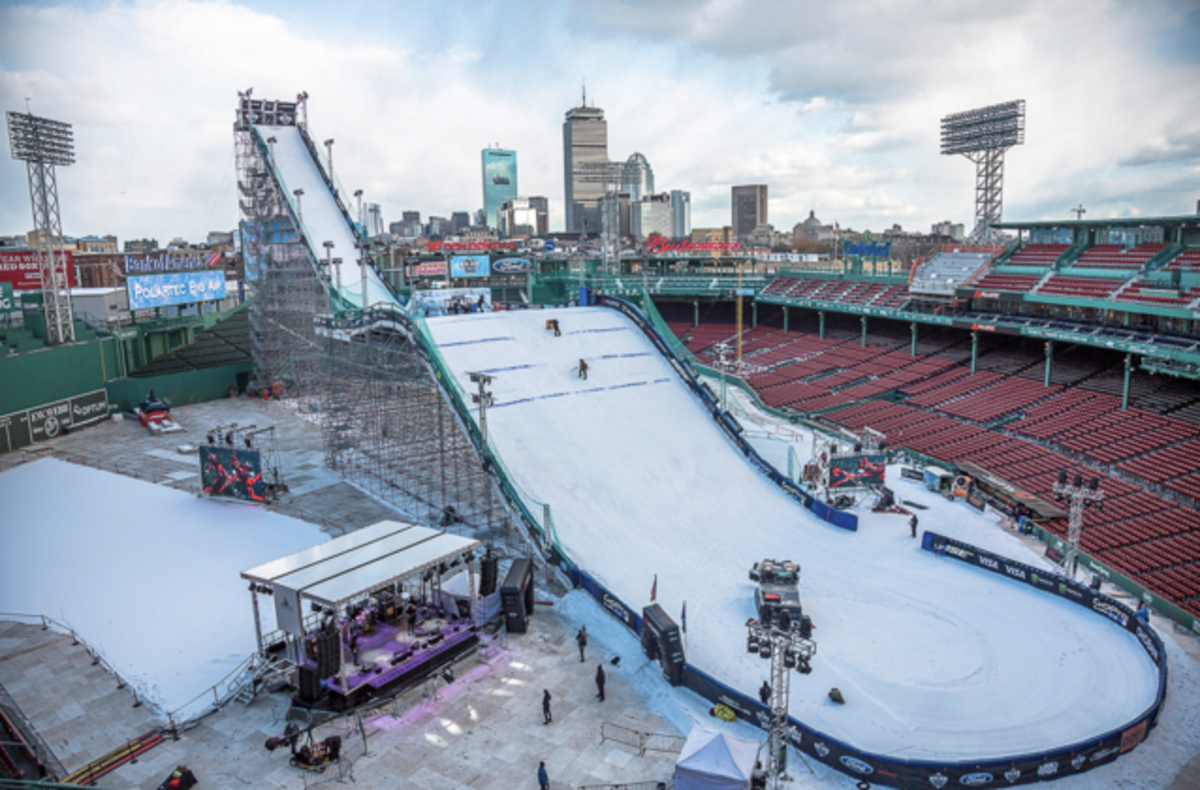 It didn't take long for skiing and snowboarding to figure out that staying relevant means evolving on a near season-by-season basis.
For many years, terrain parks scratched that itch, constantly finding new ways for the best action sports athletes in the world to slide and launch themselves into the stratosphere. Halfpipe also took center stage, turning a stunt ditch into a crowd pleaser that rose all the way to the Olympic spotlight.
But nowadays a new kid is vying for the crown, a natural progression of adrenaline known as Big Air. Unlike a slopestyle event, big-air skiing and snowboarding features one massive jump and can be held nearly anywhere, making it the ideal spectator sport for adrenaline junkies worldwide.
RELATED: Snowboarders tear up giant Fenway Park ramp
Just ask Boston's iconic Fenway Park, who, for the first time in its 104-year history, hosted a ski and snowboard event last week with its Fenway Big Air. The event featured a jump ramp made of metal scaffolding that reached 140 feet into the sky, a 70-foot jump and a landing area that ended near home plate.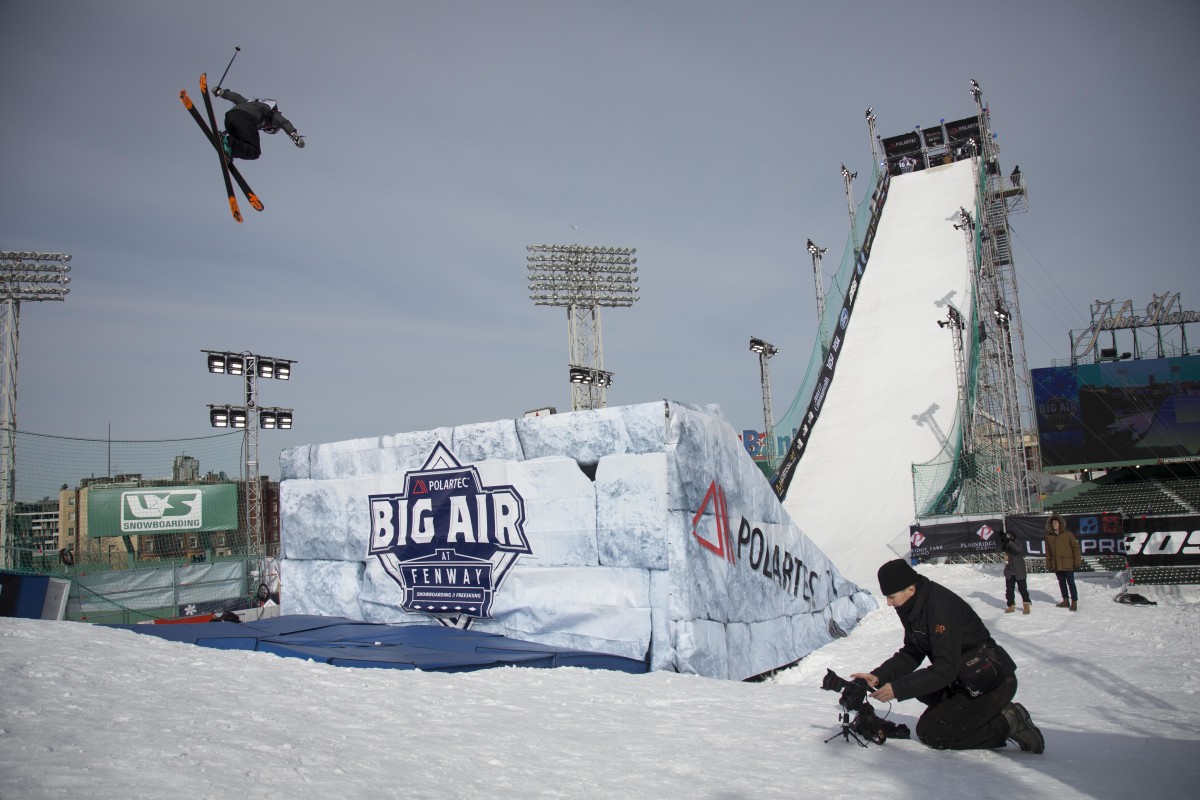 On Feb. 11, men's and women's snowboarding took to the icy stadium kicker, with Canadian Max Parrot and American Julia Marino taking top honors in men's and women's, respectively. Parrot was one of a trio of riders that managed to throw triple cork spins off of the Fenway kicker.
Skiers followed in no short order the following evening, as German Lisa Zimmerman showed why she is one of the hottest skiers in ladies freeskiing and Canadian Vincent Gagnier continued to confound judges with his multidirectional spins on his way to the men's title and a standing ovation from 15,000 fans.
With big-air snowboarding added to the Olympic docket for 2018, expect more of these one-hitter competitions to pop up in more places, including many that have never hosted a ski or snowboard competition before, in the next few years.
In addition to Fenway's first go at skiing and snowboarding, here is a look at a few other big air's worth checking out in the near future.
Air + Style Los Angeles
Part music festival, part snowboard competition, this Shaun White brainchild has helped put big air on the map over the last few years. With stops in Innsbruck, Beijing, and finishing up in Los Angeles on Feb. 20-21, Air and Style is arguably introducing more people to snowboarding than any other event right now.
RELATED: Shaun White's Air + Style fuses snowboarding and music
Oh, and with acts like J. Cole, A$AP Ferg, and Incubus on the bill, it's got one heck of a party attached to it as well.
Skying Montreal's Big Air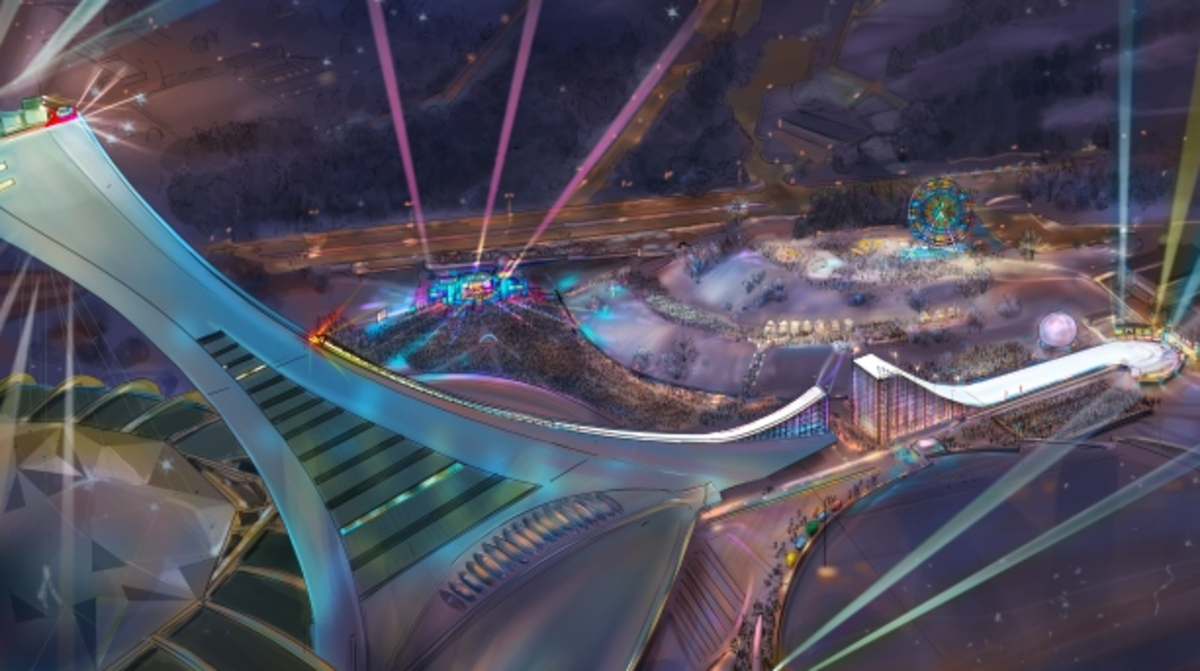 Montreal knows how to celebrate a birthday. Quebec's marquee city turns 375 in 2017 and decided there was no better way to celebrate than to turn its Olympic Tower into a big-air venue.
Currently, the event is in its testing phases, but if all goes to plan, Canada may soon be home to the most impressive ski venue in the world.
Suzuki Nine Knights
Big Air is only a piece of the Nine Knights puzzle, but when it comes to creative competition builds, no one does it quite like the guys and gals behind this European event.
From towering hip jumps to rail transfers to the gargantuan big-air kicker finale, Nine Knights attracts a creative athlete roster that takes its amplitude with a heavy dose of style.
More from GrindTV
Shrine to gonzo journalist hidden in Aspen's woods
7 Instagram reasons big-wave surfers risk their lives
For access to exclusive gear videos, celebrity interviews, and more, subscribe on YouTube!