No matter how far boxing falls in the eyes of the American public, it will always be a part of the narrative fabric. Before Rocky and Raging Bull, there was The Champ, The Harder They Fall, and a dozen more underdog stories we can rattle off at will. We've seen enough boxing, fact or fiction, that we know what the sport should look like. So it's no surprise that Jake Gyllenhaal took his training more seriously in the lead up to Southpaw than any film before.
"I was just terrified that I would look like an idiot in the ring," Gyllenhaal admits at The Four Seasons in Los Angeles, just ahead of the film's worldwide release on July 24. "I really was. I didn't know how to box when I started. The trainers are pushing you because they want you to learn, and that motivates me. That made me excited. I love that.
"There were times when I was puking and saying, 'This sucks—'"
But Gyllenhaal stops himself there with a modest disclaimer, all too conscious that playing a champion boxer is a Movie Star Problem. It's safe to say the kind of work he's describing is the kind many stars opt out of. That's no judgment on Marshall Mathers, aka Eminem, for whom Southpaw was originally intended as a vehicle. Mathers had new music to make, some of which evolved into the film's forthcoming soundtrack from Shady Records. Playing human freight train Billy Hope was not a balancing act so much as the disappearing kind, for which Gyllenhaal has earned a reputation. Nonetheless, director Antoine Fuqua needed convincing. The star understood, since he had yet to convince himself.
"I could feel the resistance in myself, not just from the people going, 'You're gonna play this part?'" the star says. "I was basically given five months. I could have taken less time, but between films I had five months and I know it takes me a long time to learn a skill and come across like I've been doing it since I was six years old. I knew how different I was from the character. So that was a motivation for me."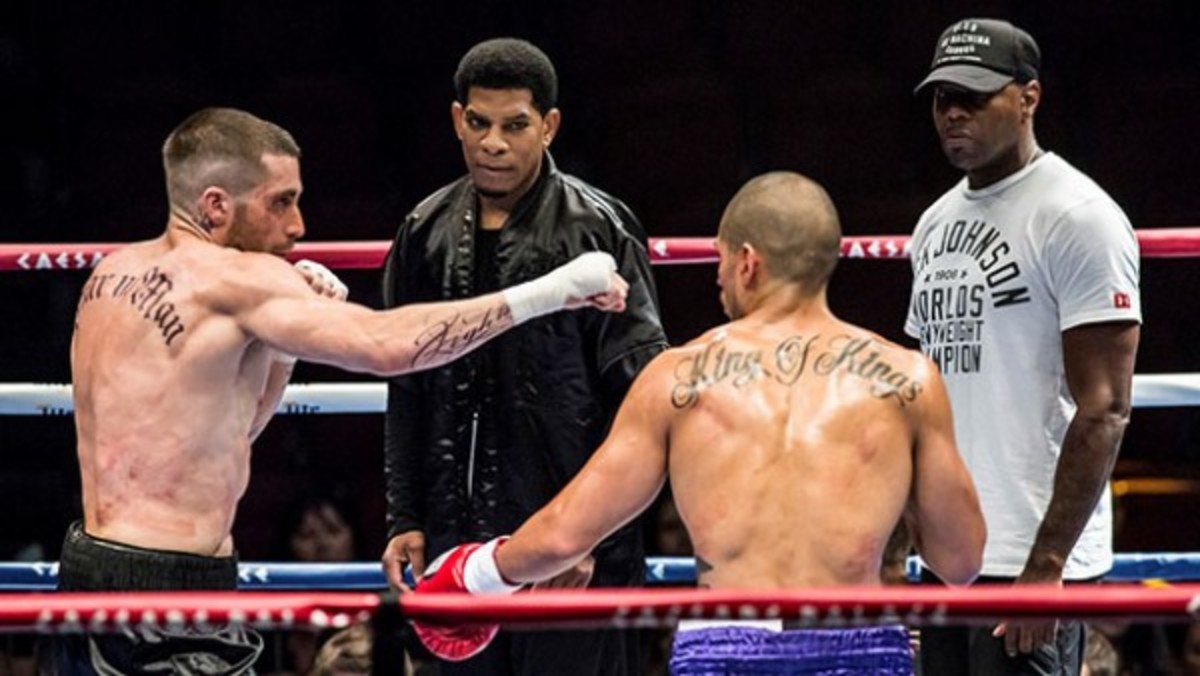 Courtesy of The Weinstein Company
Five months. Nearly half a year to most of us, but in Gyllenhaal's mind he was lacing up as a foster kid with over half his life spent in training. He was chasing a decade-wide deficit of cultivated ability.
"I decided to train twice a day because I knew if I train for five months, twice a day, it would make that ten months," he explains. "I was just constantly like, 'How do I get more time in? How do I learn more?' It was kind of a dream in a way. You get to learn a skill. You get to be taught by people who are experts who really want you to be really good."
The first promo still of the results caught fire on Twitter and movie sites. The greasy serpentine Leo Bloom of Nightcrawler was gone, devoured by a 200-pound behemoth of raging, stacked-up murder that was supposedly Jake Gyllenhaal. The change seemed overnight, but it wasn't. It was in the day, every day, for a minimum of six hours.
"The first part of the day was all technique stuff, all angles, learning how to throw punches and footwork. Stuff that wasn't exerting yourself to a place where you were throwing up, and the second part of the day was getting yourself into physical shape," he says. "Sometimes we would flip them, but it was getting ready for sparring and getting ready for the physical aspects of the job."
The intense demands of the schedule performed two functions: burn years of essential muscle memory in a short period of time, and condition the fighters for the practical challenge of shooting the fight scenes that could drag on for eight hours.
RELATED: The Most Authentic Boxing Movies 
"The whole professional fight is 36 minutes," explains 50 Cent, with emphasis. "When filming, you're fighting, stop, cut, and action. Stop, cut, and action. Again, over and over and over. Maybe only I realize, but I'm saying he's gotta be tired as a motherfucker. I'm tired watching you!" 50 brought firsthand experience to playing Gyllenhaal's manager, Jordan. Having run (at least until recently) his own fight promotions outfit SMS, he doesn't give endorsements lightly, and he doesn't discuss the star's "intensity" in coded language. The dedication is what endeared Gyllenhaal to him most.
"He's challenging himself in a different way," 50 Cent says. "He's doing what he loves, but he's challenging himself. He could do this film half as good as he was physically… But he was running five miles every morning before he came to set."
Gyllenhaal is just as self-effacing as he is serious about the experience.
"The weird thing about throwing up when you're working out is, if you give yourself 30–45 seconds, you feel great! And you can go again," Gyllenhaal says. "It's a very odd thing you would never expect."
His first mistake? Assuming for a moment he would have a knack for it.
RELATED: Creed is the Rocky Film We've Been Waiting 30 Years For
"It's most humbling," he admits, "particularly for a performer who is used to being prepared. You're just like, 'Wow I really, really don't know what I'm doing. It's like not studying for a multiple-choice test and thinking there are four choices. How bad can it be? I think I assumed, 'Hey maybe I'll be a natural at it.' I certainly wasn't a natural at it.
"Shadowboxing was very embarrassing. And it still is for me, because you're alone in there using your imagination for a fight… while people are watching you. It's a little bit like taking up any skill and having an audience watch you do it. You have to set aside the feeling that you want everyone to think you know what you're doing and slowly start to learn."
Fuqua encouraged the deep dive. The director ran mitt drills himself with every fighting actor, and then pulled Rachel McAdams into the ring to give her a first-hand sense of what her on-screen husband was facing. Rather than rely on choreography, he wanted the cast to move, react, and improvise. He would use HBO camera crews and get as close to live as one can without charging $99 a ticket. For Gyllenhaal it was essential to his performance.
"If there were no fight scenes in the movie, I would have trained as hard and wanted to get hit," the actor says. "I don't think you can walk into a scene as a boxer that is not in the ring and claim you're a boxer without knowing how that feels, knowing what the training process is like. I don't think that is something you can act, in my opinion."
RELATED: The Thrilling New Trailer for Everest, Starring Jake Gyllenhaal
It should be noted that Gyllenhaal had just filmed Everest, another physically arduous film, before taking on Southpaw, and it gave him the one edge he could claim: altitude training. He says it's key for anyone looking to power up fast and survive in the ring.
"There's a mask I wear at one point in the training sequence that I trained with a lot, particularly with mitt work, that strengthens your lungs," he says. "So that sense of not getting any air, I was used to it. That strengthened me. The resolve of that, of pushing yourself, I admire the guys who really do it. But it's very hard for me to use words like hard or miserable when talking about making the movie. It was fun. I'm blessed."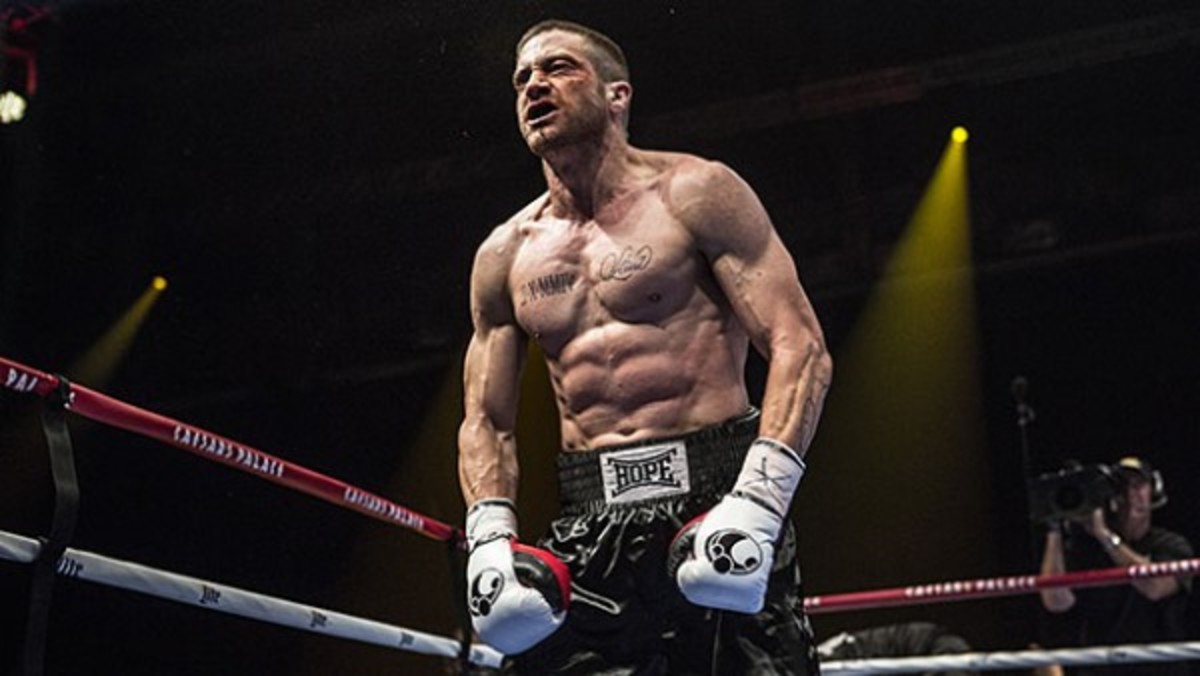 Courtesy of The Weinstein Company
For access to exclusive gear videos, celebrity interviews, and more, subscribe on YouTube!