Congratulations! You've decided to join the wonderful world of mountain biking. Prepare yourself for a world of early morning wake-ups to head to local trails and various cuts and bruises appearing all over your body.
RELATED: Mountain biking down a World Cup ski course looks terrifying
But before you can start pedaling there's the small issue of having to, you know, buy a bike and all the gear you'll need to ride. And much like buying a car, buying a mountain bike can be just a tad overwhelming: There's an endless amount of different types of mountain bikes, and with certain premium models retailing for over $10,000, it's enough to make your head spin.
However, there is a way to navigate the entry-level waters of mountain biking without going completely broke. And we're here to help. Here's a quick guide to everything you'll need to get yourself into mountain biking.
Bike
To begin, you'll obviously have to purchase a mountain bike.
If you want to get a decent bike that you won't have to spend heaps of time repairing, and one that will perform well enough that you will actually want to ride it, you're realistically going to have to shell out around $1,000 — at the very least — for a bike.
The best way to find deals on retail bikes is to go to a local bike shop right around winter when they're clearing out their stock for new inventory. With clearance deals you can often find bikes at 30 percent off or more. And if you really want bang for your buck, check Craigslist for deals on lightly used mountain bikes.
You can often catch someone who is looking to quickly unload a bike they've done a solid job of maintaining for way below its worth. If you find something that catches your fancy, make sure you take it to an independent bike shop for an inspection before you buy it.
Helmet
This should go without saying, but you're going to need to buy a helmet to keep your melon intact.
You don't need to go crazy spending here, you just need something that'll work. Try the Giro Quarter MIPS. It comes with the patented Multi-Directional Impact Protection System and a simplistic stylish profile for $60.
Riding Shorts
You're going to want a pair of bike shorts that do two things.
First, you need bike shorts that are gonna offer compression and keep you from chaffing. Second, you're going to need a pair with padding to help you avoid getting saddle sores.
Like everything with mountain biking, you can essentially spend as much money as you want on these, but there's no real reason to spend more than $100. Try the Zoic Ether. While they retail at $80, you can usually find them on sale at places like REI.
Gloves
You're going to fall riding your mountain bike … That is a certainty.
Whether it's your first time on a bike or you're a seasoned pro, if you're getting after it or riding in less than ideal conditions, there will be many times when you'll hit the ground. And the first time you take a spill without riding gloves you will understand just how thin the skin on your hands is.
Grab the Ride 100% Ridefit gloves. BIKE loves them, and they cost less than $30.
Water Bottle/Hydration Pack
You're going to sweat while mountain biking, and when you sweat, you obviously need to hydrate.
There are two ways to go about getting your water: a water bottle and bottle cage, or with a hydration pack.
Many mountain bikers who are going on shorter rides will prefer a water bottle and bottle cage, since it eliminates the bulk of having to carry a filled water bottle on your back. You can grab Elite's Custom Race cage for $13 and pair it with an insulated Polar Bottle for $13.
If you're going in for a hydration pack, you're going to have to drop a bit more coin. The Camlebak M.U.L.E. has been a staple for many a mountain biker since it hit the market in 1996, and you can find it for under $90.
Multi-tool with chain tool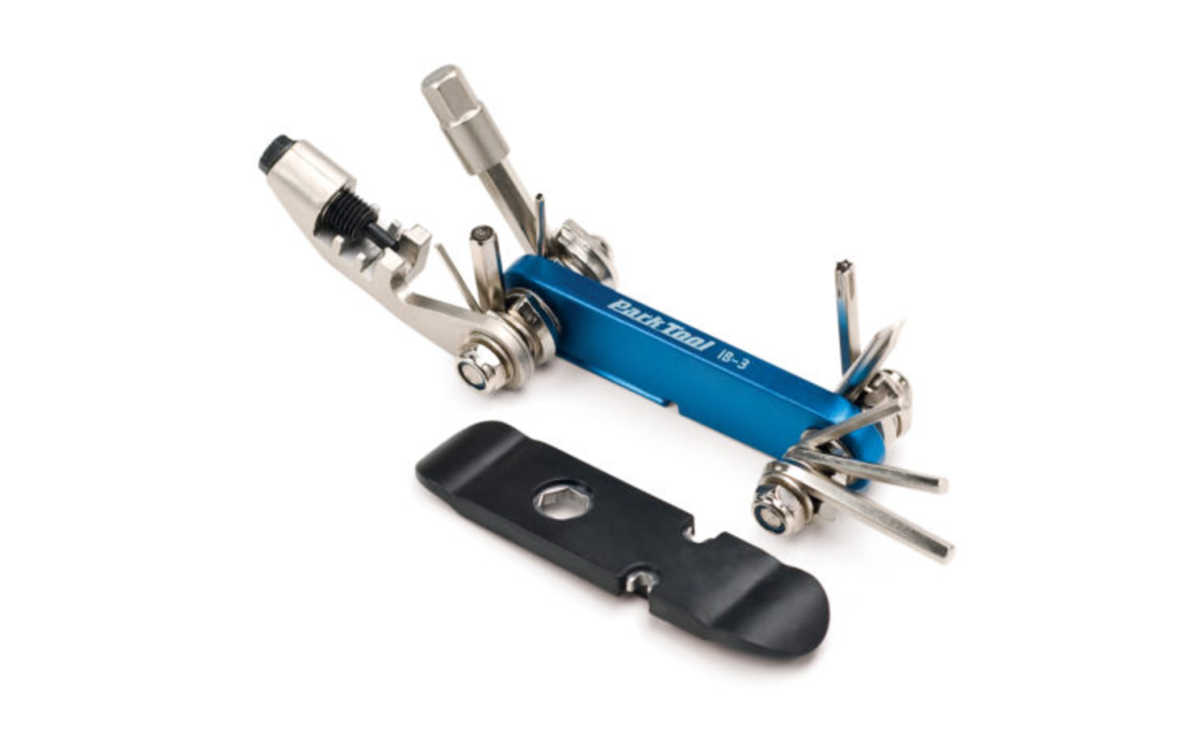 You'll need to carry a multi-tool to carry out any minor emergency repairs that might pop-up while you're out on the trail.
Too often people skimp on their multi-tool, going for the lightest option possible but sacrificing things like a built-in chain tool to help you replace any broken links on your bike chain. The Park Tool I-Beam Multi-Tool IB-3 can be purchased for under $30.
A high-powered mini pump, patch kit and spare tube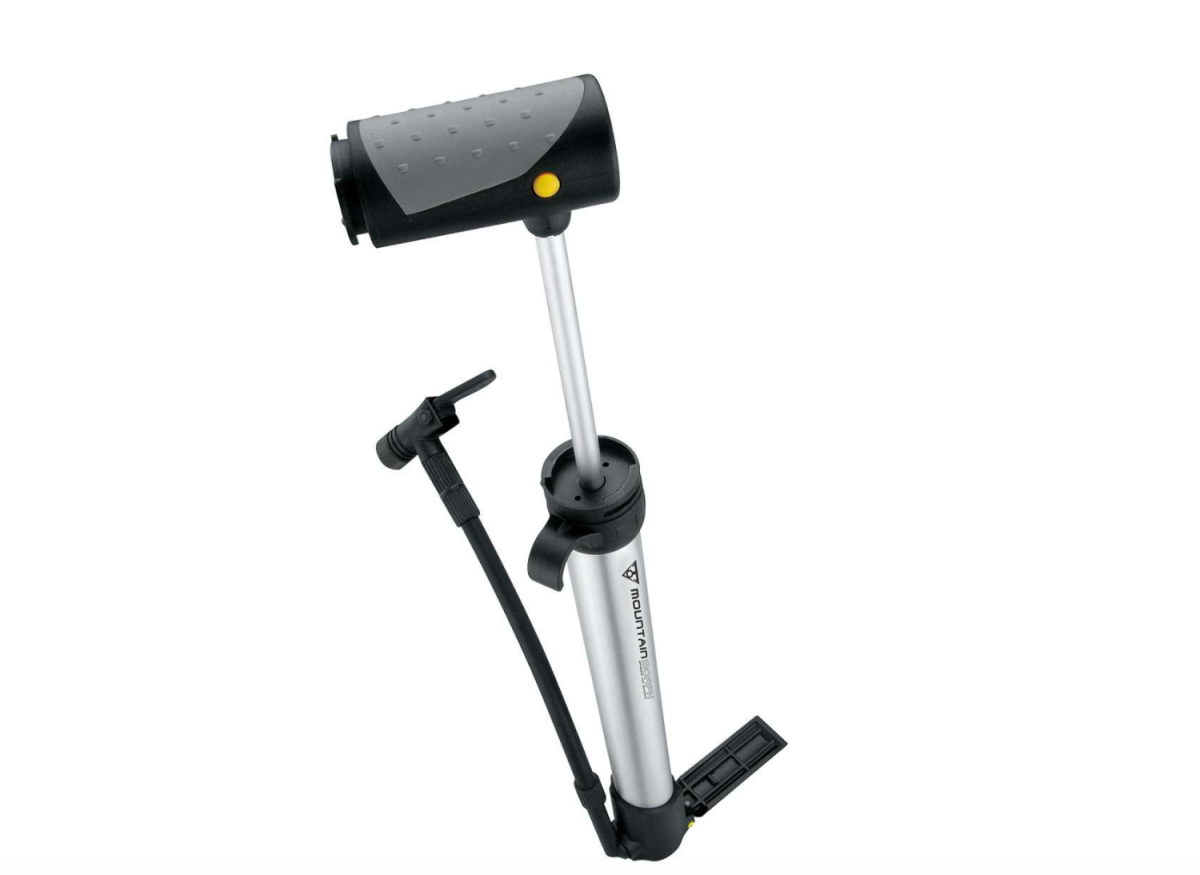 It's important that you keep the air in your tires, well, in your tires.
And when you're out on the trails, you will undoubtedly encounter a moment where you either puncture a tire or need to add air to the tubes.
To be able to quickly inflate your tires, buy a high-powered mini pump. The Topeak Mountain Morph Bike Pump is available on Amazon for under $40.
You'll want a patch kit for any small punctures that happen on the trail. The Novara Patch Kit costs $3 from REI.
And if the puncture you suffer is so bad it requires you replacing the entire bike tube, you'll want to have a spare tube on you. You'll have to know the size of the tube that fits your tire, but REI carries a collection of replacement tubes for under $10.
All things included, that's all of your essential mountain biking gear for under $1,350. While it's certainly not the cheapest sport to get started off in, if handled properly, it can certainly be done.
For access to exclusive gear videos, celebrity interviews, and more, subscribe on YouTube!