Tim Johnson made history in February.
The six-time national cyclocross champ became the first person to bike up Mt. Washington in the harsh, unforgiving winter. The Red Bull athlete climbed the mountain on a modified fat bike, completing the perilous 7.2-mile ascent in just under 2 hours, while battling 39 mile-per-hour wind gusts and temperatures plunging to -19 degrees with the wind chill.
Fresh off his victory of man over mountain, Johnson spoke with Men's Fitness about his preparation, survival strategies, and the next great challenge on the road ahead.
Men's Fitness: How does this compare to other challenges that you've taken on? 
Tim Johnson: It's just its just so different from a race on a Sunday. World ranking points, national championships—those are the usual metrics in my world of professional bike racing. This is completely out of that realm. I think it really went better than I expected, first of all. I really did think of it as, "I wonder if I could ride up that." And I wanted to know how long it would take. And before I knew it, it had really expanded and had become something really different. Which I loved. 
Why is the fat tire bike geared so well for this type of ride?
That was actually one of my concerns—can the fat bike be applied in that way? It's usually not something you use to go uphill, because it is kind of a bigger bike. It's heavier than the usual racing bike. When I won the hill climb on a road bike, my bike was about 15 pounds. And this bike was almost double that. But the tire volume, the studs that we put into the tires, and the gearing itself ended up working out pretty well. Although more than a couple of times I wondered if I would keep moving forward or if was just gonna slide backwards down the hill.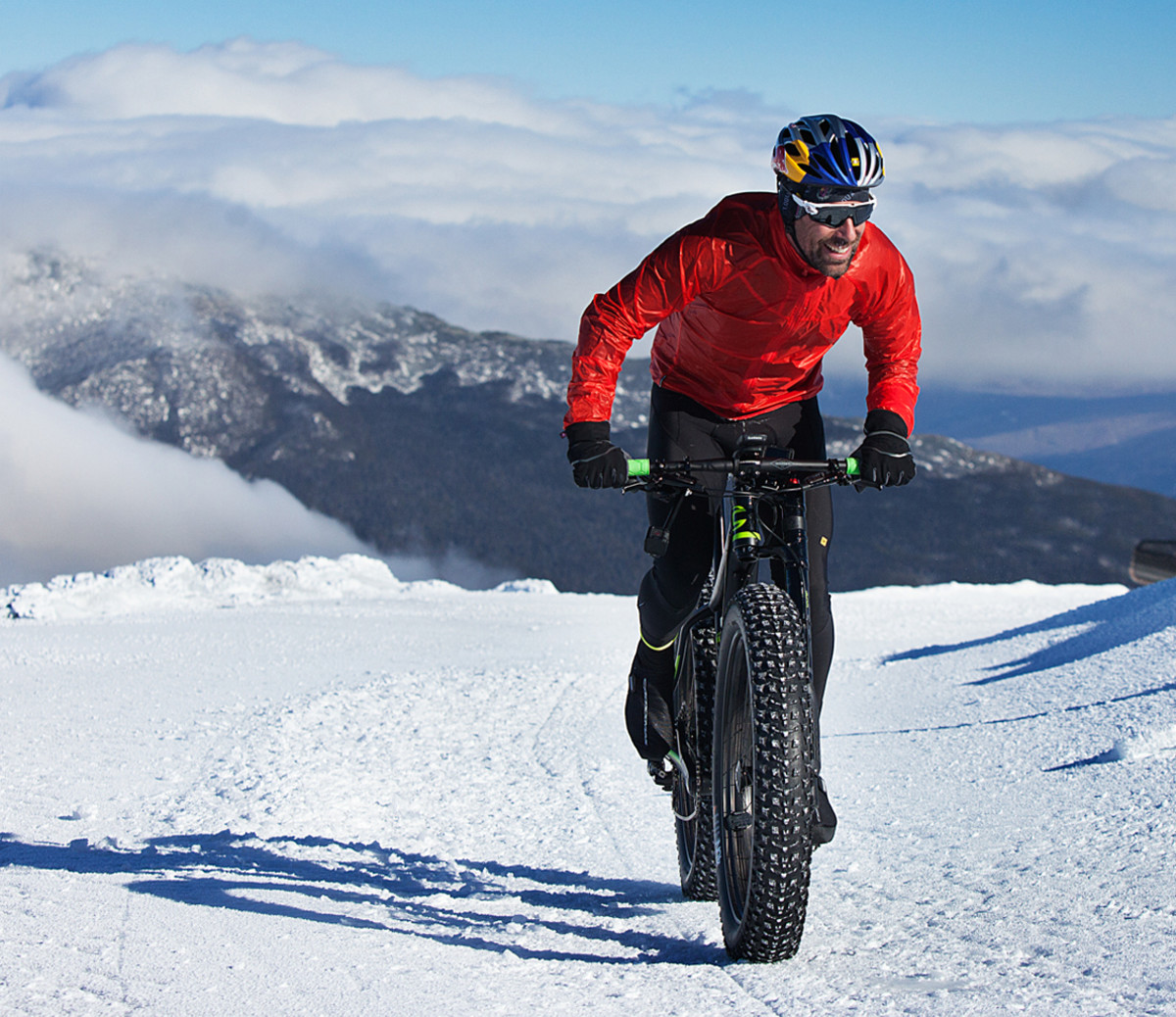 What modifications did you make to that bike to get it perfectly tuned for this climb?
The tires themselves are just a different type of tire that has more traction, bigger lugs. But it also is a tire that you can add in screw-in carbide studs. And so when you add the studs in there, it allows the studs to really grip into the snow; into the ice. So that's really the biggest modification that we made. I tried to take weight away from the bike as much as I could—upgraded the rims to carbon fiber, so that took more than a pound and a half from each one. You know, there's only so many things you can do when you're faced with whether or not you can ride what seems like up a vertical wall with a bike. 
How did you pace yourself during the climb?
My sport is cyclocross, and cyclocross is a one-hour timed event where you basically go full-gas from the very bottom, from the start of the race until it's finished. We would average a heart rate of 180, 185 [beats per minute] for that hour, so this was just a little bit different, because I was almost expecting 3 hours. I was expecting to have a lot more difficulty with snow and ice. I was also expecting to pedal slower, so I was really happy with the amount of time that it took.  
Pacing on this climb—it's funny, because the ice is so slippery, you literally could not pedal that hard. It's almost like a governor, which made it really easy to pace because you can't really stand up and sprint. You have to be delicate and pedal in a way where you're smooth when you apply power, or the tire would slip. In that way, Mount Washington definitely did me a favor.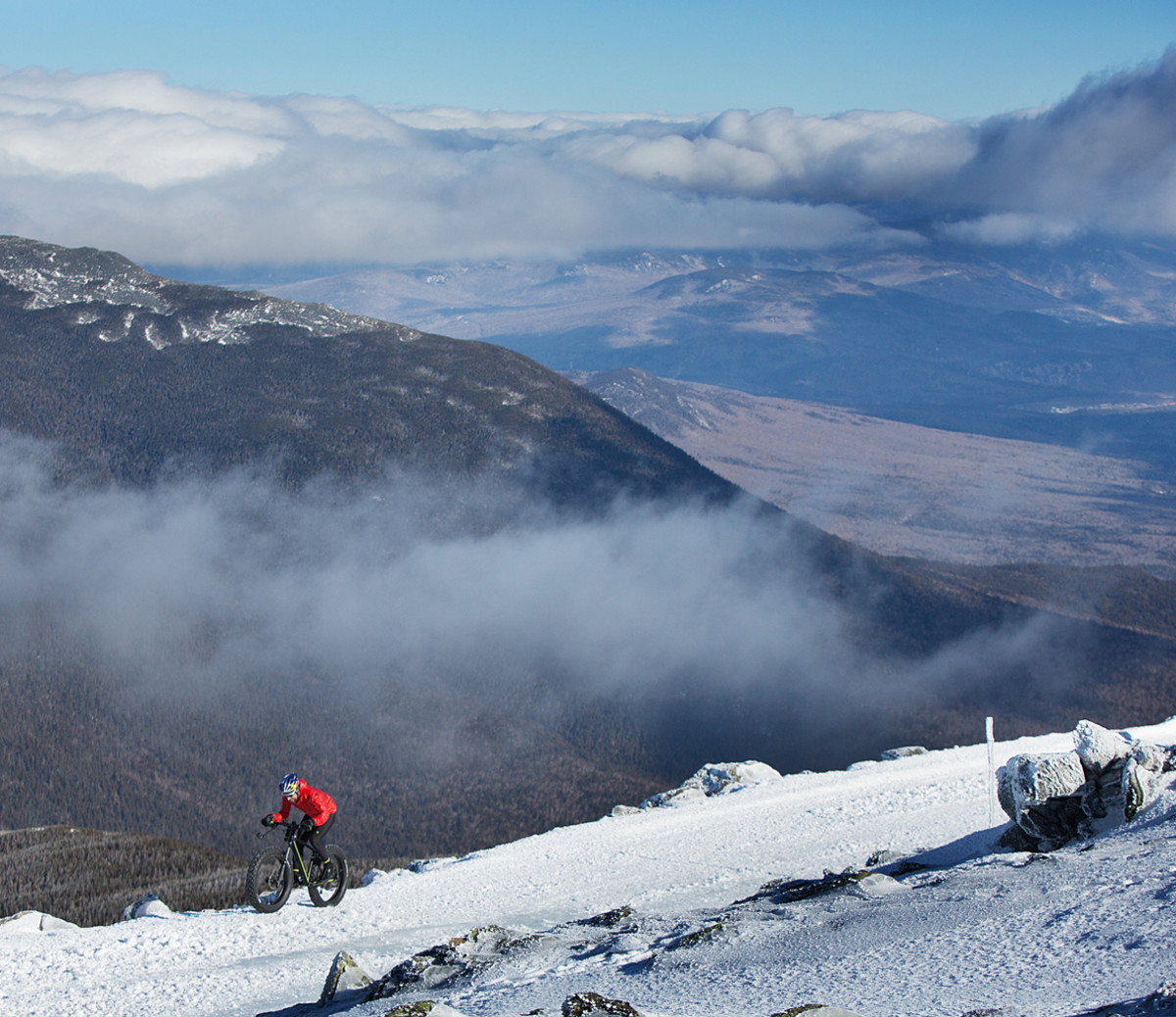 What did you wear to stay warm up against -19˚ with the wind chill?
I'm lucky enough to have married my wife, who's from Quebec, and I spent a lot of time racing in the cold weather. Cyclocross is a fall and winter sport. I've been in cross-races where the temperature was below 10˚F. But I also spend a little bit of time skiing, and it's actually called skimo—ski mountaineering. You put a skin on the bottom of your ski so you climb up the mountain; you take the skin off really quickly, lock your heels in, fly down the slope.  So that kind of gave me a history with cold weather.
For this climb, I had to plan for a really hot core, because I was working so hard to climb, but also the really cold air. So I dressed very, very lightly. If you see in the video, it looks like I'm going off for a regular ride in the spring.  But I had my favorite undershirt, which is wool, with another wool undershirt underneath that that's like a really fine mesh. Basically anything to pull the moisture away from my body, but still provide a little bit of heat. On top of that, I had a Mavic jersey that was kind of raised, so it was standing off of my skin and not stuck to it. And I had a windproof shell that I use for skiing. And that's just to break down that wind, because it's really just a killer. Any time I stopped—and we did a couple of times to switch out a camera. The GoPros were dying left and right, cause it was so cold. Every time I stopped, I instantly became cold. And when I got to the top, it was a real struggle to even stay outside for more than 5 minutes before I was really starting to shiver. And I was shivering for a couple of hours after that. 
With the wind so strong, how did you work around that? 
The winds were strong but honestly for Mount Washington, they were actually pretty light. Which is crazy to say but that place is really known for just constantly being battered by winds. I think there are three weather systems that typically converge in that area and the winds are such a constant. The day before, winds sustained around 100 miles per hour. The next day—a Tuesday—it was barely 50 miles per hour. We kind of took that as being very fortunate but at the same time, we had to stick to a couple of rules. People from the Mount Washington Observatory and the New Hampshire state parks were really helpful with providing support.  But they said "Hey, if it's more than 55 mph sustained, we're gonna shut you down. We can't risk you being on a bike and getting blown off the side of the mountain."
In some of those photos you can see that the road itself is raised; it's got a relatively OK platform, but the slope just drops right off. And it is literally covered with ice, all of it. The road, the rocks. If someone were to lose traction, and really start to lose traction, your gone. You would like bounce across the rocks. Which is nuts. It's just such a crazy thing to have to think about. I was not very confident that this would go as well as it did, going into the night before. My mind was racing with all of the things that could go wrong. And that was one of my worst fears—just skittering across these rocks at 60 miles per hour, getting pushed by the wind.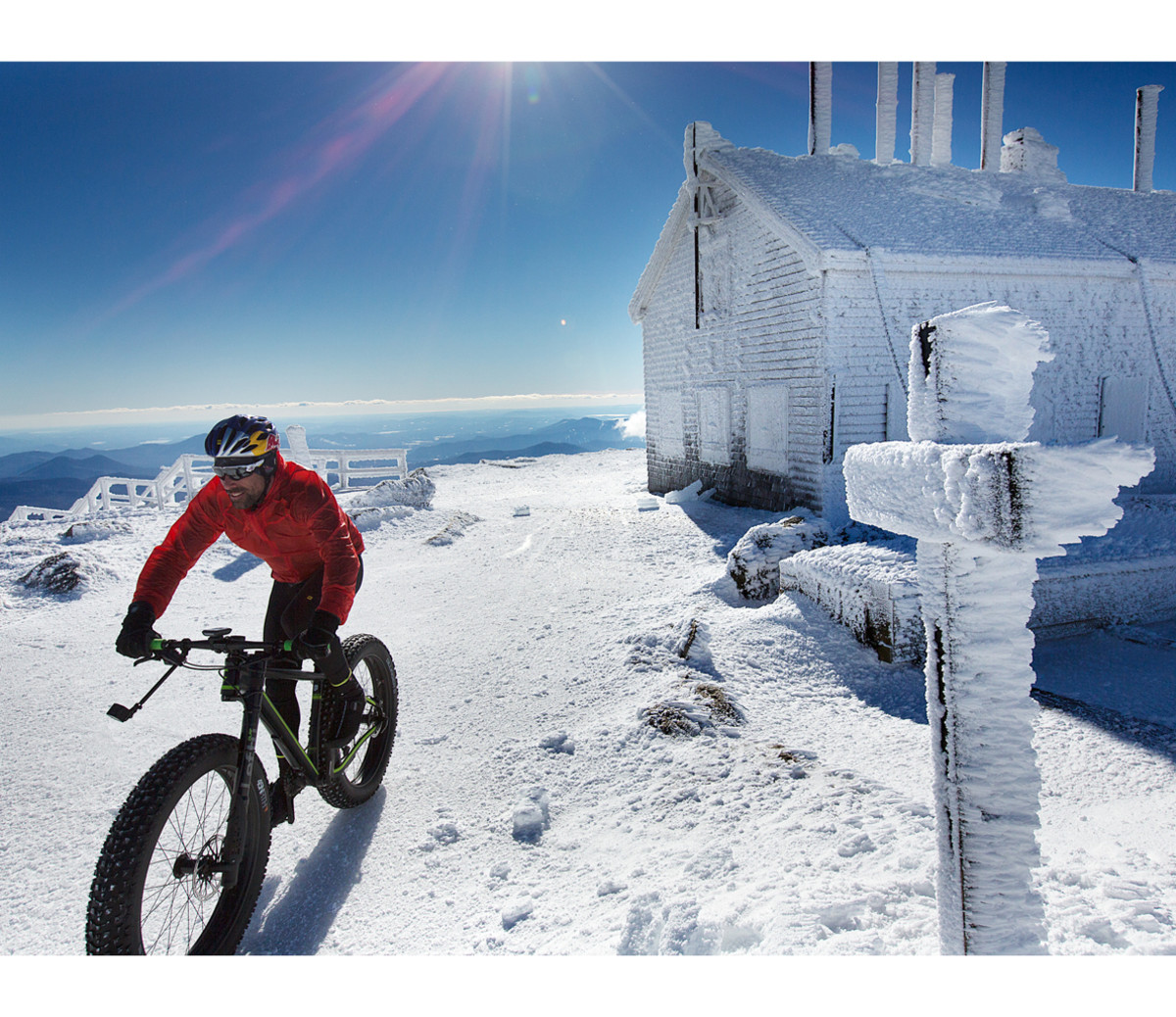 Where does the inspiration come from to go after a big challenge like this?
Well, this is something that's a little bit different because I'm not racing the full schedule anymore. I've kind of stepped back from racing the World Cup circuit—the biggest races in the States. I raced professionally for almost 16 years. This kind of a project was really cool because it gave me a chance to put a lot of that energy and that thought process with the direction, you know? The direction to try something new, do it in a place that meant a lot to me, and as a Red Bull athlete, I can't tell you what it's like to pop open Twitter and see what another one of our athletes had done. You click on a video, and I'm the first one to say "holy shit, what the hell are they doing," you know? And so that kind of atmosphere and community is more powerful than I think even I understand, and certainly people who aren't in it would just be amazed by the stuff my peers and fellow Red Bull athletes are up to each day. That's definitely a big driver. 
What's the next challenge on your agenda? 
Oh man, you know, it's a whole new world out there when you're not racing every single weekend. I have a lot of fun projects based around bikes and racing. There's a 200-mile long gravel race in Kansas called the Dirty Kanza, there's one in Utah called the Crusher in the Tushar. The names are hilarious but even if you're wearing a number, and you're in these groups [of] 500-1,000 riders. It's so different from starting a World Cup where you're in the first row, you've got the best riders in the world against you, you've got one hour to put in the best possible race you can. There are two different types of pressure and intensity, but at the same time, there's nothing like sharing that feeling with a random group of 500 people who are lining up to do the same thing that you are. It's kind of a neat thing and think we're lucky that we can do that.
The Top 5 Places to Bike, According to Pro Cyclists >>>
For access to exclusive gear videos, celebrity interviews, and more, subscribe on YouTube!