For a team that has won everything in tennis — 109 overall titles, 16 Grand Slams, an Olympic gold medal — Bob and Mike Bryan don't take losing well. There have been post-match verbal throw-downs between them in locker rooms, unshaven faces for weeks on end, and zany, if-we-do-this-we'll-get-back-to-winning mantras.
But the Bryan brothers (as they're simply known in tennis realms) don't have to be good losers. That may, in fact, be one of the reasons the brothers make up the best team to ever have played the game: They suck at losing.
"Grand Slam losses stay with us for a while. It's like a hangover that lasts four or five weeks," Bob told Men's Journal at Wimbledon, days before they'd lose in the quarterfinals there.
On the major stage, it's been a season of major disappointments for the world's No. 1 team, and next week they head into the US Open without a Grand Slam title this season. Not since 2004 have the brothers gone Slam-less in a calendar year.
Much has been written about this pair of 37-year-old identical twin brothers from Camarillo, California: That they were raised by two tennis-playing parents and went to Stanford; That they played the US Open five times before winning a match; That their genius is in their likeness — in a unit moving as one on a tennis court built for a duo. Yet Bob and Mike owe a good deal of their success on court to their differences: Bob is a lefty, Mike a righty. Bob is married with two kids and a third on the way. Mike is also married, but still (happily) childless.
"Bob is more relaxed, and I'm the planner," says Mike, who at Wimbledon hadn't shaved for weeks after their disappointing French Open loss. "I make sure we get in the gym, I make sure we're on time, bring all the stretching bands, and make sure he's got all the protein powders…"
"…He lays out our outfits the night before, too," Bob cuts in. The brothers laugh.
Last year they lost another heart breaker, this time in the Wimbledon final. It was against a young team in Vasek Pospisil, a Canadian, and Jack Sock, an American kid with a thumping forehand, evidenced by the roaring passing shot he hit by a frozen Bob on championship point late in the fifth set.
"Some of our greatest runs have come after crushing defeats," Mike muses. "It usually motivates us to play some of our best tennis. That was a crushing defeat, yes, but then we had one of the greatest stretches of our career."
They won titles in Cincinnati, New York, Shanghai, Paris, and London to close the season, capturing 22 of 24 matches. Their win at the US Open last September was their 100th.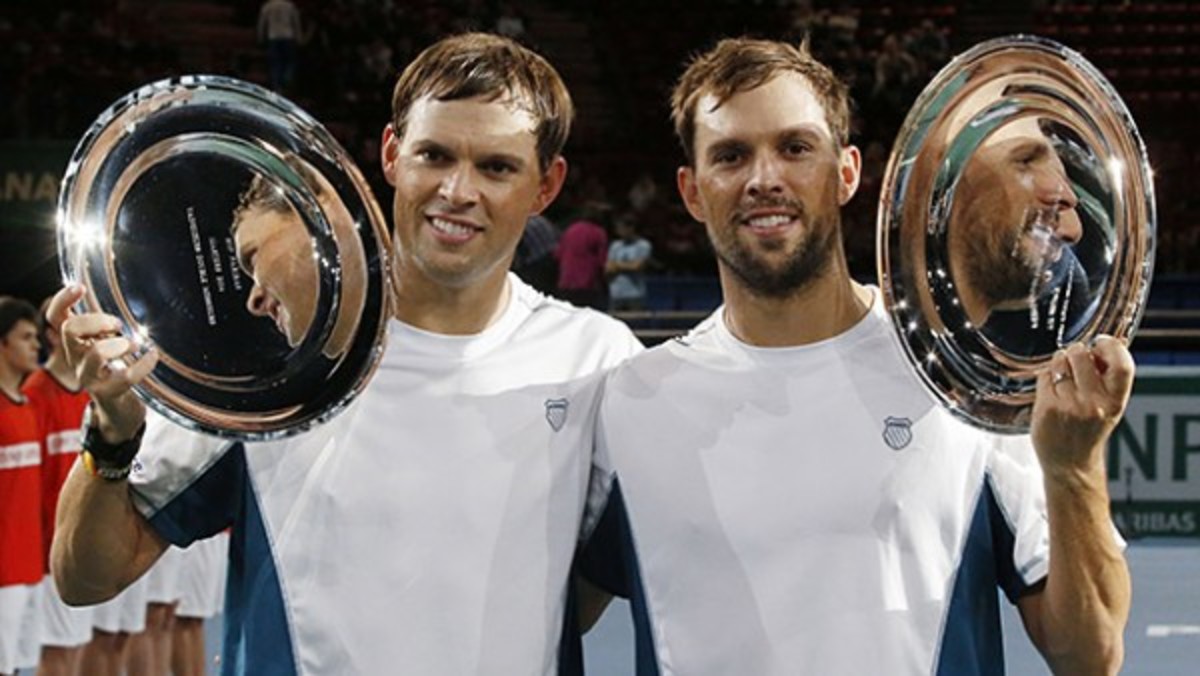 AP Photo/Michel Euler
"The highs are definitely a lot higher for us as family, but the lows are lower," says Bob of playing with a brother. "You never want to let your twin down. You never want to be at fault, so you point your finger a little. We've let stuff fly after matches, and it stings a little more coming from your brother."
Bob finds fuel in chaos. He loves to produce music. He's a tech geek. His mind is a constant whir. He makes videos on Vine that get thousands of Loops. One is of him jumping over his son Bobby Jr., not yet two years old, to dunk a mini basketball. R. Kelly's "I Believe I Can Fly" is laid over the six-second clip.
"I'm more solid. I'm making more returns and playing percentages, and he goes for the big shot. He's more exciting," Mike says, explaining how their differences play out on the tennis court — literally.
Bob scrunches his face at this, unsure of where Mike is going, but his brother continues: "I mean, we complement each other well because he has this great return that keeps us in a lot of return games. When I'm serving well, it makes the service games more intimidating."
The brothers are still the most intimidating force in doubles tennis. They will play — they say — at least through the Rio Olympics next summer, then check in with their bodies, which they rarely rest these days because if they take time off, they each risk turning into "The Tinman," Bob says.
Mike calls their gold medal in 2012 in this city their greatest accomplishment: "It's the only trophy that people want to touch when they come to our houses. It's, 'Can I hold your gold medal?' " Bob, meanwhile, says it's their lasting legacy and consistency: "The fact that we were able to clear every hurdle from age six to now. And not get tripped up. We kind of knocked down every milestone along the way. We've kept our foot on the gas and haven't let up since we were kids."
When they were kids, they'd spend hours on the tennis court after school, then retreat to their bedroom and turn on the Red Hot Chili Peppers or R.E.M. or Pearl Jam and play ferocious Nerf basketball. They wouldn't stop for water breaks.
"The hoop was so duct taped on the wall that you could hang on the rim," Bob says, the brothers again laughing.
"It was always timed out to a song," adds Mike. "It was whoever was winning by the end of the song, he wins. We would go game after game."
RELATED: Is Milos Ranoic the Future of Tennis?
The constant stop and start, four-minute spurts, and playing through noise was a precursor to their pro tennis careers, where their Nerf court is now Centre Court, Arthur Ashe Stadium, or Court Philippe Chatrier, where they lost, three points from the trophy.
This summer the brothers won trophies in Atlanta, Washington, D.C., and Montreal, at one point running off 13 victories in a row. But their most recent match is a loss, just last week in Cincinnati.
That may be the best thing for the brothers when they step on the court in Queens.
"The only way to get over losses is to get back on the court and win matches," Bob says. "That's really the only way to solve it. It's great to see my kids and my wife, and to see the smiles on their faces. That puts everything in perspective. That definitely helps me heal. But I still have that burn that can only be healed by holding up that next trophy."
"We both hate to lose more than we love to win," Mike adds. "We're both serious competitors and" — Bob cuts in — "and we remember the losses way more than we remember the wins."
They'll be remembered much more for their wins than their losses, twin brothers seemingly so alike, but made great by their differences. And even more so by that hatred to lose, something, perhaps, they taught one another as only brothers (and a Nerf hoop) can.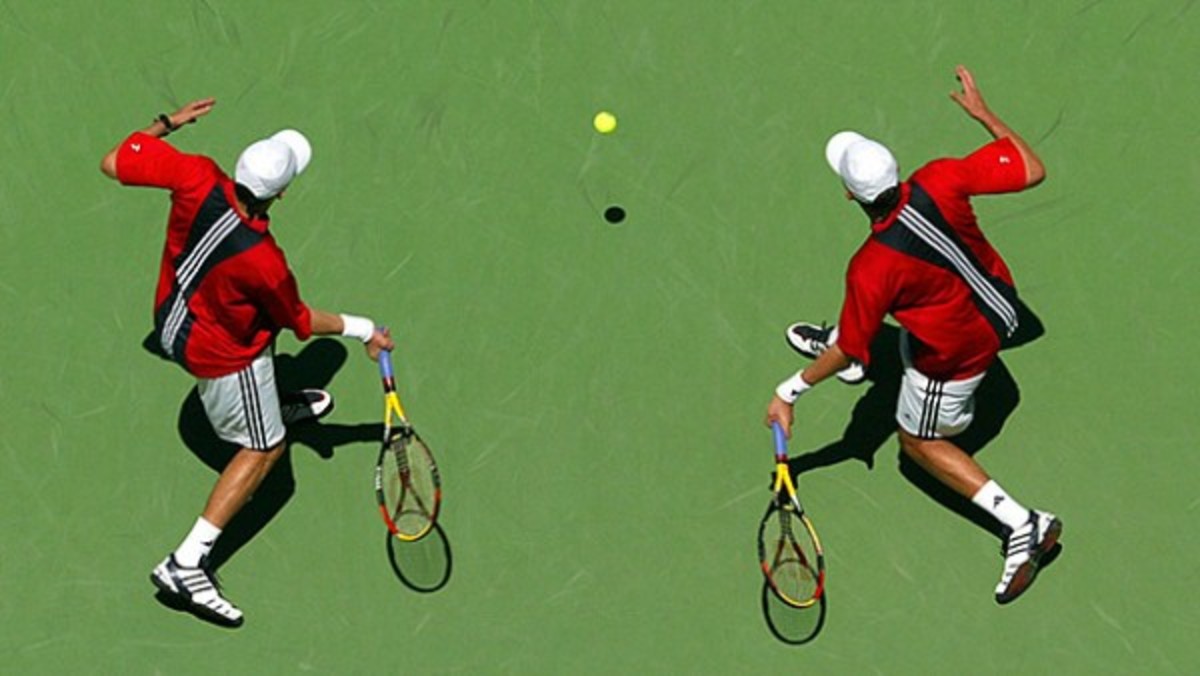 Getty Images
For access to exclusive gear videos, celebrity interviews, and more, subscribe on YouTube!