Adventure
How a Professional Ice Climber Prevents Frostbite in Sub-Zero Temps
Professional ice climber and paraglider pilot Will Gadd has one of the most diverse action sports portfolios known to man. From climbing underground mines in Sweden, offshore icebergs in the Atlantic Ocean, and even Niagara Falls to putting up a first solo ascent on the tallest mountain in the Canadian Rockies, Gadd has overcome the most frigid landscapes imaginable pushing the limits of adventure. Frostbite is something he regularly fights.
So when Gadd began posting a series of tips for keeping your hands and feet warm on Instagram earlier this year, we listened carefully and learned a lot. Now we want to spread the wealth. Here are Gadd's field-tested techniques for combating frostbite in sub-zero temps.
How to Know if Your Extremities Are at Risk for Frostbite
Cold hands and feet are a clear sign your core temperature is too low. Your body senses a crisis and prioritizes warming up vital organs, sacrificing its peripherals. Naturally, the amount of blood circulating to your hands and feet is limited to prevent heat loss from the core.
Ideally, the preventative measures listed below will kick in before your core body temperature falls too low. But in the case that your hands and feet feel like icicles, be prepared to kick your body into "overdrive" in order to pump enough blood to warm them up.
"It takes roughly five minutes of hard uphill travel to get the blood really pumping through your hands and feet, and another five or so for them to be truly warm," Gadd explains. "If you're resting, or on belay, try doing 200 squats, 100 leg swings, or 50 windmills per side."
Loosen Up… Physically, Mentally, and Materially
If you're skiing, snowmobiling, or working with tools, one of the simplest methods to combat cold hands is to relax and loosen your grip. When stressed, frustrated, or nervous, we have a natural tendency to clench our hands. By doing so, our muscles put pressure on our arteries for too long, which results in reduced blood flow and cold hands.
"I always try to hang off my ice climbing tools, as opposed to squeezing onto them," Gadd says. "If you can train yourself to loosen up, you'll have much warmer hands."
Avoiding added constriction from gear is also key.
Gadd warns against wearing undersized or overly tightened ski, climbing, or hiking boots because they can noticeably constrain circulation to your feet. This means never crank the tightness on your boots or wear multiple pairs of socks; always loosen your boots while resting. The same goes for gloves. He recommends choosing a pair of flexible gloves with loose wrist cuffs like Black Diamond's Guide Finger Gloves or the Absolute Mitts.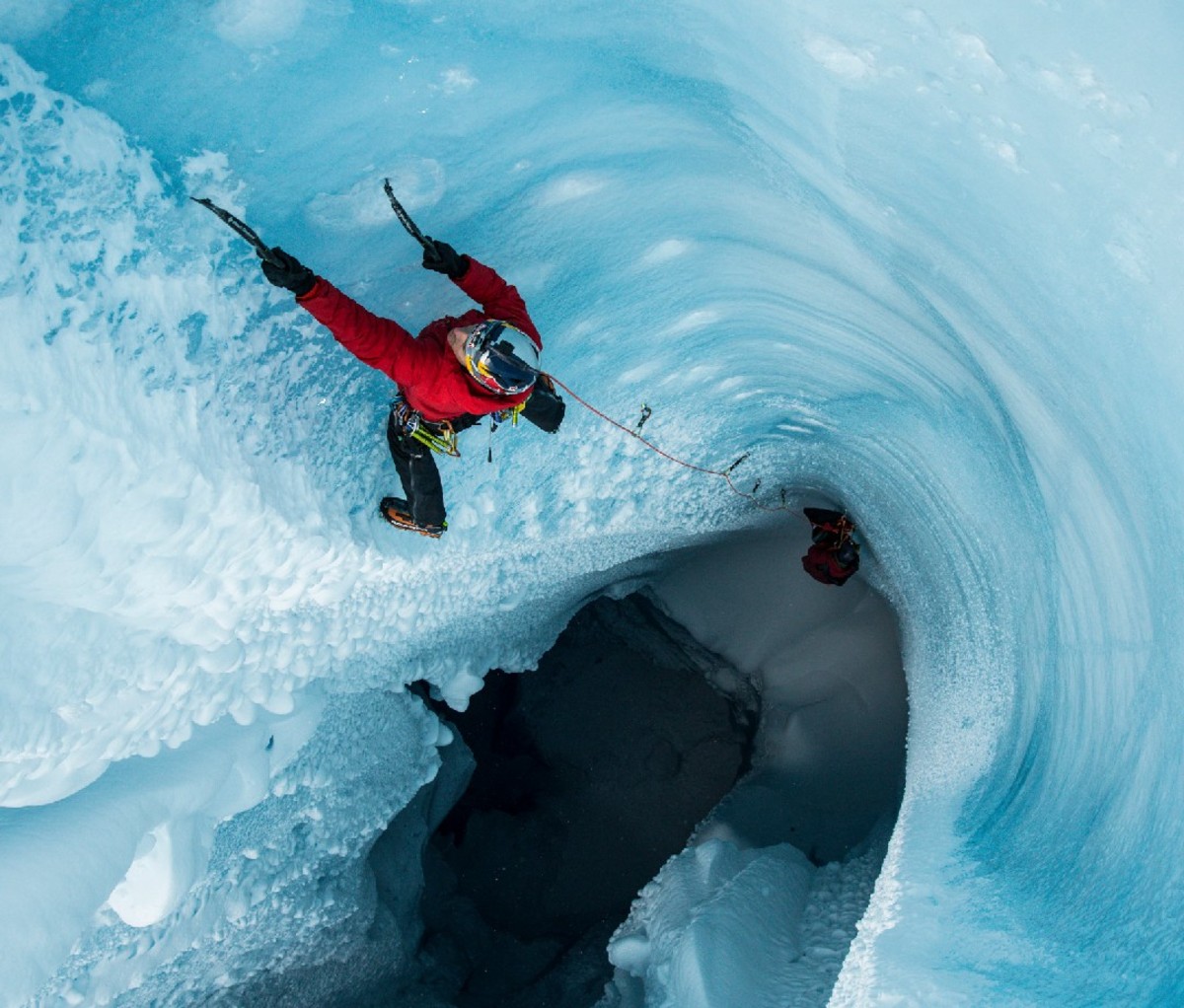 When it Comes to Frostbite, Layering Is BS
Your average outfitter will stress the importance of layering to keep your core, hands, and feet warm. Start with a light baselayer, add a thin wool mid-layer, an insulated puffy jacket, and top it off with a waterproof shell. If you're too hot, shed a layer; if you're too cold, add a layer. In theory, these minor adjustments should provide the perfect degree of insulation and protection for a wide range of conditions.
Gadd, on the other hand, thinks layering is nonsense. He suggests you dress for where you'll be, not where you are.
"Most of the time we're either a raging furnace when moving or freezing when standing, so I have two outfits—that's it," he says. This'll keep you from "adjusting a thin layer while prancing along."
During strenuous activity, muscles generate a tremendous amount of heat, but don't when standing. Gadd knows he'll warm up once he starts climbing. So instead of waiting to get too warm and sweaty, Gadd prefers to strip early and climb in the least amount of clothing possible. Once he's completed his climb, he immediately bundles up into a heavy down jacket like the Arctery'x Cerium SV Hoody, and a pair of Gore-Tex insulated pants like the Arctery'x Macai Pant for maximum comfort.
Stay Dry…At all Costs
Movement can up your heart rate, increase circulation, and boost your core body temperature. But too much movement, if not properly regulated, can create another big problem at sub-zero temps: excessive sweating.
If your skin is wet, your body will lose heat through evaporation. If you gear is wet, its thermal and evaporative-resistance properties will begin to diminish. This means body heat can escape through that layer more easily and sweat can evaporate more quickly. These processes can draw energy from your body and create a cooling process—creating a recipe for disaster in cold environments.
This is why Gadd adventures in as little gear as possible. And if he does start to sweat, he strips down immediately.
"Even at -4° F you can hike and ski with bare hands, but if you get your gloves wet or damp, you'll suffer," he adds.