The morning after the storm. . . all I can say is we are grateful to be alive.
STORY BY AMY FREEMAN / PHOTOS BY DAVE FREEMAN
Have you ever been on an overnight paddling trip when a storm rolled through? Maybe you heard a crack of thunder disconcertingly close overhead or the wind buffeted your tent, threatening to break a pole. Maybe your boat was caught in a gust and blew down the beach or you were in a deluge of rain so intense that it seeped through the floor of your tent. I ask this question to see if you relate to that feeling of Mother Nature putting you in your place, humbling you by an intense onslaught of weather. Have you ever emerged from your tent the morning after a storm feeling lucky to be alive?
Dave and I had such an experience recently – one of the few times we've truly felt scared while in the wilderness. I'll tell you what we did in the moment. I hope you consider what we did and ask yourself what you would do. I also hope you ask yourself, 'Is there anything to gain from such an experience of danger in a wild place?' I see the sense of perspective and humility gained from such an experience as being a gift — an intangible value that comes from time spent in nature. After all, is a daily commute in traffic on a highway any less risky than sleeping in a tent? No. It is the opposite, but you probably don't kiss the ground, feeling grateful to be alive every time you get out of your car.
The storm hit northeastern Minnesota in the early morning on July 21. If you live in the state, you probably heard about it in the news and it may have even knocked over trees or caused a power outage in your area. It is the storm that toppled hundreds of trees in Duluth and made for a harrowing tale of a ship entering the Duluth harbor off of Lake Superior in 103 mph wind. It is also the storm that took the lives of several people camped just a couple miles away from us. It was one of the few times that Dave and I have feared for our lives while traveling in the wilderness.
We went to bed on Wednesday night anticipating that a storm would pass through sometime in the night. Around 3 a.m., we were woken up by our tent fluttering and flapping in an intense wind. I wouldn't have thought much of this if we had pitched the tent out in the open, but we had been well tucked into the forest and it seemed strange that wind would even reach us. The wind was howling, tree branches were cracking and we saw rapid-fire flashes of lightning. Dave was the first out of the tent. He went to check on the canoe, not bothering to put on clothes, just his sandals. When he found it turned upright, entangled in a large cedar tree that had fallen, he shouted to me, "I think you should get out of the tent." I had been putting on my rain gear, but upon hearing the urgency in his voice I was out the door, barefoot, with my raincoat half on. Our canine companion, Tank, was on my heels. The intense wind rustled the trees and we heard more snapping of trunks and branches. We scurried out to the point and upwind of most of the trees on the site. I managed to put on shoes and we both donned our rain gear — while keeping an eye on the one white pine to our left and the clump of small spruces to our right in case of falling branches or toppling trees.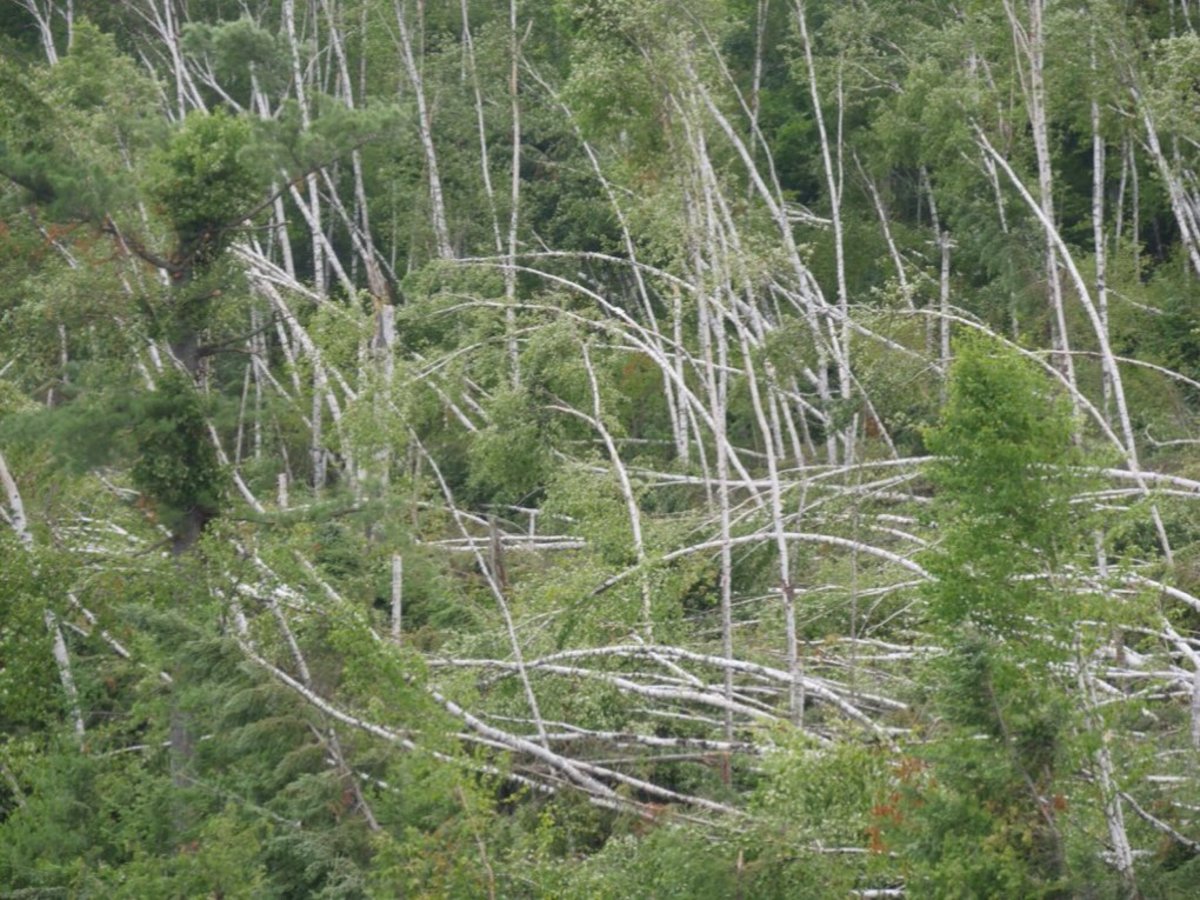 The three of us huddled there, in the driving rain, looking upward until the wind died down. Waves pounded the shore and the rapid-fire lightning began to take form (think: strobe light). Every once in a while we could make out a distinct bolt of lightning off to the south of us. Tank seemed most perturbed by the riled-up lake, attempting a couple barks and bites at the waves before I called him back to us. He calmed down as we pet him and said some reassuring words.
Once we felt like the wind had died down sufficiently to feel safe walking around the campsite, we gathered our scattered belongings and assessed the damage. Remarkably the canoe was unharmed. The campsite lost a nice cedar on the point. The top four feet of a spruce had been knocked off and was lying near the fire grate. Several other spruces and balsam firs had toppled, all broken several feet up off the ground. Perhaps the most alarming to us was a massive branch that had broken off of a very tall ash tree. It looked as if the wind had carried it quite a distance from the tree. We peeled off our wet rain gear and scrambled back into the tent at about 4:30 a.m., getting a couple fitful hours of sleep before morning.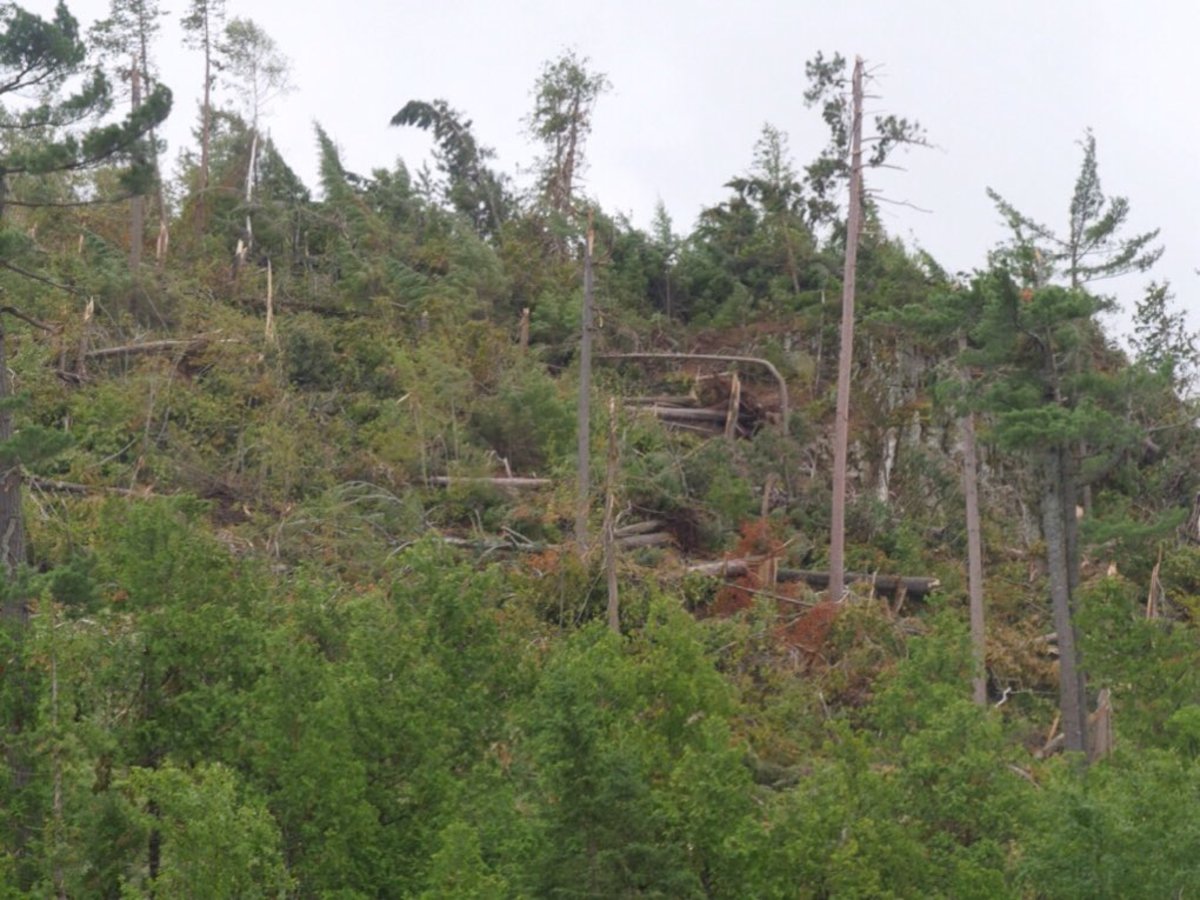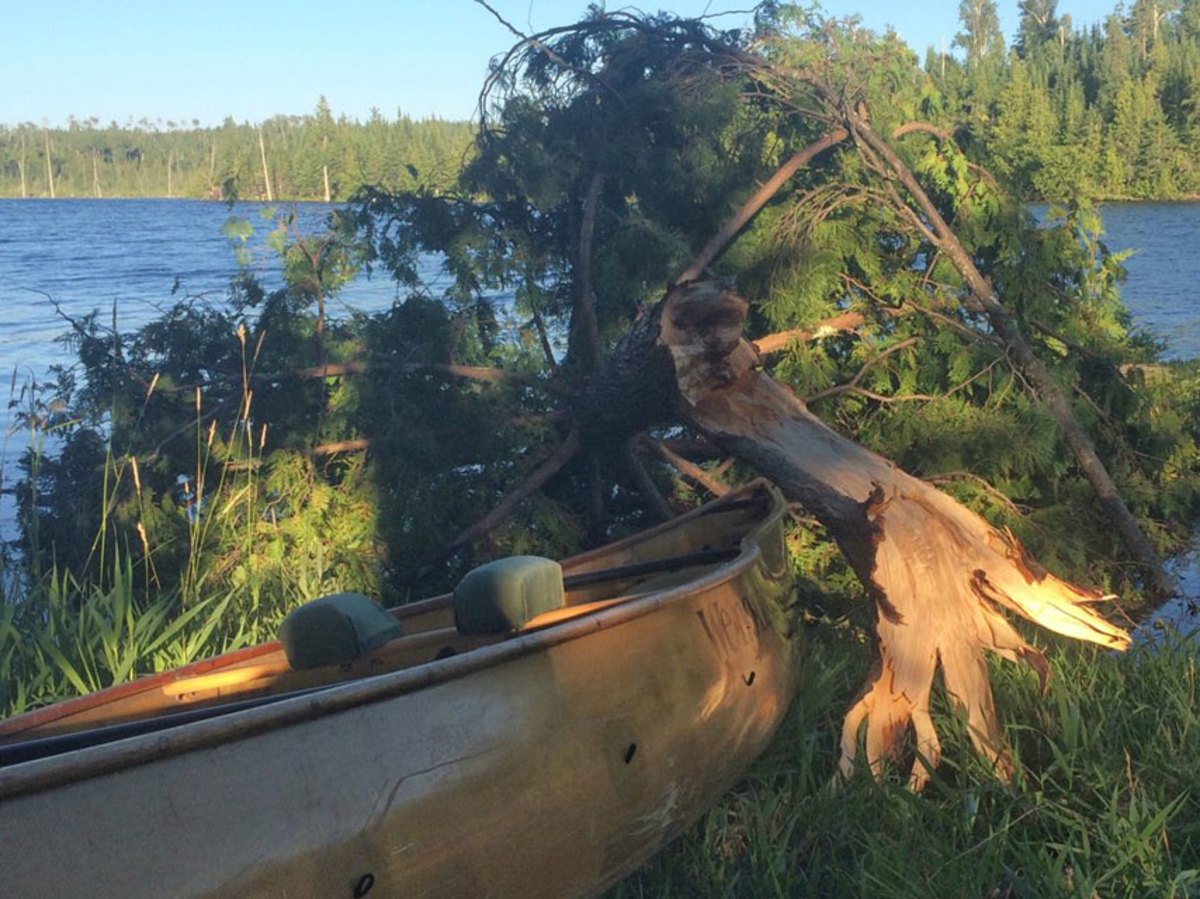 While we were making coffee the next morning we watched a helicopter and then the Forest Service plane circling an area to the north of us. That brought a sinking feeling in the pit of both our stomachs. We paddled to four nearby sites to check on our neighbors. Everyone had come out unharmed, but a little shaken. Everyone was drying out wet sleeping bags and clothing in the sun. One group had a tent pole break in the wind. Another had a tree fall feet from a tent. It was a relief to know that everyone nearby was okay. We would hear the news later in the day that two people in a Boy Scout group had died on the Quetico side of Basswood Lake. Our hearts go out to the victims' families and the Northern Tier Boy Scout Base.
Since the storm, we have continued traveling and several more thunderstorms have rolled through, waking us up at night and putting us on edge. But they were minor in comparison to the storm. We'll be extra cautious when it comes to weather from here on out and I'll offer three pieces of advice:

1. In the event of a thunderstorm, get off the water immediately. You're running a huge risk if you continue to paddle to the campsite just around the point or the landing that you know is half a mile away.
2. Be mindful of where you pitch your tent: Look up around the campsite for damaged trees or branches.
3. Pull your boat up and tie it to a tree or rock. If our canoe hadn't been pinned under the fallen tree, our means of transportation would have blown across the lake.
Storms of this caliber don't happen often, so don't let my story dissuade you from heading out on a paddling adventure, just exercise caution and know that the forces of nature are powerful.
— Dave and Amy Freeman have been sending in a series of Dispatches from their #WildernessYear in the Boundary Waters. (Read more about their adventures, including: Tips to Beat the Bugs, an action alert for intrepid Boundary Waters paddlers, Canoeing with Dogs, Tips and Tricks for adhering to key rules in the BWCAW, canoeing through the recent spring Ice-out, Finding Reasons to Rejoice, Holidays in the Boundary Waters, Ice Canoeing, The Freeze Begins, The Slow Way and Canoeing with the Next Generation.)
— Learn more about the mining threat at SavetheBoundaryWaters.org, and check out the Freemans' educational info at WildernessClassroom.com, or follow updates at #SavetheBWCA and #WildernessYear.
The article was originally published on Canoe & Kayak
For access to exclusive gear videos, celebrity interviews, and more, subscribe on YouTube!