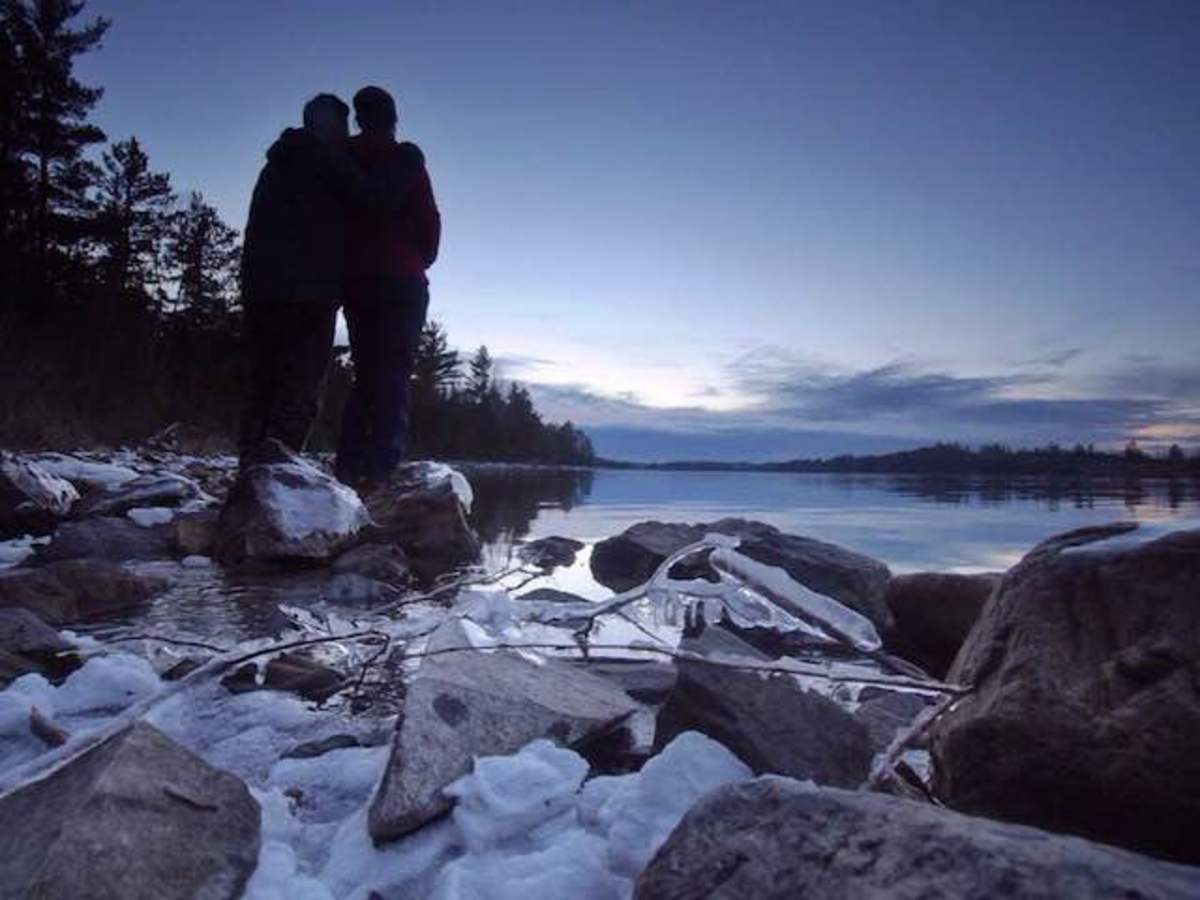 By Amy Freeman
Photos by Dave Freeman
Every year in Minnesota there comes a time when the surface of our lakes and rivers transforms from liquid to solid. Most people wisely wait out that transition from canoeing season to skiing/snowshoeing/ice-fishing season. My husband Dave and I, however, are not most people. A few months into our project to spend an entire year in the Boundary Waters Canoe Area Wilderness, we don't have the luxury of waiting out the slow freeze.
We found ourselves in a bit of a pickle recently. Large, deep lakes are still open. Smaller, shallow lakes have frozen over. We left the open water of Knife Lake in order to get closer to where we will receive our next resupply (and our toboggans and skis). After portaging to Vera Lake, we loaded up our canoe on the lake's frozen surface. From here on out, we would be pulling our canoe across the ice. I don't really recommend that anyone venture out on marginal ice with their loaded canoe in tow. But if you happen to be curious about how it works, I'll share what we learned from the process.
Reading the ice: Travel with, or at least ask, someone who knows the area and the likely ice conditions. Fortunately, Dave and I have guided dogsledding trips in the BWCAW for Wintergreen Dogsled Lodge for a decade. We know where to expect bad ice. We also have learned what to look for to determine if the ice is safe or not. Beware of constrictions and places with flowing water. We checked the ice thickness frequently as we traveled on Vera and Ensign lakes. Dave used his ax to hack a small hole in the ice. He would either pull up a chunk to measure or stick his hand in the hole to estimate. We were relieved to see several inches of clear ice with each check. Most state DNR websites (like Minnesota's) say that 4 inches is safe for a person to walk on. That is a good rule to go by.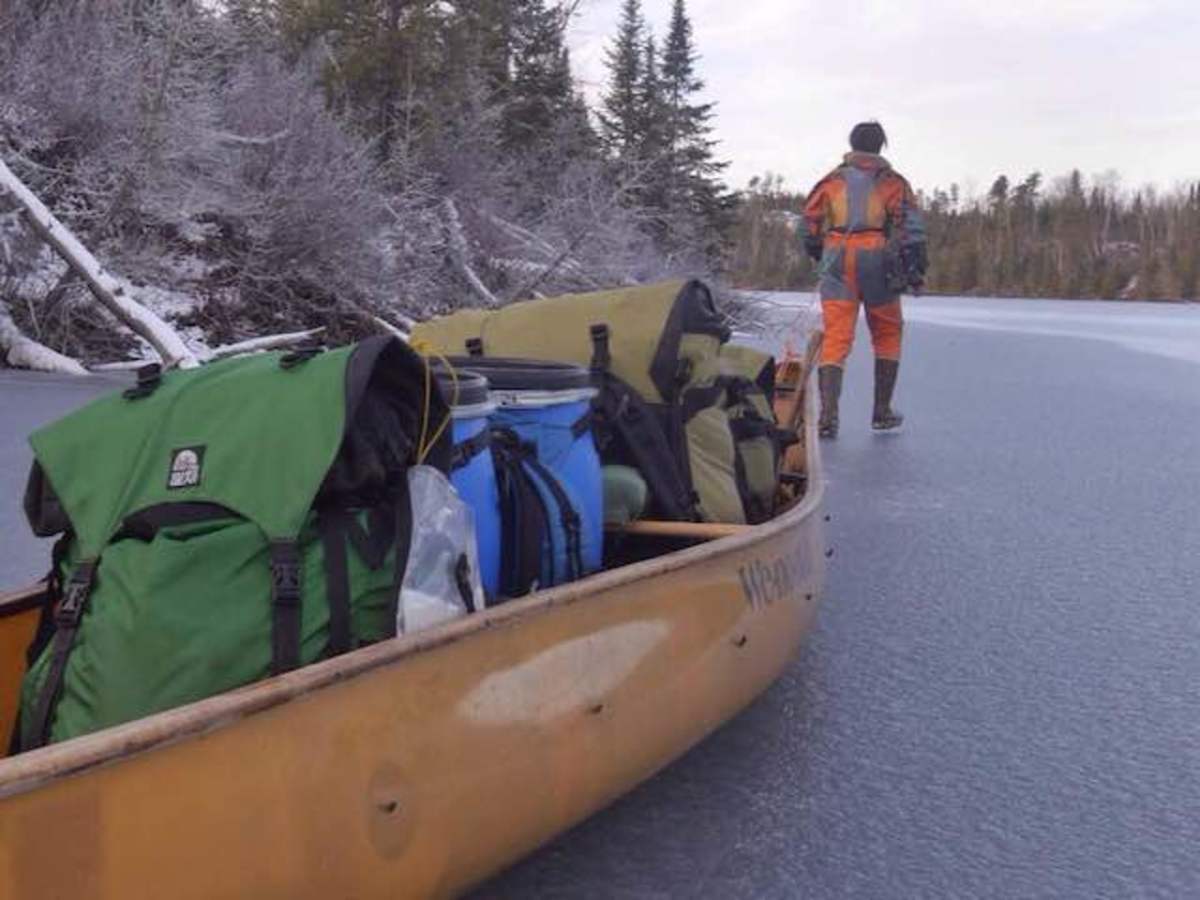 Lay of the land: Ice forms first near the shore. We felt much more confident when walking along the thick ice that had formed days before the ice in the middle of the lake. We also saw some melting of the ice right near shore that was exposed to much sunlight. You could potentially punch a foot through something like this.Shade is your friend. We walked along the south shore of lakes whenever we could to stay in the shade. We expected thin ice when rounding points, especially if there were a bunch of shallow rocks soaking in the sun.
Wintry weather: Snow can also have an insulating effect, hindering ice formation and creating our wintertime nemesis: slush. During this abnormally warm December, we have only experienced walking on snow-free ice. Once we get it started, the canoe glides along surprisingly well. Friction would likely increase on a snowy surface. And it looks like we'll get our chance to test that theory soon as snow is in the forecast.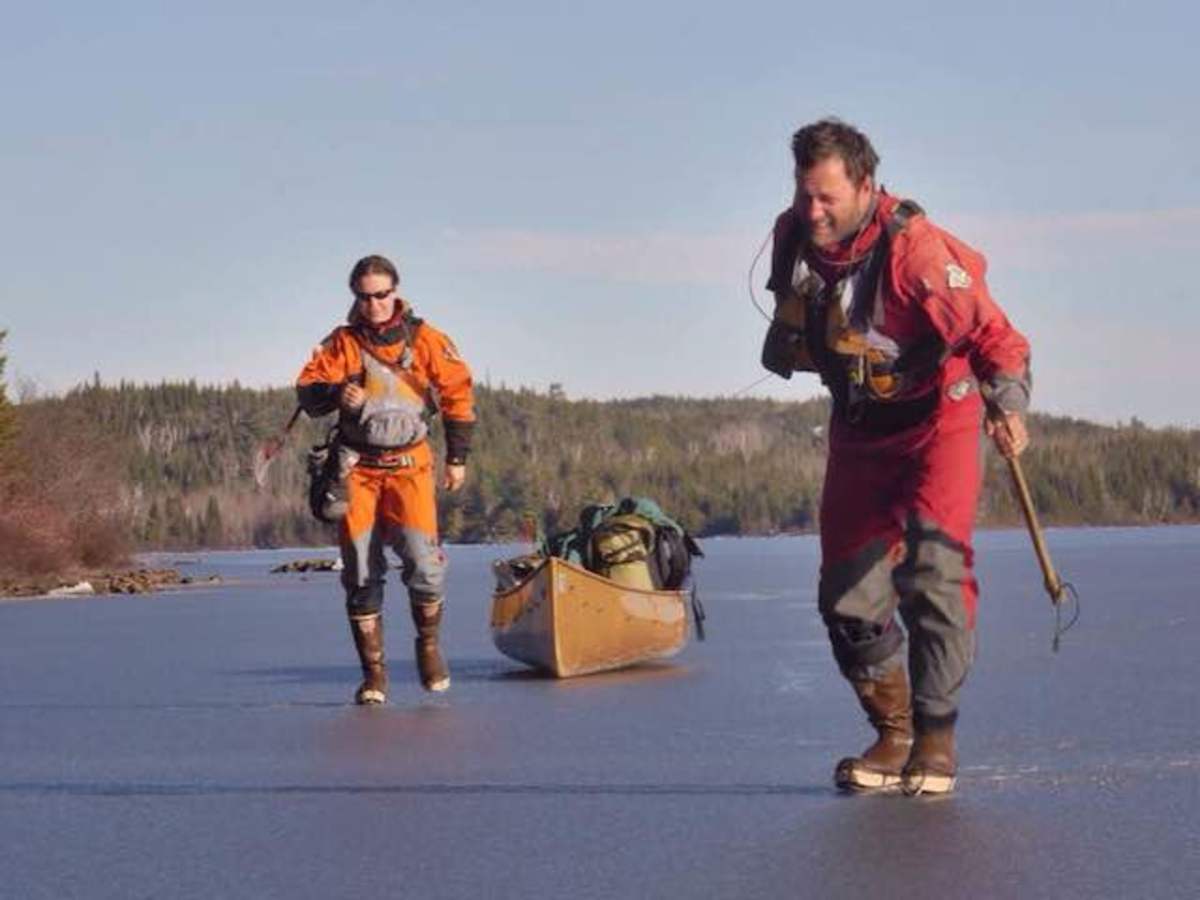 What to wear: We were prepared for immersion, wearing our drysuits (with plenty of warm layers underneath) and PFDs. We needed more traction than just the rubber boots, however, so we added some grippers — like mini-crampons. We also both carried a pair of ice picks strung over our shoulders. After hearing the story of a friend of ours — who fell through the ice and couldn't grip it to climb out until remembering that he luckily had some drywall screws in his pocket — I always have ice picks on me when I'm traveling on the ice. Also, keep a throw-rope at hand in case someone goes in.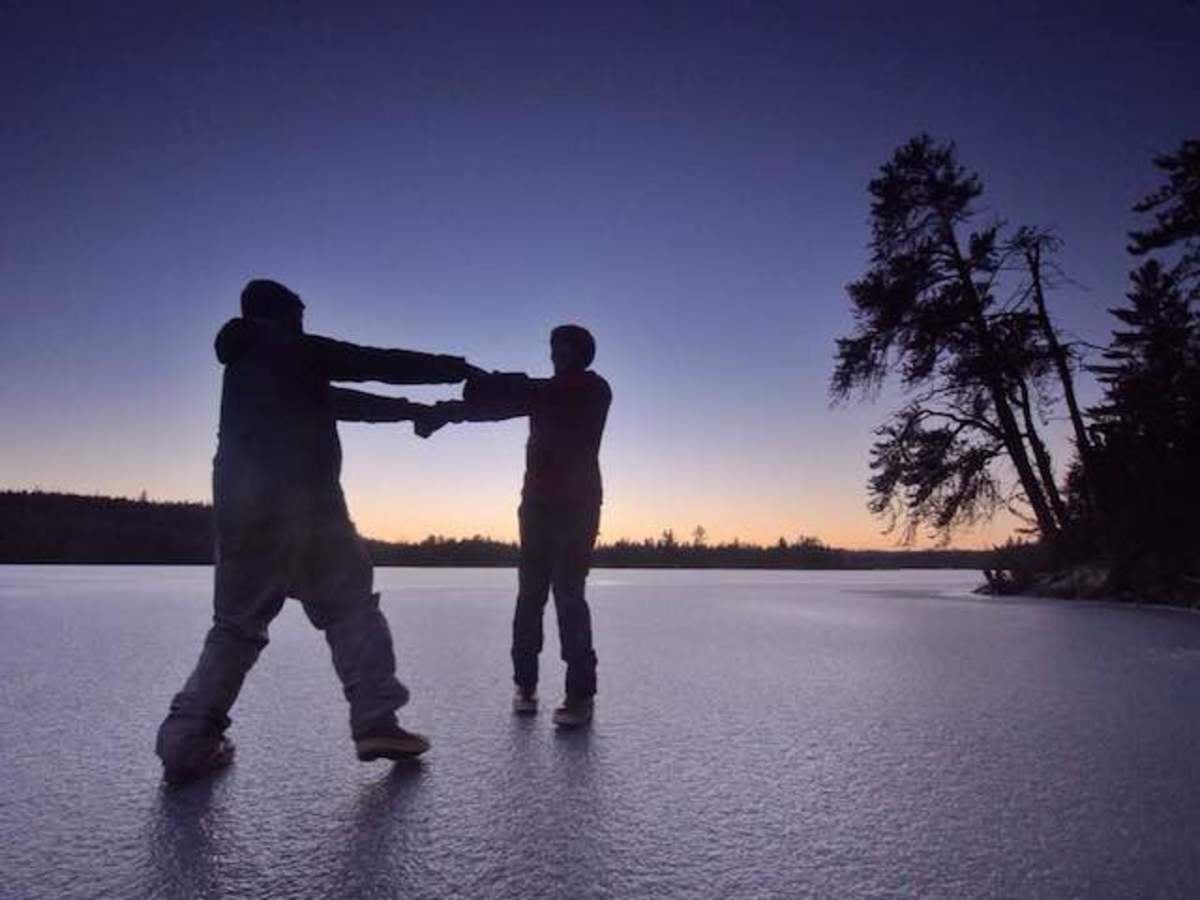 Contingency plan: I've also practiced pulling myself out of a hole in the ice. During staff training at Wintergreen, all newbies experience the rite of passage of skiing into a hole in the ice and getting out. (And then running into the sauna to warm up.) I made the mistake of moving forward to clamber out of the hole. A senior staff member told me to turn around and get out in the same place I had gone in, which is a quite valuable lesson. If you were to break through, it would be a fruitless effort trying to climb out onto the questionable ice ahead of you. Better to get yourself back to the ice that you know supported your weight behind you. I was also glad to have experienced that extreme chill that takes your breath away. I had to calm myself down, slow my breathing and focus on getting out.
Emergency clothing: We packed up a down jacket, spare wool socks, fleece pants, and a hat in a drybag. This was easy to access the whole time we were walking. Just in case one of us went for a dip and our drysuit failed, we wouldn't have to mess around with finding dry clothing.
Disburse your weight: Until you are confident that the ice is half a foot or thicker, don't walk side by side. Also, don't hang out right near your loaded canoe. Dave and I tied two ropes of different lengths to the bow of our canoe. This allowed us both to pull and be safely spread out at the same time.
Type of canoe: Dave and I realize that we have been abusing our Kevlar Wenonah Itasca. After several miles of dragging it across the ice, the bottom has taken on some new scrapes. If we weren't aiming to use the canoe in all seasons involving lots of portages, I'd prefer a Royalex or even aluminum canoe for hauling over the ice.
When the ice is thin: Prior to our ice walk, we experienced several situations where we could paddle by plowing through thin ice in the canoe. The bow would crash through the ice. Paddling required some extra effort as the blades poked through the ice to get any purchase. It is exhausting work and you can't bank on getting very far in this kind of situation. A friend of ours described having the stern paddler run on questionable ice while leaning over the canoe with most of their weight on their arms leaning on the gunwales. The bow paddler just enjoys the ride. We haven't tried that one yet. Sounds like fun, but I think we will try it on thick ice.
Fun fact: Did you know that ice canoeing is an actual sport in Quebec? Dave and I heard about this when we kayaked past Quebec City on the St. Lawrence. I've wanted to go back in the winter ever since to check it out!
—Dave and Amy Freeman will be sending in regular Dispatches from their #WildernessYear. (Read more about their adventure: The Freeze Begins in the Boundary WatersThe Slow Way in Boundary Waters and Canoeing with Teenagers)
— Learn more about the mining threat at SavetheBoundaryWaters.org, and check out the Freeman's educational info at WildernessClassroom.com, or follow them #SavetheBWCA and #WildernessYear.
The article was originally published on Canoe & Kayak
For access to exclusive gear videos, celebrity interviews, and more, subscribe on YouTube!