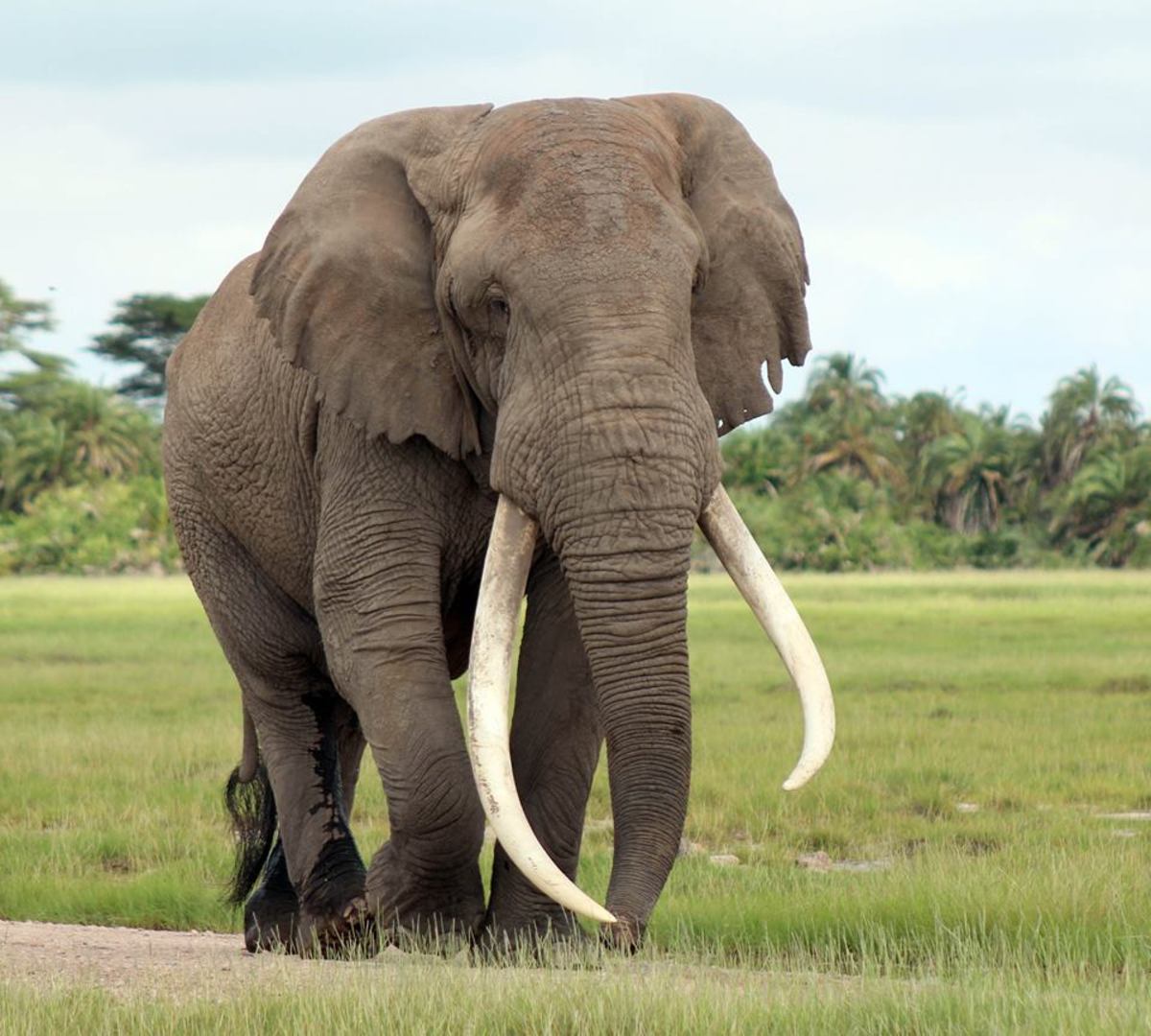 Tusker Tim, the biggest and oldest African elephant in Kenya and recognized by its huge tusks, one that nearly touches the ground, wandered toward a camp near Amboseli National Park clearly in need of help.
The iconic elephant had been speared in the head.
"The 47-year-old elephant knew he needed help and went to where he would be able to get it," The Dodo wrote.
As conservationist David Bates counted buffalo calves in one of the sanctuaries on June 16, a ranger told him "one of our signature bull elephants" was quickly moving in their direction.
"Indeed, it was Tim," Bates told Daily Nation. "I was excited to see him. But then, as he drew closer to us, we realized that something was wrong. Protruding from his head was a spear, and on his forehead was a huge bleeding wound. It appears it was hit with a large rock."
RELATED: Tense moment for tourists encountering African elephant
Bates feared the spear was poisoned and immediately contacted the Kenya Wildlife Service, which sent a veterinarian who would arrive the next day.
Overnight, officials lost track of the African elephant, but Big Life Foundation, Amboseli Trust for Elephants and the KWS initiated searches and after three hours an aerial search team spotted Tusker Tim.
The elephant was darted and treated.
"To all our relief, the spear wasn't poisoned, and had gone through the ear and merely scratched the skin underneath," the Big Life Foundation wrote on Facebook. "Within five minutes, Tim was up and heading back to the swamps in the middle of Amboseli."
This is the second time the African elephant had been speared. In November 2014, Dr. Michael Njoroge, who heads the Amboseli Veterinary Unit, successfully treated the elephant for a deep spear wound in the rear that had become infected.
This week, Amboseli Trust for Elephants wrote that Tusker Tim was doing fine, and indicated the latest attack was not done by poachers.
"He was injured by a small spike spear that the youngsters use," ATE wrote. "We don't know what the circumstances were that initiated the attack. We do know that outside the Amboseli National Park there are serious challenges for human-elephant co-existence."
The Maasai people are rapidly expanding agriculture into the elephants' range and officials are calling for a fence to be built around the edge of the farmlands to prevent future conflicts.
"We think the solution is fencing, as much as we don't like seeing fences in what was open savannah, but we have to be practical," ATE wrote.
More from GrindTV
How to know when it's time to replace your beloved outdoor gear
Spring/Summer Gear Guide: Lawson Blue Ridge Camping Hammock
Why going slow on your mountain bike makes you a better rider
For access to exclusive gear videos, celebrity interviews, and more, subscribe on YouTube!