Review and photos by Darren Bush.
---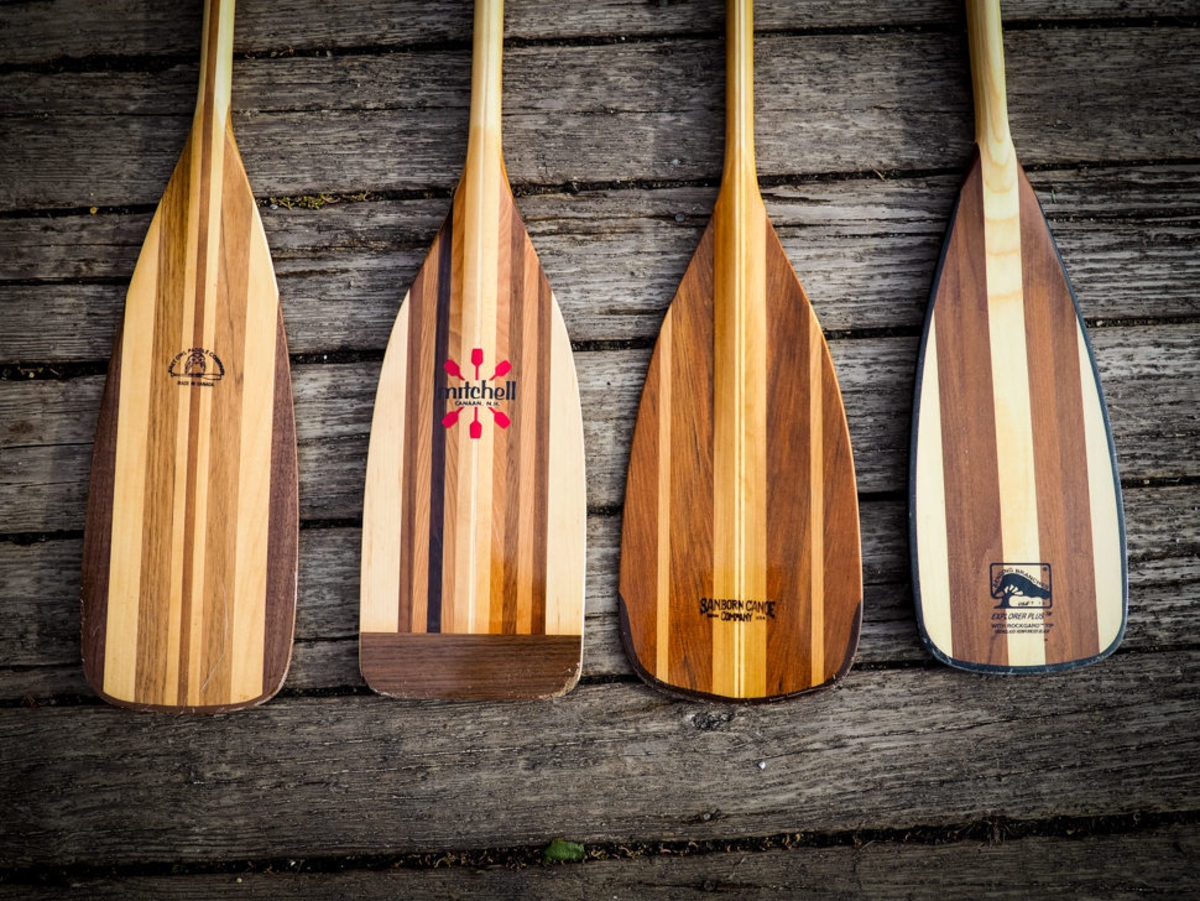 Recently I was musing about what a tragedy it would be if one were only able to own one paddle to do it all. If I were golfing which club would I take? If I could only own one pair of shoes, which pair? Truth is, I own 29 canoe paddles. I just confirmed this by going to the garage and counting the 20 in my rack, 5 decorative paddles in the house, and 4 in a bag in my truck. So for me, the point is moot. Wait…two at work.  So 31.
Most canoeists own a few different paddles for different styles of paddling, different conditions, and different functions. But what if you could really only have one paddle? I asked some paddle makers what they thought about the idea of the One Paddle For Everything conundrum, and four of them sent me what they considered to be their OPFE.
---

Bending Branches Explorer Plus
Redesigned a few years ago, the Explorer Plus benefited from a functional as well as aesthetic revamp. The old blade shape was clunky with a squared off tip; the new blade is a lovely modified teardrop shape. It's a brand new Explorer Plus.
The blade is laminated basswood, a light but strong long-fibered wood. The entire blade is edged in Bending Branches' Rockgard, a super-durable urethane: think inline skate wheels, but harder. The whole blade is then wrapped in a layer of stout four-ounce fiberglass. The shaft is composed of 14 or 15 laminations that look like growth rings, and that super-strong engineered wood makes a bombproof shaft that will never, ever break.
The top grip is a standard pear grip, which is the most versatile for flatwater use. Folks who do a lot of whitewater might want to go for the Expedition Plus, with a modified t-grip, but the pear grip is comfortable and versatile as well.
Enough about the construction, how does it paddle? Quite nicely.
There's very little flex in the paddle, so you get instant response to a stroke. The blade size is not too big (I felt the old Explorer Plus blade was on the large side), but it sticks where you plant it and doesn't slip. That's the upside, but for some people that's a downside too. I prefer a more flexible paddle to give my old shoulders a little love, but that's a personal preference.

It has durability in spades. The Rockgard surrounding the blade edge completely protects the most vulnerable part of the paddle. I'm not going to say I tried to abuse this paddle, because I can't abuse a paddle on purpose, but I did try to be less careful than usual, to try to push off rocks and take a few good strong strokes in shallow, rocky water; it was painful, but I did it.  While giving this paddle some "tough love" damaged my psyche, it didn't damage the Explorer. Indeed, I could probably wet-sand a few scratches and put another coat of varnish on the blade and no one know it spent a week handled by a troglodyte masquerading as a canoeist.
I heartily recommend this paddle for any condition.
If I were doing a 60-day Canadian shield river trip, this would be a great choice. What it lacks in finesse it makes up for in brute strength. The sample I used was a 56″ and weighed in at 24.5 ounces.
On the continuum from flatwater to whitewater, I think the Explorer Plus is more of a moving water paddle that is perfectly functional in flat water, and a good value at $119.95.
---

Sanborn Canoe Co. Gunflint
Sanborn Canoe Co. is the new kid on the block. They're a fun group of people, and when people are having fun, they inject that enthusiasm into their paddles. Like many grassroots start-ups, Sanborn was started by a couple of buddies who made a few paddles for themselves. They made more paddles than they could use, so they sold some of them; and there ya go. Sanborn Canoe Co. just moved into a new facility to expand their production, a long way from their uncle's garage.
The Gunflint blade is big but still light, due to its cedar construction. The shaft is laminated cedar and alder, terminating in a semi t-grip with fifteen lovely laminates, sanded but unfinished. I like unvarnished grips; even if they look unfinished, they feel better in the hand. I sanded mine and coated it in beeswax and lemon oil, and it feels great to the touch. After the paddle is shaped and sanded, the blade is wrapped in a light-weave four-ounce fiberglass and resin for strength, and the whole paddle is then varnished. The artisan who finished the paddle burns the size very discreetly into the handle in 3/16″ letters, and adds their initial to take ownership of what they just created. If you see a T, Todd Randall made it; if you see a C, it's from Chris Gilbertson. If you're lucky enough to have an older Sanborn, there might be a Z for Zac. Pretty cool.
The Gunflint performed beautifully and was quiet in the water. The blade is a little big for a day of flatwater at a faster cadence, so we took it slow and easy. The Gunflint is quiet and the shaft is a little more flexible and it was pleasant to paddle. I was more careful with it than I might have been, knowing the blade was cedar and a little softer.
When I got home I expressed some concern that the build on the Gunflint was a little light for all uses. I called Sanborn and Todd told me they have a heavier duty version of the Gunflint they'll make upon request. No, it doesn't have a fancy name like Gunflint Xtreme or Gunflint Graniteslayer (though I like Graniteslayer). You just have to ask for a beefed-up one when you order it. The standard Gunflint weighed in at 22 ounces.
Turns out beefier may not be needed. Despite a week paddling with low water levels and rocky landings, the Gunflint held up just fine. With a little sanding and varnishing and it would look like new. Still, on the flatwater to whitewater continuum, I'd lean a little toward flatwater.  Price is $135.00.
---
Grey Owl Pathfinder
40 years ago Brian Dorfman quit his unfulfilling finance job to create a paddle company. Only Brian knows how many tens of thousands of paddles he's made. Maybe he doesn't know, but I think it's safe to say most canoeists in North America have dipped a Grey Owl paddle in their favorite body of water.
I asked Brian to send me the paddle he would most like to have as a "use-everyday" paddle. I was thinking he'd send the venerable Sugar Island, but Brian said he'd rather have the Pathfinder as his daily driver, so he sent one down.
The Pathfinder has a teardrop-shaped blade that's narrower and longer than the other paddles in the quartet. The bottom rock guard extends up the sides of the blade four inches so a vulnerable part of the blade is protected. Above that the edges are black walnut, and the rest of the blade is a mixture of hardwood laminations. The whole thing is also covered in four-ounce fiberglass. It's a tough blade. The shaft is a basswood and cherry laminate and is strong and pretty.
The Pathfinder was the only paddle with an asymmetrical top grip. For straight shaft paddles I'm more accustomed to symmetrical grips, and in general it's my preference, but the grip on the Pathfinder was very comfortable. I soon forgot it was an asymmetrical grip and just enjoyed it, and although you can't roll the grip in your palm for silent, in-water recoveries, the grip was exceptionally comfortable.
It's a very pleasant, quiet paddle, and it felt good in the water. It didn't flutter, even with a strong plant and powerful stroke. The smaller blade made for a faster cadence, which felt good for making miles on flatwater.
While I think the Sugar Island would be more comparable to the other paddles, the Pathfinder is a great choice among the four if your circumstances lean toward flatwater, but it can handle some rocks if needed. Indeed, I hit the blade hard on a few submerged rocks and I expected to see a hole through the blade. 'Twas but a scratch.
The Pathfinder weighs in at 23 ounces, and at $79.95, it's also the least expensive paddle of four. Quite a bargain for a well-crafted paddle.
---

Mitchell Seneca
Dave and Peggy Mitchell started making paddles over 30 years ago, and I admit that the first paddle I ever coveted was a Mitchell. Dave and Peggy retired in 2005, leaving the company in the more-than-capable hands of Peter, their son who grew up working in every part of the business. It's the best way to continue a legacy business. The high quality of the paddles is unchanged, if not better.
The quality of construction is superb, with great attention to detail. The blade is beautifully shaped and covered with a lightweight 2.4 ounce fiberglass with a very fine weave that all but disappears when saturated with resin. The bottom of the blade is protected with a precast piece of polyurethane that is fastened in place with fiberglass and resin, then covered with a walnut veneer. It's lovely.
Strategic placement of wood is something that the Mitchells have always done well. The Seneca uses lighter wood like basswood or cedar where wear isn't an issue, but has ash or other hardwoods in high wear areas. The Seneca tips the scale at 24 ounces.

The blade is more squared off at the bottom for a big bite of water, but the dihedral in the blade means almost no flutter. Its thin blade makes for a quiet recovery in or out of the water. The top grip is a modified t-grip, which gives you control in moving water and is still comfortable in the palm padding calm water.
If I were going on a river trip where the water varied from glassy to Class III, I'd say the Seneca is a great choice.  If you want a Seneca on steroids, check out the Touring blade. It is the same shape but stunningly beautiful with more hardwood around the edge of the blade.
At $142, the Seneca is the most expensive paddle in the review, but I feel it's well worth the price. You get what you pay for, and in this case, you get a lot.
---
Check out more gear reviews from Darren Bush:  Puukko – The Finnish Knife / Adirondack Style Canoes / Tech Solutions
Bushcraft: How to Start a Fire with Flint and Steel
The article was originally published on Canoe & Kayak
For access to exclusive gear videos, celebrity interviews, and more, subscribe on YouTube!