When I fell off tour at Teahupoo in 2000-something I had set a personal challenge to requalify. The weight of that personal vendetta slowly grew until it became hard to carry around. I had linked my personal identity so tightly to this challenge I had stopped seeing why I had started in the first place … What putting a jersey on had become, more and more, was losing. As the dust settled after a humongous learning year I finished in a low-qualifying seed. Lowest I have had since starting the QS, yet my surfing felt like it was better than it had ever been before. I ended in 60th. The nosebleeds.
A reflection on defeat seems an unlikely first entry for a work called "The Paradise Projects." Especially when you consider its author, Tanner Gudauskas, the youngest of the ever-smiling trio of brothers from San Clemente who have been a beacon of positive light in surf culture ever since they were groms.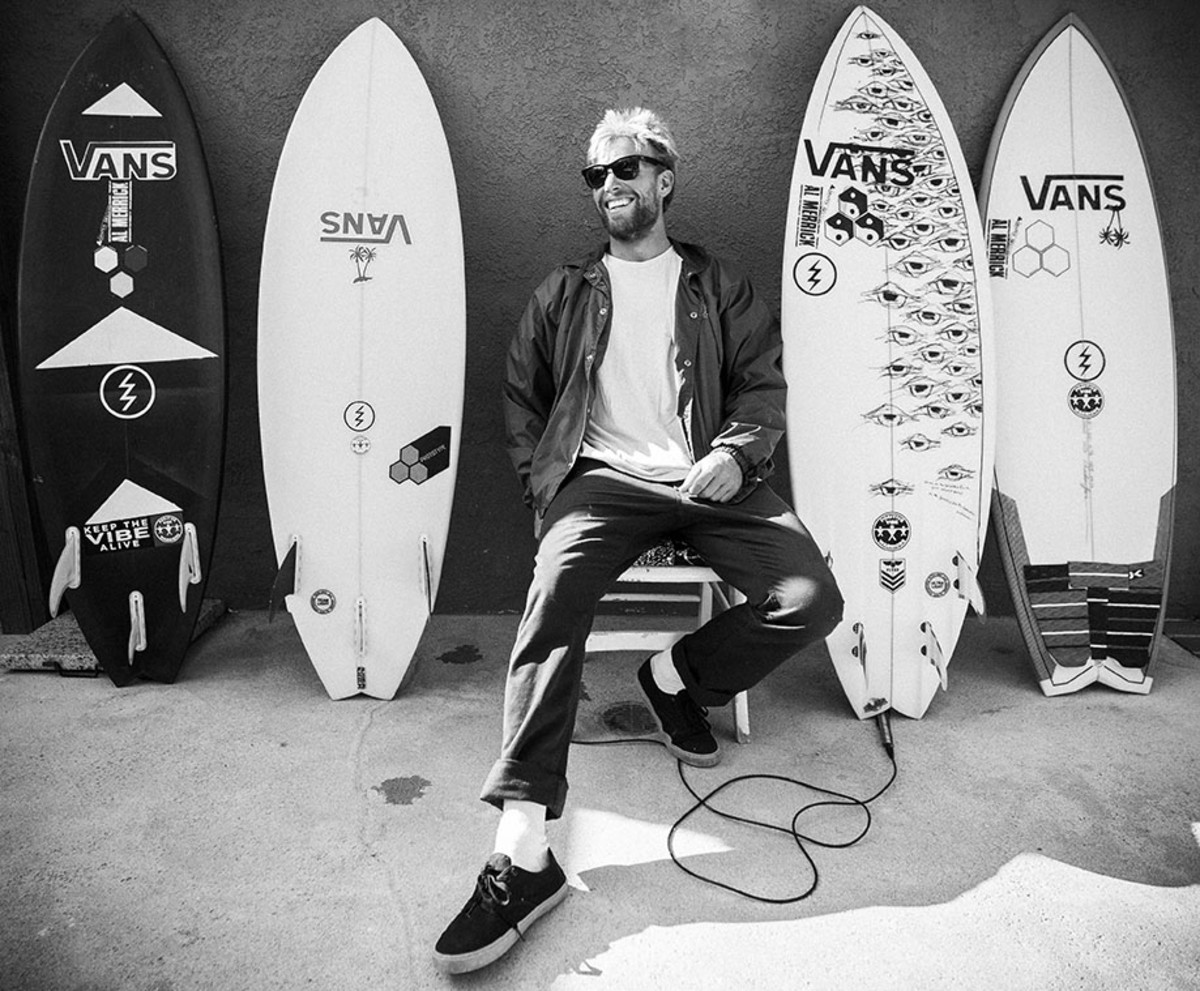 Nevertheless, Tanner's latest artistic endeavor was born from a low point in his career.
In January, decompressing after the 2017 season, he began to examine his relationship with competition and with the professional surfing path he had assumed he should follow. He set out on a roadtrip to the Pacific Northwest, hoping that some time alone would bring him an answer to why living the dream of being a competitive surfer wasn't feeling like a dream anymore.
He framed his mission as a vision quest: time spent alone to think, write, and filter through the emotions of the last year. But sitting by himself on a seaside lookout, drinking a beer in the cold rain and howling wind, the only vision Tanner saw was of the humor in his pursuit.
I started to laugh out loud. Holy shit was it happening? As I kept laughing I realized that I was actually laughing at myself. I suddenly felt so insanely stupid. How could I have been waiting for some lightbulb of clarity and knowledge to go off inside my head. Vision quest sounds cool, but I wasn't ever going to see the vision this way. I retreated to my car feeling a bit sheepish to the fact I was honestly searching for those answers over a Deschutes beer on that rainy patch of dirt.
Somewhere along the next 22 consecutive hours of driving, Tanner realized he had been too focused on objectives, and not enough on the process of life.
No more qualify-no qualify. Try to create, not compare. At least in terms of surfing, which is the thing that I am most passionate about in my life.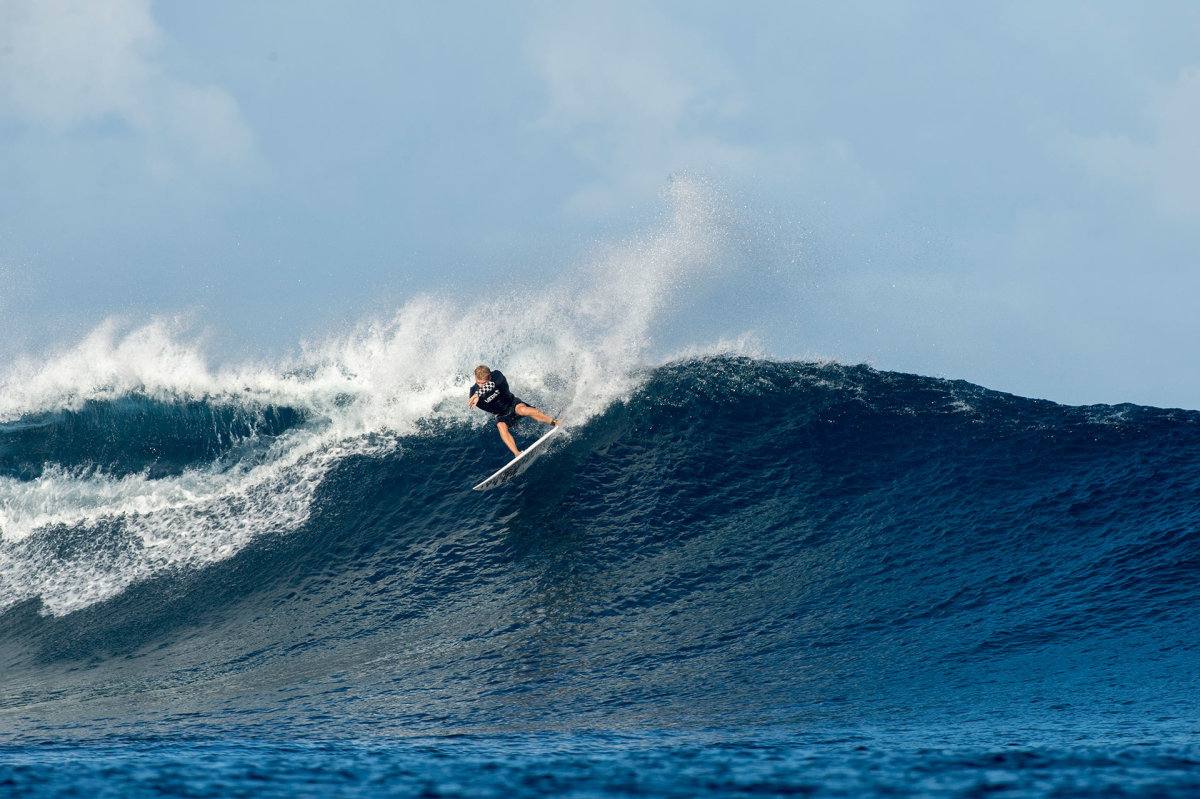 "When I wasn't doing well on tour, I would say to myself, 'I'm going to do something that only I could do,'" he told ASN. "And I would create art. That's when I started to feel the shadow and the light of what I was doing versus what I was creating, and I realized I needed to water this part of me."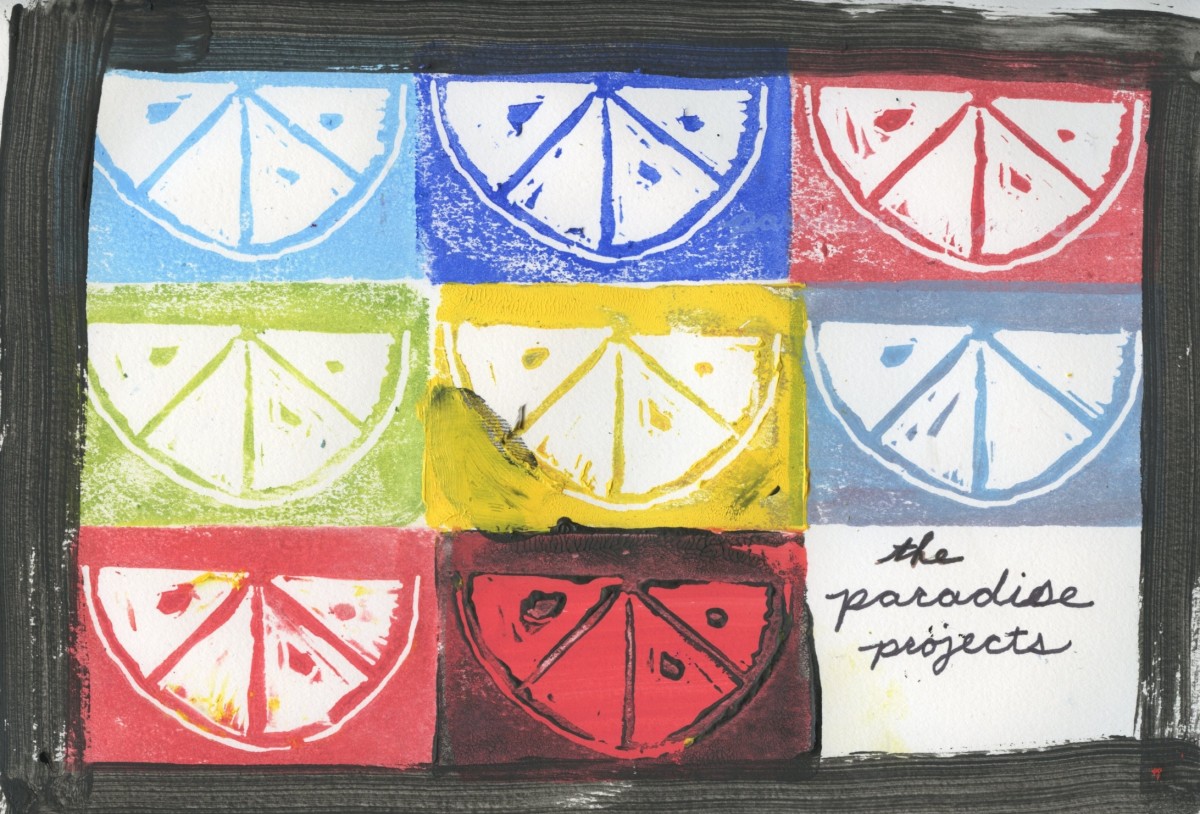 And so was born The Paradise Projects, launched in March of this year. It's an artwork in website form – a long, scrolling template that resembles an early-generation, no-frills blog – comprising old and new mediums: film photos, journal entries, collages, mini-zines, and video edits. A travel-journal entry from Tanner's vision quest is followed by a Warhol-esque painting of brightly-colored watermelons, then by a photo essay of film captured in West Africa, then by a scan of a handmade collage. "Beyond Fjords," a mini-zine of writings and photographs from an arctic journey, is sandwiched between "Project One" and "Project Two," video edits of Tanner surfing at Oceanside and Jeffreys Bay.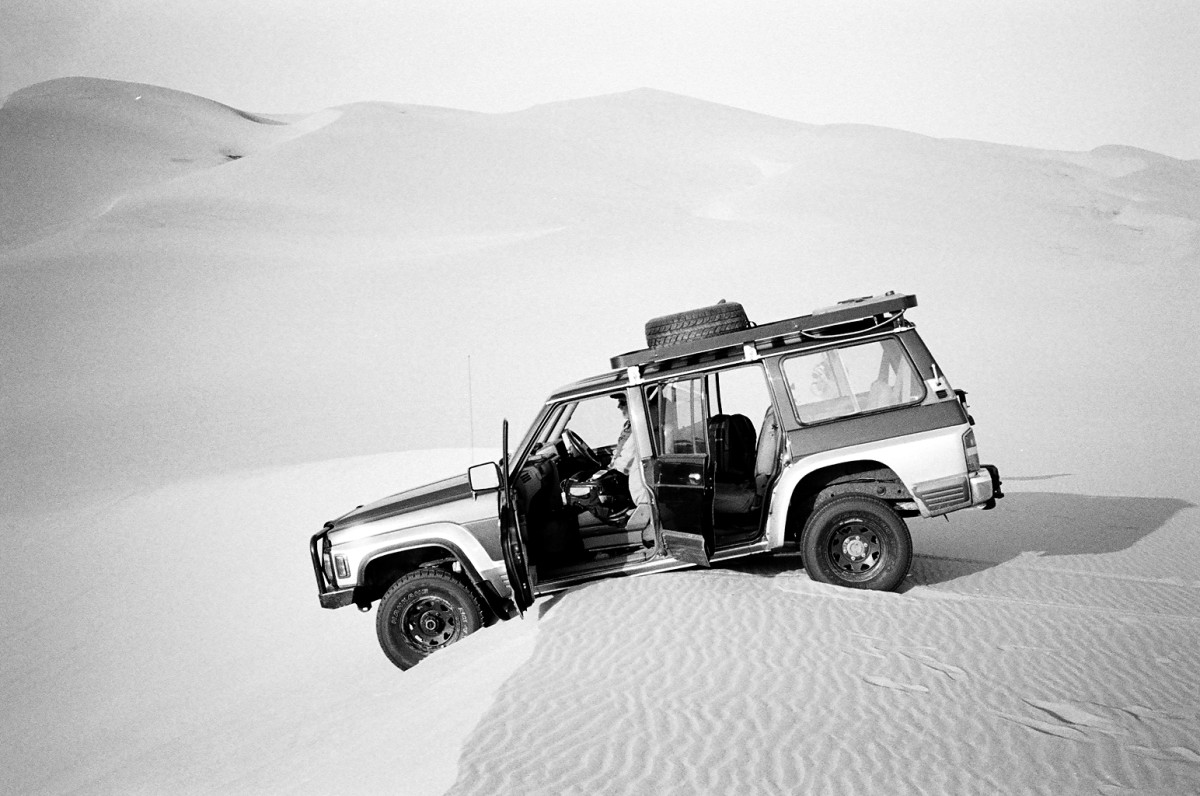 "Starting this website was trying to help define and invest in what I actually like," Tanner told ASN. "I had been doing the QS for eight years, I was kind of habitually losing. I didn't have to stop doing the QS to realize this, but I think for my own personal identity I had always perceived myself as more artistic, but had always been seen as more competitive. When you're competing in contests, other people are judging you. It's nice to have a freeform platform where you're doing something for yourself."
Tanner hasn't given up competitive surfing – he plans to compete in select events this year. Rather, he seems to have found harmony between what once felt like conflicting parts of his life, and thereby been able to enjoy both pieces more.
We sat down with Tanner to learn more about The Paradise Projects.
Why did you choose the name "The Paradise Projects"?
It comes from a project I did with Surfing Magazine a while back called "Mental Paradise." Mental paradise is pursuing your goals, what you're striving for. At the end of last year I was in a weird spot. I kept going back to the words mental paradise. I actually wanted to name it Paradise Lost. Obviously that was already taken, but that would have had too morose of a feel anyway. The Paradise Projects is shining a light on the paradise you feel from creating art.
Are you the one maintaining the site?
Yes. But that's actually been so interesting because I have no idea how to do anything on websites. I'm learning about that. I don't know how to use InDesign or anything like that. When I wanted to make "Beyond Fjords" into a magazine format, I used this website called Blurb, and I just took a screenshot of what I created and uploaded it to the site.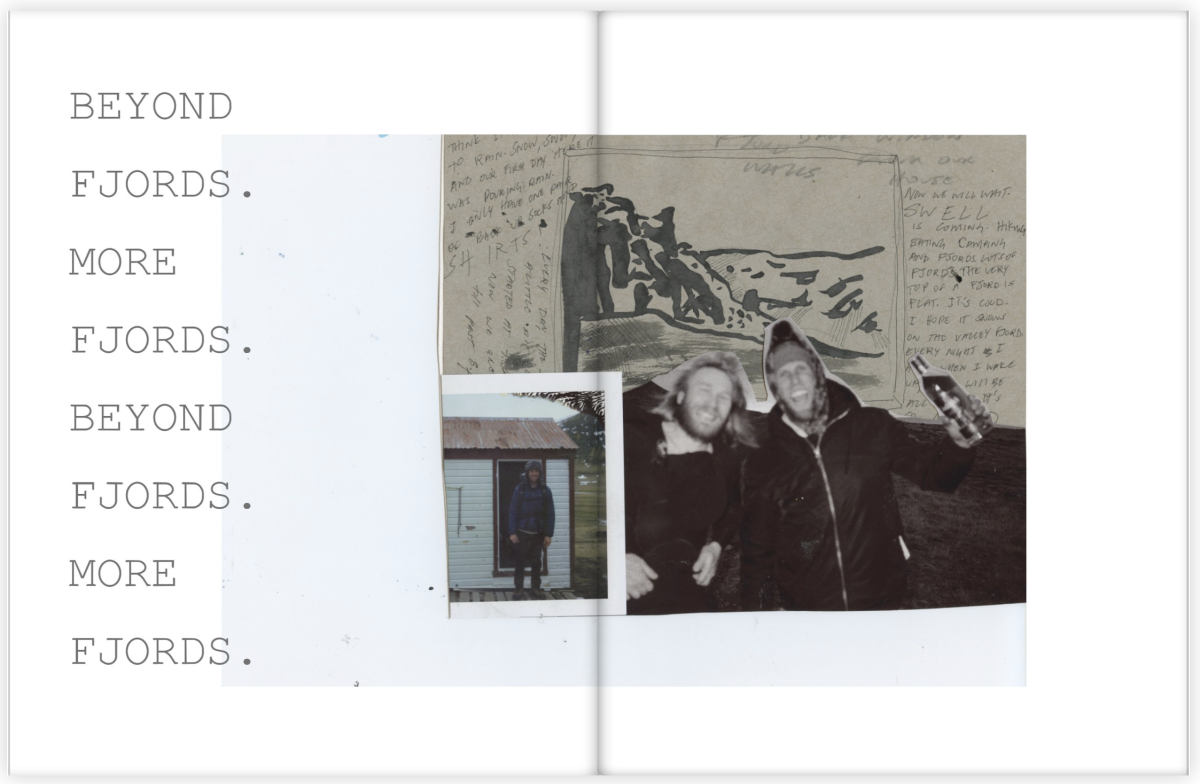 Self-doubt can often stop people from creating. It's cool that you didn't let your inexperience with web publishing stop you.
A week before I launched The Paradise Projects, I convinced myself I was over it. The reason was it was so much easier to convince myself that I didn't want to do it. I had messed up the Mailchimp newsletter, I just didn't think I could do it. But my friends told me, just communicate that you're learning this too, and people will understand.
Speaking of the newsletter, you prompt visitors on the site to sign up for the "Paradise Club." Tell us about the club.
I have an email newsletter, but I'm also going to create greeting cards that I'll handsign and mail out. With [Gudauskas brothers nonprofit] Positive Vibe Warriors, I was shipping things to people, and it was so fun. It's really exciting for people to receive something that's from you personally. It's so easy to lose personal connections, and it's more important to connect to a few people than to a room full of followers.
I wrote a story about five years ago for Surfing about my favorite surfers, including Dan Malloy. He must have read it, because he sent me a handwritten note thanking me. That's radical that he took the time to do that, it had such a deeper, longer effect. The mail is just a different feel. It's not what you're saying but how you're saying it.
I guess the goal with it would be to try to create something that inspires people to go back to those older art forms. First I'm going to send out the postcards, but then I'd like to send everyone a postcard inside a postcard, so they can send one out to someone too.
Through your popularity as a surfer, and as a rider for Vans, you have built-in ways to reach a large audience quickly through social media. What compelled you to create your own platform for content?
I think with all the social media, it came to point where it's so instant, it takes away that process of trying to create for a longer format. The edits we're making are way over a minute, and taking the time to make 'zines, there's almost therapy in that.
I get disillusioned with how quickly everything disappears on social media. I guess I'm trying to grow a different style of platform. It will all go through social anyway, but it's nice to have a net that catches it and if someone likes my Instagram they can go on Paradise Projects and see more.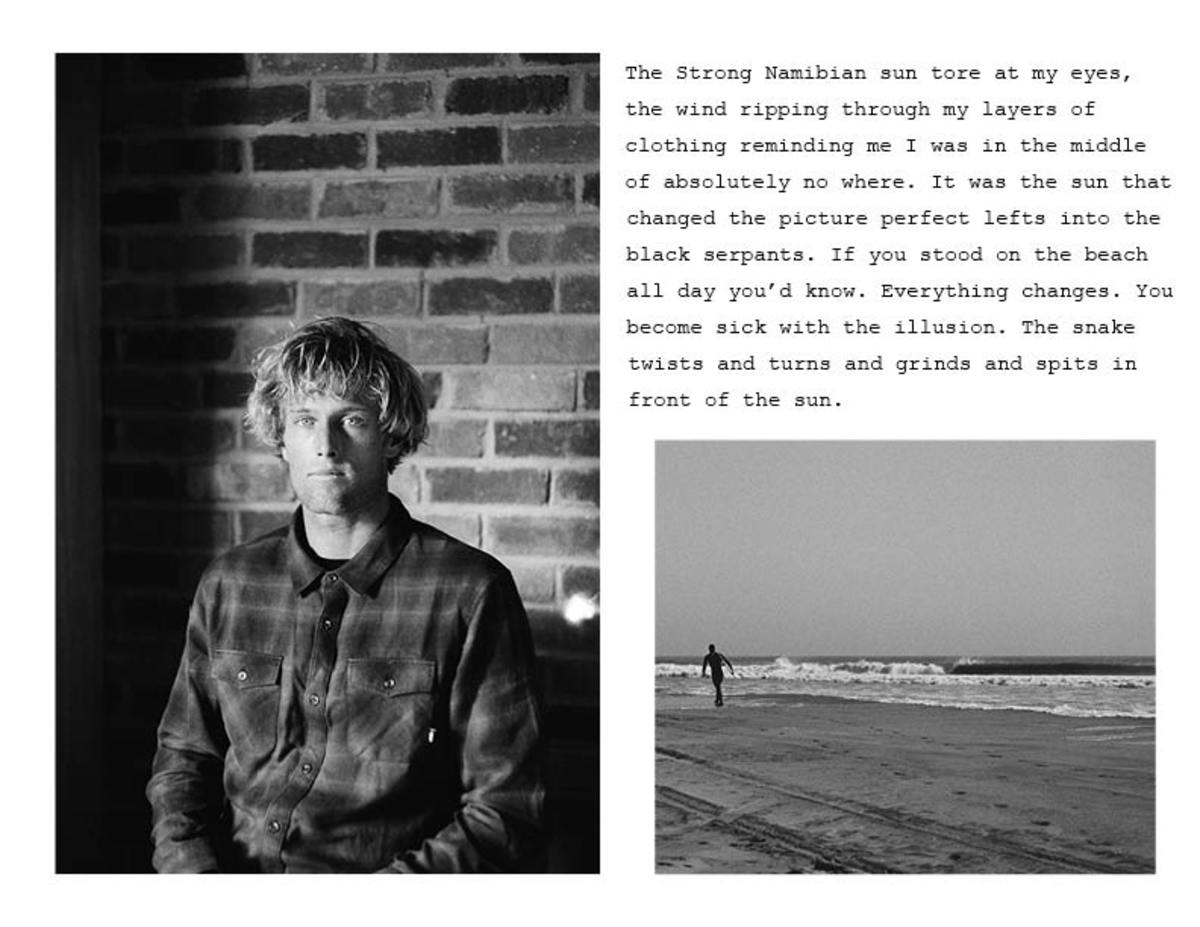 All the mediums you're using are welcome nostalgia for those of us who grew up with VHS surf movies, film cameras, print magazines. Do you think using all the old formats will resonate with kids who grew up with iPhones?
A lot of kids younger than us, it's not their fault, but they've never even seen VHS. I'm trying to keep that chain going where they might watch a VHS movie and get inspired. And the cool thing about shooting film is that it means more to you. I've personally never done anything with a photo I've taken on my phone, never printed one out.
I wasn't sure whether the kids were getting it, but I ran into a mom just the other day who told me her kids started making scrapbook calendars that were inspired from my art.
Tell us more about your collages and scrapbooks.
I've been taking my scrapbook on the road for years. When I would lose a heat, I would feel the need to create something because I needed to do something that made me feel good about myself.
I write words or themes with photos. I'm not a great photographer, most of my photos I wanted to enhance or I didn't care about messing them up, so I went ahead and cut them. Then I could create a whole story from a trip in one collage. Sometimes when you see a photo you wonder about it but don't fully understand it. But if you have scrap stuff around it you can grasp more meaning in the photo.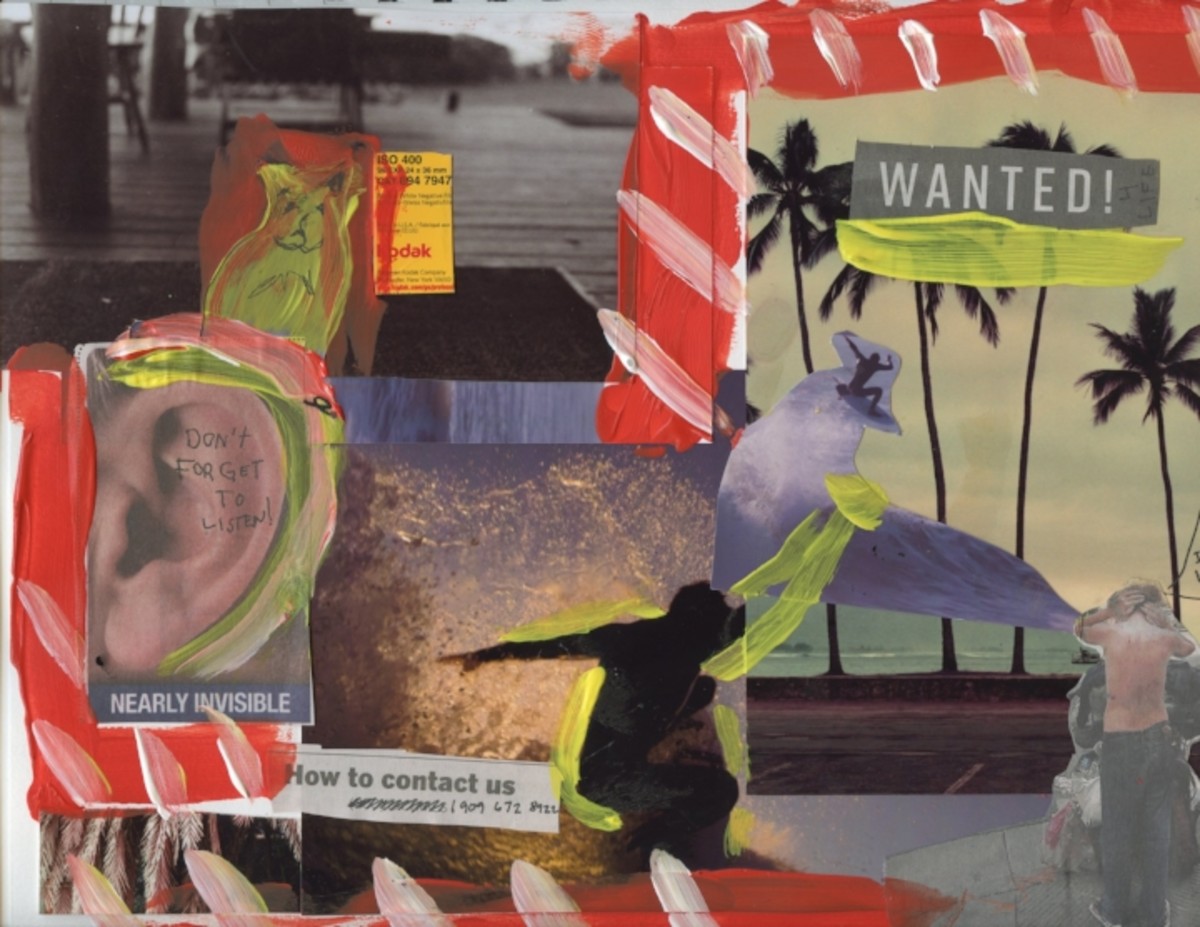 On the opposite side of the art spectrum, you've also included some high-energy freesurfing edits. Tell us about "Project One" and "Project Two."
I've been making some edits just for fun with my friend [SURFER Video Director] Alex Kilauano. We have this back catalog of footage. Alex has such a contagious energy. When we talk about an idea for a project, he just gets fired up. He's pushed me to keep moving forward with the edits.
I still have all the old surf movies on VHS. Watching those old movies, that's where I started, that's the core root of my love for surfing. Back in the day, the music was such an integral part of those movies. Pink Floyd, Jimi Hendrix. I wanted to emulate that and use whatever music I wanted. So we've been uploading them to Vimeo, where you can get away with a little more on the music.
I don't think the edits will always just be surf. I've been shooting a lot of 16mm film and I want to start including a scrapbook feel to the edits.
You seem to use a watermelon motif in a lot of your art. What's with all the watermelons?
It comes from a long time ago from this t-shirt I saw in Hawaii that said, 'Watermelon is Happiness.' I loved that t-shirt and just started doodling watermelons. They're fun to draw. I mean who hates a watermelon?
What's next for The Paradise Projects?
I just released another scrapbook story from Namibia, and we're doing an edit from Lowers. Then, I'm going back to all the photographers who inspired me and I want to do a photo essay with one of their film photos each. I want to try to find a way to stream some old VHS movies on the site, and maybe do a podcast with the people who made the films. Those guys were doing it in a grassroots way. They all blew up, but I want to remember that it started grassroots.
What do you want people to get or feel from The Paradise Projects?
I wanted to do something for myself in a grassroots way. We all put these barriers up, but even if you start something and it doesn't go well, that's ok, that's feedback. Our first day, our video only got 200 views. I hope everyone can get that everyone is just a human – just go for whatever you want to go for, live it up, dream it up.
Surfing Icons in New Documentary 'Momentum Generation' Discuss Their Collective Biopic
New Documentary to Tell the Story of Fallen Newport Beach Lifeguard Ben Carlson
Why Print Matters to Adventure Photographer Ted Grambeau
For access to exclusive gear videos, celebrity interviews, and more, subscribe on YouTube!