The only reason I could hear Zeb shouting over the roar of the snowstorm outside my tent was because one of my earplugs had fallen out. I popped awake to the now-familiar scene. I was burrowed deep in my minus 20-degree mummy bag on the flanks of Mount McKinley — North America's highest mountain and one of the world's famed Seven Summits. Through the small cinched opening, I could see snow was piled up so high against the tent walls, the nylon dome was collapsing in on us. Time to shovel. Again.
It was 2 AM but with the 24-hour daylight of Alaska's summer it may as well have been 2 PM. The middle-of-the-night shoveling had become so routine, I felt like a firefighter: Within minutes I'd thrown on my down jacket and pants, Goretex over that to cut the wind; hat, gloves, and, most importantly, glacier glasses to stave off snow-blindness — in Alaska, never leave the tent without your glacier glasses. I stepped into my boots, which sat neatly at the foot of the tent, splayed open and ready for action, then into the whiteout.
Icicles immediately encrusted the beard I'd grown just for this trip (to protect against wind and sun burn). Snow had been falling at a rate of about three inches per hour. It might not sound like a lot but add that to the snow that is blown around by the wind and it's easily enough to bury a 3-man tent, overnight. At this point — eleven thousand feet elevation and a three-day walk from where the bush plane had dropped us off on the Southeast fork of the Kahiltna glacier — it had been snowing for four days straight.

MOUNTAIN-READY: Everything You Need to Pack to Conquer Denali
Climbing Mount McKinley — or Denali, as it's more commonly known — sometimes feels less like an actual climb than it does a constant and ferocious battle to simply stay warm, dry, hydrated, fed, and sheltered, 24-hours a day for three weeks straight. Having life reduced to its most basic components is part of the appeal, but on Denali one always seems to be teetering on the edge of frostbite, exhaustion, altitude sickness, or all of the above. And those are just the things we have control over. In one of the snowiest and stormiest ranges in the world, the slopes we were traveling below are constantly loaded with catastrophically huge avalanche slabs and the ground we walked on every day is a minefield of hidden crevasses, hundreds of feet deep.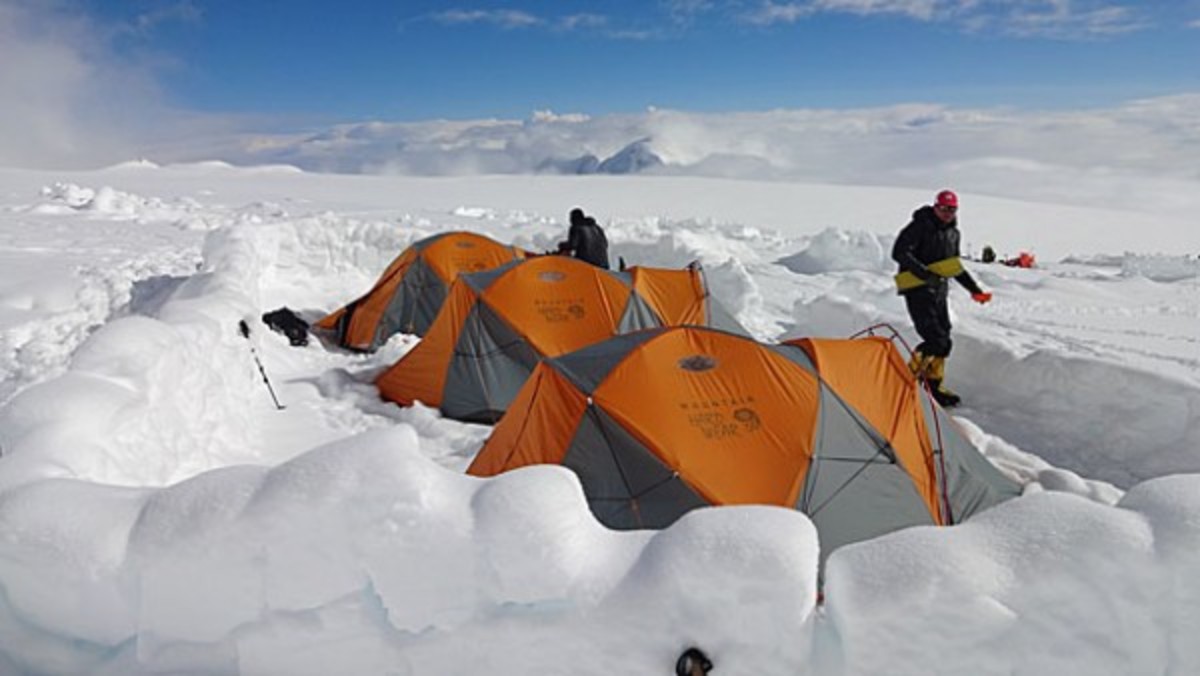 This is not to say I was in over my head. Getting myself onto Denali was a calculated campaign of intense money saving, training, and negotiations with my boss for time off. I had also signed up for a guided expedition led by Everest record-holder and mountaineering royalty Dave Hahn. With more than 30 expeditions on Mount McKinley over the last 28 years guiding for Rainier Mountaineering Inc., he knows this mountain better than almost anyone else alive. Hahn's specialty is easing a group of worker-drone flatlanders like me into the rhythms of a big mountain. Just four days in and I'd already forgotten I even had a job back home and had only the top of the mountain on my mind.
Really, the summit becomes all-consuming from the day you begin training. But it instills as much hesitation as it does inspiration. From the moment I'd committed to the climb, the psychological warfare began, whereby I had to constantly remind myself that summiting North America's highest peak does not actually make me the perfect version of myself I think it will. And maybe even more importantly, not summiting doesn't equal failure. It's a cruel game that looms large and follows you all the way up the mountain.
The West Buttress is Denali's least technical and most popular route, which has an estimated 50 percent summit rate. I was climbing with seven other guys a lot like me. For each of us, it was a long-held dream to climb North America's highest peak and perhaps the hardest thing we'd ever done. The climb itself is just three-weeks but the adventure is really a six-month journey of carefully titrated training to prepare your body for monster loads and the effects of altitude. Then there's the gear — even for an experienced climber, understanding how to stay comfortable on a big mountain in Alaska is like preparing to visit the moon.
Just 48 hours after arriving in Anchorage with two 70-liter expedition duffel bags, a twin otter prop plane had dropped us off on the glacier. Without even turning its engines off, the plane turned around and ascended back into the clouds. Our entire existence now depended on the 60-pound pack on our back and the 40 pounds of food and fuel we were each towing behind us on sleds.
At our very first camp of the expedition, we spent hours carving out tent platforms, building four-foot-high snow walls, and digging a pit the size of a small swimming pool that would serve as a group dining area. It was a feat of engineering we would repeat at each of the five camps that led to the summit, with greater creativity and ingenuity the higher we got. By 11K feet, our kitchen had a perfectly sculpted center dining table and a separate counter-height food prep surface. The commode was a one-man igloo, open on one side so you could gaze at full the glory of the Alaska range from your throne. It was a good thing — we spent five full days and nights pinned at 11K camp by that first huge storm.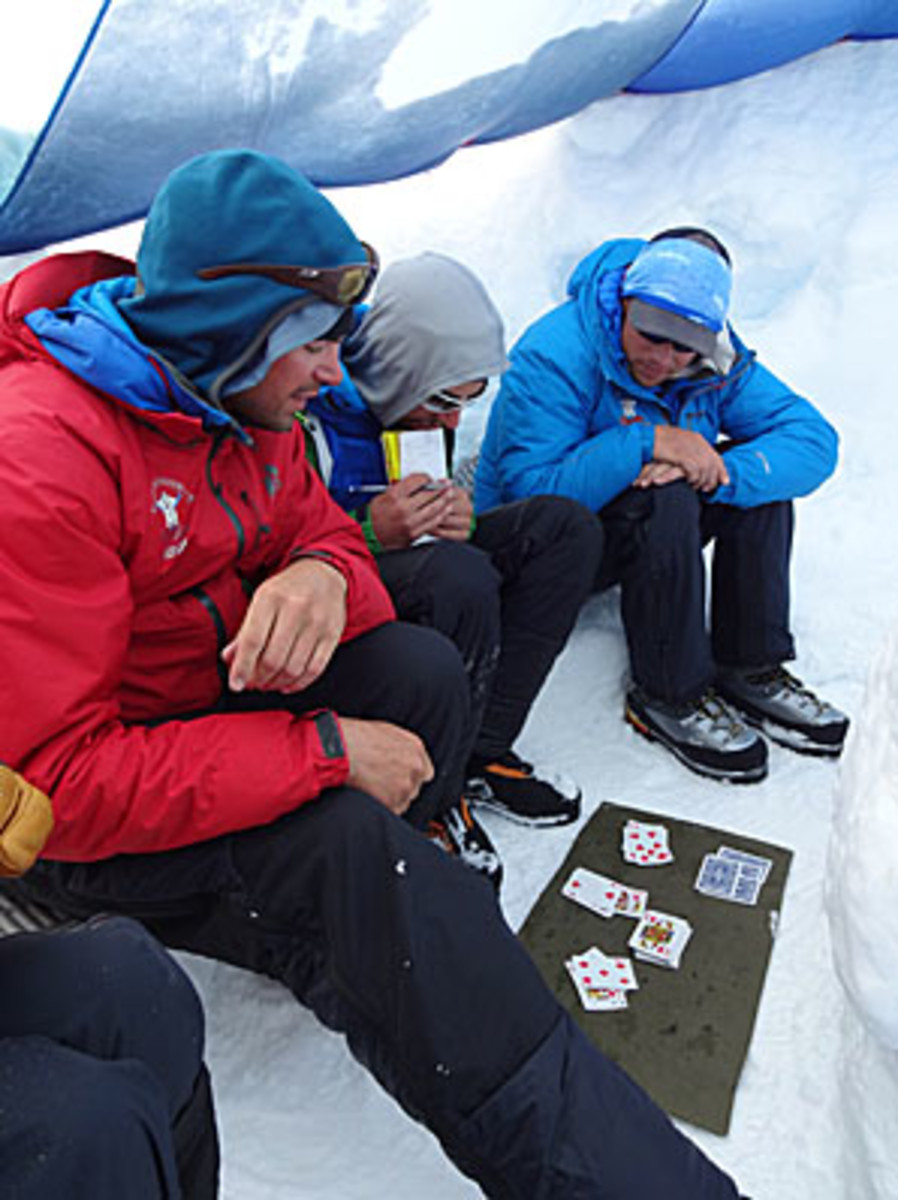 When the weather finally broke we were able to climb from 11K camp to 14K, which is considered the upper mountain. We swapped snowshoes for 10-point crampons and ascended steeper slopes than anything we had encountered up until then. We crossed the vast expanse of what's known as the polo field, and then fought our way around Windy Corner, finally ascending above the clouds into calm blue skies six hours later.
The sheer physicality of working so hard at altitude was exhilarating. While training, I was worried that my rigorous program would cause my 40-year-old frame to break down but I was feeling better than I had in months — no pulls, tweaks, or stiffness. Turns out, it was sitting at a desk that caused all my aches and pains, after all.
Despite being one of the most remote and harshest places on earth, the 14K camp on Denali is a bit of a scene. The rangers have a manned-but-temporary structure here for the entire climbing season — March through July — with postings about the weather forecast stuck in the snow outside the heavy-duty tent structure. Surrounding the ranger camp, scattered across a plateau of snow as big as an airfield, are the dome tents of up to fifty other expeditions, each camp fortified by chest-high snow walls. Many climbers call 14K camp one of the coolest cities in Alaska.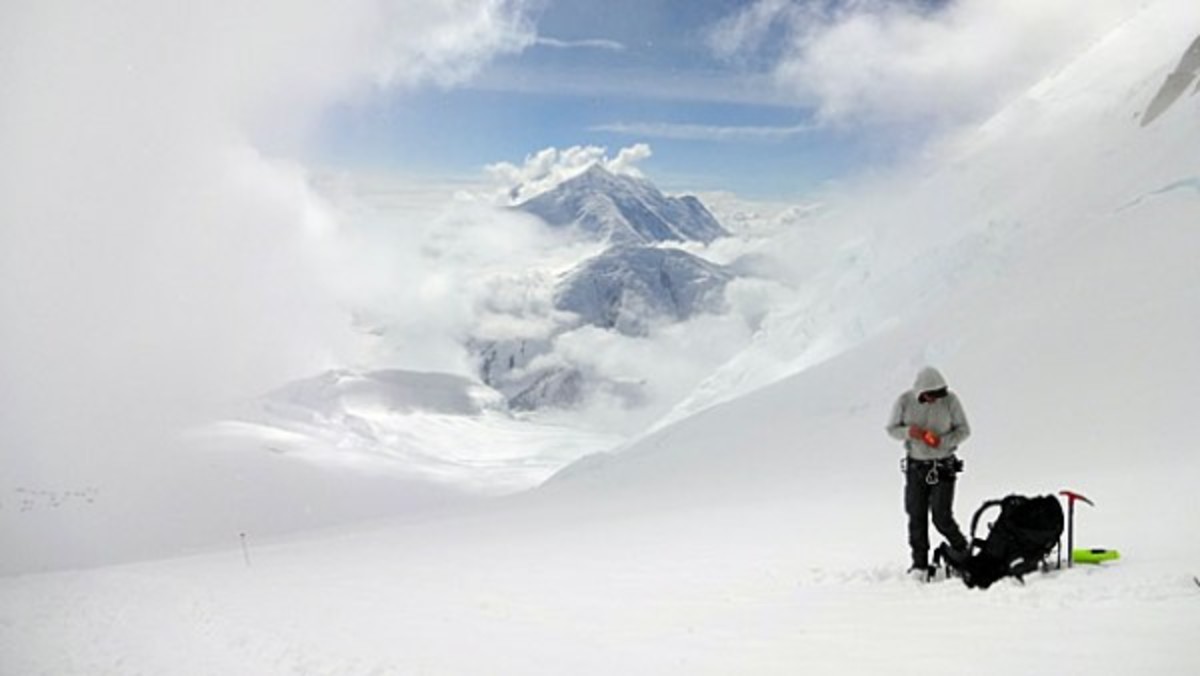 But being at 14,000 feet also instills a profound mixture of excitement and fear, for you are now only two full days of moving from the top — days described by most who have summited as the hardest of their lives. Directly above camp are the fixed lines that guide you up the 60-degree headwall that delivers you onto the buttress itself. At the end of the buttress is 17K camp, a place where even resting hurts. Beyond that, it's the Autobahn, an often-icy traverse, considered one of the most dangerous sections of the mountain, and then the brutal 10-hour slog to the 20,322-foot summit.
Group dinners became a little quieter, a little more serious. We began to distract ourselves by cataloging and organizing our gear for what lay ahead, also organizing our emotions to remove any clutter that may distract from such a physical and emotional challenge. I lay awake in the tent trying to predict how my body would hold up. It was a weird mixture of relief and disappointment when snow began to fall again, pinning us at 14K until the avalanche danger subsided.
We used a break in the weather to carry a cache of supplies up the fixed lines to 16K feet, which would ease the load during our next move. 16,200 feet was a personal elevation record for many in the group. Now, the summit became an obsession.
For me, the move to 16K had a slightly different effect. It was as if 12 days of pushing hard, sleeping off four-day snowstorms, trying to imagine summit day, living on ice and snow, 24-hour sunshine, and just plain Alaska had reached some sort of climax. Even at rest, my body dragged with exhaustion and I felt as though I was somehow de-acclimitizing to the altitude. I thought that, unless I had actually caught some sort of bug, it didn't make any sense — I had been above 16K feet in my life and climbed several technical mountaineering routes without a guide. I was dismayed at the feeling that I was either sick or had somehow peaked too soon on Denali. I was worried that my climb might be over.
Three days later, along came a dream weather window for moving to 17K feet and then summiting. Dave Hahn was faced with what must be one of the most difficult parts of being a guide: checking in with a client who may have to give up on their summit bid. And there were actually two of us, as a tent mate of mine ended up with a debilitating foot injury that had ruled him out days earlier.
Any good guide knows how important it is for the client to feel like they own the decision on whether to carry on or not. Dave and I talked it out exactly as you would hope when downloading the wisdom of a guy who's seen it all and accomplished what he has in the mountains. I decided to bow out. Within an hour of making my decision, I was on a rope team headed down the mountain and watching the rest of my crew — five other guys I'd grown pretty close to — march up the fixed lines. Even for them, a summit was by no means a guarantee, but at least they were headed in the right direction.
One of the weirdest things about climbing Denali is that it takes at least two weeks to get up, and just two days to get down. 24 hours after deciding to descend I was eating a burger and drinking a beer in Talkeetna. It's a sensory shock akin to going from a Buddhist monastery in Tibet to doing shots at a Vegas pool party.

MOUNTAIN-READY: Everything You Need to Pack to Conquer Denali
But as I was downing a beer, Hahn and the crew were touching the top of North America on what Dave would later describe as one of the best and calmest summit days he could remember. Shattered, the group stumbled back into 17K camp that night — 12 hours after they had laced up their boots — safe, strong, and triumphant. Emotions don't come more mixed when you have true pride and awe over what close friends have accomplished, and yet wish so badly you had been there with them.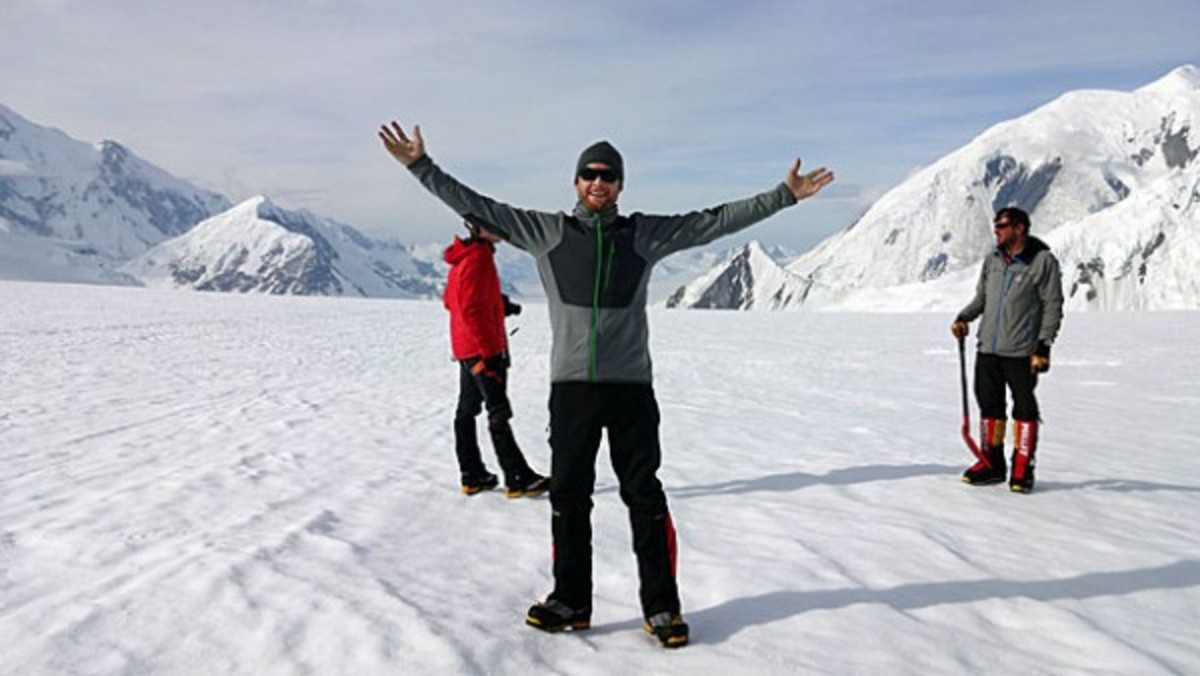 But the reality of not summiting took on an interesting life of its own, even before I had left the mountain. I was already blocking out time in my head for the training program I would need to start, in order to be in good enough shape to climb in 2015. I enjoyed thinking of the ways I would tweak my preparation and things I would do differently during the climb itself (load more episodes of Breaking Bad onto my iPod for storm days, for one). Call it a rationalization, but I was actually excited by the idea that I would get to hang out on Denali not once, but twice in my life. Summit or no summit, it was one of the greatest two and a half weeks I'd ever spent in the mountains. At 40, I realized that a challenge big enough to shake things up in one's life should come along at least a couple times a decade. That's a lot of epic challenges to come — why not just add another Denali expedition to the list.
For more information about Dave Hahn and RMI Expeditions, visit rmiguides.com
For access to exclusive gear videos, celebrity interviews, and more, subscribe on YouTube!