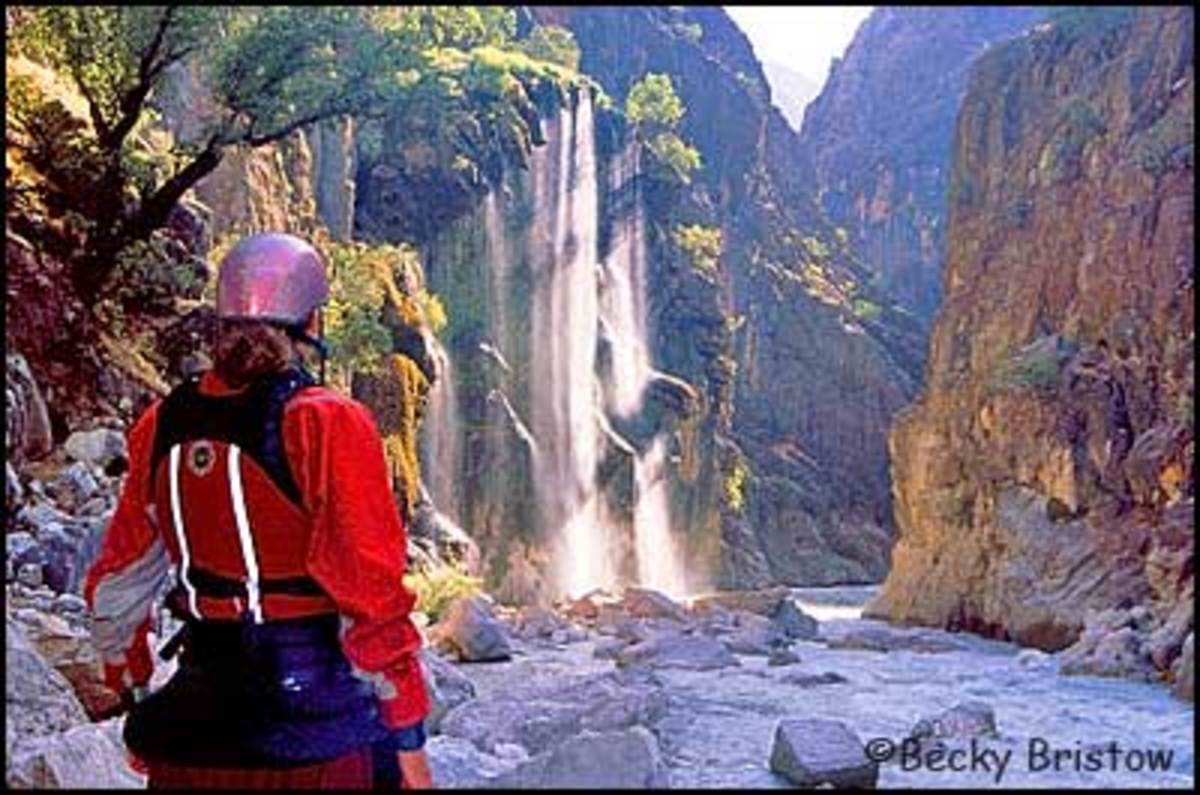 As we pulled up in front of the Iranian embassy in Erzurum, Turkey, I tied on my headscarf before getting out of the taxicab. Then, with mixed feelings of excitement and uncertainty, I walked inside the embassy and applied for a visa to visit Iran. How could they refuse a Canadian?
Whether it was pure luck or my persistence I'll never know, but three weeks later, during my fourth visit to the embassy, I was finally presented with my visa. Only then, once I actually held it in my hand, did reality sink in. I was going to Iran, but was it really a smart thing to do? Having an opportunity to experience another country is something I'm unlikely to refuse, but was it safe? Would there ever be a better time to visit? Would the opportunity ever arise again?
To one extent or another, all nine members of our team wondered the same thing. Our expedition leader, Dave Manby, reassured us. He had made our journey to Iran a reality. His passion to explore the country's seldom-visited rivers was contagious, so the rest of us decided that it was worth the risk.
Half of our team, including me, drove overland to Iran from Turkey through the rugged Zagros Mountains. We rendezvoused with the others in the city of Esfahan.
Compared to Turkey, which is partially located in Europe and influenced by Western culture, Iran is much more restrictive, particularly in regard to women. Immediately upon entering the country,
I noticed that women were separated from men as they lined up to get on a city bus, and that they all sat in the back while the men sat up front. Often we saw picnics in town squares where women, in their long chadors, sat apart from the men.
Iranian women covered their hair and skin in public, even those who did not wear the traditional chadors. The women in our team wanted to be respectful of Islamic traditions, so we wore headscarves, long-sleeved shirts, long pants, and socks.
Dave's Iranian friends welcomed us with kindness and generosity. We were served scrumptious dinners that included tender chicken kabobs, fresh-baked flatbread, saffron rice, tomatoes, peppers, and watermelon. The women were eager to talk with their Western counterparts. They insisted that Ally, Debs, and I try on their headscarves and choose a favorite to borrow for the days to come. They were generous, funny, expressive, and warm. Outside their homes, however, the women seemed different—serious, tense, and quiet. Many said it was like leading two different lives. We were glad to meet the women beneath the scarves who had welcomed us into their homes.
But would we be as welcome on the Iranian rivers? We would be paddling 60 miles from the Iraqi border in an area where caravans have been robbed for centuries. What if we ran into thieves? Would we encounter anyone who spoke English? What would it be like doing a half-day portage while covered from head to toe in 98-degree heat?
SEZAR
Finally, the day arrived that we had all been waiting for—our first day on the river. As we prepared to put in for a five-day raft-supported trip on the Sezar River, most of the local villagers lined the riverbank to watch. The women in our party helped one another get ready, trying to be as discreet as possible. When I pulled on my drytop, Ally wrapped my head in a scarf as soon as it popped through the gasket. Two local paddlers in our party were proud to be making the first Iranian descent of the Sezar.
Soon we were paddling through a deep and beautiful canyon, with long stretches of bouldery Class IV. We barely noticed the railway that followed the river.
As the river gathered more and more water from tributary streams, it grew large and pushy, gushing through the narrow doglegs of the massive canyon. Each day was more beautiful than the one before, at least until our last day on the river.
"We've been robbed," someone shouted as
I was jolted out of my sleep at 2:30 in the morning. We stumbled around in the darkness to check our piles of gear. Our cameras, passports, life jackets, and hundreds of dollars of cash had been stolen right from under our noses.
I was jolted out of my sleep at 2:30 in the morning. We stumbled around in the darkness to check our piles of gear. Our cameras, passports, life jackets, and hundreds of dollars of cash had been stolen right from under our noses.
The only other incident on the Sezar happened as we neared our take-out, where kids threw rocks at us to get our attention.
Riding the train shuttle back to our put-in village, we saw the river and canyons from a different vantage point than the water-level perspective of the previous five days.
Back in Esfahan, we dodged carpet vendors in the open-air markets to reprovision for our eight-day self-supported trip on the Bakhtiari River. We loaded up on boxes of melt-in-your-mouth dates and bags of colorful spices to liven up our dry rice and pasta meals. We sampled local delicacies such as goopy sweet halva—ground sesame seeds and honey. Later, we would eat it by the spoonful as a treat after each epic portage.
The article was originally published on Canoe & Kayak
For access to exclusive gear videos, celebrity interviews, and more, subscribe on YouTube!