At the end of April, after wrapping the Nitro Circus Live Australia Tour and just before the start of the first leg of the Nitro Circus Live U.S. Tour, freestyle motocross rider Josh Sheehan aims to rev his bike up to 50 miles per hour toward a massive step-up jump, go full throttle up the narrow takeoff ramp Travis Pastrana had custom-built for the endeavor, pull real hard off the lip, then flip an unprecedented three times and ride off on a natural dirt landing.
The world's first triple backflip on a motorcycle was initially conceived as a top-secret mission for Pastrana's forthcoming Nitro Circus film, "Action Figures." But rumors fly fast in the action-sports world, and Nitro Circus got out in front of them over the weekend by sharing footage of Sheehan getting the full triple rotation into an airbag landing. This week GrindTV was granted the first exclusive interview with Sheehan about what comes next.
"I wasn't sure how many people would know about it right away, because a lot of the tricks for 'Action Figures' we've been keeping pretty close to the chest, but they ended up teasing the airbag footage on the Internet and it's been crazy to see the response," Sheehan says.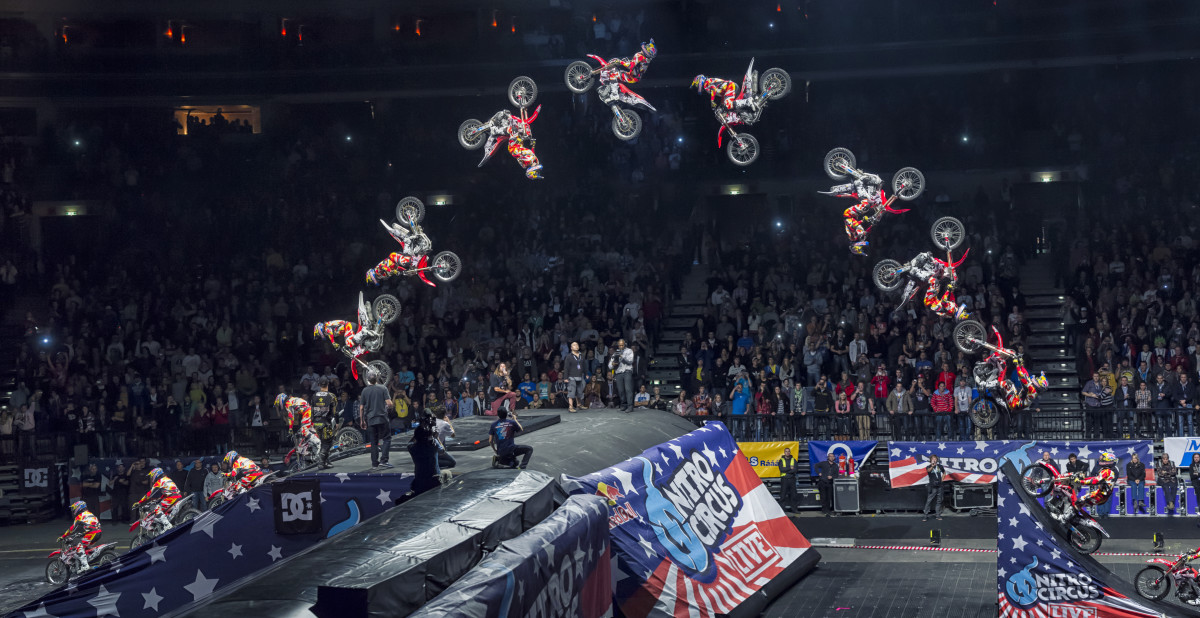 Sheehan is one of just a handful of riders who has ever landed a double backflip, nearly 10 years after Pastrana first brought the trick to X Games, and is the only rider currently performing the trick. The triple will put him into a class all his own.
"The double is always stressful, even after doing so many of them," Sheehan says. "It's still scary every time I do one. You have to remain tucked in to get a fast-enough rotation, and to add one more full rotation is something else entirely. The biggest factor for the triple is airtime, and for that we needed to completely rethink both the takeoff and the landing."
Throwing a triple backflip into an airbag isn't without consequence, Sheehan is quick to point out.
"The first time I hit the jump was pretty scary because it was a bit of guessing," he says. "Travis had had a similar jump set up previously, but a few things were different for this one and nobody was sure about how much speed you'd need. It was rock-paper-scissors to see who hit it first, and I lost. I nearly cleared the airbag and fell right off the edge of it after touching down. After that it got a little bit easier, but even when you get it right it's an abrupt slam down and I've had a lot of sore wrists and elbows to show for smashing into the bag."
Once he got the hang of the takeoff, double backflips were easy with the new ramp. "Maybe a little too easy," Sheehan says. "It was so easy to overcook them that we immediately figured a triple might be possible."
Around a guy like Pastrana, a moment of realization like that means "Game on."
"Travis has wanted to do this trick for a long time and finally got pretty close," Sheehan says. "But I have a smaller body and a different bike setup with the 450 and was able to get a bit more rotation, and by that point he just wanted to see the triple done and wasn't worried if he was the one to do it or not. So he left it all up to me."
Sheehan grew up in Donnybrook, Australia, and began riding in 1996. He says he was inspired when some of Pastrana's earliest Nitro Circus DVDs first made their way to his hemisphere more than a decade ago, and he began competing in freestyle motocross (FMX) in 2007, the year after Pastrana landed his double backflip at X Games. In 2011, Sheehan won X Games Best Trick bronze with the same trick, in a nod to his hero.
"The thing I loved about those first Nitro Circus movies was that they were so much fun," Sheehan recalls. "I loved the bits where they'd do these crazy things that obviously take a lot of skill and training and effort, but still manage to have a lot of fun. And I loved that they'd try all this crazy stuff over foam pits first, then bring it to dirt as soon as they were ready. That's our plan: At the end of the month, I'm heading back there again. I'm going to practice a bunch more to the airbag, get nice and consistent and fairly confident throwing triples, and then pull out the airbag, get the landing area right, and go and try to do it for real."
So what motivates a man to try to land a triple backflip on a dirt bike?
"I'm sure a lot of people out there are like me: Whatever they're into, they wonder what is possible, and then they'll try to push around the edges of it a bit," Sheehan says. "Being around Travis, he goes to the next level. If he even thinks something might be possible, he'll put all his time and effort into giving it a crack. It's very motivating to be around him and to be in his world. You do have to be careful, though, because you can get roped into trying some pretty stupid things around that guy."
More from GrindTV
Build your skills for handling the surf by taking a watermanship course
Like waves and wine? Then you're going to love this classic Cali spot
How to crowd fund your next vacation
For access to exclusive gear videos, celebrity interviews, and more, subscribe on YouTube!