Just as a generation once collectively asked, "Where have you gone, Joe DiMaggio?" tennis fans now wonder the same about John McEnroe. Those anarchic "You cannot be serious!"/"Pits of the world" gems, bellowed a lifetime ago on the emerald-green lawns of Wimbledon, have brought Johnny Mac Warholian fame and then some. Tennis's original superbrat has made a career out of curmudgeonliness. As his own son recently told The New York Times, he probably has "the most famous temper in the world." And we love him for it. We wish he were still playing, outbursts and all.
Ilie Nastase, a man so volatile that he earned the nickname "Nasty," used to shout skyward during his matches at the US Open, as if those unsuspecting souls piloting planes in and out of LaGuardia might hear his rants. Amid his storied run to the 1991 US Open semis, a 39-year-old Jimmy Connors famously called chair ump David Littlefield "an abortion." Back in the day, a Pete Sampras vs. Andre Agassi showdown was must-see Good vs. Evil warfare, a study in contrasts featuring two world-class athletes who weren't afraid to mix in an icy stare or the occasional verbal jab.
But those days are long gone. We live in a Hawk-Eye world now, one that leaves little room for argument or controversy. The occasional Serena meltdown aside, those on-court temper tantrums rarely happen anymore. Watching tennis these days is like watching the Indy 500 with no possibility of a pileup, a hockey game without fisticuffs.
Truth is, today's tennis rivals get along swimmingly. McEnroe and Connors never hid their disdain for each another. As Davis Cup teammates, they gave each other the silent treatment. They were consumed by their quest for No. 1. They'd let nothing stand in the way of that single-minded pursuit. Today, the rivalry between the Big Four of Federer, Nadal, Djokovic, and Murray is one big group hug. It oozes mutual respect. These so-called foes embrace each other, win or lose, like blood brothers, exchanging nearly as many compliments as they do groundstrokes.
"People come up to me and have said, 'Tennis is boring now. All the top guys get on well with each other,'" Murray said recently. "I get asked questions in the media; they want me and Novak to not like each other, or Roger and Rafa to dislike each other. It's tough to be extremely close when you're playing in huge matches against each other on a regular basis. That's normal. But we get on absolutely fine."
Perhaps that's why we're so taken with Nick Kyrgios. In a sport populated by round holes, the No. 37-ranked Australian is the quintessential square peg, a player who doesn't seem to mind if he doesn't fit in, even if that means getting the cold shoulder in the locker room. He takes the court with Colin Kaepernick-like flair, neon-pink Beats insulating him from the outside world, shaved eyebrows and a spumoni haircut that puts even Ronaldo's to shame. "You're not going to see Roger or Novak doing things like this," said Kyrgios, swiping a hand through his tri-colored coif and clearly reveling in his against-the-grain personae.
"I'm not trying to be anyone else," he's said. "I'm just myself."
This is a guy who, deep down, doesn't even like tennis all that much. A confessed NBA nut (and Celtics fan), Kyrgios told the Independent, "I got pushed by my parents and to this day I can still say I don't love the sport." After a loss at the Queen's Club this summer, Kyrgios insisted he needed a break and planned to "turn off all tennis channels, delete my ATP app."
Whether or not his heart is in his work, Kyrgios can flat-out play. His game is as big as anyone's. In January, he became the first teen to reach two Slam quarterfinals since Roger Federer in 2001. He overpowered Rafael Nadal at Wimbledon last summer, and earlier this year overcame a two-sets-to-love deficit against Italy's Andreas Seppi to reach elite eight on home turf at the Aussie Open, calling the moment "the best feeling I ever had."
Maybe Krygios, now 20, doesn't hate tennis as much as he'd have us believe. 
But the Canberra-born son of Greek and Malaysian parents has become better known for his antics off the court than his results on it. His now-infamous Montreal meltdown is already the stuff of YouTube legend. During his matchup with two-time Slam winner Stan Wawrinka, courtside mics picked up Kyrgios informing his opponent that, in essence, his girlfriend sleeps around. The unsavory incident drew widespread condemnation.
Wawrinka, who only months ago had touted Kyrgios as "the future of tennis," said, "With one sentence he can touch a lot and hurt a lot of people." Others were quick to back the Swiss star, one of the tour's most well liked players.
"Is completely unnecessary," said Nadal. "Is out of what a tennis match should be, no?"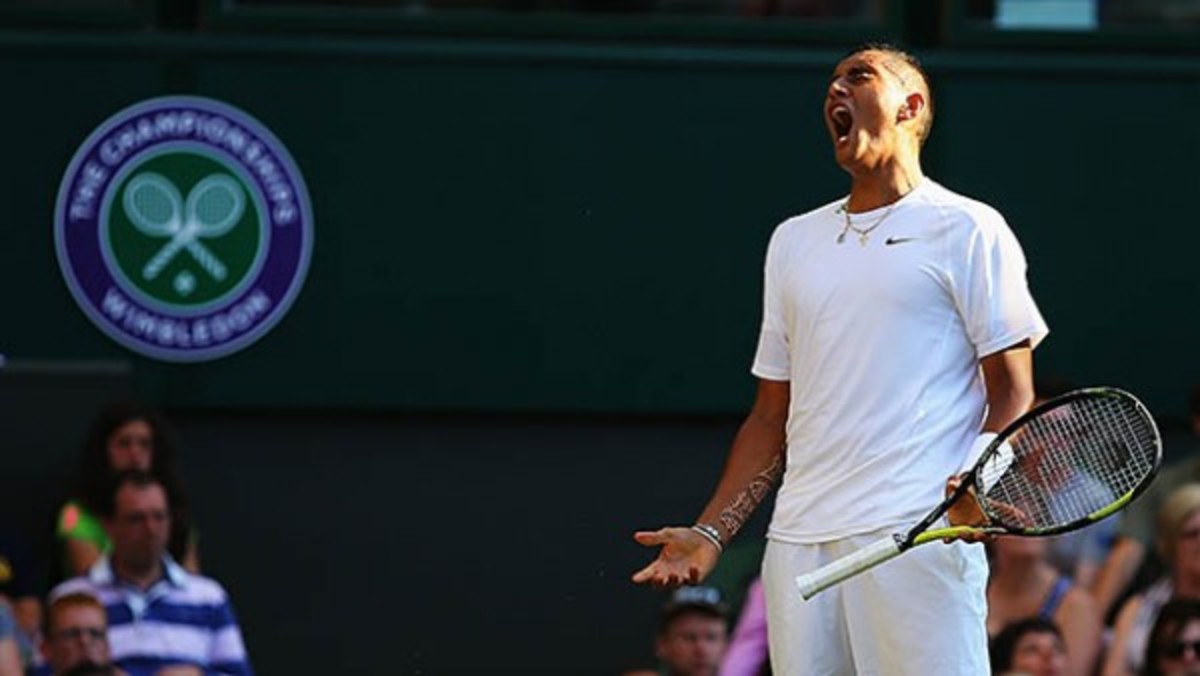 Al Bello / Getty Images
Reaction came from the women's side of the game, too. Said former No. 1 Victoria Azarenka, "There is no excuse for any type of behavior like that on the tennis court." WTA Tour CEO Stacey Allaster called Kyrgios' actions "crude and unacceptable."
When the ATP slapped Kyrgios with a $10,000 fine, later tacking on a six-month probation period that, if violated, could lead to more penalties, Novak Djokovic asserted, "He deserved it. I think he's going to learn a lesson in a hard way."
"I told him I was sorry," said Kyrgios of Wawrinka, who has denied that any such apology occurred. "Obviously, he was angry. So I just had to deal with it. Something I had to deal with. Hopefully, we can just put it behind."
Tennis's preeminent Bad Boy himself weighed in on the subject. Said Mr. McEnroe, "I don't think we went to the level of what Nick was throwing out at Wawrinka, but it certainly happens a lot in other sports. There's times where I did, Jimmy, others, go too far like Kyrgios did, but I think that's an entertaining and an important part of a one-on-one sport."
RELATED: Is Milos Raonic the Future of Tennis?
When it comes to entertainment value, McEnroe might be onto something. Despite the uniformed backlash, tennis fans came out in droves to see Kyrgios' opener the following week in Cincinnati, the kind of first-round affair that might otherwise have been sparsely attended.
Then there was Nike's pre-US Open "Street Tennis" stunt in Manhattan. The shoe giant brought out all its leading lights for the much-ballyhooed event: McEnroe, Sampras, Agassi, Serena, Federer, Nadal, Sharapova — a combined 86 singles Slams right there. Nike's generation-next stars included hard-hitting American Madison Keys, supposed Federer clone Grigor Dimitrov, Canadian beauty Eugenie Bouchard and, yes, one Nicholas Hilmy Kyrgios, who despite his obvious promise, has gone 18–14 on the year, sans a title.
Krygios seemed oddly out of place among the gathering as they flanked a New York City taxicab for publicity shots. What was the youngster doing there alongside those all-time greats? Did he really belong in the same borough as Federer, someone who agreed wholeheartedly that Kyrgios had "crossed the line by a long shot" in dissing his fellow Swiss Wawrinka? Would he be there at all had it not been for his boorish behavior in Montreal?
As Connors exclaimed in front of the cameras during that epic, often obscenity-laced run in Flushing Meadows back in '91, "This is what they paid for! This is what they want!" For now, it seems, we want it once more.
Clive Brunskill / Getty Images
For access to exclusive gear videos, celebrity interviews, and more, subscribe on YouTube!