The world of skiing, for whatever reason, has inspired a seemingly endless line of kooky inventions, each one birthed from the brains of mad scientists, each one serving no specific purpose (who could forget the UpSki or ColdPoles?).
But even with the dubious history of ski inventors, one French pioneer may have created the single weirdest thing to ever grace the slopes: the Buggy Ski.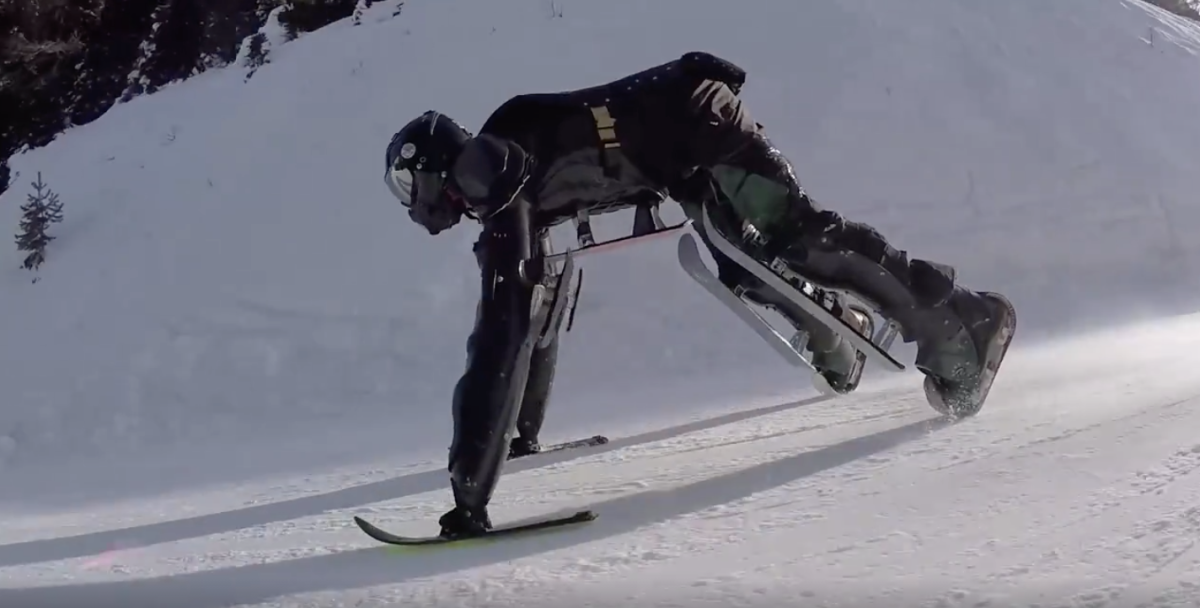 The suit was created by 45-year-old French designer Jean-Yves Blondeau. While his name might be unfamiliar, you may recognize Blondeau as "Rollerman," the Daft Punk-looking stuntman who bombs down streets in a full-bodied rollerblading suit, zooming past cars on all fours:
Blondeau's latest invention came to public attention after the French ski area La Plagne shared a video of him testing out the Buggy Ski on Facebook on Wednesday.
The video went viral, racking up over 350,000 views as viewers marveled at the design and asked Blondeau how he had developed it. According to the resort's Facebook page, for safety reasons, he hasn't let anyone else try out the suit yet, and when glancing through the Rollerman YouTube page, it becomes apparent he had quite a bit of practice before he took it down the mountain:
With the unveiling of his newest design, Blondeau joins the notorious company of such odd inventions like the propeller ski, the jetpack ski and the hang glider ski.
Let's hope that, just like the crazy inventions of his predecessors, his unholy matrimony of full-body rollerblading and skiing never catches on at your local mountain.
More from GrindTV
Watch Travis Pastrana land first 'Aussie Roll' on bike
Skiing's best-loved big-mountain contest makes its return
Pregnant sand tiger shark savagely attacks diver in aquarium; graphic video
For access to exclusive gear videos, celebrity interviews, and more, subscribe on YouTube!