There are times when you go for a mountain bike ride, and then there are times when you go out for a day on the trail. While a pocket full of snacks, a can of air and a full water bottle will largely suffice for the former, the epic ride requires much more.
A carefully stocked backpack will get you through most repairs and minor injuries, and it'll make your journey so much better.
If you're unsure of where to begin, our handy list can get you started. We're busting open our trail pack to give you a look at some of the best items for a day on wheels.
The Bag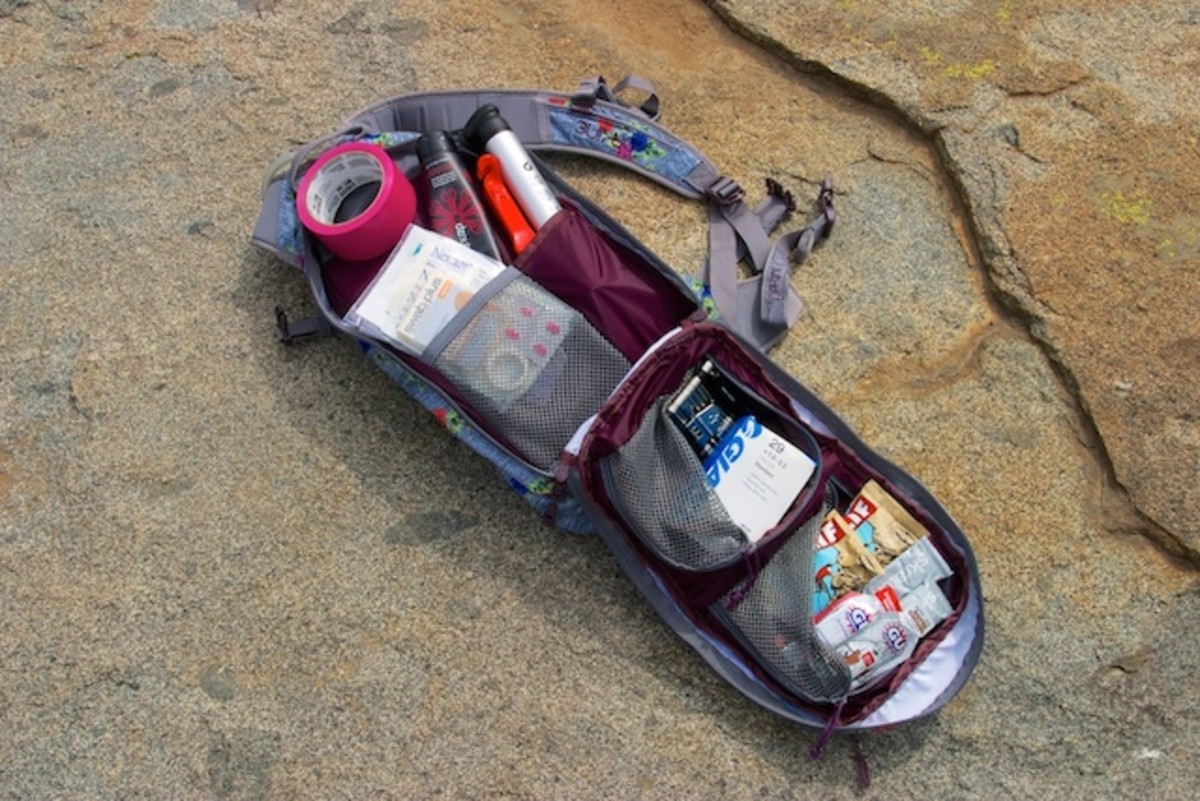 If you're going to be out all day, your pack has to be comfortable enough to stay on your back, as well as have enough space to schlep your gear and water.
The Dakine Drafter 12L bag (#1) is all that and more.
The integrated 100-ounce hydration reservoir can be easily cleaned and filled, with the hydration tube flowing to either the right or left strap, depending on the rider's preference.
The real standout feature of the backpack, however, is the Air Mesh suspended back-panel design. Thanks to this slick mesh panel, most of your pack is actually lifted up and off your back which allows air to breeze right through the gap.
Aside from making your back feel like you're not even wearing a pack, it prevents your body from heating your hydration sleeve during the ride, as with a typical pack.
In addition, internal pockets and organizers help keep your gear sorted, while the external helmet-carry system works for both full-face and lid-style helmets.
With five different color options for men and another three for women, there's a choice for every style of rider. Bonus points also go to Dakine for integrating a whistle into the buckle of the bag's chest strap.
The Tools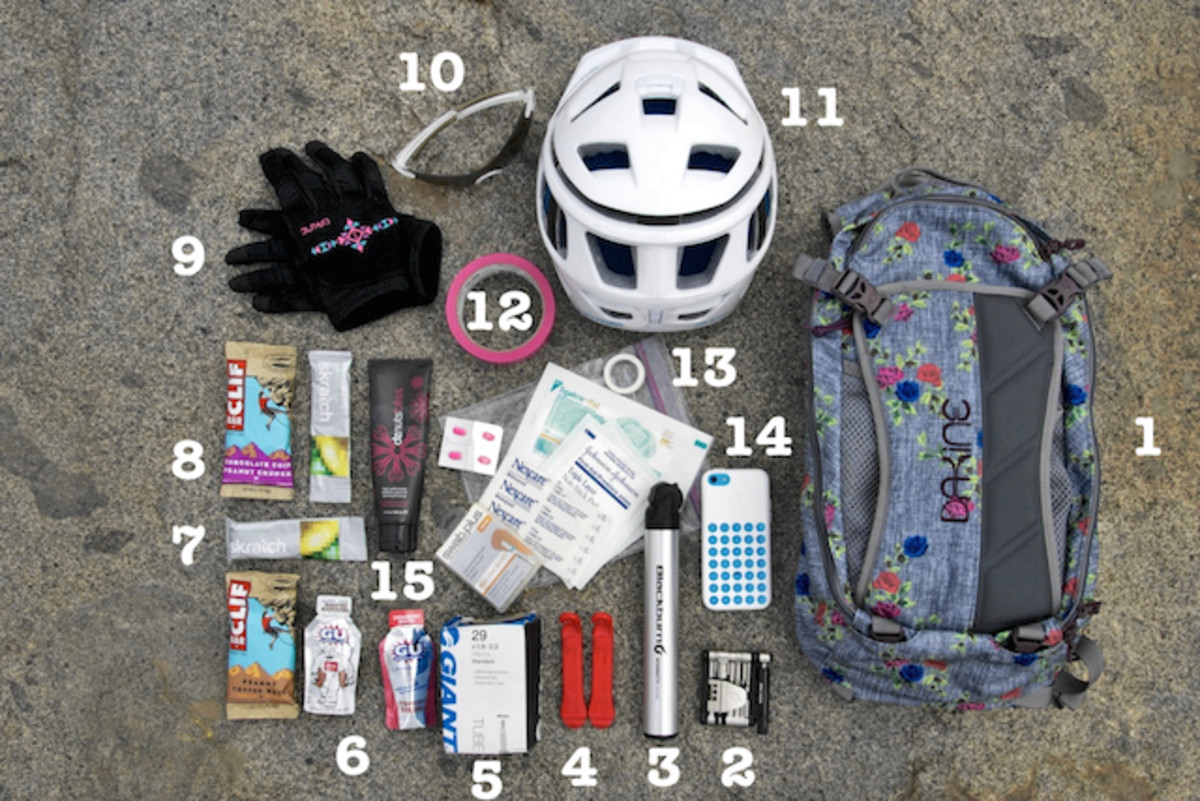 At a minimum, every trail bag has to have the basic items needed to cover minor repairs and fix flat tires. Our go-to gear includes a multi-tool, a pump, a pair of tire irons, a tube and a roll of duct tape.
Sure, your bike may be running tubeless tires, but on the off chance that you spring a leak or break a chain, having the right tools will probably save you from a long and arduous hike. Blackburn's Toolmanator 16 multi-tool (#2) is one of the best we've owned.
It literally has every hex key size that a bike will use, screwdrivers, a valve adjuster, spoke wrenches, a chain tool and even a mini shock pump for on-the-fly adjustments. Throw the one-piece aluminum-designed superstar into your pack and rest easy.
A multi-tool could save you from a broken-bike disaster, but a pump like Blackburn's Mammoth (#3) will help keep your tires inflated and running smoothly. In the event of a flat, this, in addition to a pair of tire irons and a tube, will get you back up and rolling.
It is especially important to mention here that carrying a properly-sized tube with the right kind of valve (Schrader or Presta) for your bike is paramount.
Do not rely on the kindness of strangers (or friends) on the trail as the current crop of mountain bikes can have 26-, 27.5- or 29-inch wheels, which makes sharing tubes even harder.
Bring your own spare, and if you're on a trail known to puncture tires, bring two. These giant standard 29 x 1.9–2.3 Presta-equipped tubes (#5) are what we run in an emergency and will set you back between $7 to $14 each, depending on your local shop's prices.
Fuel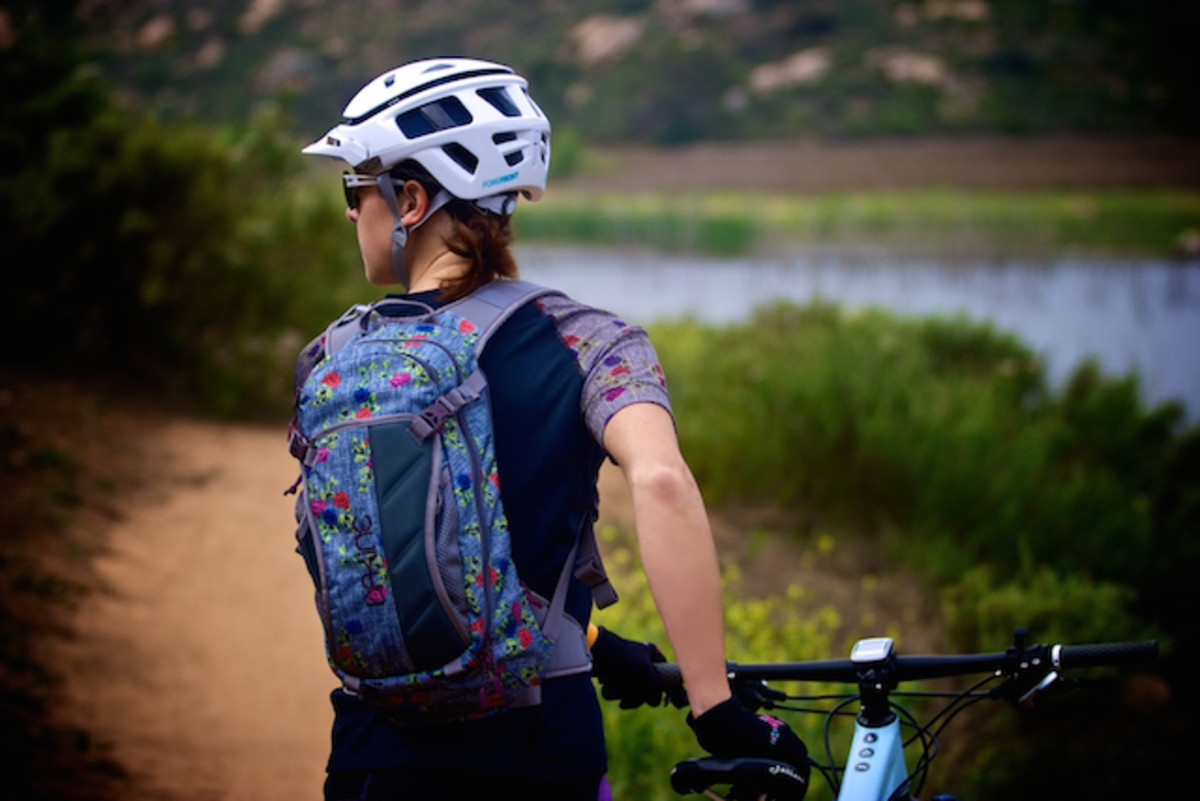 There are two schools of thought when it comes to packing fuel for the trail: real food or energy bars and gels. Due to the ease of it, we fall largely into the second category and depend on bars, gels and hydration mixes for most of our cycling endeavors.
On a long trail ride, a few different options keep us from bonking. While there are plenty of companies and products to choose from in this category, these three get our vote:
Gu Energy Gels (#6) have 100 calories' worth of zoom in each pack, and with caffeinated and decaffeinated options available, these are a nice pick-me-up when you're starting to lag behind. We train with them, we race with them and we trail ride with them.
The carbohydrate and amino acid blend is made to be squeezed into your mouth and eaten in one shot, which makes it an easy item to stash in a pocket and ingest mid-ride. Aside from tasting delicious, the Salted Caramel flavor offers 20 milligrams of caffeine, along with twice the amount of salt as a normal Gu gel. It's amazing for rides on the hottest of days.
Speaking of salt, when you're out on the trail sweating buckets, you've got to replace the electrolytes your body is shedding. These slick single-serve packs of Skratch Labs hydration mix (#7) make it easy to bring the all-natural sports drink out on the trail.
Dump one or two powdered packs into your hydration reservoir midway through the ride, and the great-tasting electrolyte mix will replace all the salt you're sweating out without making you feel sick.
We're partial to the pineapple flavor, but it's also available online or in many bike shops in lemon-lime, orange and raspberry.
When it comes to straight-up eats, we head for the original Clif Bar (#8). The dense oat-and-rice-based bars typically pack 230 nutrient-dense calories and give us enough energy to last a few hours.
With 50 milligrams of caffeine, Clif Bar's Peanut Toffee Buzz is a favorite pre-ride snack, and the Chocolate Chip Peanut Crunch has just enough bite to still feel like food even after it's been warmed all day in the pack.
The other awesome thing about Clif Bar is that you can find these almost anywhere; bike shops stock them, but so does 7-Eleven. The two caffeinated flavors can be elusive, however, so plan accordingly.
Protection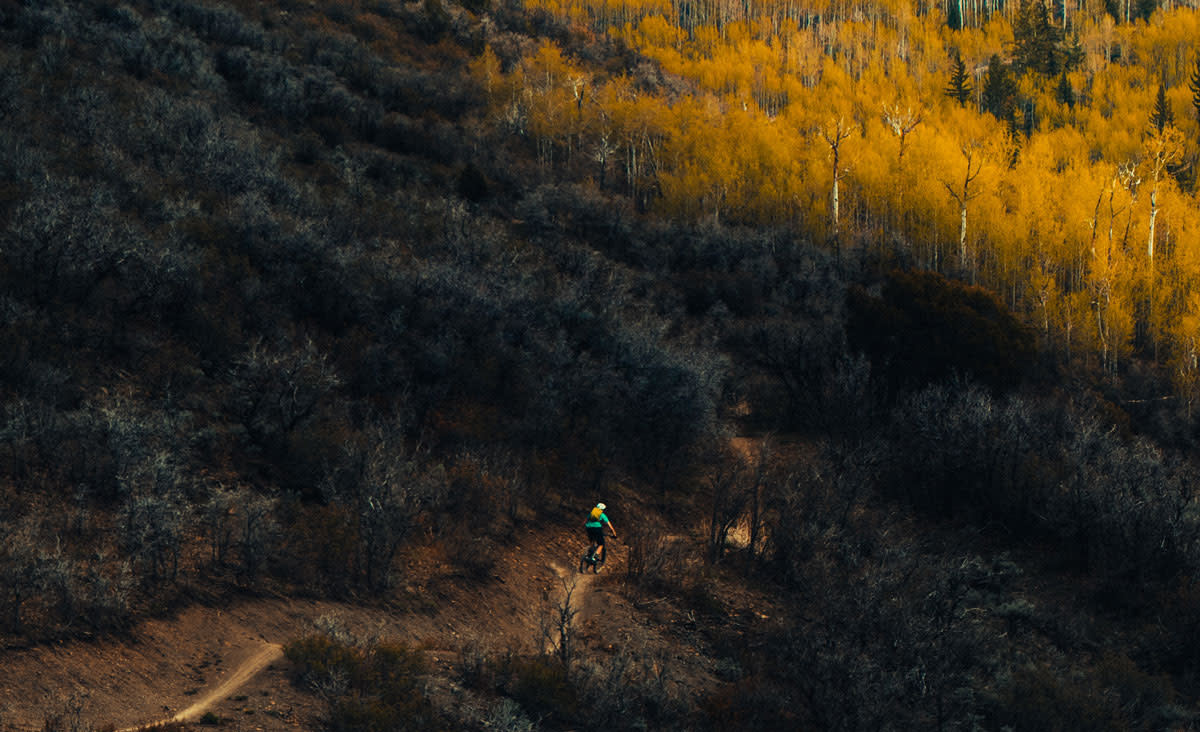 A long day in the saddle can be horrendous if you're not properly shielding yourself from the elements.
Your hands will take a beating from the sun, dirt, tree branches and scrub brush, and while it's tempting to reach for a short-fingered pair of gloves to better operate pocket zippers or phones, a solid full-fingered pair that will keep your digits covered without breaking the bank (#9).
Protect your eyes from dust, bugs and the sun with a good pair of performance glasses. Luckily, there are a lot on the market these days in a variety of price ranges — pick a favorite and roll.
The Smith performance glasses (#10) come with different lens options in easily changeable designs, plus they fit perfectly with the white Smith Forefront helmet (#11).
Which reminds us: We've seen a lot of people cruising without helmets lately. Don't try to be a hero; if you can't bring yourself to wear it on the uphill, at least just strap it to your pack and put it on for the downhill.
The variety in the helmet category is huge, so head to a shop and try a few on. The Forefront is nice because it offers full-coverage protection in a low-volume helmet.
You can rock it with goggles or glasses, and its honeycomb-style Koroyd material with Aerocore construction feels light as a feather and is designed to absorb up to 30 percent more impact than a typical EPS helmet. It is available in a variety of colors.
The Extras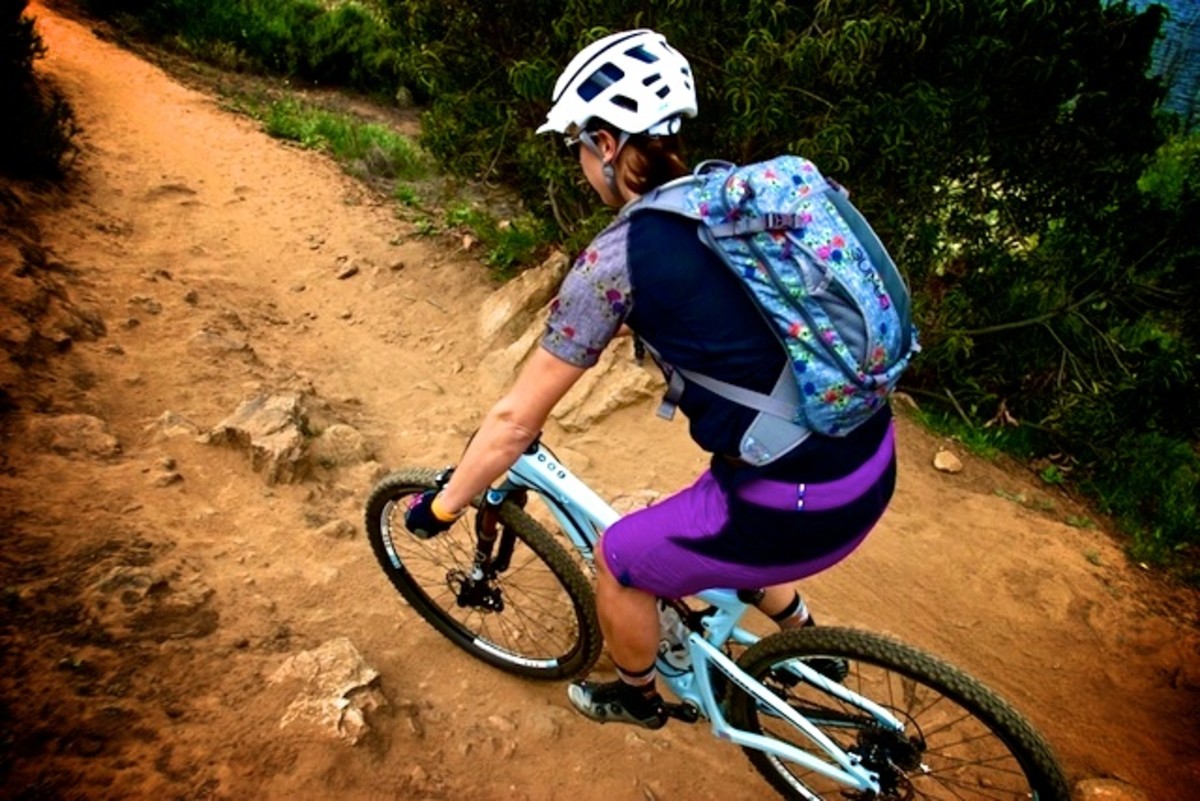 Everybody is going to have their own extras when it comes to packing a backpack, and it'll likely vary by conditions and the trail.
Duct tape (#12) is one of those things you just bring without a use in mind. You might need to make a splint or, more likely, splint together someone's bike. Double a piece over a few times, and you can even make a boot to patch your tire from the inside before putting in a new tube.
A first-aid kit (#13) should be one of the things that gets thrown in your bag every time, as well.
Our go-to kit lives in a Ziploc baggie and contains Benadryl for quelling an allergic reaction to a plant or insect bite; antiseptic swabs to clean up scrapes on the go; Nexcare waterproof bandages for smaller cuts; Nexcare Tegaderm + Pad wound dressings for larger scrapes and cuts, as well as some good old-fashioned nonstick pads and first-aid tape.
An emergency blanket would probably make a good addition here, as well.
Another extra worth throwing into your backpack for every ride is certainly a cell phone (#14). There are plenty of places where cell service is going to be an issue, but when it's not, a cell phone can come in handy for many emergencies. Put one in your pack, bring a solar charger or on-the-go power for a long journey, or simply turn it off or put it in airplane mode to conserve energy.
Lastly, a full day in the saddle can be rough on your bike, but even rougher on your — ahem — parts. A good chamois cream will go a long way toward making you comfortable out on the trail.
The women-specific DZNuts Bliss cream (#15) or original DZNuts cream will maintain your bit parts and help prevent saddle sores, all for an affordable price. (Anyone who has ever had a saddle sore will tell you that it is worth every penny.)
While this is what we typically pack for a day on the trail in Southern California, there are times or conditions where we'd need to bring less or even more. Get out there and be safe.
More from GrindTV
A list of outdoor gear that will last you forever
Waves for Water is on the ground in Haiti after Hurricane Matthew
A preview of Snowboard on the Block this weekend in Denver
For access to exclusive gear videos, celebrity interviews, and more, subscribe on YouTube!