Questions and doubt swirled through my head as I stood on the start line of the Maui Jim Ocean Shootout, the multi-discipline watermen event held at Maui's pristine Ka'anapali Beach Hotel.
In a last-minute moment of questionable judgement, I signed up to compete against an esteemed group of world-class watermen. A group that included five-time Olympic gold medalist swimmer Aaron Peirsol, multi-discipline paddling legend Travis Grant, SUP stars Zane Schweitzer and Slater Trout, and the undefeated champion of this event, Australian Ironman Jackson Maynard.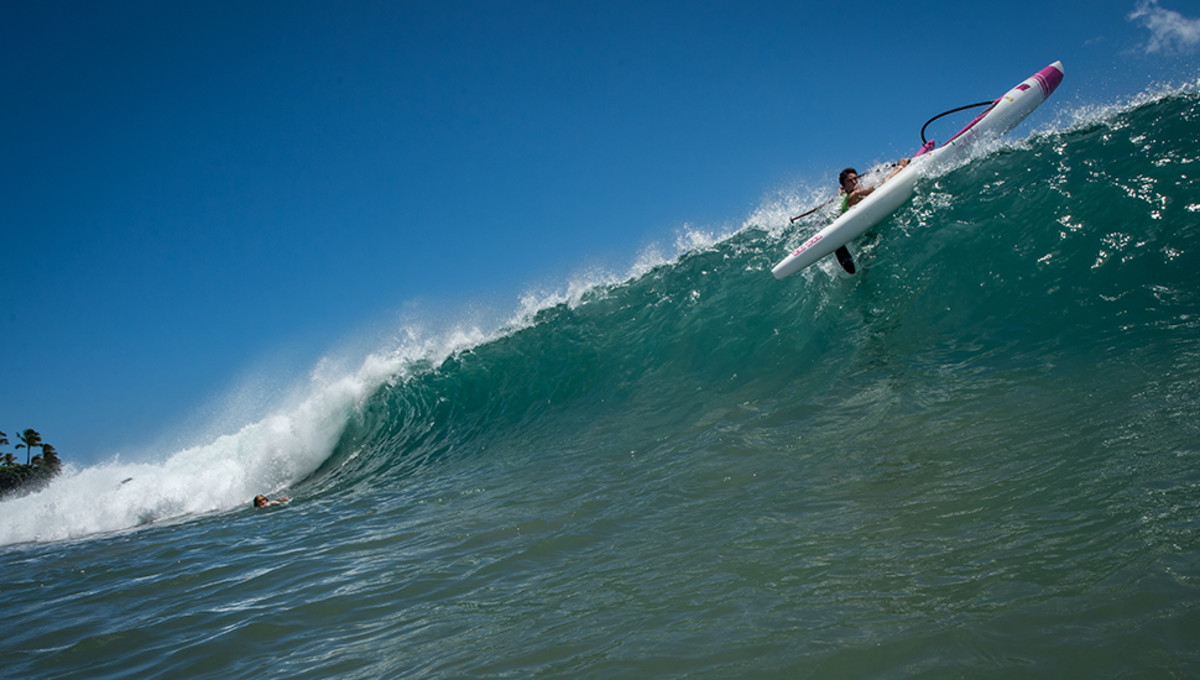 Here were legendary athletes at the top of their game versus myself, a skinny journalist with zero race experience, who had just polished off a quiche at the breakfast buffet.
Why did I think this was a good idea?
Before I could question myself anymore, the hooter hooted and the race was underway. Minutes later, I crossed the finish line to the cheers of the crowd.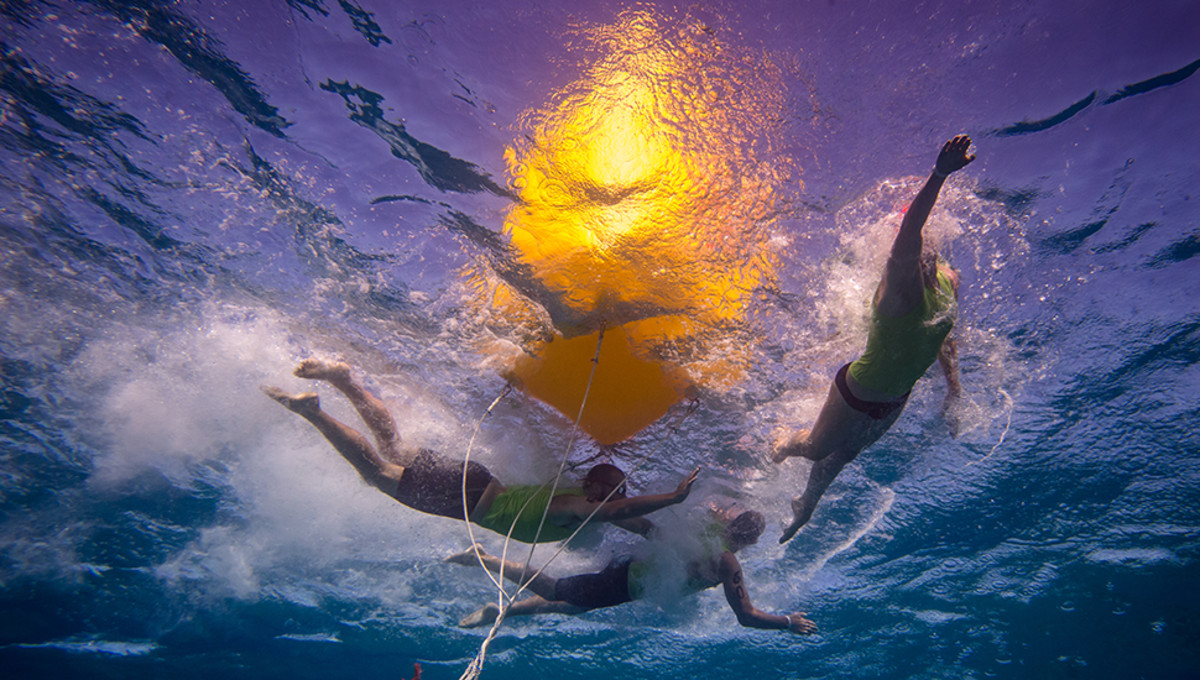 Don't be confused, those cheers were not because I'd faced the world's best, David and Goliath-style, and came home as a surprise winner. Instead, those cheers were the equivalent of a participation-trophy for coming in dead last. Despite my poor, but very predictable performance, I still felt good about my effort. I had taken myself out of my comfort zone, which is what Maui Jim Ocean Shootout was all about.
"It is just a shot in the dark to see if we could mix it up and get everybody out of their comfort zones," said Event Director Matthew Dubrule. "Take a swimmer like Aaron Peirsol who is world-class, and put him next to guys on SUP. He gets to smoke them on the swim and then he turns around and gets smoked. It's really humbling."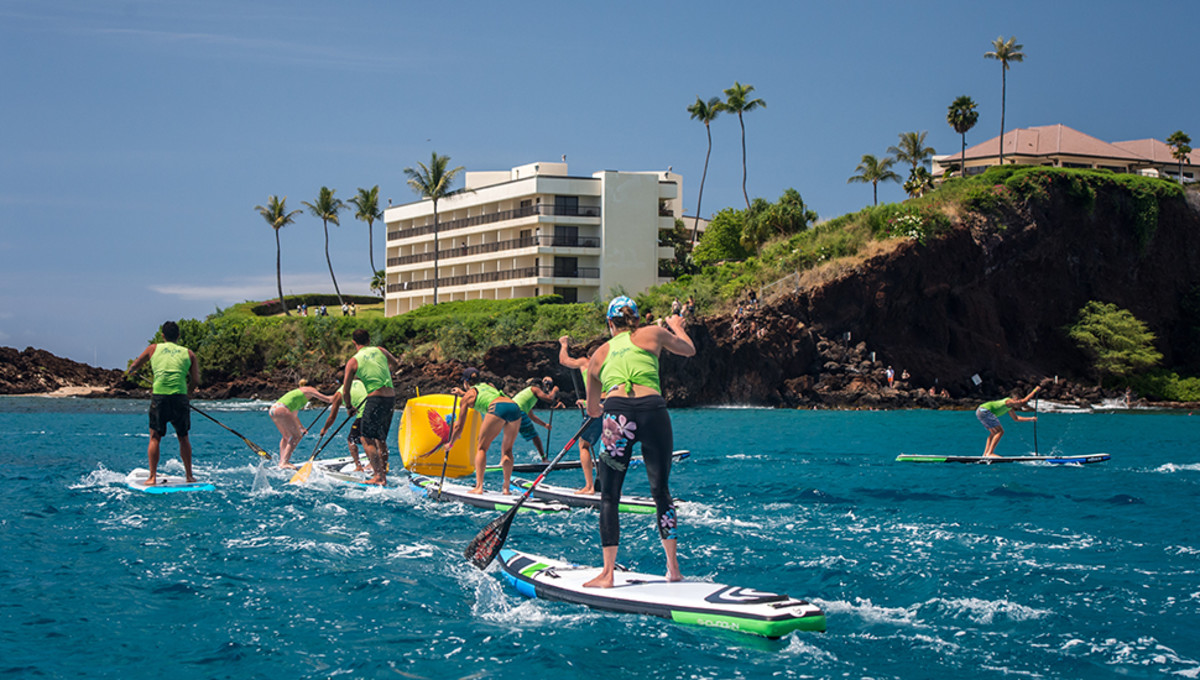 The two-day event, now in its fourth year, consisted of 10 different sprint races and five different disciplines–swim, surfski, SUP, OC-1 and prone paddleboard. The varied disciplines and quick races, with the second day featuring multiple disciplines in each race, forced the athletes to compete not only in crafts they may be unfamiliar with, but against fellow watermen they rarely meet in the competitive arena.
"Everyone here knows each other and becomes friends like the Maui Jim Club," said Grant, who would claim first place in his age group division. "That's because the more you compete against each other, the more bond you create and become friends with each other."
Naturally, these new friendships created inspiration among the athletes. As was the case for SUP champion Candice Appleby, who was competing in her first Maui Jim Shootout and would place fourth overall in the Women's Open division.
"It's inspiring for sure to see all the different athletes doing different things," said Appleby. "It fires me up to train for more events."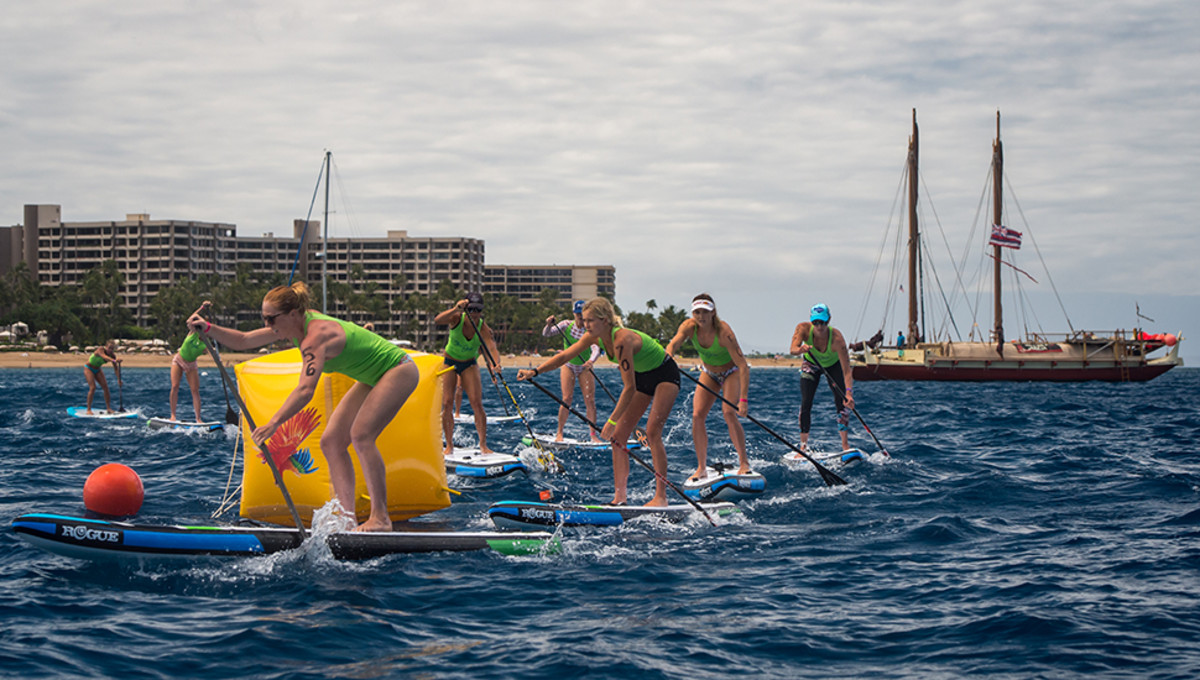 This strategy of putting world-class athletes outside their comfort zone created an atmosphere you don't often find at big races. As I walked around the event, the camaraderie level between athletes was high and their guard was down, freely sharing information and tips with each other about the different disciplines.
"It's fun to be able to share a bit of knowledge about a craft you're an expert in and then go to the same guy in his craft and see if they mind sharing tips with you too," said Schweitzer. "This event has motivated me to become a better overall waterman."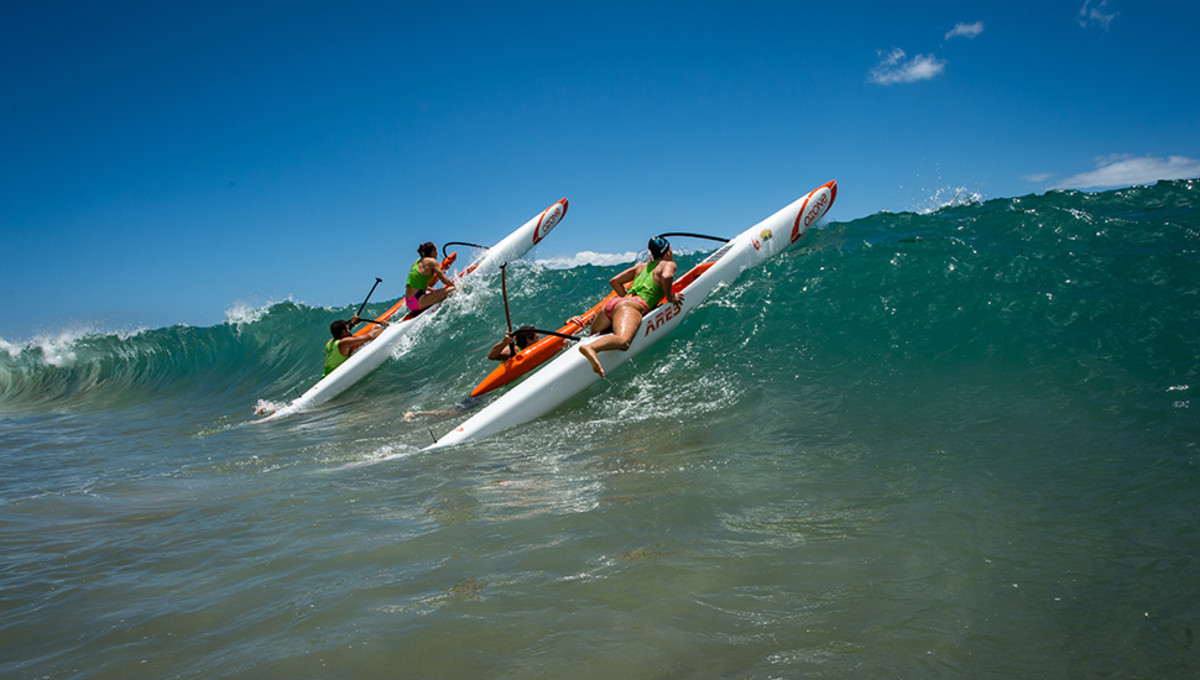 While Schweitzer is well-known for his abilities on a SUP, it was this event that inspired him to expand his training to other crafts such as a surfski, which he had never paddled before his first Maui Jim Shootout, but now regularly trains on. But Zaniac was not alone with this mindset. For Peirsol, he was all smiles as he discussed getting a chance to branch out and try new crafts and compete against new athletes.
"It's great, I've been smiling all day," said Peirsol. "I don't have any expectations. If anything, I'm probably going to be learning more than anything else and appreciating everybody's skill."
In the end, on the top step of the podium was a pair of Aussies, both of whom compete in Australia's Nutri Grain Ironman Series-which consists of swim, run, prone paddleboard and surf ski races.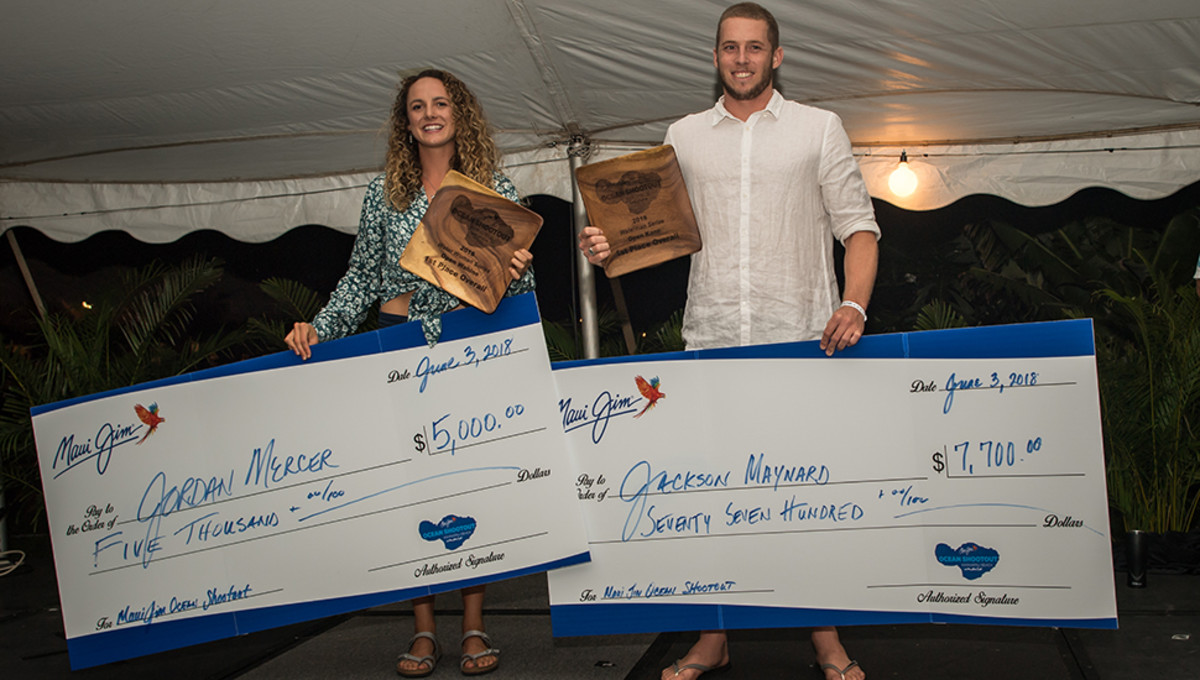 Jackson Maynard won for the fourth consecutive year in the Men's Overall, further cementing his dominance at this event. Following the victory, he joined the chorus of athletes praising the unique format of the event.
"It's a sick concept because everybody has their speciality events and we are all made to do stuff that is uncomfortable for us," said Maynard. "That just kind of loosens the field up and everyone is having fun with it."
Meanwhile, six-time M2O paddleboard champion and Nutri Grain Iron Woman Series Champion Jordan Mercer dominated on her way to claiming top honors for the ladies. It was her first crack at the Maui Jim Shootout and while she has plenty of experience in other disciplines, this event marked the first time she competed on a SUP and her first time ever paddling an OC-1.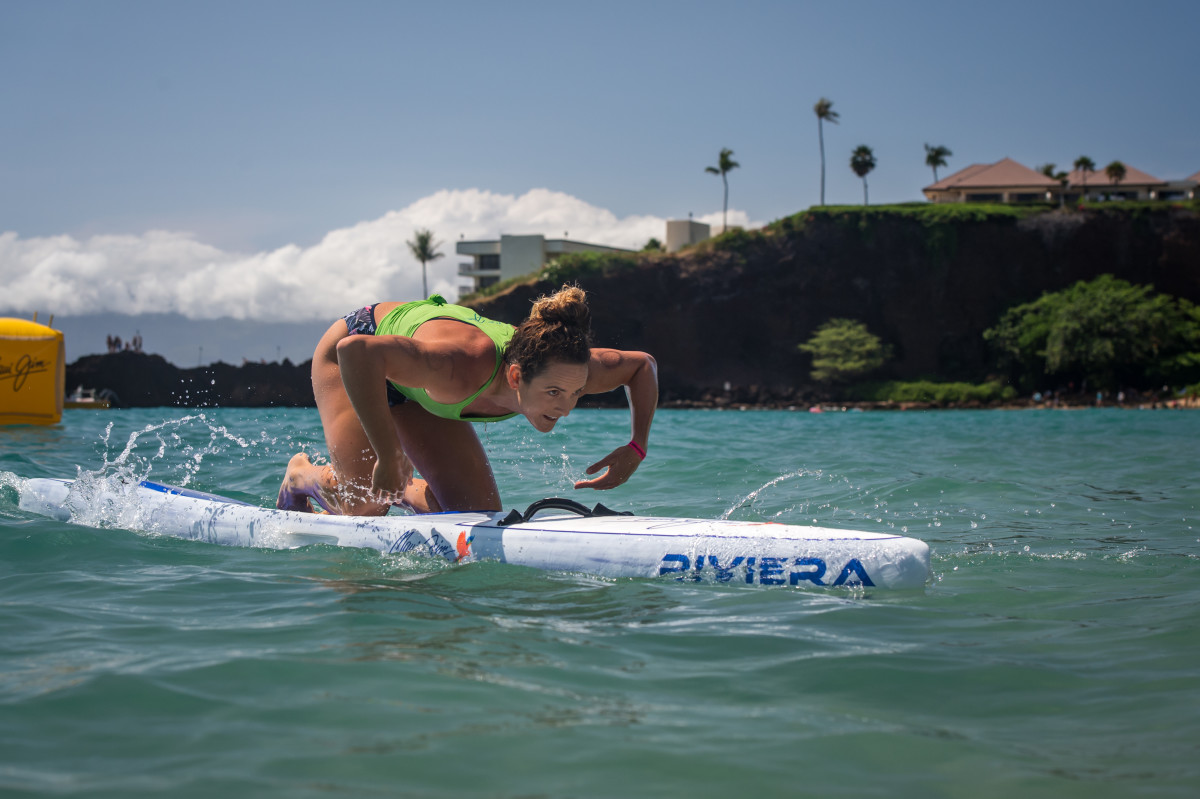 "It is a humbling experience to be in the water and racing the fittest women in the world," said Mercer. "To race against that caliber and trying to test yourself against women I have so much respect for is everything I dream of and more as an athlete."
It was a sentiment that seemed to be shared by all the competitors, from the elite champions to the out-of-shape journalist. The Maui Jim Shootout was much more than your average race, it was an opportunity to come together not as single sport athletes, but as watermen and women who spent a weekend competing, learning and making lasting friendships in Maui paradise.
The article was originally published on Standup Paddling
For access to exclusive gear videos, celebrity interviews, and more, subscribe on YouTube!