Jake Burton Carpenter is a legend in the action sports industry, and his status as one of the patriarchs of snowboarding (and as Burton Snowboard's founder and current chairman) has afforded him a certain amount of luxury in his life.
His net worth is reportedly upwards of $100 million. He takes surf trips around the globe with his family. Just about a week ago, he came back from a heli boarding trip in Chile to make it to a Slick Rick concert in Brooklyn:
But that's not to say life has been all sunshine for Carpenter.
He's battled testicular cancer. He's had open heart surgery and a knee replacement. And, last year, he was stricken by Miller Fisher Syndrome, which left him paralyzed and on life support for almost two months.
RELATED: Wife of Burton Snowboards founder takes over as CEO
Recently, the 62-year-old sat down with SNOWBOARDER's Pat Bridges to talk about the history of snowboarding, his tumultuous medical history and how it feels to be one of the inventors of snowboarding a year before his company turns 40.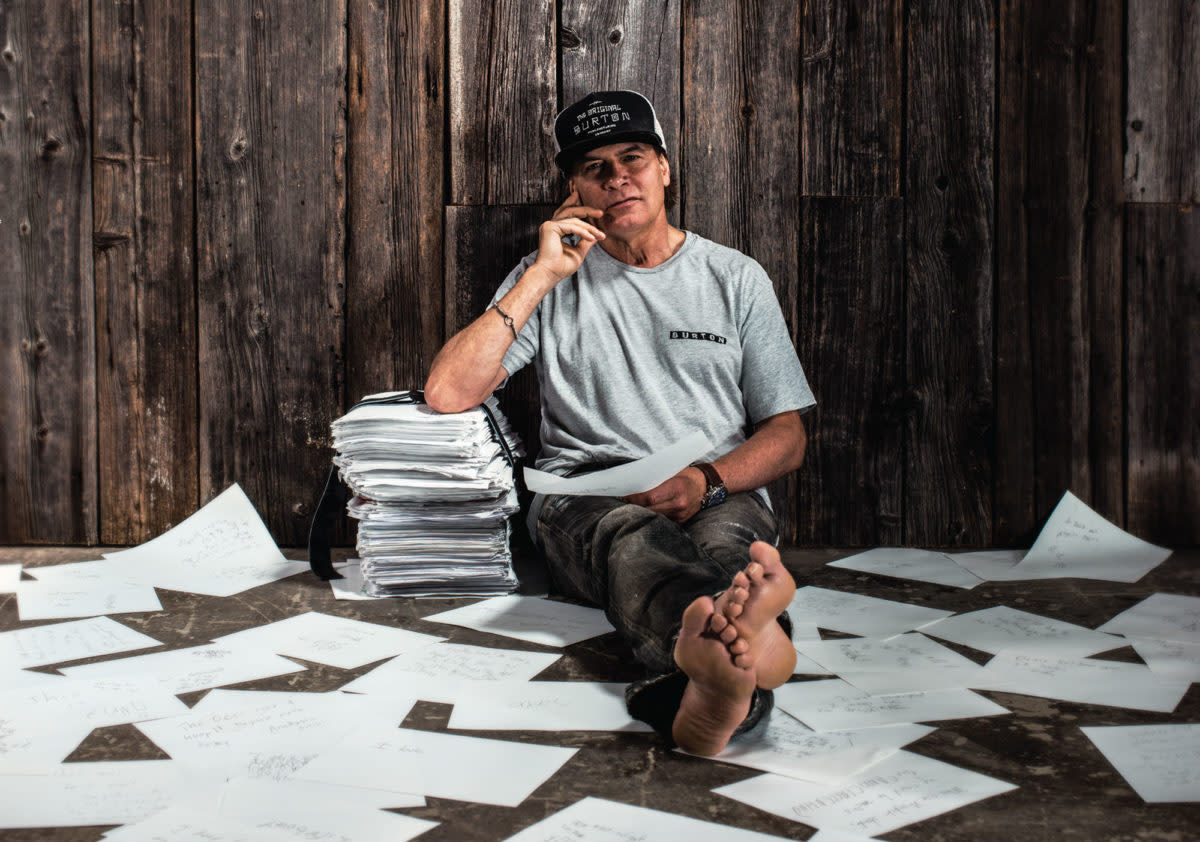 "I don't know, for lack of a better expression, to get laid," Carpenter says to open the interview, answering Bridges' question about why he started Burton Snowboards.
Carpenter displays that candidness throughout the whole interview.
He talks about everything from battling suicidal thoughts while going through the paralysis from Miller Fisher:
There are a lot of people that live with being suicidal, but even that became completely normal. I never saw a way out. I never bought that I was going to get well. I didn't believe it. I can assure you or anybody else, this thing about seeing a light when you die is complete bulls**t.
He's incredibly frank when talking about the side effects of chemotherapy:
I violently puked and I had so much diarrhea I cut my a**. I had an anal fissure, which is a paper cut inside of your a**! That is the most painful thing ever. I mean, you try sh****ng with a paper cut in your ass.
And his overwhelming love for snowboarding is evident when he talks about riding in the Burton Open three weeks after having a full knee replacement:
I just felt like f**k, if I am at the Open and I am a snowboarder, I've got to ride. It meant so much to me to catch a run, to be able to say, "Yeah, I'm still a snowboarder."
If you want to learn more about how snowboarding began, how Carpenter overcame his depression or how he used to bribe snowcat operators at night to allow him to illegally ride mountains in Vermont, check out the story over at SNOWBOARDER.
More from GrindTV
An adventure traveler's guide to Oktoberfest in Munich
Best SUP racers in the world compete at Pacific Paddle Games
How to get the best backcountry photo
For access to exclusive gear videos, celebrity interviews, and more, subscribe on YouTube!