Joby Ogwyn is thinking about death as he drives a black 2009 Chevy Tahoe through the Southern California desert. Ogwyn, the only person on Earth who has ridden rodeo bulls, raced stock cars, climbed the highest peaks on all seven continents, and BASE jumped from cliffs in Hollywood blockbusters, is a big guy — 6-foot-2, 190 muscular pounds, with a golden tan and curly blond hair. Usually upbeat, today the 39-year-old looks worn out and somber in black boardshorts, Oakley sunglasses, flip-flops, and a faded gray V-neck T-shirt. Six weeks earlier, Ogwyn was at Mount Everest base camp ready to climb to the 29,000-foot summit, strap on a wingsuit, and jump off for the largest live audience (224 countries) in television history. The plan was to plunge 10,000 feet like a flying squirrel at 150 miles per hour. But then the deadliest avalanche in Everest's history buried 16 Sherpas, including five on Ogwyn's payroll, closing the mountain and turning his record-breaking expedition into a body-recovery effort. "It was the ultimate fucking nightmare," he says. "Guys were chipping their dead friends out of the ice and hooking them up to helicopter long lines — friends who'd been working for me, carrying loads I asked them to carry."
With a multimillion-dollar production budget, Ogwyn's Discovery Channel leap off Everest should have been the capstone to what has been one of the weirdest careers in sports. Neither an elite-level alpinist nor the world's most extreme wingsuit pilot, he nevertheless combines a high-level professionalism in both sports with easygoing telegenic polish. (In 2007, he hosted National Geographic's Adventure Wanted, running extreme whitewater rapids, climbing big Yosemite cliffs, and endurance racing across Scotland in 48 hours.) Ogwyn is a pro at dreaming up television-worthy stunts — and then executing them through complex big-money deals.
"There's nobody quite like him," says Jeb Corliss, an A-list Hollywood stuntman and one of the world's top wingsuit pilots. "Most BASE jumpers like to think of themselves as wild anarchists on the fringe of society, but Joby's a clean-cut Southern boy who does this stuff as a job."
Today, Ogwyn is preparing for his first flight in months. It's a trial run for his next project — a movie intended for Imax in which he'll wingsuit-fly over the Alps and the Himalayas — and he is clearly nervous. Just a few days ago, Jeff Nebelkopf, one of the world's best wingsuit pilots and the designated cameraman for this project, jumped out of a plane in Florida, suffered a parachute malfunction, and died after hitting the ground at over 100 miles per hour. "Jeff was the coolest guy in the world," Ogwyn says, his eyes tearing up as he pulls into the desert town of Perris and stops at the municipal airport, a collection of corrugated-metal buildings and runways with a smog-choked view of the San Bernardino Mountains. "The first night after he died, I dreamed of flying with him. All this stuff has just put a zap on my head big-time."
Ogwyn drags a black roller bag full of skydiving gear over the gravel toward a shade structure. High above, 60 skydivers have jumped out of a plane and pulled their parachutes — the sky fills with what looks like neon confetti. "This sport isn't as fun as it used to be," Ogwyn says, putting on a black nylon wingsuit. "Once you do what I'm doing, you worry you're going to blow something that someone just spent 10 million bucks on. I was scared to death on Everest. I'm just trying not to die." Adding to Ogwyn's anxiety is everything that he now has to live for: In Laguna Beach, he and his wife have just settled into a new home. "I don't want to end up like Jeff," he says. "I'd like to live a little longer and spend time with my wife, Flaminia."
Nevertheless, Ogwyn boards a plane and disappears into the sky. At about 12,500 feet — too high to be visible from the ground — he leaps out of the aircraft, spreads his arms and legs, and transforms himself into a human glider. For the next three minutes, Ogwyn soars over the desert, banking huge turns. After passing below 5,000 feet, he yanks his parachute cord, steers the canopy toward the bright green lawn of the Perris landing zone, and touches down feet first, trotting to a stop.
"It was pretty nice to be up there again," Ogwyn says, eyes wide and smiling for the first time this morning. "See that interstate over there? I flew about two miles past it toward those mountains and then kind of slowly came back. It was cool." Ogwyn pauses while bundling his parachute under one arm. "But I was definitely scared, too. I kept thinking about Jeff."
Wingsuit piloting, at its most elemental, is about the ancient human dream of flight. An offshoot of skydiving and BASE (building, antenna, span, and Earth) jumping, the sport involves leaping from planes, helicopters, skyscrapers, or cliffs while wearing a jumpsuit with fabric wings sewn between the arms and body, and between the legs. When the wings fill with air and grow rigid, they create an airfoil similar to that of an airplane wing, providing enough lift for a pilot to travel forward at more than twice the rate he falls downward.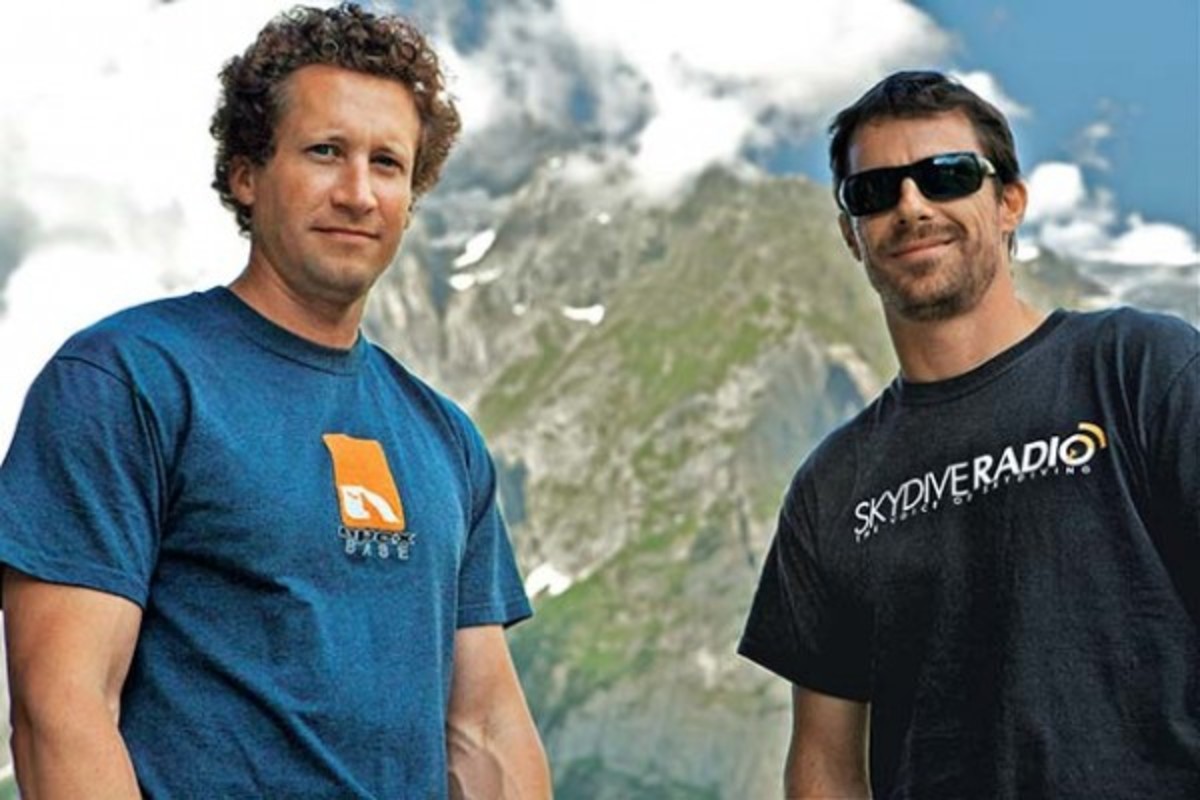 (Ogwyn and Jeff Nebelkopf in Switzerland in 2013. Courtesy Joby Ogwyn)
Subtle changes in body position — arching the back, moving an arm or leg — let wingsuit pilots control their speed, from as little as 40 mph to a record top of 225 mph. Flights can extend for several miles — and minutes — before the pilot opens a parachute to come in for a safe landing. Wingsuits can also be steered with enough precision for so-called proximity flying, soaring close to buildings and mountain ridges. Captured on GoPro helmet cams and posted to YouTube, proximity flying has produced the most spectacular extreme-sports footage of the past decade — the Facebook clips you watch in your cubicle.
Wingsuit flying is also extremely dangerous. In the past year alone, an estimated 30 wingsuit jumpers have died, including four of the 14 top athletes who competed in the 2013 wingsuit Grand Prix — held in China by the World Wingsuit League — and Mark Sutton, the expert British stuntman who parachuted into the 2012 Summer Olympics opening ceremony while dressed as James Bond. Ogwyn himself ?has experienced close calls. In 2009, after jumping off a cliff in Switzerland, he reached back to pull his parachute and momentarily failed to find the toggle. "I remember looking down at the tops of the trees and for a second just relaxing and thinking, 'Well, I guess that's it,' " he says. "You're basically committing suicide and then choosing to save your own life, every time."
Dean Potter, the world-record holder for the longest BASE-jump wingsuit flight — 4.7 miles — says that all this carnage "means there's a flaw somewhere in our system; you're an idiot if you think anything else." According to Chris MacNamara, a pioneering American wingsuit pilot, "Motivation and enthusiasm are just running too far ahead of really understanding the safety margins involved — there's not enough knowledge out there about how much room you have to leave yourself to do a stunt a thousand times in a row and live."
But Ogwyn says the sport's rush is addictive. "It's the most intoxicating thing I've ever experienced," he says. "I simply cannot get enough of it. It's pure magic, like I'm living my dreams."
The Web videos keep coming, getting more dangerous as pilots attempt to one-up each other. "Grinding the Crack," for example, a 2012 clip of Corliss rocketing through a narrow mountain gorge in Switzerland, has more than 27 million YouTube views, while a 2013 video of Alexander Polli shooting through a cave has 12 million.
Ogwyn's Everest project was going to top them all. "In my opinion," says Corliss, "that was the gnarliest thing anyone ever attempted. I told Joby, if somebody offered me $10 million to do it with him I would have said, 'Fuck you.' "
Ten million dollars, as it happens, is about how much NBC and the Discovery Channel had committed to the project by last spring, with plans for seven hours of prime-time programming, including a two-hour live special, broadcasting the jump to the entire world. "It was going to be the biggest thing in the history of  live television," Ogwyn says.
Ogwyn first learned to fly as a teenager. In the 10th grade, he was cut from the high-school basketball team in his hometown of Shreveport, Louisiana, and vowed to make his coach regret the decision. Although he stands a muscular 6-foot-2 now, back then Ogwyn was a skinny 5-foot-9. "So I decided I would teach myself to slam-dunk and then go blow that coach out of the water," he says, driving from the Perris drop zone to his home in Laguna Beach. As a kid, Ogwyn practiced on an adjustable hoop, moving it up by increments until he could dunk on a full-height rim. "The incredible part was that he only weighed about a buck 40 soaking wet," says Richard Kamm, a teammate from that period, "and he was dunking on people left and right." The next year, Ogwyn made varsity and helped his team win two state championships. "Just goes to show, you can train for anything," Ogwyn says, parking his car and entering his home — a bungalow set into a steep hillside with a breathtaking view of the Pacific.
Ogwyn was born just a couple of hours' drive north, in Pasadena, but his parents soon moved back to Shreveport. Ogwyn's father founded a small oil-and-gas production company while his mother taught Lamaze classes. "But I knew California was where I was supposed to be," Ogwyn says, walking onto his deck and cracking open a beer. "I would always say, 'Someday, I'm going back.' "
After his high school graduation, Ogwyn's parents sent him on an African safari that included climbing Mount Kilimanjaro. "That changed my life," Ogwyn says. "I almost didn't make it to the top because I was tired, but when I did, and watched that sun come up over the plains of Africa, I was like, This is it for me. I'm doing more of these."
Ogwyn next decided to tackle the seven summits, the highest peaks on all seven continents. Mountaineering takes money, so Ogwyn enrolled in business courses at Centenary College in Shreveport and took odd jobs — clearing brush, helping out at his father's company — to finance trips to mountains such as Aconcagua and Denali. Then he got a more lucrative job with brokers at a real estate development company. In 1999, six years after his Kilimanjaro climb, Ogwyn made enough money to tackle the world's highest peak.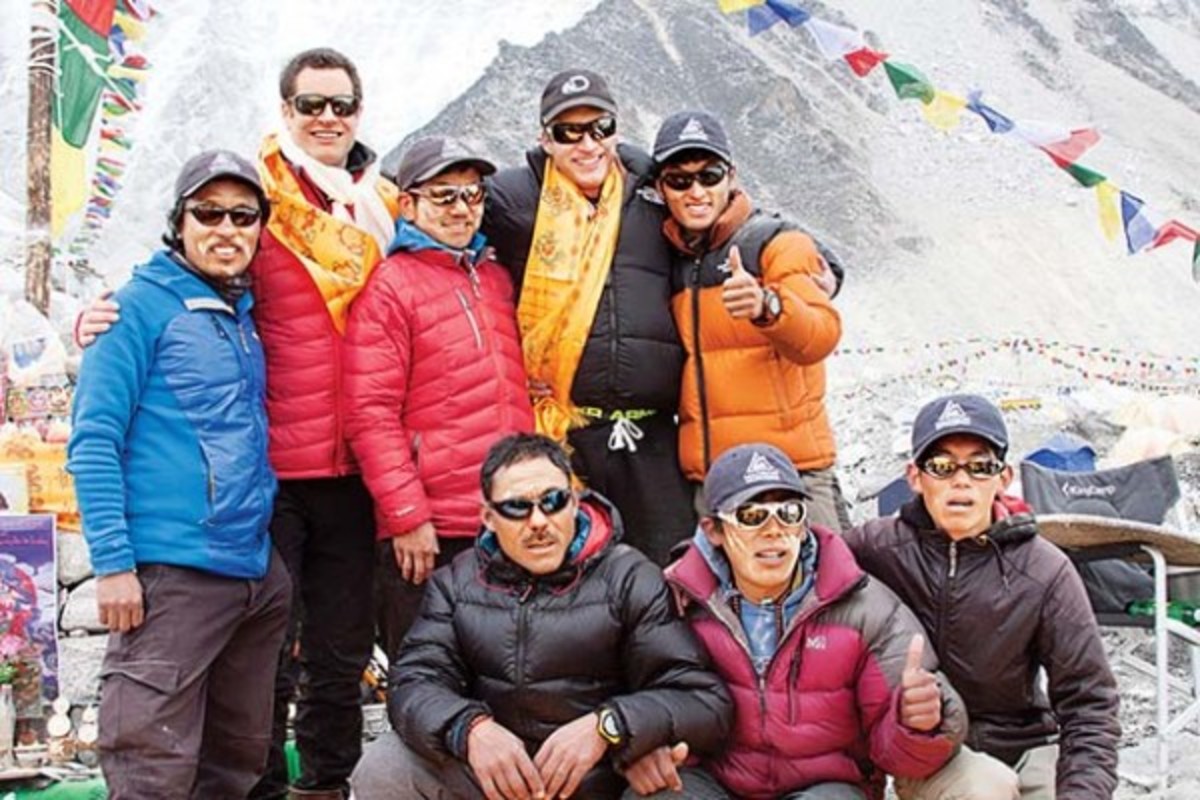 (Ogwyn with Garrett Madison – far left – and his team on Everest in April. Courtesy Joby Ogwyn)
"This is back when there weren't 35 expeditions on Everest all the time," he says. "There were more like five. From high camp to the summit, all the ropes were frozen. My partner turned around, and I climbed by myself all night." Ogwyn topped out in a magnificent dawn — the youngest American (at that time) to summit Everest, at age 24. A year later, he became the youngest person to complete the seven summits.
At that point, Ogwyn faced a personal crossroads. "I didn't want to sell houses and manage apartments for a living," he says. "I had a lot of connections in Shreveport, and it all just seemed too easy. But I sure would've been good at it — I liked the deal-making part." The culture felt confining. "I remember telling people about my seven summits stuff, and they'd be like, 'It's great to have dreams, but why don't you focus on something more realistic?' " He pauses. "I was like, I have to move to California now."
In 2000, Ogwyn relocated to Santa Barbara and got a job fixing crab traps. "I definitely didn't come out here to make TV shows," he says. "But I do remember seeing Survivor and thinking, 'This show is a bunch of pussies.' " A friend of a friend told a television producer about Ogwyn's climbing career and he was called in for a meeting. Although nothing came of it, Ogwyn was thrilled. He began pitching TV show concepts to anybody who would listen. "I remember telling my dad, 'Doing a deal in Hollywood is exactly the same as in real estate or oil,' " he says, " 'everybody trying to get their piece and screw you out of yours.' "
Ogwyn finally got called in for a meeting about a new extreme-adventure show on the National Geographic Channel. "The guy was like, 'Hey, man, whoever does this has to do some adventurous, high-octane stuff.' I was just like, 'I'm the guy you've been looking for.' "
Roman Gackowski, the show's executive producer, remembers being struck by Ogwyn's confidence. "The idea for that show was for him to try all these dangerous sports he'd never done before, so you don't actually want somebody who's nuts," Gackowski says. "And Joby wasn't. He just sincerely wanted to experience these things. Boy, he can sell, too."
In 2007, Ogwyn spent a year hosting Adventure Wanted. Two segments for the show had outsize effects on his life. First, he learned to BASE jump and fly a wingsuit, immediately recognizing the commercial possibilities of what was then an embryonic sport. "I was like, This is going to be huge," Ogwyn says. Then, in 2008, he tried to set a speed-climbing record on Everest. He ran out of oxygen near the summit, radioed for a rescue that never came, and then stumbled back to base camp, where he got the news that one of his dearest friends, world-class climber Iñaki Ochoa de Olza, had just died on nearby Annapurna.
"I think Joby saw then that to become an extreme high-altitude mountaineer is a risky thing," says Simone Moro, a professional alpinist and former climbing partner of Ogwyn's. "You don't gain fame or money, and you have to spend a lot of time far from home. So he decided to become an explorer of the sky."
Ogwyn agrees. "After Iñaki died, I was like, I'm just going to focus on TV and wingsuits going forward," he says. "I saw that was the future." He spent three years developing his wingsuit skills by doing hundreds of jumps over the Alps. In 2010, Ogwyn traveled to Nepal on his own dime, rented a helicopter to carry him over the summit of Everest, and jumped out in a wingsuit, flying close to the mountain to prove that it could be done. He used the footage to pitch TV producers his plan to leap off the summit. "I would tell people, 'I can do this,' because they had to see that confidence," Ogwyn recalls. "But inside I was like, It's going to take a lot of luck to get this done."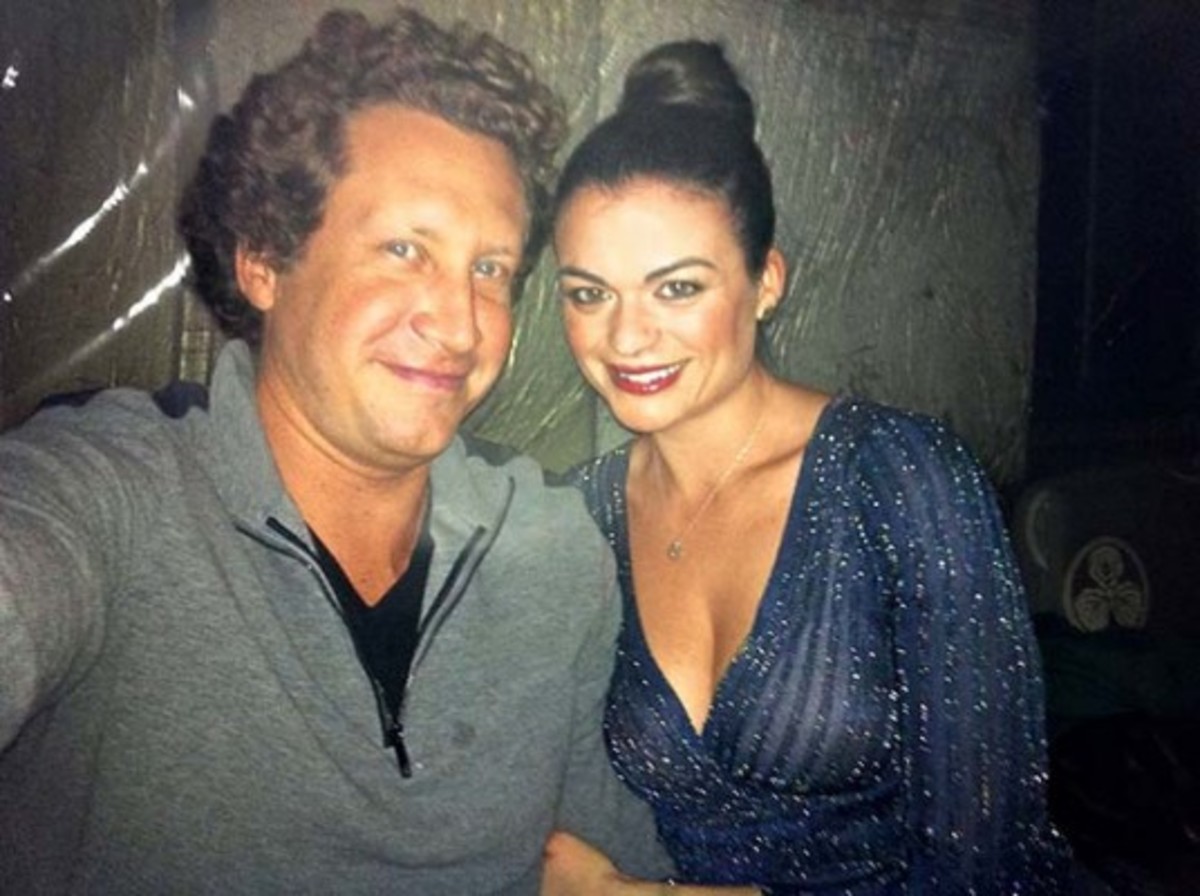 (Ogwyn and his wife, Flaminia, in 2013. Courtesy Joby Ogwyn)
Once Discovery signed on, Ogwyn lined up sponsorships from companies such as GoPro and then spent a year wrangling with multiple production teams, Nepalese fixers, and network lawyers. By early 2014, Ogwyn's dream was set in place. In April, he boarded a plane for Nepal, confident this would be the jump of his career. At that point, Discovery had brought NBC on board for a joint investment that would have made the $10 million leap the most expensive live television stunt ever. "It was going to be the biggest television event of all fucking time," Ogwyn says.
At 6:45 am on April 18, Ogwyn was asleep in his tent at Everest base camp when he heard a thunderous roar. Unzipping his tent flap, he saw masses of ice cascading down toward the Khumbu Icefall, a tricky traverse located near camp. "I could see 20 or 30 guys queued up under it," he says. "They were standing all together and there was a ladder going up. There was just this big snake of ice and snow coming down and it ate the guys one by one. It devoured them."
Ogwyn's shock was spiked with an added realization — he was supposed to have been with them. Until the night before, Ogwyn had been scheduled to help the Sherpas ferry loads through the infamous icefall, but a Discovery Channel producer asked him to stay behind for extra filming. Now, in the avalanche's aftermath, he raced to help. Garrett Madison, a professional guide who had been hired as Ogwyn's climbing partner for the ascent, was alongside him. "We grabbed crampons, ice axes, medical gear, and food and water, and started up the icefall," Madison recalls. Ogwyn soon turned around to help escort a group of surviving Sherpas back to base camp. Madison stayed to dig corpses out of the ice. All climbing halted while the Sherpa community grieved and began negotiations with the Nepalese government for better working conditions. According to professional mountaineer Conrad Anker, "All the big expeditions just waited, hoping it would get resolved so they could carry on with their climbs."
Ogwyn was still at base camp when he heard rumors that Sherpas were threatening violence toward Westerners. His friend Simone Moro had been one of three climbers badly beaten by Sherpas in 2013. "I was like, I'm the most high-profile guy here," said Ogwyn, "and if somebody's ripe to get an example made of him, that's me."
He was likely right. According to Russell Brice, owner of Himalayan Experience, the largest commercial guiding outfit on Everest, "The Sherpas felt that his project was too big and far-fetched and made the mountain angry, so the mountain retaliated."
Ogwyn boarded a helicopter to Kathmandu and then flew to New York, where he became the face of the tragedy. "Contractually I was obligated to be on whatever TV show Discovery asked me to," Ogwyn says. "They wore me out for about a week, where I had to relive the nightmare of what I had witnessed over and over until I was about to have a mental breakdown. Over 50 shows, TV and radio — Morning Joe, Today, Good Morning America. I can promise you that was the worst experience of my fucking life."
The sun is setting over the Pacific when Ogwyn's wife, Flaminia, a beautiful black-haired Italian lawyer, gives us a tour of their new home. She shows me the upstairs bedroom that will soon become the office for Ogwyn's media company, Swing for the Fence Productions. She leads me down to a basement-level room with nothing in it but a few dumbbells, a yoga mat, and a boombox. Then, in the closet, she unveils Joby's toys: six wingsuits, four BASE-jumping parachute rigs, several down bodysuits for climbing 8,000-meter Himalayan peaks, multiple pairs of plastic mountaineering boots, and a large cardboard box filled with about $10,000 worth of complimentary GoPro camera equipment.
"Every accessory known to man," Ogwyn says, smiling. He leads me back upstairs to the deck and opens another beer as a warm breeze blows in off the ocean. Criticism doesn't seem to trouble him, but he still thinks about Everest. "I've been talking about it a lot with Howard Swartz, my executive producer at Discovery," Ogwyn says. "We both put our Raisinets on the chopping block to make that thing happen, but how much further are we willing to push it?" As part of his new movie intended for Imax, Ogwyn will return to Everest, interview the avalanche survivors' Sherpa families, and jump from the upper reaches of the mountain. Then, if the atmosphere feels conducive, he'll reboot the jump from the summit for 2015.
But Ogwyn seems more focused on whatever comes after Everest. Over the course of the afternoon, he has taken endless phone calls on the deck, discussing TV stunt proposals such as maybe riding a Jet Ski off Angel Falls in Venezuela, or launching himself over a mountain with a jet pack and then using a wingsuit to fly down the other side. He is even considering a project to ride up in the Virgin Galactic spaceship and jump out, skydiving from space like Felix Baumgartner — except higher.
"The way I see it, if I work really hard the next four or five years, I won't have to work so much later on," he says. "Jeb and I thought we would never live to be the age we are now, which is probably why we did so much crazy stuff. We were like, Fuck it, none of us are going to make it out alive, so we should see what we can do. But then all these guys got it, and we're still here. Now we joke that we might get to be those old guys on the beach together. That would be pretty cool — just make a little money, have a nice life surfing."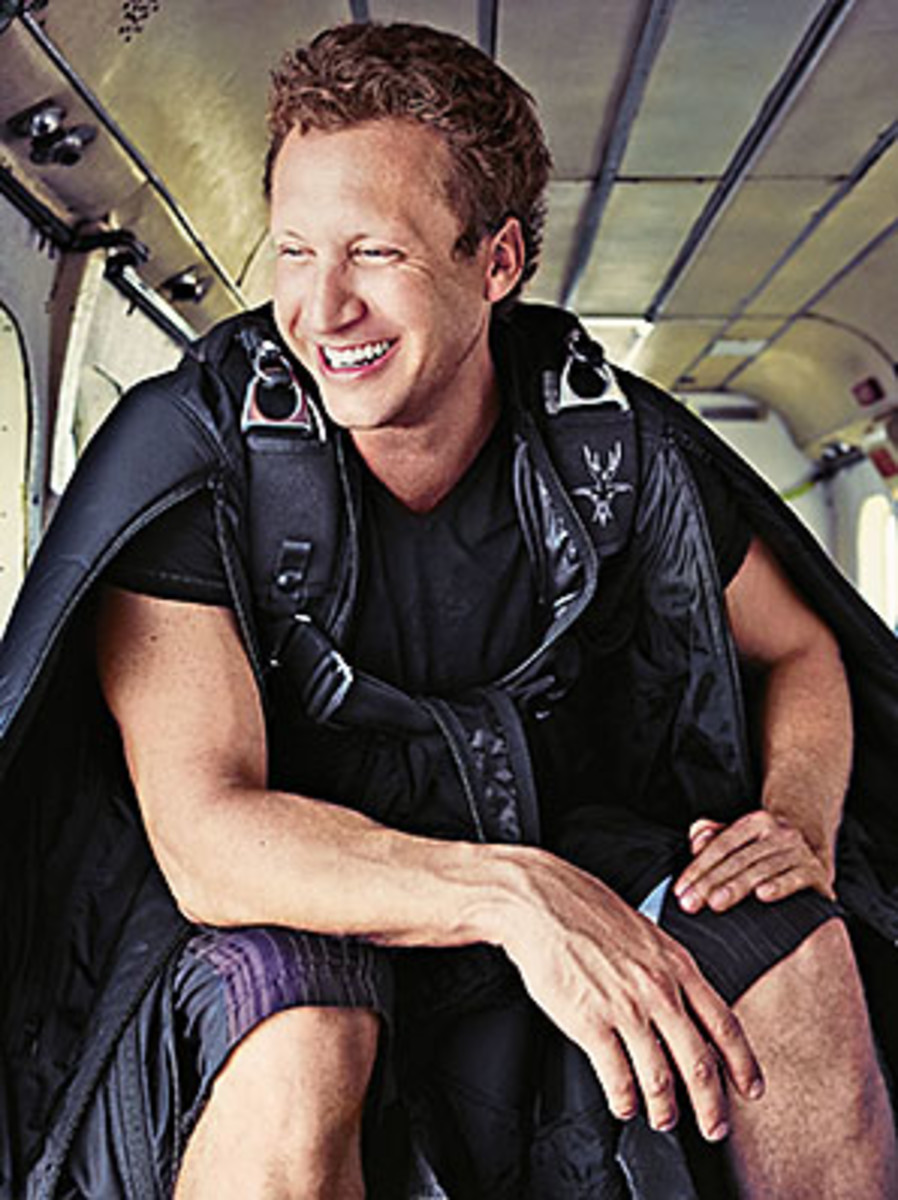 (Photograph by Joe Pugliese)
First, though, Ogwyn is working to get that wingsuit movie made. He is the executive producer on the project, which will include flights out of helicopters in Switzerland as well as those from high on Everest — followed by that possible final leap from the summit in 2015. "After that, though, I really do see my career as a super action man coming to an end," he says, his eyes wandering out to sea. "At some point you have to cut yourself off from the danger part, or you just end up dead."
Then Ogwyn laughs and shakes his head. "But of course, I'm also talking about doing a jump from outer space. So who knows? Maybe I'll just go bigger."
For access to exclusive gear videos, celebrity interviews, and more, subscribe on YouTube!