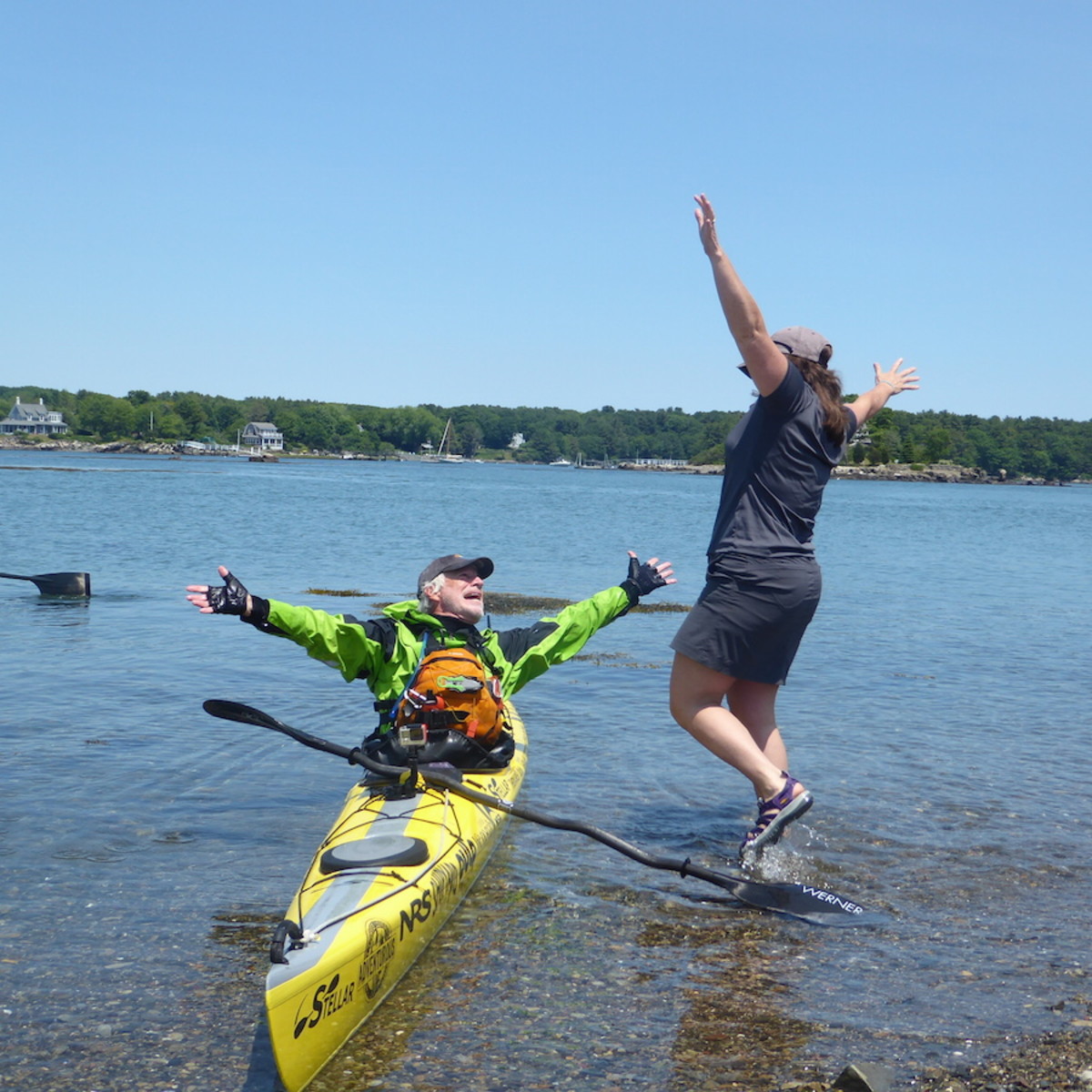 By Kay Henry

On June 24, 2016, after 70 days and 1,500 miles of paddling, an exuberant and exhausted John Connelly arrived in Kittery, Maine joined by a flotilla of supporters to complete the first ever expedition by canoe and kayak to link four major waterways in northeastern North America: the Northern Forest Canoe Trail, St John River, Bay of Fundy and Maine Island Trail.
Launching his river/ocean odyssey on April 16th in the Adirondacks of New York State, the 60-year-old Falmouth, Maine resident set off in his Wenonah Voyageur canoe across 22 rivers and 58 lakes on the Northern Forest Canoe Trail (NFCT), through northern Vermont, Québec, New Hampshire and northern Maine for 740 miles. He then changed into a Stellar sea kayak to continue downstream on the St John River into New Brunswick to the Atlantic Ocean, then paddled west through the Bay of Fundy and finally back down the coast of Maine for 375 miles on the Maine Island Trail.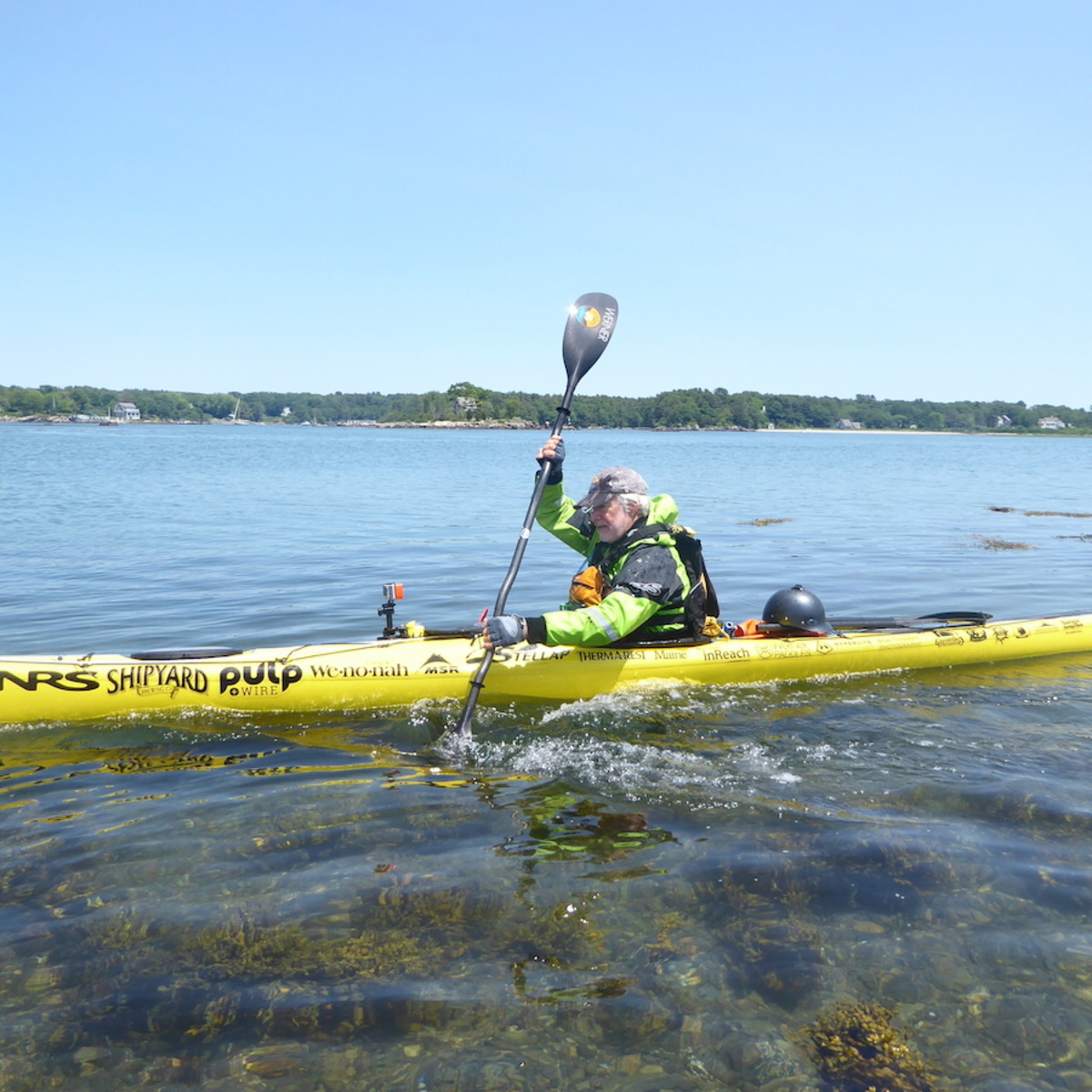 Connelly says the purpose of his "expedition to inspire outdoor desire" was to raise awareness of the mental, physical and spiritual renewal that comes with outdoor experiences. It's a message he particularly wants to share with the majority of Americans who spend much of their lives indoors, and often behind a computer screen. Connelly is a small business entrepreneur—CEO of Adventurous Joe Coffee, a former leader of LL Bean's Outdoor Discovery School and a former member of the US Canoe and Kayak team. He also has been credited with numerous whitewater first-descents.
At the beginning of the expedition Connelly said, "For me this is a physical and mental challenge, an adventure of epic proportions, living out of my boat experiencing wild rivers, the volatile ocean, unpredictable weather, diverse wildlife, unique people, quaint backwoods towns and rugged working-waterfront villages along the way, all in one extraordinary 1500 mile canoe and kayak journey." He wasn't disappointed. From serene lakes at the start, to difficult whitewater stretches, Connelly seemed to relish these challenges as he blogged about his adventures sharing with a large internet audience.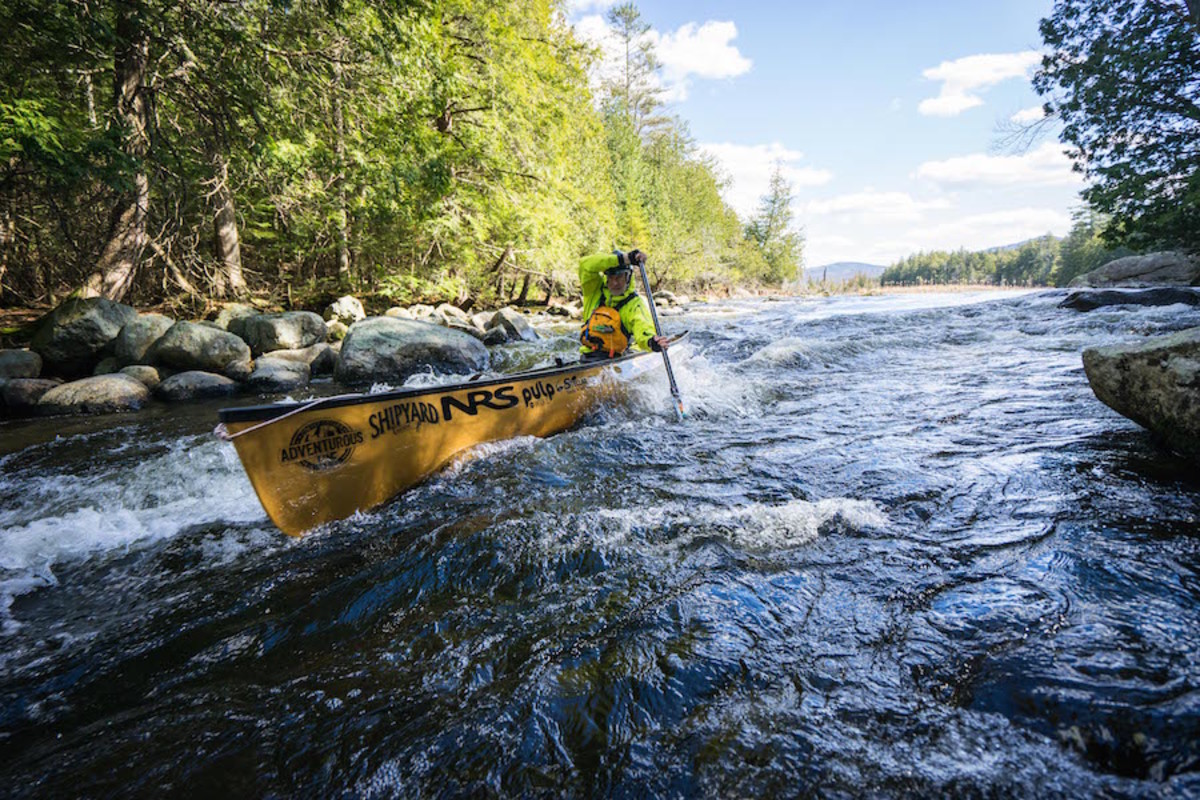 The Nulhegan River in northwestern Vermont was one example. Most paddlers portage around this rocky, Class III whitewater stream, but Connelly had high water in early May and decided to try and run the rapids. He had to make all the right choices in a solo Kevlar canoe loaded with gear in this small channel which starts in the unpopulated Silvio Conte National Wildlife Refuge and changes in character from a meandering marshland river into formidable white water in the space of just a few miles before emptying into the Connecticut River. "This was one of his most memorable experiences on the Northern Forest Canoe Trail and definitely the most exhilarating," Connelly said later.
"John's expedition has been tremendously inspiring to watch," said Karrie Thomas, NFCT executive director. "Our organization is grateful to be a part of his awareness campaign to get people to spend more time outside. He has certainly shared how beautiful and accessible the waterways of the Northeast are to all of us."
The kayak portion of the expedition also had some exciting moments. The vertical cliffs of the Bay of Fundy and the Bold Coast of Maine were absolutely spectacular, however Connelly experienced them in high seas with high winds. "The sheer power and beauty and frankly intimidation of these places when they are showing their wild side is something that stirs my blood every time I think of it. It was just so awe inspiring, but required incredible technical skills and concentration." He also witnessed some awesome events, such as two minke whales that presented themselves at close range in front of the kayak followed by a pod of harbor porpoises.
"Watching John develop and execute this plan has been truly inspiring," said Doug Welch, Maine Island Trail Association executive director. "Being able to watch John's GPS dot moving along in real time has made this journey so compelling. John has brought these recreational water trails home to so many people, and hopefully inspired others to tackle an outdoor challenge of their own!"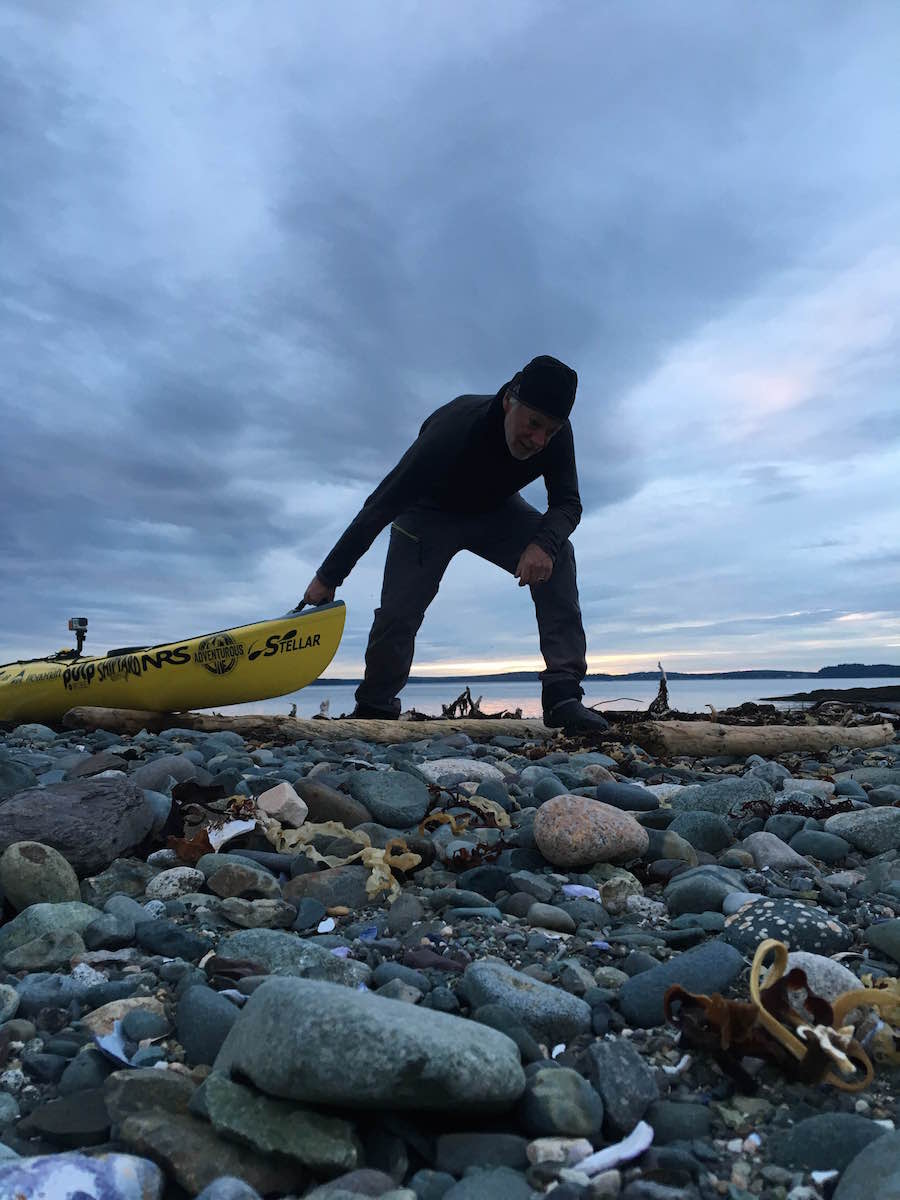 Carolann Ouellette, Director of the Maine Office of Tourism, congratulated Connelly on highlighting the world class experience that Maine offers to paddlers, saying "John's trip through a section of Maine's extensive network of lakes, rivers and coastal waterways illustrates the wealth of destinations that Maine offers to paddlers. With 347 miles in the Maine section of the NFCT alone, including the Allagash Wilderness Waterway which celebrates its 50th Anniversary this year, and the 375 mile-long Maine Island Trail, Maine offers canoeists and kayakers an experience second to none."
When asked what is next after completing this demanding expedition, Connelly answered that he would like to use his words and images for a book, speaking appearances and hopefully a film, to inspire others to realize their dreams to get outdoors and experience an adventure of any kind and the rewards that await them.
More about Connelly and PaddleQuest can be found at paddlequest1500.com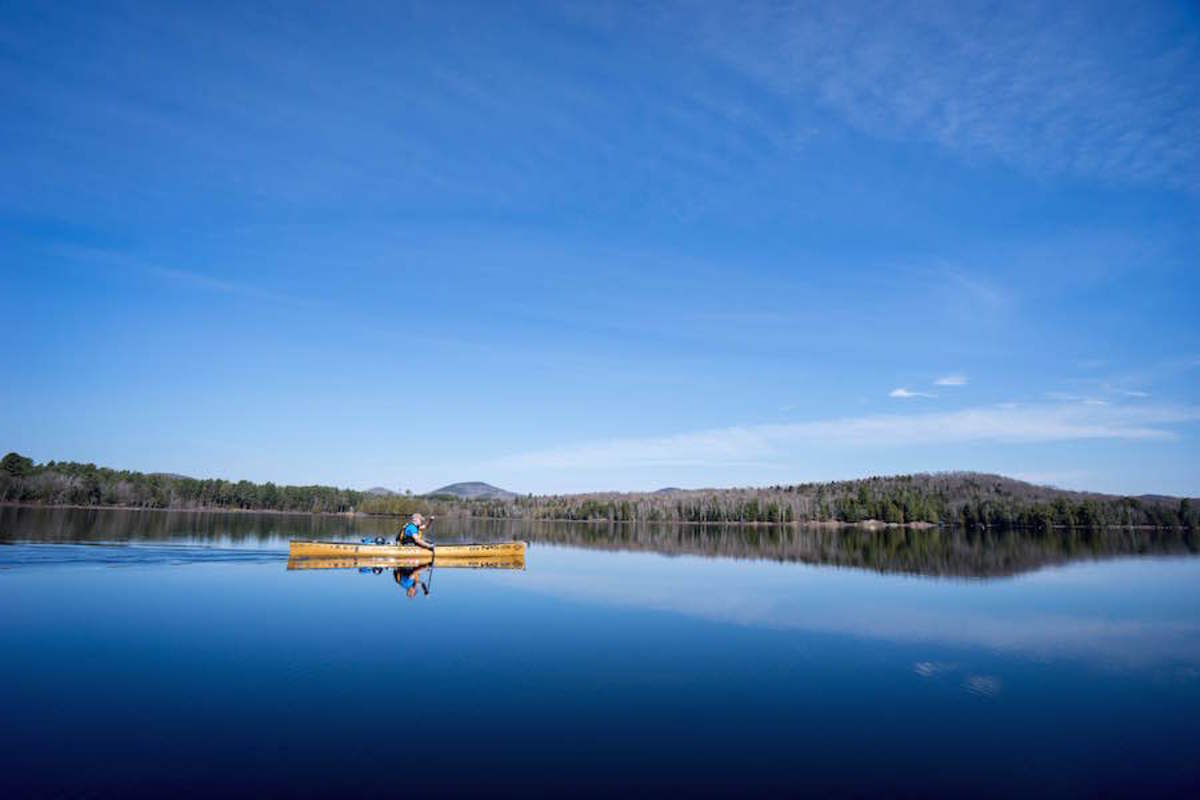 The article was originally published on Canoe & Kayak
For access to exclusive gear videos, celebrity interviews, and more, subscribe on YouTube!