John John Florence
is one of the most accomplished
surfers in the world
. Florence was the 2017 World Surf League Men's Champion, giving him back-to-back world titles, and while he's been out of surfing competitions while dealing with an injury, that hasn't stopped him from competing.
Florence, who has some badass apparel with Hurley that can help you hit the waves in style, has been competing in paddleboard races and in sailboat races, and just like his surfing, Florence has turned out to be pretty damn good at those sports too.
Florence placed second in the Molokai and Na Pali Paddle Race, and he also finished second while racing his 48' Gunboat, named Vela. His mates on that voyage? musician Jack Johnson, pro surfer Kai Lenny, and legendary surfer Joey Cabell.
Not bad for competing in two different sports that aren't your main sport. Florence will be out of surfing competitions for the foreseeable future, but he's feeling good about where he is and what he's doing.
Florence has also been working on a new video, Space. Take a look:
Space from John John Florence on Vimeo.
Here's our conversation with Florence:
On his injury:
"It's a high-grade partial tear to my right ACL, so it's an interesting injury, because it's hard to put a timeframe on how long it takes to heal. Most of the time it's a full tear and then you do surgery and therapy, but with this one, it's a little up in the air, and you just do the heavy rehab and wait to see when it feels right. I have a general timeline, around four, five months, but it's more about seeing how it feels, and making sure I come back at 100 percent. You don't want to get re-injured or have a setback."
On competing in paddleboarding while coming back from his injury:
"It's been really cool for me, because I never had the time to do these other things. I've always done paddleboarding for fun, and when I'm on breaks, and this year I did the Fourth of July Race on the North Shore, and the Molokai Race, and so we just entered. It was so much fun, and it was great to train for something different and have a different perspective on competing. You have a little more control here compared to surfing, because it depends on the waves, so it was really cool to do it and you can get into a rhythm out there."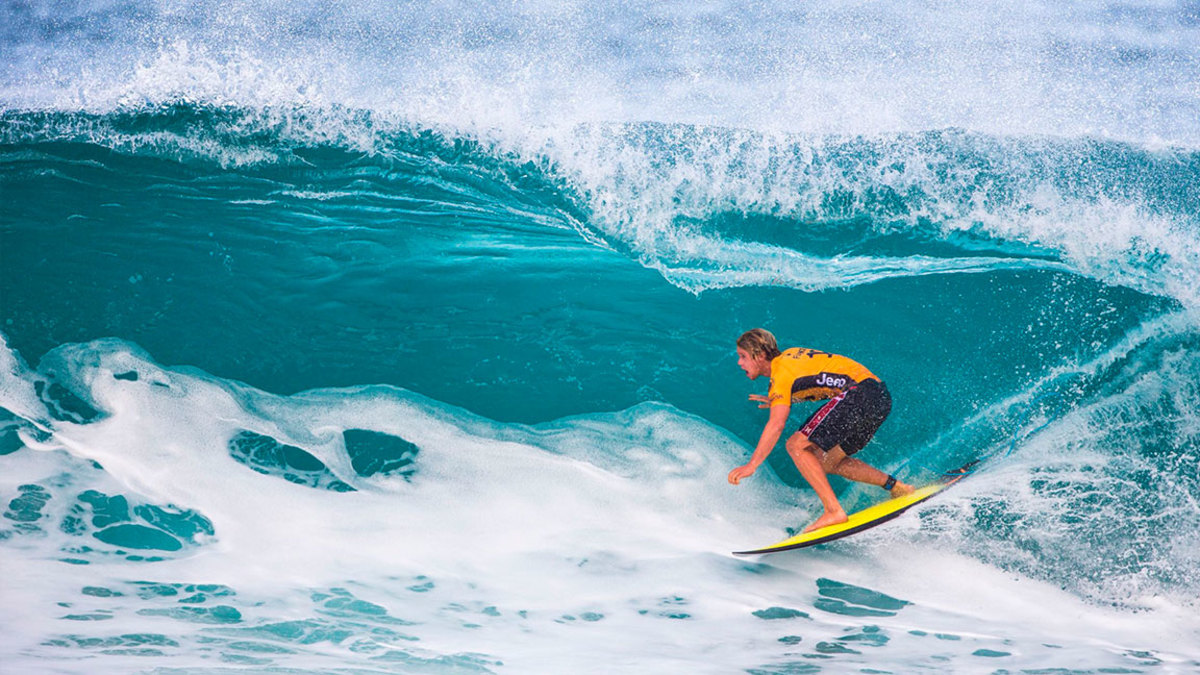 On his sailing competition:
"The sailing race is something I've always wanted to do and never had time to do it, so the race came up and we were kind of figuring out our crew, and we just had such a cool group of people. Kai Lenny has such knowledge of wind chops, and having Joey Cabell was so awesome, he's always been into sailing and he had some incredible stories, like sailing from Hawaii to Tahiti and setting a record. He's just so awesome and having him there. We had Jack Johnson, who I've grown up with and he was really cool, and he's just such an amazing person altogether with surfing and music and he's really been getting into sailing too."
On how surfing has changed and evolved over the years:
"Surfing keeps evolving and keeps getting harder and harder, which is a really cool thing. Guys are doing things now in heats that a few years ago you'd only see in video clips and free surfing. And now guys are bringing that into competitions and it's really incredible. It makes the competitions hard, but makes everyone want to be better and work harder and push harder on what they do out there on the waves."