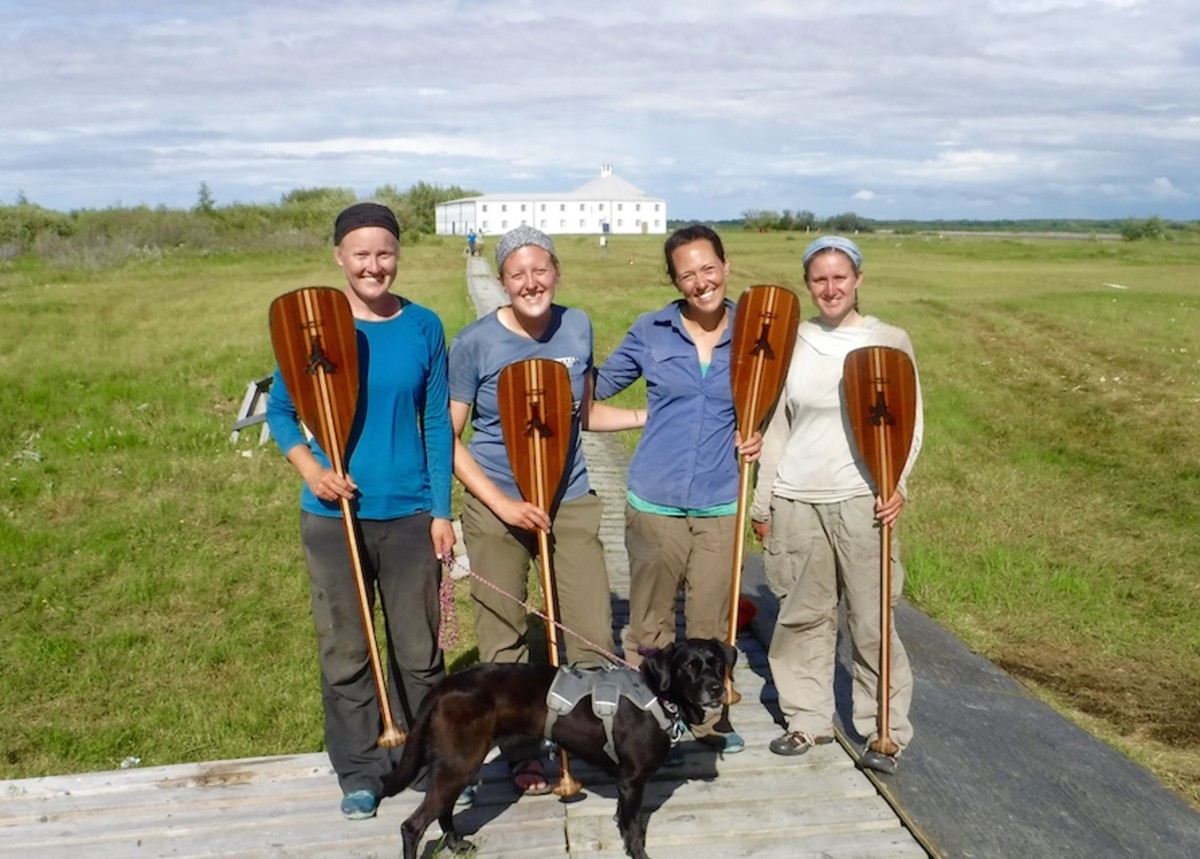 Among the tannin-stained lakes and loons of the Wilderness Canoe Base in northern Minnesota, hundreds of children have learned to canoe over the years. In 2016, four alums from the camp decided to pay it forward. They paddled 1,239 miles over 66 days from Wilderness Canoe Base to Hudson Bay–by way of the Boundary Waters, Rainy River, Lake of the Woods, Lake Winnipeg, Hayes River, God's Lake, and God's River–raising over $40,000 for Wilderness Canoe Base in the process. They paddled past towns like International Falls, MN, and Kenora, MN, portaged dams, waterfalls, and Class IV-V rapids, ran whitewater up to Class III, and crossed enormous lakes. All in their twenties, Chelsea Froemke is a Catholic worker from Duluth, MN, Whitney Vogel is a NOLS instructor from Maple Grove, MN, Stephanie Branchaud is a physical therapist from Denver, CO, and Tessa Larson is an art therapist from Grand Marais, MN. They paddled a pair of 17-foot Royalex Wenonah Spirit IIs and used custom-made Sanborn Canoe Company Gunflint bent shaft paddles.
Before the expedition, the team spent a week dehydrating and preparing their meals, producing 17 different dinners. They worked off of a massive spreadsheet, totaling the requisite calories to power their paddling. It was a week well spent; unlike many expeditioners, they didn't lose weight on the journey and the variety kept their tongues enticed with such camp delicacies as Thai peanut pasta and a pesto dish with basil and sundried tomatoes. Their planning was so precise that they arrived at York Factory, Manitoba, their destination, with one remaining meal. However, you can't pack everything.
Larson said, "We mostly missed fresh things like salads, fruit, and fresh veggies. We also missed ice cream."
Meal prep and eating were made easier by a tarp with screens, but luckily insects were not as bad as they'd been warned.
"We were never swarmed for an entire day by anything," recalled Larson. "The worst bugs were mornings in Winnipeg. Those were mosquitoes. We also had horseflies and deer flies that followed us in the canoe, but those could be shooed. We were told that black flies would be everywhere, but they weren't unbearable by any means."
They'd also been warned about Lake Winnipeg's winds as it's both massive and relatively shallow.
"The toughest part was Winnipeg," said Larson. "It's so large and desolate and seemed a water desert. It's so shallow that any wind creates really big waves."
The four women provided the pluck and nature provided some luck.
"We got incredibly lucky with weather and were never windbound for a full day. We were very surprised. We were only windbound for a couple afternoons."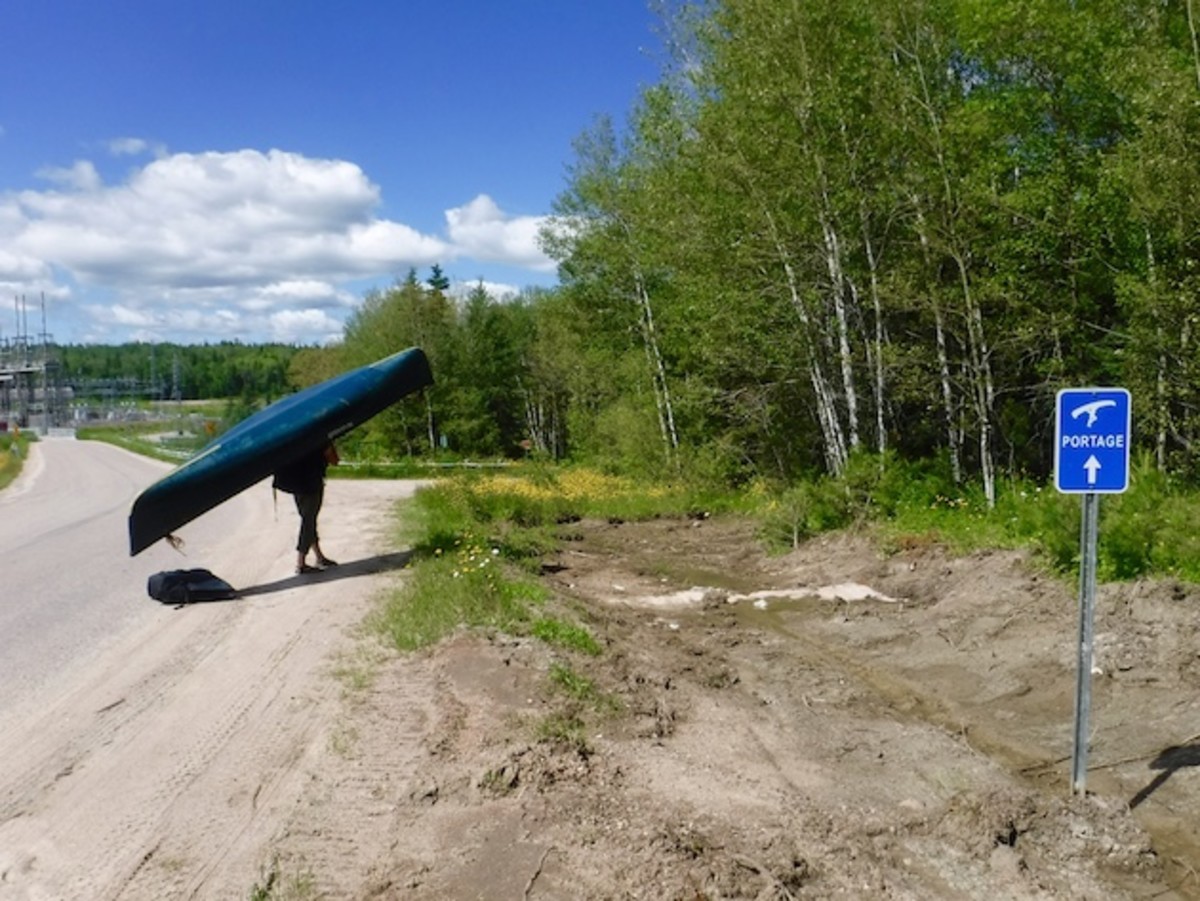 Being windbound once had them paddling twice as hard and rising when it was still cool, misty, and gray.
"We did paddle incredibly hard to get as far as possible every single day and paddled over 30 miles a couple days," said Larson. "We got up at 3:30 a.m. after we were windbound the first afternoon and would paddle until we were exhausted, which was round five, meaning we'd go to bed at seven."
Once Rainy Lake and the larger Lake of the Woods were behind their paddles, the women had the big water confidence they needed for crossing Lake Winnipeg.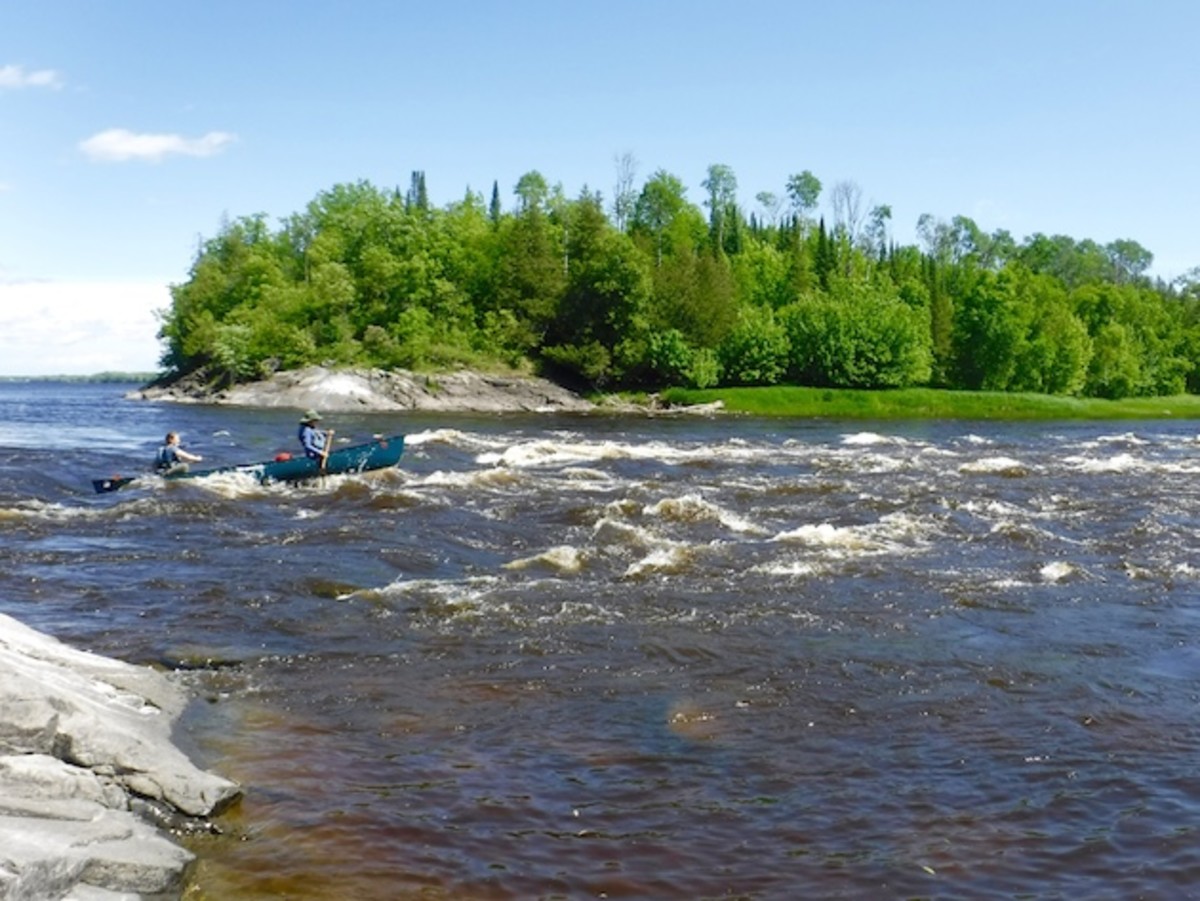 "It was amazing to realize how comfortable we became with the big water," said Larson. "The lake has a lot of points, so we'd paddle point to point and we became pretty comfortable doing that. We did one crossing that was 11-12 miles across."
God's River, emptying into Hudson Bay, replaced whitecaps with whitewater, which thrilled the team.
"We all loved God's River," said Larson. "We really enjoyed the rapids. We'd had various rapids along the way, so we were building our skills. We just loved that adrenaline rush and the strategy."
What they didn't love was a schedule sans sufficient rest days, necessitating harder days to earn some free time.
"We wish we'd built in more free days. Then you don't have to work extra hard for rest."
Insufficient current on the Winnipeg River also had them paddling long days to stay on their schedule.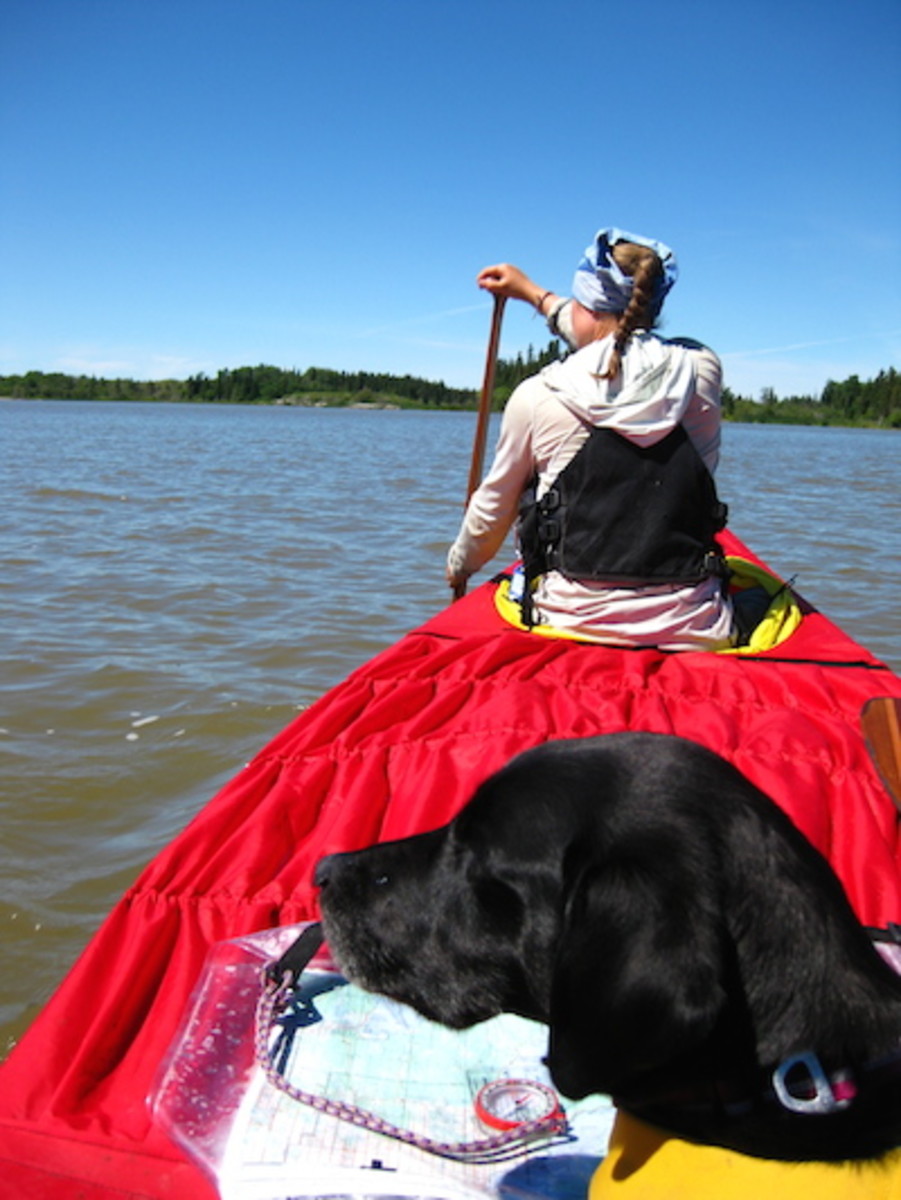 Larson's dog, Avery, provided comic relief.
"Avery was great. She was a constant source of entertainment. She makes crazy sounds in the morning that awoke everyone and made us laugh. She loves to fetch and play, which was a great way to stay active when we were on land."
Their final stretch was through polar bear country, which had them paddling with all due speed.
"We paddled 55 miles with a tailwind as hard as we could," said Larson.
However, they did take a brief break at the very end.
"For half an hour, we used our hammock as a sail. It was a wonderful rest and we were able to relish the moment and the beauty. We sang some of our last songs as we sailed the final miles."
First Nation people greeted them at the dock and the women were exhausted, but thrilled.
"We were tired, relieved and incredibly excited," said Larson.
It wasn't until they looked a larger map that they understood what they'd done.
"Looking at the big map was surreal. All along the way, we were on smaller sets of maps, so it was crazy to look at the big map and see how far we'd come."
The article was originally published on Canoe & Kayak
For access to exclusive gear videos, celebrity interviews, and more, subscribe on YouTube!