With oceans around the world acting as the playing field for its surfers, the World Surf League (WSL) has a connection to the environment that most sports leagues don't have. That's one of the main reasons why the WSL has announced a slate of new initiatives aimed at protecting the environment, promoting sustainability, and helping with ocean conservation.
The new campaign for the WSL includes working to become carbon neutral by the end of 2019; to eliminate all single-serve plastics from WSL owned-and-operated events by the end of 2019; and working to leave each site of the WSJ Championship Tour in better shape than it was found.
As part of the initiative, the WSL's non-profit arm, WSL PURE (Protecting Understanding and Respecting the Environment), is hosting a global paddle out on June 15 in honor of International Surfing Day to help raise more awareness of those environmental issues. The WSL is also asking pro surfers and others in the global surf community to make a pledge to #StopTrashingWaves and promote awareness to help keep the ocean clean.
Every plane ride has a hidden cost. Let's step up our game to protect the ocean. You in? #StopTrashingWaves | #wslpure | The WSL is committing to become carbon neutral globally by the end of 2019, including at WSL Championship Tour and Big Wave Tour events. pic.twitter.com/XNxs54cbMc

— World Surf League (@wsl) June 4, 2019
WSL surfer and former SUP Race World Champion Kai Lenny was excited to see the initiative that the league is taking, and while he was in New York City this summer, he spoke with Men's Journal about the campaign and ways that surfers—and everyone else—can get involved.
(Stay tuned for more from Lenny coming this summer, including his favorite places to surf, insight about his training, and his stories of surfing massive 80-foot waves.)
Men's Journal: As a surfer, what does it mean to you to be environmentally aware and help protect the oceans?
Kai Lenny: I think as surfers and people who enjoy the water in general, it feels like a responsibility to be stewards of the ocean and mother nature, mainly because we're interacting with it on such a personal level. I think society oftentimes makes us very removed from nature in general, but when I'm at home and I step off and go into the water, it's like removing myself from that bubble, and I'm in that ecosystem all of a sudden. So my interaction with pollution plastic, climate change, it's all very evident right in front of me. So to have people who want to make a difference like the World Surf League, which is a big organization within surfing, it's really cool they're focused on initiatives that help the oceans and the environment.
What does it mean for you to see the World Surf League put this initiative together?
It's really cool that they're working to go carbon neutral, and leaving beaches and competition spots better than they found them. I love the idea of the World Surf League's PURE campaign, because it's about doing projects that will actually make a difference and inspiring people to do more. Even if we inspire just a couple people, you hope that those couple inspire more and every little bit helps you build towards that goal.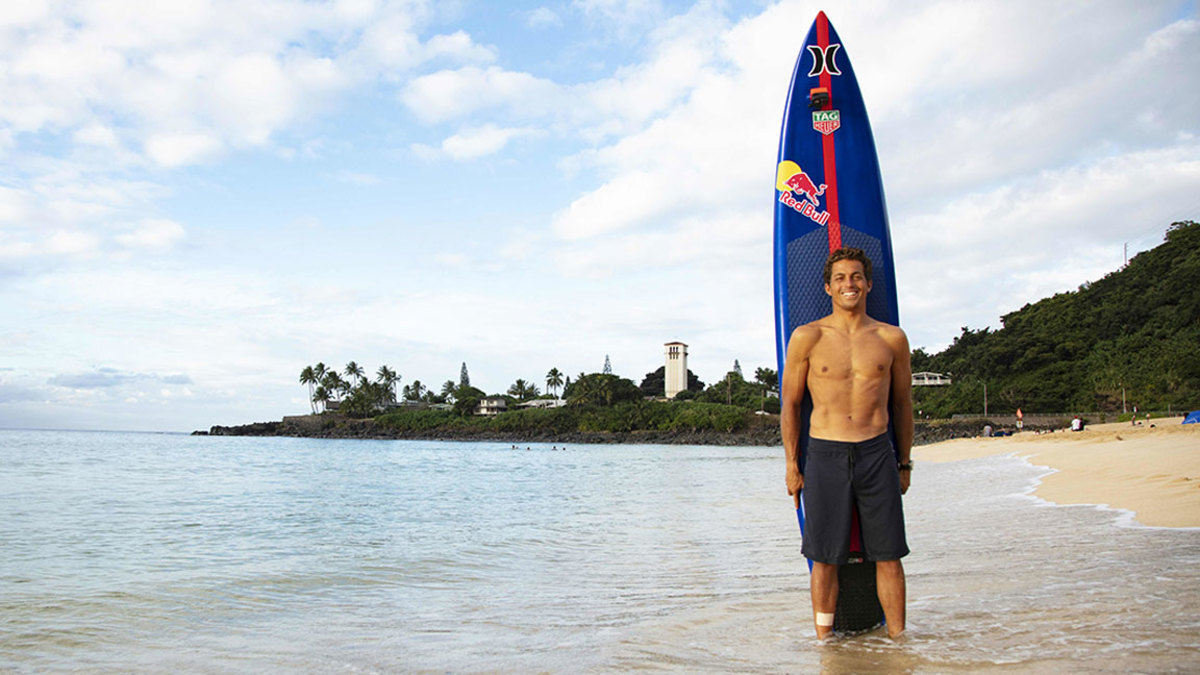 How do you think this will help more people get involved and spread awareness about ocean pollution?
It's difficult for some people who may even want to help because often times these issues are on the back burner. Just being in New York City right now, ocean protection and that stuff isn't in the front of your head. It's no one's fault, it's just kind of the structure of society that we have today. I wake up, and when I look out the window I can see the changes happening. It's cool when you don't feel alone in such a big battle and you have the WSL working on stuff like this. It's a conduit for good and connecting the world together.
One of my favorite quotes is from a Hawaiian legend and surfer, Brian Keaulana. He said: "We're connected by the oceans more than we are connected by any land mass." Like his water in Hawaii was probably once in Europe, right? It's all circulating. So I'd like to think that we're one big organism and that we need to protect our beautiful mother nature, because if we don't, eventually I think Mother Nature will just shake us off like fleas on a dog [laughs].
What are some ways people can contribute and help with these initiatives in their own way?
Coming out for the global paddle on June 15 for International Surfing Day is one way, but beyond that there's definitely some things people can do. I always thought, how would you be able to inspire every person on Earth to care a little bit more about the environment? Even if it's on the most basic level of refusing a lid or a straw when they went to a coffee shop, that is a big help to normalize that. I would say, our advantages as surfers is that we have such a connection with the ocean on such a personal level because we're immersed in it and a part of that energy. Whereas, being in a big city, you're part of more human energy and the city's energy. I think if we can inspire people to get into the water and find some sort of enjoyment, even if it means just swimming or just like going to the beach, you hope that inspires them to want to take care of it more.
Why is it important for surfers like you with a platform to be at the forefront of this initiative and everything the WSL is doing?
I think what makes surfers perfect stewards is that selfish pursuit of wanting to ride the best waves possible. So if your beach is trashed or subject to great change from climate change, on a selfish level you want to preserve that beach or ocean because you want to keep it looking beautiful, safe, and strong for the next generation. I think human nature is a little bit selfish, but in a way we can play that to our advantage by getting people to want to keep it clean because they love surfing, love going to the beach, and love being in the water and they get enjoyment out of it.
I like the idea of preserving and everything the World Surf League is trying to do with ocean conservation, because when I go in the water, at that moment feels like it's mine. The ocean isn't anyone's, but in that moment, in this little area I'm in, it's mine. That personal connection for myself and people can lead to great things in helping the oceans and our environment.
For access to exclusive gear videos, celebrity interviews, and more, subscribe on YouTube!