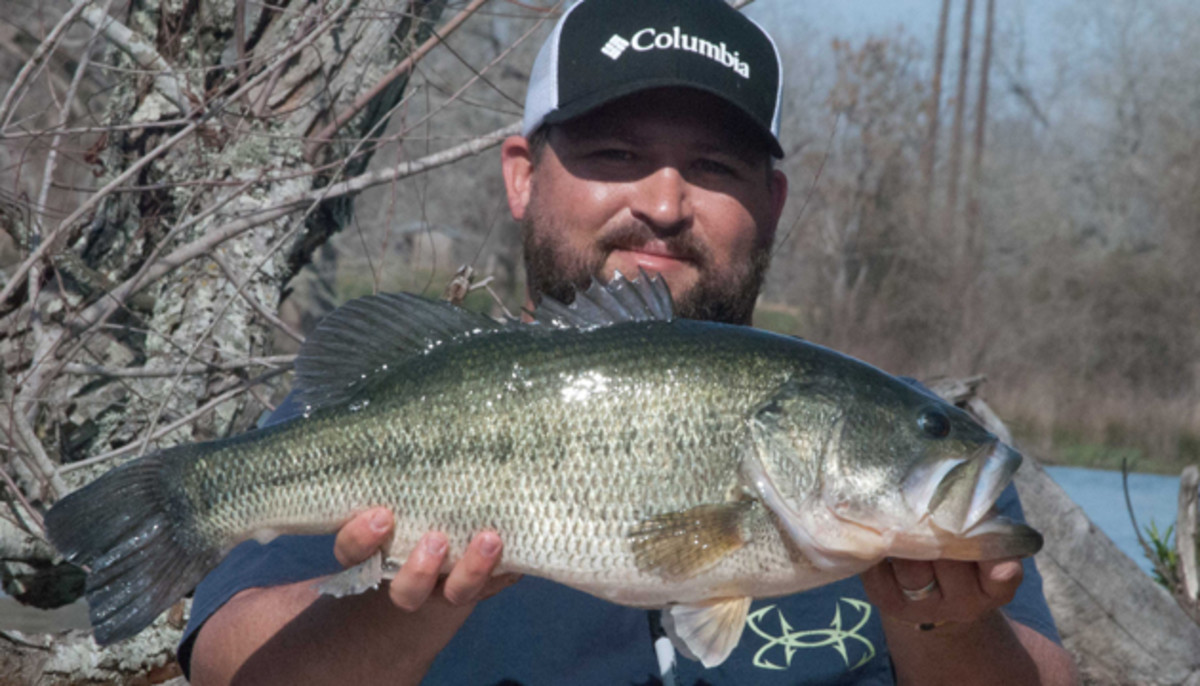 KATS Angler Lassos Texas-Size Bass on the Guadalupe River
25 incher the second big bass of the series

The 23-inch mark is ancient history. The prior Kayak Angler Tournament Series (KATS) record has already been bested twice in the early going of the expanded 2014 series.
As the season opened, KATS organizer Kristian Kolflat cited the hunt for bigger bass as a leading reason to grow the series to a round dozen events. Three events in, they've already logged two 25 inch largemouth.
KATS official Joseph Dowdy has the details in his Guadalupe River report:
Gonzales, Texas is well known for its place in Texas' history. On Oct. 2nd 1835, the first shot was fired, kicking off the Texas Revolution and local soldiers wielded a flag that read "Come and Take It". KATS anglers did their best to do just that, and a few did so in a big way.

52 anglers squeezed through the Guadalupe River on Saturday in hopes of catching the winning stringer. Most reports throughout the day rang true of a 20-40 fish day for many competitors with most fish being under the legal limit. A "big fish" was rumored to have been caught and Matt Moccia proudly turned in the second biggest bass of the season, a 25″ largemouth beauty. Moccia recently caught a sharelunker in Dunlap (just up the river from Lake Wood) and regularly produces big bass.

Dawson Merrill, one of our youngest members, is quickly earning a reputation within the crowd as he took 1st Place in the social division with a 76″ stringer. In pro division, Mike Mashl was ecstatic about his 90.5 inch stringer on a day where legal fish were hard to come by. He also battled Dawson Merrill for the custom Lake Wood Yak Attack Blackpak in the post-tournament casting competition. The two eliminated the crowd in round one, and went head to head for several more rounds. Mashl won the Blackpak.

The Series Leaderboard and King of the Fish Leaderboard have once again shifted in this exciting season. Troy Lawson, has taken the lead on both and plans to keep his steady gains coming next weekend. Ryan Herzog, who previously held the lead is in a close second on the overall series, and third for King of the Fish.

Thanks to our sponsors and ACK we were able to once again hold a very lucrative raffle including a NRS Pike Inflatable kayak won by Steve Garcia, KATS 2012 Angler of the Year and a man of many boats. See the full results and winnings here.

Thanks to the Lake Wood Recreational Area for allowing us to host our event on a multiple event day and for their genuine hospitality.

A big thanks to all of our 2014 sponsors, and Patron Sponsors Bending Branches, Malone, and Ocean Kayak! The next KATS event is coming up fast – on March 1st anglers will be testing the frog bite on Lake Bastrop near Bastrop, Texas.
The article was originally published on Kayak Fish
For access to exclusive gear videos, celebrity interviews, and more, subscribe on YouTube!