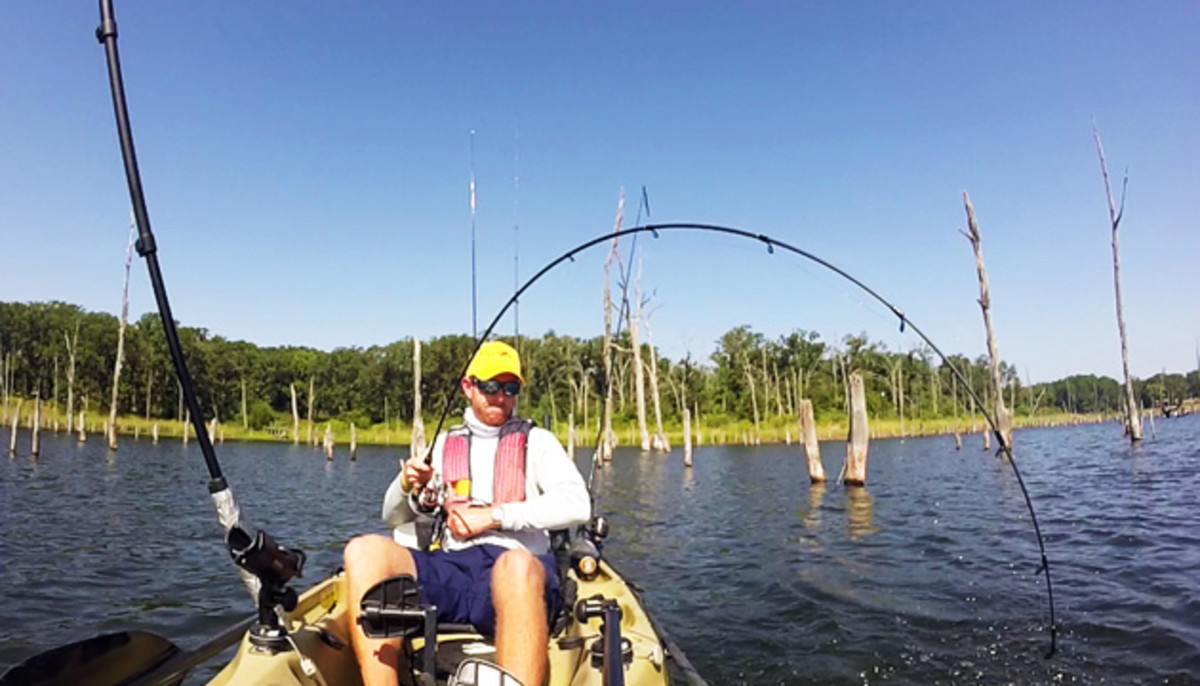 By Paul Lebowitz
Robert Field of YakFishTV has partnered with tackle maker Terry L. Manley of Manley Rods to announce the Kayak Bass Series, a new national bass fishing tour. KBS is scheduled to kick off competition in January 2015.
"We think a face to face tournament brings people together and builds the sport. There's a ton of kayak bass tournaments around Austin, around Dallas. We're taking that concept and putting it on a bigger stage," Field said.
The 6-tournament Catch, Photo, Release trail will visit bass water in Florida, Texas, Alabama, Arkansas, Kentucky and Pennsylvania before ending with an as-yet-unannounced championship, the 3-day KBS Classic. Tournament limits will be based on an angler's best three bass.
"We think there will be a live scoring system. People will be able to follow from home and on big screen TVs at each event. We want the weigh-in to be fun, an experience," Field added.
Field says Manley selected venues he fished during his competitive pro bass career. They're good spots, carefully scheduled. "We're trying to follow the prespawn pattern around the country to make sure the fishing is hot wherever we go," Field said.
Manley thinks the time has come for a major kayak bass trail. "Kayak fishing has exploded. It is growing nationwide into the millions. The kayak angler needs a tournament series with the reputation and notoriety of tournament series like BASS and FLW," Manley said.
Individual event entry fees will be $100 per angler, with one hundred percent payback. Series administrative fees will be covered by a mandatory $50 annual KBS membership. Field says KBS hopes to offer group tackle discounts and other club benefits.
"We're anticipating 200 plus guys at each event. We're pretty confident we can hit that. If we do, first place is almost $6,000. These are big payouts because we're not taking a dime. That alone separates us from other events," said Field.
Every angler who fishes four of the six events will qualify for the KBS Open. Competitors who join the Manley Rods Pro Team ($50) make the Classic if they fish three. Update: On December 1, Robert Field of KBS announced that all anglers who fish three events will qualify for the Classic, no discounts, no exemptions. – ed.
Field says the Classic is designed to earn a place on the national stage. The top 100 day one finishers will advance. Ten anglers will move on to a third day fish-off.
"We're withholding ten percent of the event fees for the Classic. We're thinking $12,000 will be the minimum purse. The first place winner will take it all. The top ten guys are all going to win big prizes," Field said.
Manley thinks kayak anglers will hold their own, producing tournament limits comparable to boat-based bassers. I believe the kayak angler can be more productive because he or she cannot cover as much water so they have to learn the water they do fish on better. The gear and bait is still the same," he said.
The article was originally published on Kayak Fish
For access to exclusive gear videos, celebrity interviews, and more, subscribe on YouTube!