This story featured in the May 2013 issue of Canoe & Kayak Magazine.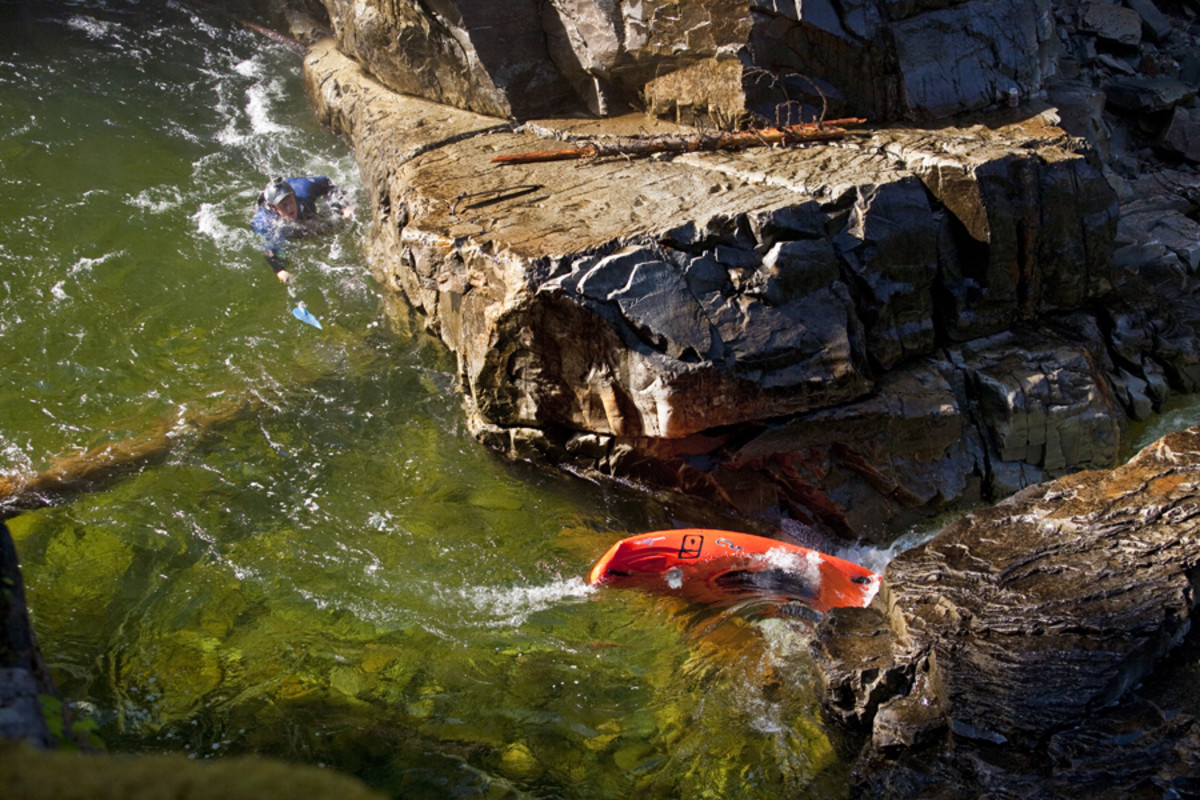 By Mike Bezemek
The rapid is called Road Block, and it fits. The only more descriptive name I could think of would be Big F-ing Undercut Mid-river Rock. Road Block at least allows for imagination, and mine has been churning ever since Lewis, our local Arkansan escort, first described the upcoming hazard. The previous weekend we'd shown Lewis and his friends down Missouri's Ozark classic, the Saint. Now they are returning the favor on Class III-IV Richland Creek.
I ask about Road Block again.
"Left or right, depending on flow," drawls Lewis. "Today's probably right. Hug the shore. Paddle up onto a diagonal rock. Slide down into a pool."
He makes it sound easy.
The creek is a gem. Under a late winter sun, turquoise waters lap at limestone banks. It's narrow and mellow for a few miles, before widening into shallow rock gardens between amphitheater cliffs. Then it's into the gorge and a succession of fun ledge boofs. It's almost perfect, except all the leafless trees have their tops blown off from a recent ice storm.
We weave our boats through a rocky slalom, turn a corner, and the big square boulder—a house of rock—presents itself. It's tight in this twist of the canyon, only 25 feet across. Road Block rests atop undulating bedrock. It's so undercut you can see downstream daylight through a gap in the middle. Showing off, the rapid tosses in a boulder-strewn sieve just upstream.
I grab an eddy and watch the first seven paddlers in our 10-boat party slide onto the diagonal rock and shimmy down the slot out of sight. The move isn't too crazy, and the current is manageable.
Lewis's buddy Jeffrey is ahead of me. A tall guy with crooked teeth filling a big smile, he's looked unsteady all day. He takes a few tentative strokes toward the right slot, hesitates, and then broadsides the guard rock.
Everything slows to a horrific crawl.
Jeffrey's boat teeters. Then it pivots back and is sucked into the current. Water catches Jeffrey's edge, and he flips. He tracks right into the sieve. His upside-down kayak—him inside—jerks to a halt directly upstream of the undercut.
I freeze for a moment, put my whistle to my lips, and huff three shrill blasts. My stomach sinks. My paddle grip tightens. I'm the only witness—I've never seen a pin like this.
"There's a trapped paddler!" I shout back at Blake. He's not my first choice for rescue partner. A bit more talk than walk. I zip out of the eddy, drop down the left bank, and paddle hard onto a gravel beach. I hop out and grab my throw-rope. I wave at people downstream to take up position on the opposite cliff. Maybe we can try a drag-line?
I'm 25 feet from Jeffrey. I see ripples of movement under the water. He's squirming. His boat shudders and settles. A red snake that is Jeffrey shoots out through the rocks. He bends around a boulder which shunts his body away from the undercut portal into a narrow chute. The river spits him into the pool below. I blink incredulously. Downstream, Jeffrey swims to the left shore and crawls onto the bank.
Time returns to normal.
I relax. Breath. I'm clutching the throwbag so tight my fingers are locked up. Everything is going to be fine. He's okay.
Blake paddles onto the beach and exits his boat.
"He's out," I explain. "He was in there, but he's out."
Some paddlers clamber up the right cliff to see about retrieving the boat.
Blake takes a step into the river. "Live bait," he says, watching the boat wedged into rocks. "You can lower me down to it."
I stare at him, as time rushes forward like water through that sieve.
Ten years in whitewater, and I still slip right past good decisions and have to kick myself later. Earlier this season, three of us stood at the Upper Saint put-in at dusk, watching brown water on the rise. We might not make it out before dark. But we drove all this way. We put on, and right away I misjudged a ferry at Entrance Rapid and pinned momentarily against a tree-trunk newly lodged in the willows. The trunk began to rotate. I began to freak out. I pushed off hard, nearly flipped, and was blown free by the current.
Afterward, I counted four decision points, and four bad choices: We had pushed for a second lap, despite the late hour; we set shuttle for a full run, not wanting to miss a mile of river; at the put-in we dismissed the gaining darkness; and entering the rapid, I locked into my regular high-water route, barely squinting a boat scout. We made it down fine, but at what cost if not?
With his eyes on the pinned kayak, Blake reaches behind his back and carabiners his throw-rope to the steel ring of his rescue vest.
"What?" I'm shocked.
He hands me the rope.
"It's not worth it," I say.
"It'll be fine, man. Come on."
Miles and years from Nowhereville High, peer pressure is alive and well. I really wish there were more people on this beach right now.
A few years prior on the Little River in North Carolina, Blake took a blind turn toward a side-channel. "Might be blocked," shouted another boater. Blake waved him off, ferried into the channel, and spied it like he was debating—already fully committed. There could be anything over there. A cross-river tree. A sieve. There could be a frickin' grizzly bear. Even if there's only one in the Appalachians, reintroduced by a traveling circus of crazies, if you don't know, don't go.
I'm reminded of that unnecessary risk Blake had taken as I eye his rope in my hands. He's leapfrogged onto some mid-river rocks, surveying a spot to dive into the river. I have to say something.
"Blake!" I shout.
He looks back at me. "Get planted," he says.
I shake my head. I want to say, 'I'm not willing to do this,' but worry that will just lead to an argument. "I can't hold you myself," I try.
He shakes his head and storms back across the rocks toward me. He glances across the river where our group is gauging the situation.
"We need to hurry," he says.
I shake my head. "Why?"
"Need to get the boat out."
This isn't about the boat anymore.
"We got this!" Blake shouts at the group on the rock.
"How?" shouts Timbo, one of the veterans. Any respect not afforded me, I hope is reserved for Timbo.
"Swim." Blake undulates his arms.
Portaging kayakers approach through the forest. A massive calf sticks out from the trees, followed by a sturdy paddler who glances around. "Everyone alright?" Just his presence seems to thicken time like molasses.
"So far," I say.
"Passing through, then, if you don't need a hand."
I pull the sturdy fella aside. "You know this river?"
"Sure do."
"He wants to swim for the boat," I say.
The sturdy fella looks at Blake, who is standing partway into the pool.
"That's an undercut," shouts Sturdy. "You don't want anything in there."
Blake tosses his hands up and lets them fall to his sides. He seems skeptical, but approaching resignation.
"It's just a hunk of plastic," the stranger concludes before continuing his portage through the trees.
Timbo leads the rescue from up on the right cliff. Eventually we get a line across the river with Timbo on one end and me on the other. Blake decides not to help. We carabiner a weighted bag to partially sink the rope, and try to float it underneath the pinned kayak. Each time we pull, the rope slips off the boat, which settles back under a thin sheet of current. The guys on the cliff suggest pulling both ends of the rope from their higher perch. I hurl my end up to them, and they give the rope a big pull. The kayak lurches out of the river, but the rope slips free. The boat settles a few feet downstream in a deeper part of the chute.
Blake eyes the still-stuck boat like a retriever about to dive after a steak.
"It's just a hunk of plastic," I say, feeling my calves thicken slightly from the big fella's wisdom.
Suddenly, the kayak vibrates, wiggles, rattles over some rocks, and whisks into the pool below.
Jeffrey walks away with some bumps and bruises and a terrifying memory he'll never forget; the lesson ingrained in the rest of us.
Another hunk of plastic saved. At such little cost.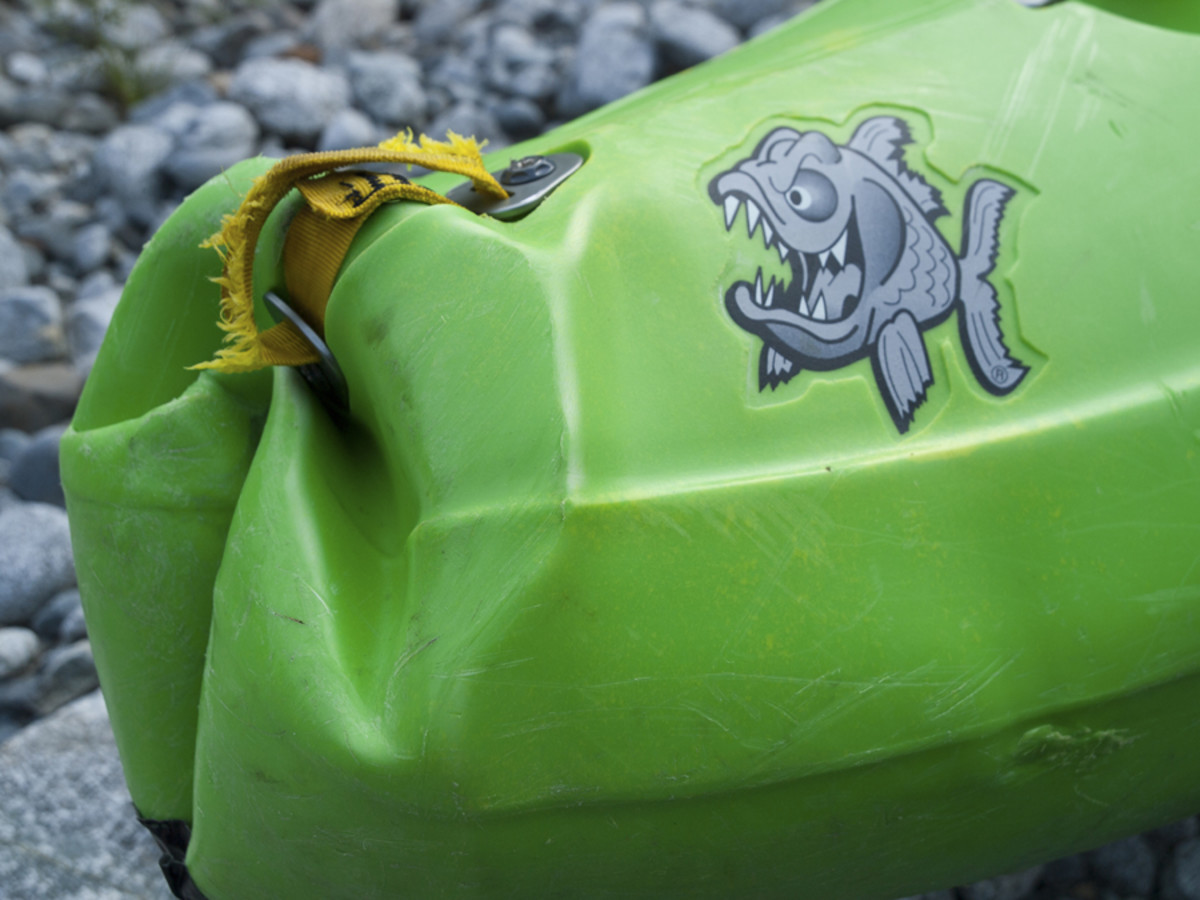 The article was originally published on Canoe & Kayak
For access to exclusive gear videos, celebrity interviews, and more, subscribe on YouTube!