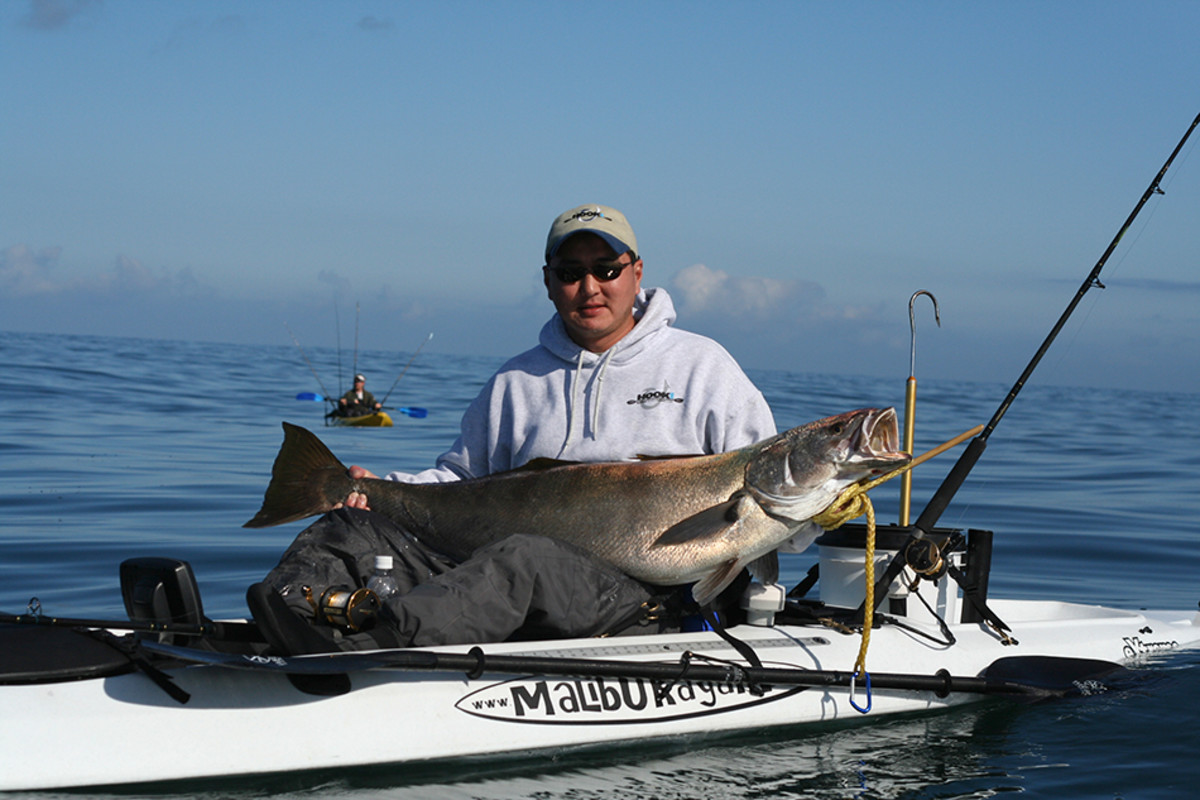 By Paul Lebowitz
The Modern Era
Getting from the Scupper Pro and the Cobra Fish 'n Dive to the elaborate purpose-built fishing kayaks of today was a matter of incremental improvement, of features adopted and knocked-off.
Manufacturers liberally borrowed ideas in successive, competitive waves. At this point the story gets messy, the development coming in increasingly quick leaps and bounds. Let's start with the first entirely purpose-built fishing kayak.
Around 2000 Malibu Kayak (a new company that snagged a well-known name) made waves with the Pro Explorer. The bow hatch was enormous, big enough for a Malibu staffer to crawl inside to shoot a print ad. There were more flat sections of deck to mount rod holders or other accessories.
Every kayak that came before was, in one way or another, oriented towards a general recreational audience. Not this one. This was fishy. Then the Malibu Extreme debuted around 2002, hitting peak fishiness. It took over La Jolla virtually overnight.
Andrew Allen—we called him the Iceman then—was one of Malibu's first pro staffers. He recalls what attracted him to the brand.
"Malibu stressed that they made fishing kayaks. The whole layout was designed for fishing," says Allen "I was a big fan of the front rod holders for trolling and drift fishing. There was a designated spot for a livewell, plenty of hatches including a big 'ole one in the front to store your rods for a surf landing. Everything was in the right place on that 15-foot kayak. And it definitely had that glide to it."
The Extreme had its problems too. The hull design lacked a certain something. There was no rocker, and the hull dented easily.
"I didn't like when it got snotty out. It would beat you up," says Allen, who loves kayak fishing so much he went on to open the OEX Sunset Beach paddlesports shop.
The Hobie Cat Company, known at the time for its sailing catamarans, didn't sell a rotomolded kayak until 1996. The Pursuit was a SOT touring design that didn't make much of an impression in fishing circles. Neither did the following year's Hobie Mirage, but it sure raised eyebrows.
The Mirage was built around the company's now iconic pedal drive. Hobie designers had been working on a leg-powered kayak for some time. Fish have used flapping fins for propulsion for about 500 million years.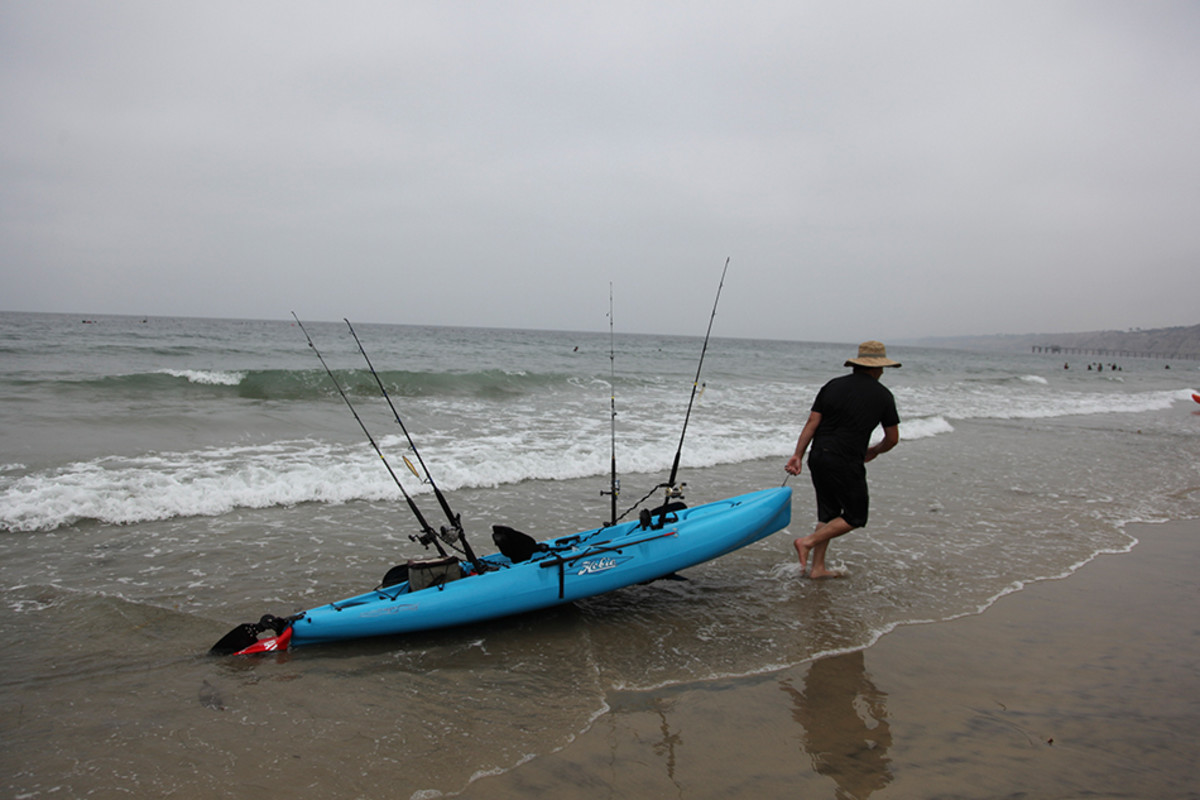 At first, anglers were dismissive, derisively dubbing Hobie's MirageDrive kayaks as "kicky-poos" or in other colorful terms. It wasn't until the 2001 launch of the fishing-specific Mirage Outback that attitudes began to shift.
My friend Ted DeBont was one of the early Outback adopters. At the time San Diego's Lake Hodges and its largemouth bass were off limits to power boaters.
"The Mirage Outback was fantastic for bass fishing," DeBont says. "Not having to set the paddle down and pick it back up again opened up a whole other world of fishing near structure in a breeze. Focusing on casting and fishing was a dream come true."
By 2004 the sport was growing up. I landed my first kayak fishing column, in a throwaway known as the Fishwrap. Sammons had signed with Ocean Kayak. He was quietly advising the company on new designs. The paddlers who ran OK were slow to take his advice. They didn't go full fish until 2007.
The enormous Ocean Kayak Big Game incorporated several Sammons innovations. It was the first to come with a transducer scupper and in-hull battery tray. Other manufacturers quickly caught on and copied the now near-universal concept.
One thing hadn't changed. Most kayak anglers were still virtually sitting on the deck. The available seats didn't do much for comfort. Numb legs and sore backs for everyone.
Native Watercraft was the first to tackle the seating problem. The 2007 Ultimate was the first fishing kayak with an elevated, aluminum framed mesh seat. Sometimes referred to as lawn chair style, the concept has since spread to a majority of contemporary fishing kayaks.
The Ultimate's new seat turned 20-year canoe devotee Chris Funk into a kayak angler.
"I was in heaven then and never went back to the canoe. To me, the framed seats and high/low position are the greatest leaps in fishing kayak development," Funk says.
Jackson Kayak was the first to take the mesh seat to the next level—literally. The Hi/Lo dual position seat introduced on the revolutionary 2010 Coosa, a boat with many innovations to its credit, including it's main purpose as the first fishing-specific river runner, could be kept low for extra stability, or raised to its high position for better visibility and easier standing.
The Hobie Pro Angler ushered in the modern era of fully-featured, bigger is better fishing kayaks in 2009. Too wide and heavy for most to paddle at 38 inches and 145 pounds fully rigged, moving a ride of the PA's stature is only possible through the MirageDrive's magic.
The Pro Angler's hefty size—so large Hobie originally marketed it as a boat—makes room for powerboat-style features such as horizontal rod lockers, integrated tackle storage and as of 2013 the magnificently adjustable, dual-height Vantage ST seat.
Recently, back where it all started for me in La Jolla in 1999, I came across a Pro Angler and a Scupper Pro sitting side by side on the sand. The Scupper looked impossibly tiny next to the current fishing mainstay. I stood and stared, transfixed as I considered the many generations of boats in between.
Kayak anglers still love to rig their rides. It's a lot easier these days. There's little need to MacGyver. Just about any accessory you want is available, custom-made for kayaks.
The svelte Scupper and the 'PA' are built along the same lines—bow hatch, open cockpit, tankwell—but they are otherwise vastly different.
Except for their hunters' hearts.
Previous:
Part 1, In the Beginning, Almost
Part 2, The Original
Part 3, Gold From Plastic
Part 4, The 90s Mainstays
The article was originally published on Kayak Fish
For access to exclusive gear videos, celebrity interviews, and more, subscribe on YouTube!