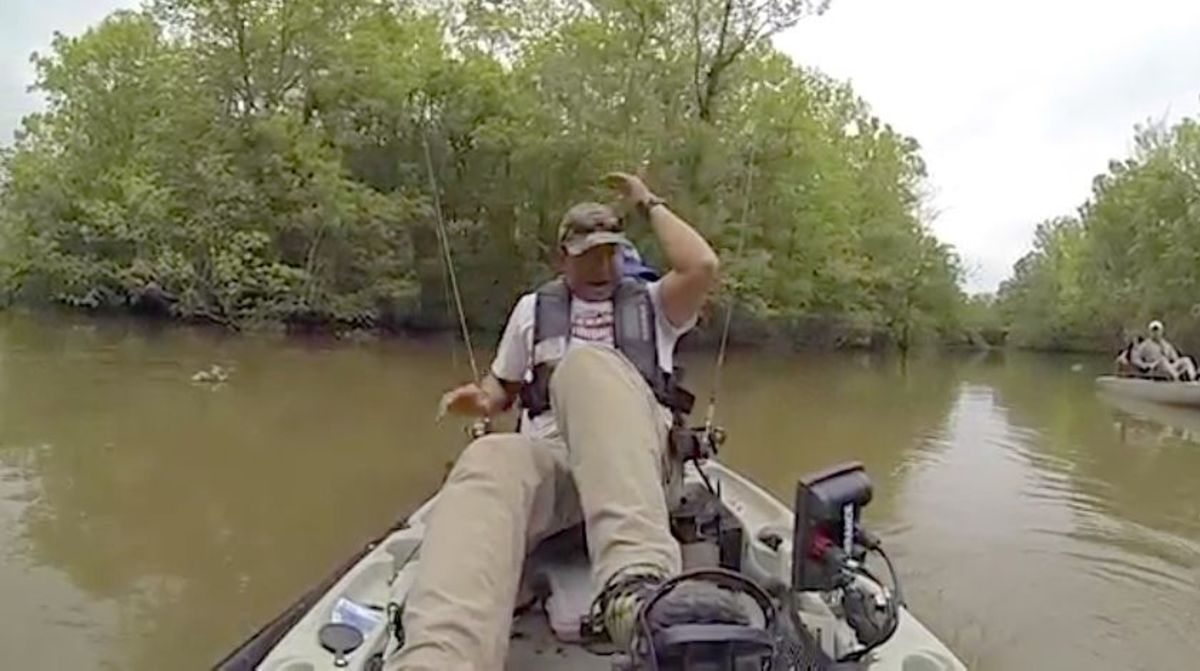 A kayak fisherman in Louisiana received the shock of his life when he pulled up a jug line expecting to see a big garfish and instead saw the massive jaws of a huge alligator.
Lance Burgos of Baton Rouge was camping with his daughter, Evan, along with a friend and his daughter at Fausse Pointe State Park in St. Martinville over the weekend when the nightmarish encounter occurred, according to The Times-Picayune.
From their campsite, they could see the pool noodle dance back and forth on the surface of the water. The noodle was rigged like a jug line for catfish, a method of fishing in the south in which bait is suspended below a jug or float and left unattended.
Something had taken the bait and they were curious to find out what. So on the way to the fishing grounds, Burgos stopped and began pulling in the line.
"I thought it was a big garfish," Burgos told The Times-Picayune.
From the resistance, Burgos knew it was big, but it wasn't anything he was expecting:
Fortunately, as The Telegraph pointed out, Evan heeded her father's admonition to be careful and withdrew her hand as her father pulled up the line. Clearly, what came out of the water scared the bejesus out of Burgos and Evan.
Burgos couldn't drop the line and pedal the kayak out of there fast enough.
"Oh my God!" Burgos exclaimed in the video. "That's a big-ass gator, buddy."
"It's bigger than the boat," Evan can be heard saying, as reported by 7 News.
Burgos told the newspaper, "That thing had three foot of head that was a foot and a half across … We saw some gators throughout the weekend, but nothing like what was on the end of the line."
Under his YouTube post, a few commenters criticized Burgos for leaving the alligator hooked on the jug line. But he reassured the critics all would be fine.
"I spoke with one of the biologist and agents at the state park and this type of thing happens all the time," Burgos wrote. "The hooks and line disintegrate in the stomach acid of the animals, and the gators go about their business … I was reassured that the animal would be fine."
The same could not be said of Burgos and his daughter, however.
"My daughter and I got back from camp [Sunday], and when we went to bed, we both said, 'We're going to have nightmares about this,'"Burgos told The Times-Picayune.
More from GrindTV
Exclusive interview: Gerard Butler and Michelle Monaghan talk surf
Huge python found in Malaysia could be a world record; dies after laying egg
Video of snowboarder chased by bear goes viral, but is it real?
For access to exclusive gear videos, celebrity interviews, and more, subscribe on YouTube!