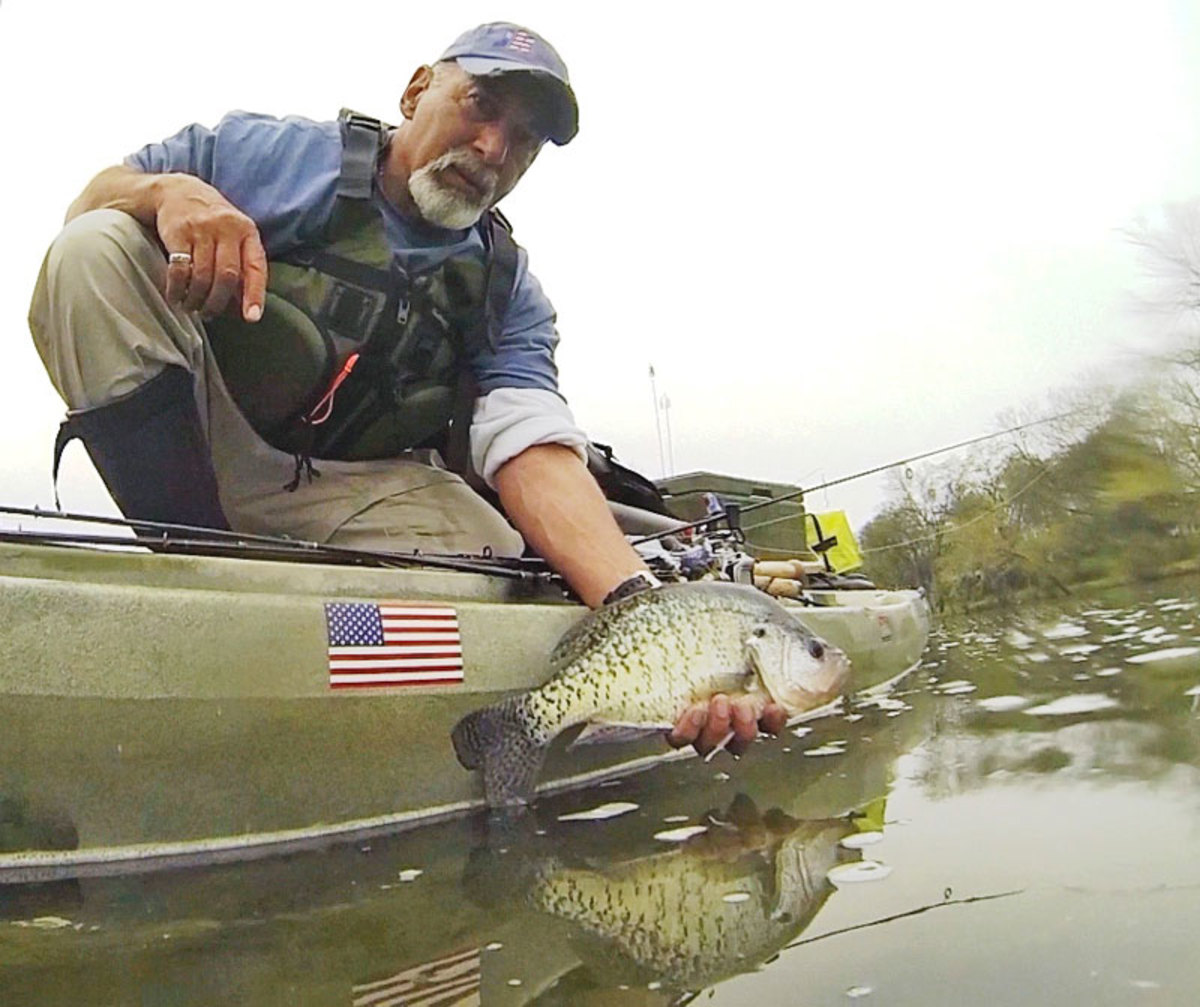 The Tip of the Week Presented by Jackson Kayak
Favorite Clues for Catching Crappie
By Joey Monteleone
Crappie are fun and a challenge. The hard part is finding them. Catching comes easy – they fall for many methods. Here are my favorite kayak crappie clues.
Go Light
Have equipment dedicated to crappie. Ultra-light, medium light and medium action rods are all appropriate at certain times. Assemble a dedicated crappie tackle box. Baits and colors earn their way into my crappie box. Having a species specific box eliminates a lot of confusion.
Use the lightest line (2- to 4-pound test) and leadheads to fish grubs and tubes (1/32nd-, 1/16th-, and 1/8th- and a few 1/4-ounce heads for windy days). Light line gives the most the action for every category of artificial bait. In extremely clear water I will go to two pound test line.
Bait
In every application water temperature is one of the most important factors. To locate schools of crappie find the bait fish. All fish are slaves to their stomachs. Find the bait = find the fish.
Be open-minded about artificial lures. Go armed with small crankbaits, tiny spinners and minnow imitating plugs. They all catch fish under certain conditions.
Don't dismiss live bait. A live minnow on a light wire hook is hard for crappie to resist under any conditions.
Abandon the Bank
Most people like to fish the comfort zone of the shoreline. Secondary structure, preferably submerged wood, and subsurface structural changes hold crappie.
You don't always have to go deep. A few days of warming temperatures coupled with a warming (south) wind will often move bait and crappies to five to eight feet of water.
Fish move farther in clear water and hang tight to cover in dirty water.
If you catch more than two bass in your spot MOVE. Rarely do I find bass and good size crappie in the same spot.
The 50/50 Rule
I like to eat crappie but in the spring I release all my crappie. In the fall I keep one and release one so as to not deplete the population of the spots I fish. The term limit does not mean you should keep that many; that's the most you can legally keep. Harvest responsibly please.
Joey Monteleone knows a thing or two about bass. The TV host, outdoor writer and radio host claims he's caught over 29,000 bass in the last three decades. Monteleone is a Jackson Kayak regional pro staffer.
The article was originally published on Kayak Fish
For access to exclusive gear videos, celebrity interviews, and more, subscribe on YouTube!