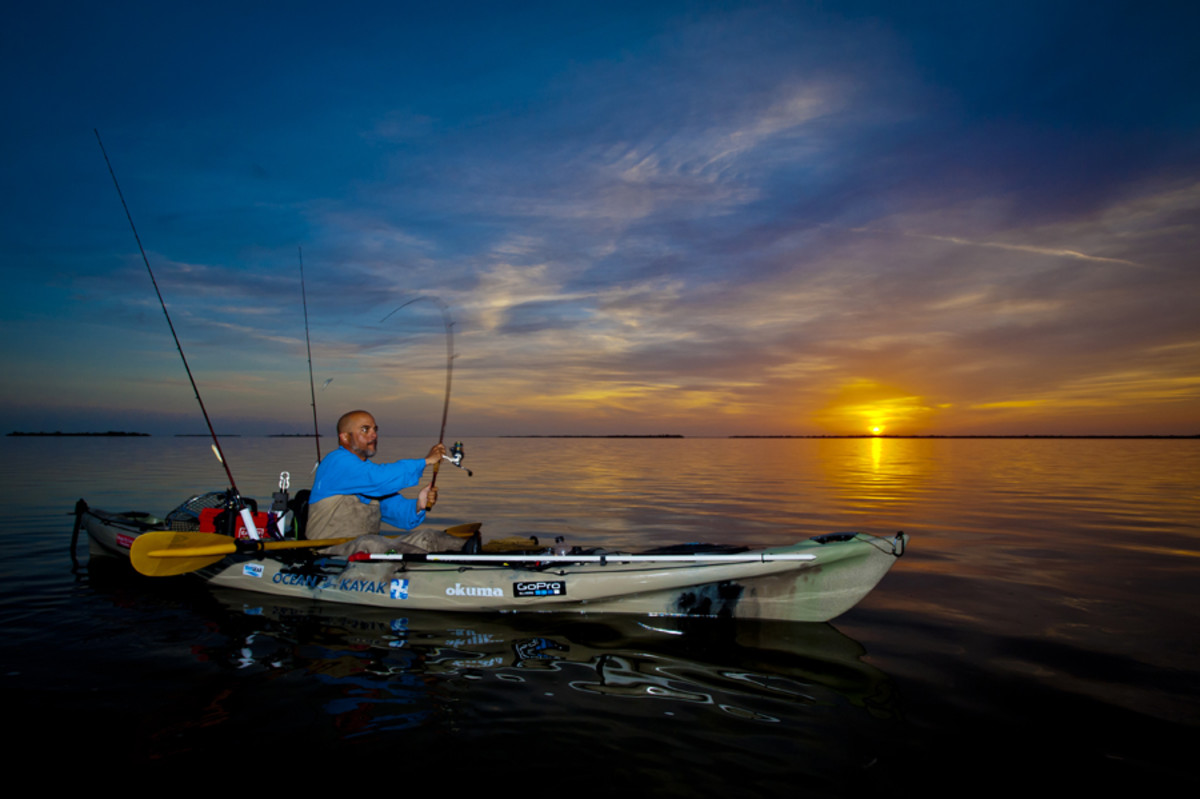 Kayak Fishing up a Redfish Riot at Old Florida's Pine Island
By Paul Lebowitz
It's nearly the magic hour on Pine Island flat. The new moon tide has completed its work. The lush grass beds are as much meadow as water, the green blades tickling the air.
Then comes the insistent rush of the rising tide, firing up the forage and the predators that must feed. They're coming. There! I see them. A cluster of triangular tails approaches slowly. I begin my stalk. There's a tail to my left. Another three to my right. They're everywhere.
I draw back to cast, then pause. Is that one bigger? No wait, that one. More spots. Load the rod, release the line, the jerkbait lands with a gentle splash. The waving tail tracks an interception course. A swoosh of water, the quick thump of a strike, set the hook hard. I'm on!
At 'yakside, I take only a moment to admire my pugnacious catch. I shake him off fast. There are more tails. There, and there! Hurry, the redfish riot can't last. Soon the tide will crest, and Pine Island flat, once filled with hundreds of wandering redfish tails, will transform into an empty void. – Jose Chavez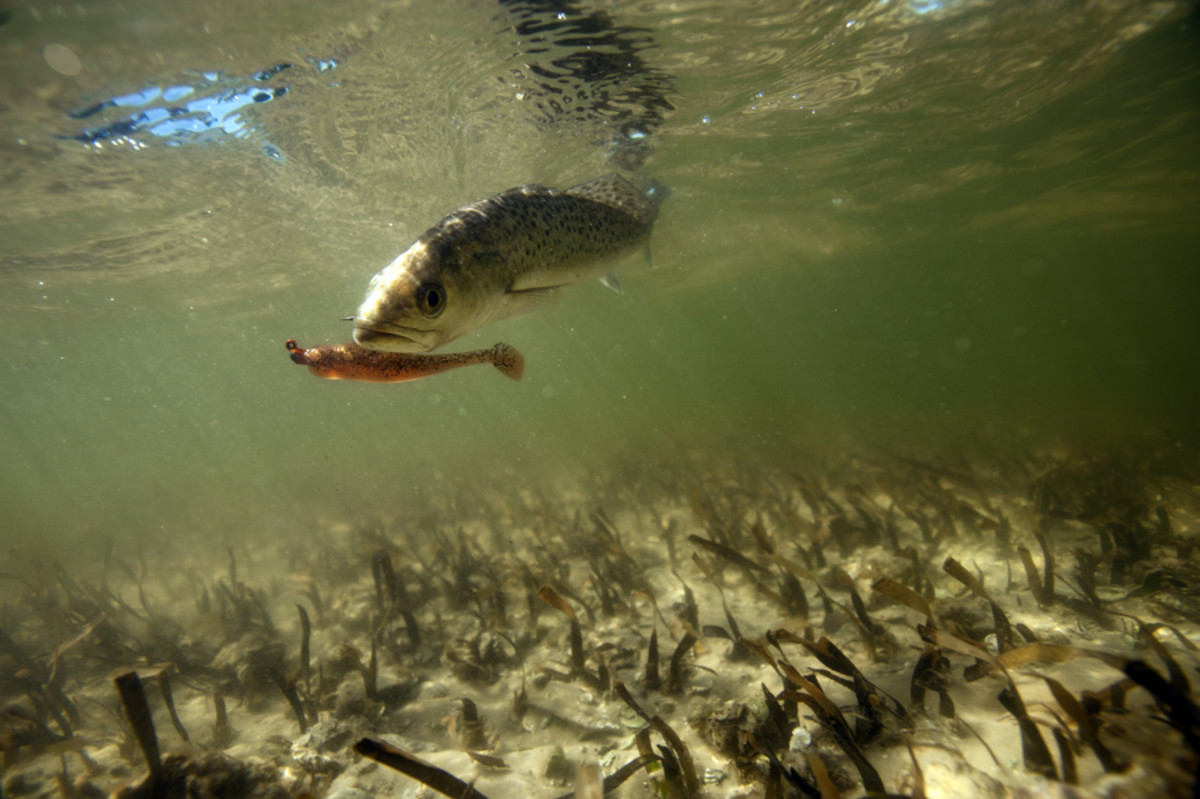 Old Florida. The land (and sea) that time forgot. Solid gold water. The peninsular state's best flats fishing. A kayak angler's playground. The superlatives flow fast and furious. This is Pine Island.
Finally, the years of fish tales and trophy photos are too much to take. After conferring with Dominick Greco of Cape Coral based Kayak Charters, I jet in.
The Hollywood refugee—he boasts supporting roles in The Wonder Years and Baywatch—served stints as a bass pro, marine researcher (he tagged makos and great whites from a kayak), and striper and trout guide before putting down permanent roots near Pine Island. He's here for the duration.
"I'm going to show you the wilderness. You'll see," Greco says over the din of a Friday night crowd at Micelli's, an Italian joint just short of the bridge that leads to the iconic island. A short night's sleep later, we hop aboard Greco's guide boats. We wind our way through narrow mangrove channels. Ospreys and eagles soar overhead.
"Watch out," Greco calls in the understated tone of a guy who guided his first client at the age of twelve, earning a cool $20 for the day's work. "You're about to paddle over a manatee." Vague outlines of the huge, gentle beasts slowly rumble by. And the water, no, the structure—mangrove knees, oyster bars, the fabled grass flats and potholes—there's so much of it to fish.
Today that water is unseasonably cold. The weather has slowed the bite, but does nothing to diminish Greco's confidence. He steers us to tiny Bokeelia. Perched at the remote north end of the island, it offers a winding maze of backcountry channels sheltered from the north wind's icy needles.
Greco leads us to patches of darker bottom, which warm more quickly. "I'm always assessing the conditions and reading the water. I'm never skunked—we always catch fish," he says with conviction. On a day when anyone with sense is sleeping in or cleaning gear, we pick away at the trout. The redfish know better. They're sulking in deeper, warmer water somewhere else.
Later, I call Bob Bramblet to commiserate. The president of the Southwest Florida Kayak Angler's Association is lucky to live close by. "Pine Island is one of those places that merge nature and history with the epic fishing," he says.
He's right. History lays thick on the island, time's march written in centuries old native ruins, once isolated homesteads, a legendary fishing lodge, and ramshackle fishing shacks turned into watering holes and funky shops.
Pine Island runs 17 miles north to south. The two-lanes are narrow; state troopers in aviator shades and Smokey-the-bear hats aim radar guns at the holiday flood of weekenders out for a seafood dinner. We grab bar stools in the rustic barn of Red's Seafood House. There are microbrews on tap, and fresh oysters. The empty shells that pile up on the plate echo the past.
The Calusa Indians that once called the island home are long gone, ravaged centuries ago by disease and war. Their town sites are mute memorials marked by towering mounds of shells. We climb to the top of mound at the Randell Research Center site in Pineland, just a stone's throw from the sound's rich fishing.  The vista is one of ragged pine tops, a nearly endless expanse of water dotted by countless small islands of sand and shell, and nary a tourist high-rise or timeshare in view. Only two powerboats ply a far off channel.
"Once you slip your kayak in the water the rest of the world kind of disappears. It's quiet out on the water. It's always gin clear, and the best part is there are always fish to be found," Jim Van Pelt tells me later. He fishes the sound at least 15 days a month, for the Kayak Fish Southwest Florida guide service and his own pleasure.  "With a little local knowledge of the area you can pretty much always count on a nice sized redfish, some trout and there are resident tarpon out there year around," he adds.
Oh, those reds. Those low-tide tailer frenzies are reliably predictable. They coincide with the negative tides that arrive with each new and full moon. On Pine Island flat, the shallow grassy water keeps power boaters at bay. Although the stucco sprawl of anywhere Cape Coral and everywhere Fort Myers are nearby, there's little fishing pressure off funky Pine Island.
"This is the one place you consistently see tailing redfish. They're not super spooky. It's not Tampa Bay where they're run over every single day," my old friend John Donohue says. The Hobie staffer is gushing about his happy place.
"Late fall through winter it's a sight-fishing Mecca. The water is crystal clear. It's all about stealth and the approach. Long accurate casts. As you move into spring and summer's higher tides, the big snook roll out of the creeks. Pine Island Sound is topwater heaven," he says.
Alas, my timing is unlucky. The redfish are shivering, the snook cold-shocked. At least there are the sea trout, a little overlooked. Donohue reckons the waters just off historic Tarpon Lodge, established in 1926 and scarcely changed despite the worst efforts of Hurricane Charley, as some of the world's best for snaring big trout on surface plugs. I'd get a taste a little later.
First we admire the Lodge's spectacular tarpon mount and take in the historic fishing photos that adorn the old walls. Later, we stride across the original creaky wood floors, watch the sunset play across an incandescent sky of orange and pink, and guiltily sink into luxurious pillow-topped beds.
If that's a little too rich, Cayo Costa State Park is a paddle away across the sound, offering inexpensive rustic cabins and boat-in camping. The outer islands draw a wandering kayak angler's eye: Boca Grande, undeveloped Cayo Costa, north and south Captiva, and Sanibel. Each is a stop on the Great Calusa Blueway, 190 miles of marked paddling trail. Next time.
As the sun falls on that final Pine Island evening after finally pulsing its warming energy into waters chilled by that untimely freeze, I get a glimpse of the potential. "One last cast," I mutter. Then boom! I'm bent. It isn't a redfish; this late biter is a nicer speckled trout. Nothing huge, but respectable enough to bring me back. When's the next springtime minus tide?  I'm ready for a redfish riot.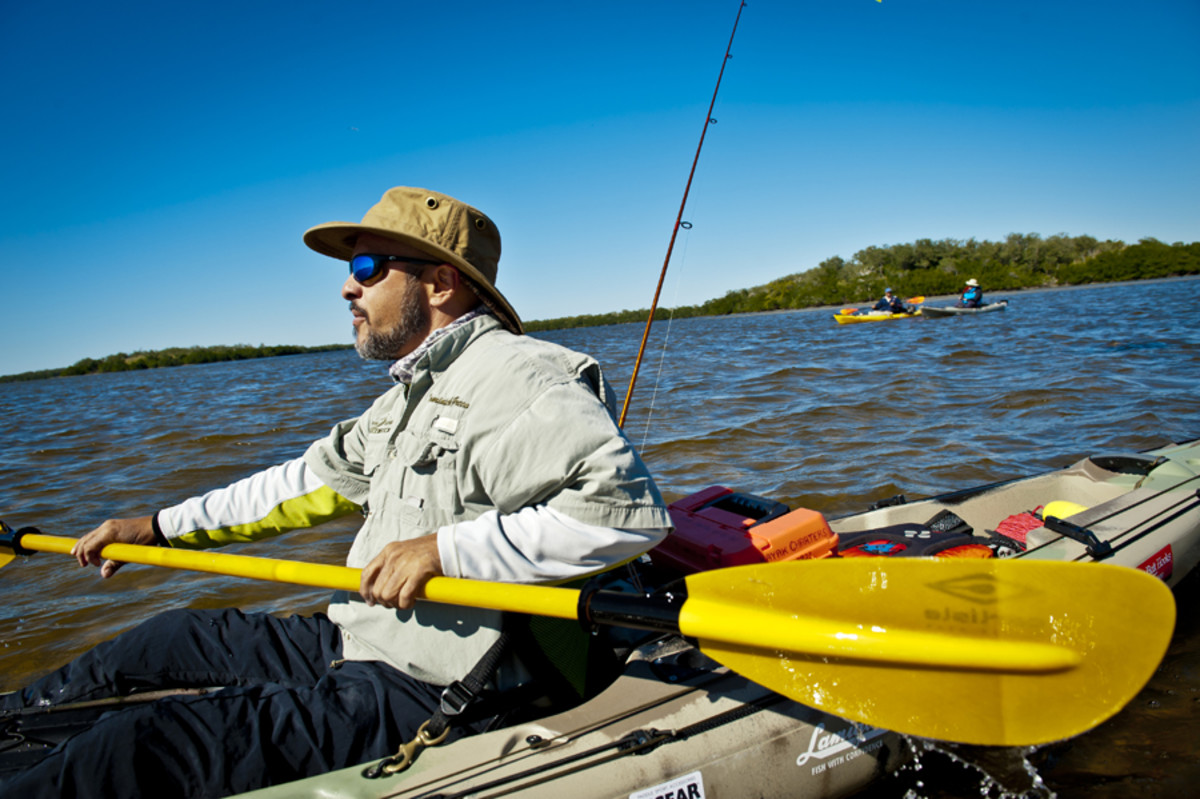 Eagles and Mice
"An old chief told me, if you want to catch an eagle, you must first understand the mouse," Dominic Greco says. The Kayak Charters guide is talking story about his approach to fishing Pine Island sound, or any other flat. For him, it starts with freshwater.
"As a kid, largemouth and smallmouth intrigued me. I was obsessed with figuring the pattern. I'd sit and watch them feed throughout the year," he says. The seasonal differences determine the approach most likely to find success.
"Observation is the key," he says. Those four words encompass the patterns of the entire marine food web, from tiny microorganisms (the cheese to Greco's mouse) up to trophy game fish (the eagle), and the structures they orient on. Follow the food and match the hatch. It's no secret.
At Pine Island, glass minnows and small greenbacks are common forage species. Away from the shallow grass and in the quiet times between topwater bites, Greco imitates them using three-inch plastic shad tails. Choosing a plastic is a tradeoff between action and durability. He errs on the side of toughness, opting for Strike King's Redfish Magic bodies. "The 3X material can get hammered all day and retain its shape," he says. On sunny days, Greco's standby color is white with flakes. When it's overcast, he switches to darker colors.
Greco threads his plastics onto Mission Fishin Lure Co. short shank mud / grass jigheads, often 1/16th ounce, presented on 10- to 15-pound braided line topped with a stretch of fluorocarbon the length of his outstretched arms. It's a typical finesse setup, worked with an erratic retrieve emulating a wounded minnow. Greco alters the retrieve to fit the depth of the water.
"Fish are more apt to eat a lot of small meals rather than one big meal," he says, confident that he catches as many or more big fish by matching the hatch than he would flinging so-called "big fish baits."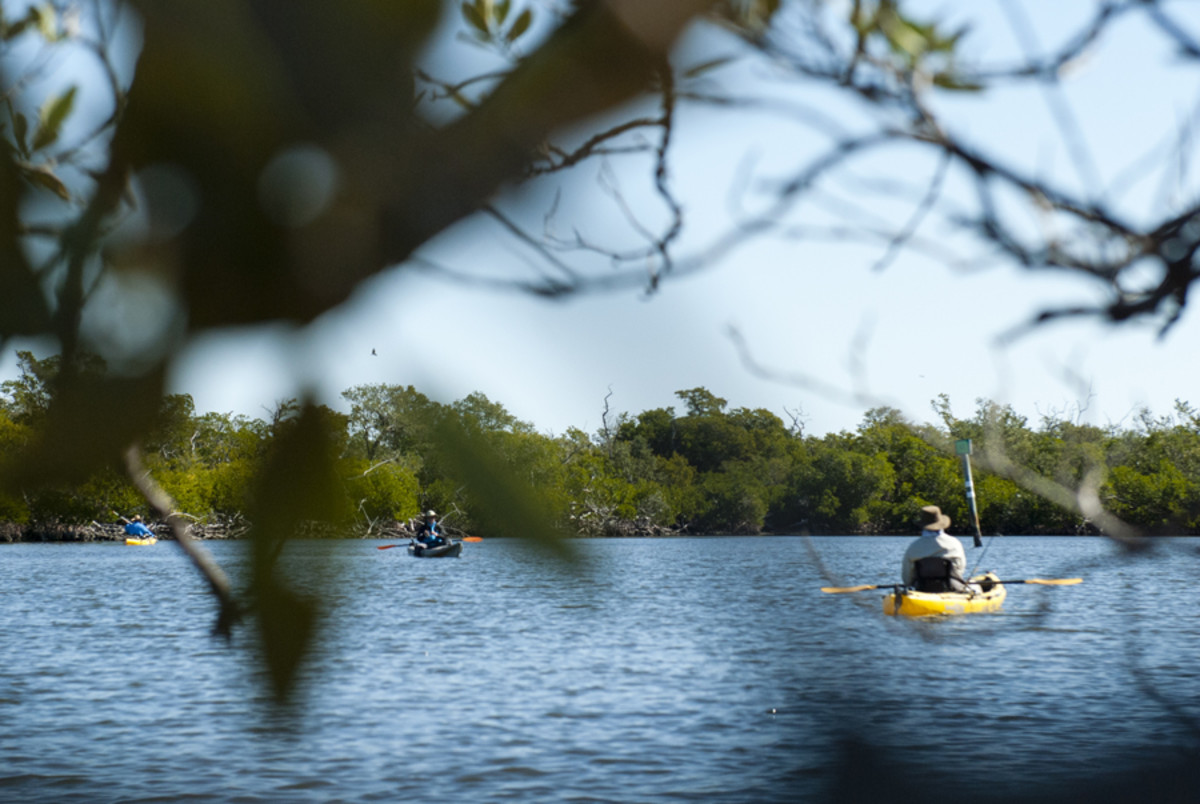 If you go:
Pine Island is a short 30-minute drive from the southwest Florida towns of Cape Coral and Fort Myers. The Great Calusa Blueway website and iOS app are excellent resources for exploring the Pine Island locale, paddle trail and put-in maps, and accommodation information (www.calusablueway.com). Guide services such as Greco's Kayak Charters (www.kayak-charters.com) and Van Pelt's Kayak Fish Southwest Florida (www.kayakfishswfl.com) offer patient instruction, rigged fishing kayaks, and tackle tuned for the local conditions. The Southwest Florida Kayak Angler's Association online forum (www.swfkaa.com) is worth a visit for a taste of local knowledge.
The article was originally published on Kayak Fish
For access to exclusive gear videos, celebrity interviews, and more, subscribe on YouTube!