In June 1984, kayaker Bruce Gipson shoved off from the Bahamas' Bimini Islands and, 12 hours later, landed in Florida, setting a world record for fastest human-powered crossing between the two points. Last November, 31 years later, he returned to exactly the same beach, preparing to do it all over. "I'm standing there going, 'I can't believe I'm doing this again,' " he says.
In 1984, when Gipson was 30, he hit on the idea to kayak from the Bahamas to Florida — something only a few others had done. He still can't explain why he became so obsessed with it. "Something stuck in my head," is all he can say. Paddling mostly at night, he made the 57-mile voyage in 11 hours and 46 minutes, ending up in Fort Lauderdale. Besides a few friends, no one even paid the record attention. "After I did it the first time, I never thought about doing it again." He went on to become a firefighter in Miami Beach and a member of the U.S. Kayak Marathon team.
SPECIAL FEATURE: Dying for the Record

Deciding to re-create his feat was another whim. In 2014, Gipson teamed up with Lee McGregor, a longtime South African kayaker, for an event at a paddling competition in Oklahoma City. The two won gold. Afterward, Gipson struck on the idea of breaking his old record — even he's not sure why. "I simply said to Lee, 'You want to do this crossing? I think we can do it faster.' "
Now 62 and 64, respectively, Gipson and McGregor had no time to train together before launching. They left at 5 a.m. to avoid the heat, but the temperature was already in the 80s. About six miles into the journey, McGregor realized what he was up against. "The island disappeared and before us was nothing," he recalls. "You think, 'Shit, we've only done three hours, and we're not even halfway.' "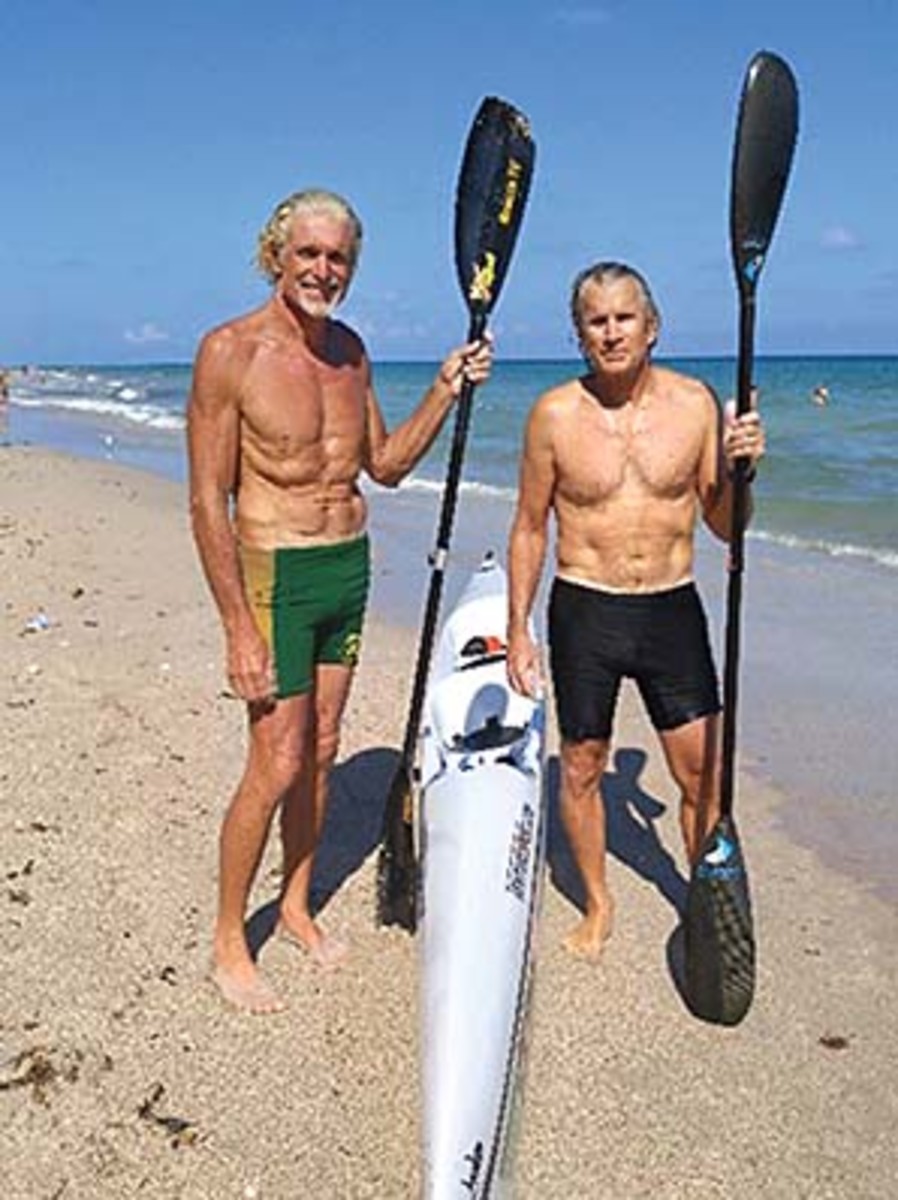 Touching down in Florida. 
Luckily, the waters were largely calm and the weather clear. Their carbon kayak was lighter and faster than the fiberglass one Gipson had used in 1984, and GPS helped them stay on course in the strong Gulf Stream currents. "It's like crossing a river," McGregor says. "Start heading too far north and you're suddenly going to New York." Another minor change: In 1984, Gipson took along a waterproof  Walkman; this time he brought an iPod.
The men paddled seven miles an hour until the last few miles, when dehydration began to wear on them. When they arrived at Hallandale Beach, in South Florida, after eight hours, they were so drained they could hardly walk, let alone celebrate. A stranger approached them and asked where they'd been, then responded with a dumb joke. "We told him the Bahamas," says McGregor, "and he responds by saying, 'Will you take my wife next time?' You think you've done something special, and then this guy comes along. . . ."
Gipson, who now holds the fastest and fastest solo records for the crossing, felt a sense of accomplishment — or, at least, finality. "About five miles from the finish, Lee said, 'I hope you're not thinking of doing this again,' and I said, 'I'm not.' It's about knowing that if you really want to do something, you can do it."
For access to exclusive gear videos, celebrity interviews, and more, subscribe on YouTube!