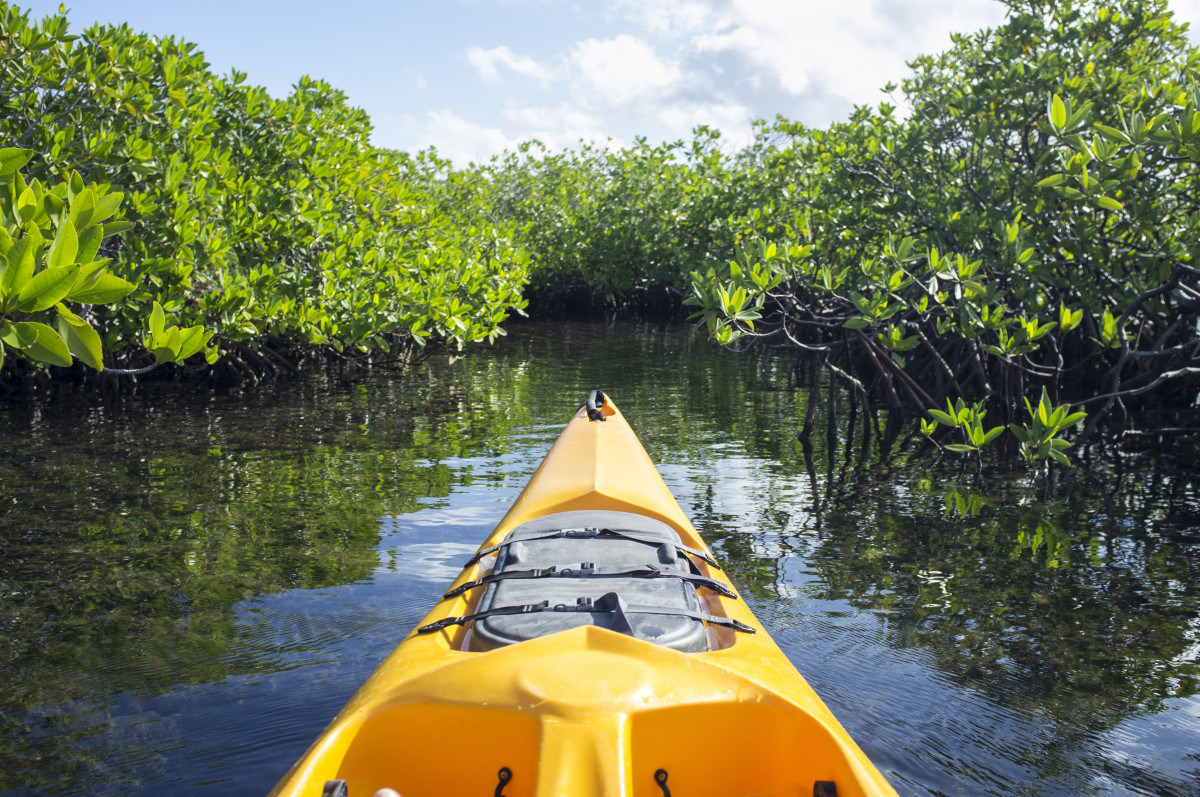 By Tracey Schultz
The vivid blue feathers of a Cayman Parrot's wing catch my eye as it swoops from a hollow tree. A prehistoric looking iguana is sunning himself in the bright morning rays peaking through the leaves. Everything is quiet, calm, and peaceful. I'm kayaking Grand Cayman's mangrove forests, navigating between the gnarled roots of the red, black and white mangrove trees, and it feels as though I've entered a world time forgot. A short 30-minute drive east of Grand Cayman's bustling capitol city Georgetown, and the crowds and high-rise hotels at Seven Mile Beach, awaits a haven for adventure and discovery.
Grand Cayman's protected mangrove forests serve as a sanctuary for parrots, iguanas, juvenile sea turtles, lobsters, octopi, sea horses, barracudas and countless fish species. The trees have adapted to their high-salt, low-oxygen environment. While other plant species have not survived the hostile conditions, the mangrove thrives. This diverse coastal wetland is vital to the islands thriving coral reefs, marine life and crystal clear Cayman water.
Tom from Cayman Kayaks, located on the island's North Side, leads the way. A Grand Cayman native, and passionate environmentalist, Tom is a wealth of information and island history. Between pointing out wildlife, Tom explains how crucial the mangrove wetlands are to the environment. These forests protect the island from large waves during hurricane season, absorb salt, and filter rainwater before dispersing it to surrounding reefs. This is vital to keeping the water clear of sediment, and full of healthy marine life. Tom keeps his visitors entertained by interjecting interesting island history. He explains how today Grand Cayman's mosquito population is thankfully under control. Before 1965 they were so prevalent cows suffocated from mosquito plugged nostrils! Fortunately today the island is sprayed daily for the insects, and monitored closely for disease. Tom's Hands-on approach adds to the experience, letting his guests touch and hold marine creatures like prickly red starfish and squishy sea anemone.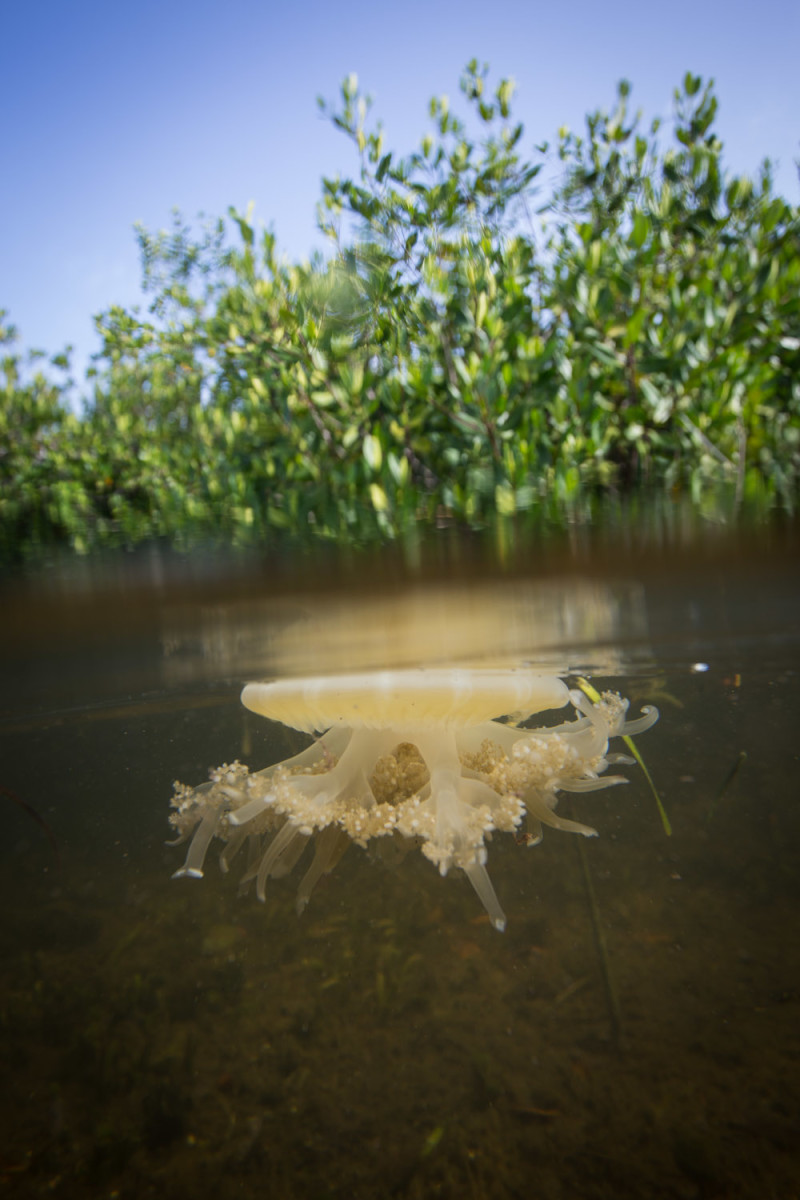 As I paddle through the lush tropical waterway I notice a raincloud gathering in the late morning sky. The North Side of the island is considerably drier than Georgetown, which receives nearly 40% more rainfall. Tom explains that each day the mangrove wetlands produce a raincloud that is blown East by the island's prevailing wind, keeping the landscape lush. Yet another reason to respect and preserve this majestic and thriving ecosystem.
While paddling between the raised mangrove roots, visitors catch a wonderful glimpse of this complex ecosystem. Unfortunately, many of these wetlands have been depleted to make room for luxury hotels and upscale homes on the desirable oceanfront property. The Grand Cayman National Trust is working to save the mangroves by purchasing the mangrove acreage for preservation. Eco-tours, like this kayaking tour, help raise awareness about how vital these coastal forests are for marine life, coral reefs and maintaining the island's bright, clear turquoise water.
Learn about paddling Grand Cayman's Bioluminescent Bay and exploring Little Cayman's Owen Island
The article was originally published on Canoe & Kayak
For access to exclusive gear videos, celebrity interviews, and more, subscribe on YouTube!