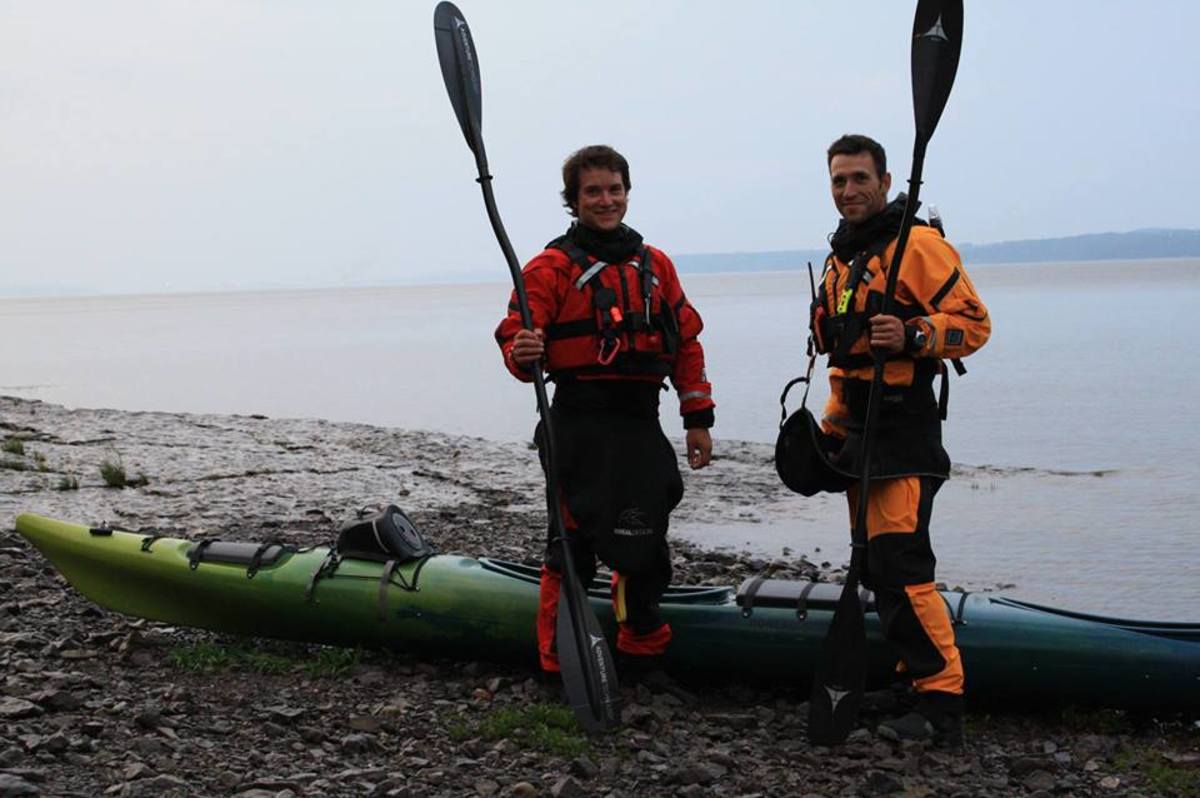 By Eugene Buchanan
Two firefighters from Canada are quietly attempting to kayak the fabled Northwest Passage in a single season–a feat never before accomplished.
On July 18, Canadian firefighters Sebastien Lapierre and Olivier Giasson departed from Tuktoyaktuk, Northwest Territories, for Igloolik, Nunavut, in an attempt to be the first team to kayak the Northwest Passage in a single season. While the legendary passage has been paddled before—including a multi-year trip by Jonathan Waterman in the late '90s by sea kayak, ski, foot, dogsled, and, briefly, sailboat, as highlighted in his book, Arctic Crossing—it's never been accomplished in a single season.
Giasson and Lapierre plan to be the first and for a good cause. Dubbed the RÊVE DE GLACE expedition, translated to mean "Dreams of Ice," Giasson and Lapierre are undertaking the journey to raise funds for the Quebec Firefighters Foundation for burn victims.
They will need the stars to align to successfully complete their journey. Over the course of the trip, they plan to paddle more than 2,200 kilometers in less than 80 days in order to reach their destination before the sea freezes.
To make it, they'll need to travel approximately 28 miles per day in their tandem Boreal Designs kayak, stopping at various Inuit villages to resupply their stocks of food and supplies. Sponsor Kokatat is equipping them with drysuits and lifejackets.
Long accustomed to the hardships of fire fighting, the duo expects to encounter even more harrowing conditions on their journey, including everything from strong winds, raging seas and potentially trip-ending weather to polar bears, shifting ice floes and more.
Still, the one thing they have going for them is years working together as a team and familiarity with suffering in the Arctic. In 2010 they spent a month unassisted on the Greenland Icecap.
For more information visit www.revedeglace.ca.
Sidebar: The Northwest Passage At a Glance
The Northwest Passage is a sea route through the Arctic Ocean, connecting the Atlantic and Pacific Oceans along the northern coast of North America amidst the Canadian Arctic Archipelago. For centuries, explorers have tried to piece a route through the maze of islands as a possible trade route. In 1845 an expedition led by Sir John Franklin tried to solve the puzzle but their ship became trapped in ice with no evidence found of any survivors. During the search for Franklin, Robert McClure, commanding the HMS Investigator, traversed the Northwest Passage from west to east from 1850 to 1854, despite being trapped by ice for three winters, becoming the first people to discover and transit the Northwest Passage by ship and sledge. The section was first navigated in full by Roald Amundsen in 1903–1906. Until just recently, Arctic pack ice prevented marine shipping in the region for most of the year, but climate change has since made the waterways more navigable.
The article was originally published on Canoe & Kayak
For access to exclusive gear videos, celebrity interviews, and more, subscribe on YouTube!