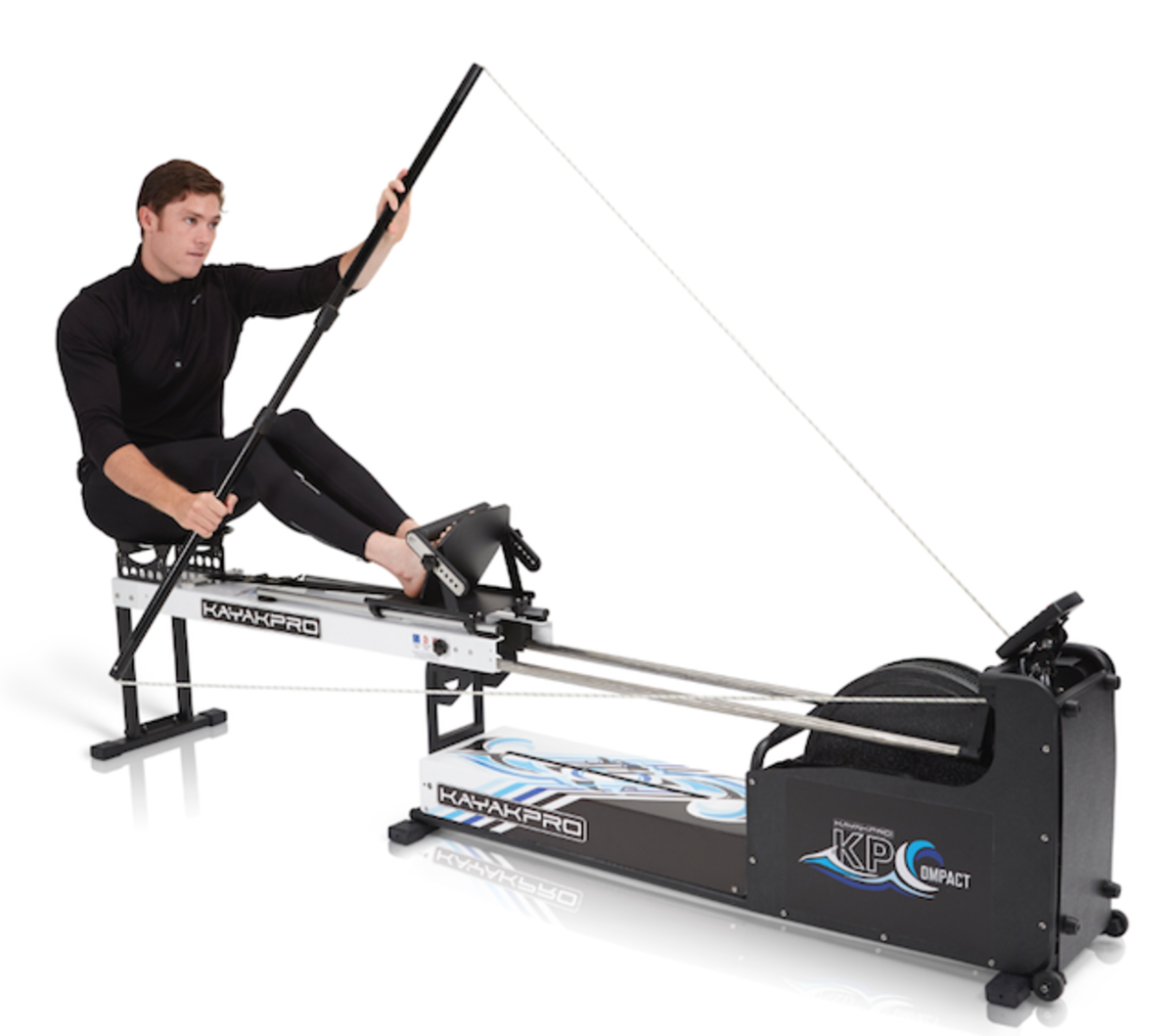 By Jeff Moag
They say that miles make champions, and you'd be hard pressed to find a competitive paddler or coach who disagrees. The best way to get fit and improve the efficiency of your stroke, they say, is to sit your butt in the boat and paddle.
That's great advice, until the days grow short and your local waterways ice over. That's when serious paddling athletes turn to a quality ergometer. It's not a substitute for those quality on-water miles, but it can be a terrific adjunct to them.
This winter, C&K had the chance to test the new KayakPro Compact Ergometer. This sleek self-torture machine uses the same flywheel mechanism in KayakPro's line of full-sized kayak and canoe ergometers, which have been the choice of many national teams and top clubs around the world. The compact version provides the same workout as its larger siblings, then folds into a manageable size for storage in a closet or discreet corner of your apartment.
When I began to pour on the power, the KayakPro matched my effort and gave off a satisfying hum.
When the box arrived I was surprised at its weight. The machine may be compact, but it is certainly not light. As I began the assembly process, the reason was clear: The KayakPro is overbuilt in every way. The seat rail is sturdy stainless steel. The screws—packaged by size in individually labeled Ziplocs—are machine-grade, the kind you pay a buck apiece for at a good hardware store. The seat is a work of art in carbon fiber, like something you'd find in an Olympic paddler's race boat. Even the included set of hex wrenches was far nicer than anything in my toolbox. Assembly took about 15 minutes. I plugged in the monitor and took a few warm-up strokes.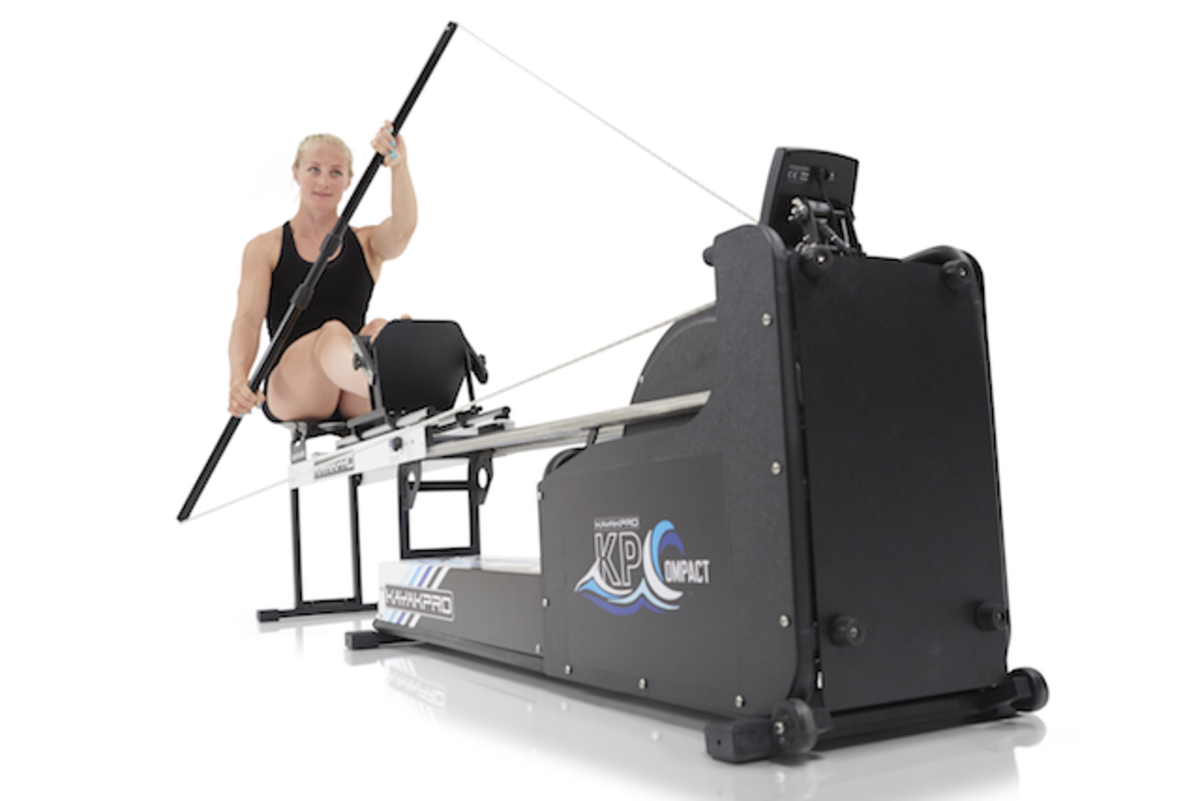 I'm no stranger to ergometers. In 15 years as a competitive rower, I spent thousands of hours on a Concept II rower, which like the KayakPro uses a fan-like flywheel to create resistance. The erg was always there for me, ready for a workout in the dead of winter or dark of night. The same athletes who say that miles make champions also like to say you either love the erg or hate it. I learned to love it, and as I spun through my first workout on the KayakPro Compact Erg, those warm feeling began to come back.
The catch was quick and sure, and the flywheel provided smooth resistance. When I began to pour on the power, the KayakPro matched my effort and gave off a satisfying hum. The patented variable resistance flywheel allows you to quickly adjust the level of resistance, like shifting gears on a bicycle. The seat height and angle is also adjustable, as are the footboards. The machine feels solid, as you'd expect from an erg of its price and pedigree. Developed by Grayson Bourne, a 5-time Olympian world champion flatwater sprint kayaker, this machine is designed to stand up to daily use by some of the strongest paddling athletes in the world.
I gave the KayakPro a far less rigorous stress test. The Onboard Console provided a brutally honest assessment of every stroke I took. No matter how I parsed my workouts—distance, heart rate, calories, watts or 500-meter splits—that unblinking black box confirmed that my efforts hardly constituted a trial of the KayakPro's durability. But over the three weeks I had the machine, my splits improved steadily. I made technical adjustments in my stroke, and was rewarded with better scores. The erg's digital readout and 24-hour availability gives athletes something even those water miles can't: the advantage of precision and consistency in their training.
When you're finished with a workout, just loosen a pair of thumbscrews and slide the seat rail over the flywheel section. Now your KayakPro is a tidy box 4 feet, 7 inches long by 23 inches wide. Pick up one end and wheel it to the nearest closet, but don't leave it there long. This machine is meant to be used. $2,550; kayakpro.com
The article was originally published on Canoe & Kayak
For access to exclusive gear videos, celebrity interviews, and more, subscribe on YouTube!