The 2018 Jaws Challenge took off at full force Monday morning as Justine Dupont got swept over the falls and broke her board after attempting to take off on the contest's first wave in Semifinal 1.
Shortly after that, Paige Alms scored a 4.33 and Dupont followed up with a 5.50.
Following the two highest-scoring waves, Andrea Moller scrapped a 1.00 (X 2) – which advanced her to the finals as the top three spots of each heat moved on.
The heat's remaining competitors, Jamilah Star and Raquel Hecker did not catch any waves.
Moments after the first three waves were surfed, a jetski got swept underneath a massive wall of whitewash during a rescue.
The action-packed first heat set the tone for what is to be expected from the 2018 Jaws Challenge.
The second Semifinal heat was stacked with Keala Kennelly, Bianca Valenti, Emily Erickson, Isabelle Leonhardt and Silvia Nabuco. The beginning of the heat took a slow start as everyone anxiously waited for the action.
With 25 minutes left, Nabuco paddled for a wave that she decided to pull out of, which took her to the inside just before the heat's first major set rolled through. She was then forced to take two waves on the head before the rescue team was able to get to her.
During the rescue, Kennelly was took off on her first wave but as she was getting to her feet, a strong force of upward wind knocked her off her board. This earned her a score of 1.37.
After Erickson pulled into the heat's first completed wave and scored a 2.00, Kennelly took a wave and ended up on the shoulder, scoring her a 1.43.
With under 2 minutes left, the heat took a turn as the first major set finally came through – where Valenti and Kennelly took back-to-back massive slams after getting catapulted over the falls.
Erickson, Valenti and Kennelly moved on to the finals as Leonhardt and Nabuco did not catch any waves.
After two high-impact heats, the stage for the finals was set.
As the finals were getting underway, Dupont got rushed to the hospital with a dislocated shoulder and a strained knee. Despite getting the highest score in the Semifinals, Dupont was unable to finish the competition.
With a relatively slow start, Kennelly broke the ice with an aggressive take off then ended with an abrupt wipeout, which scored her 2.67 on the scoreboard.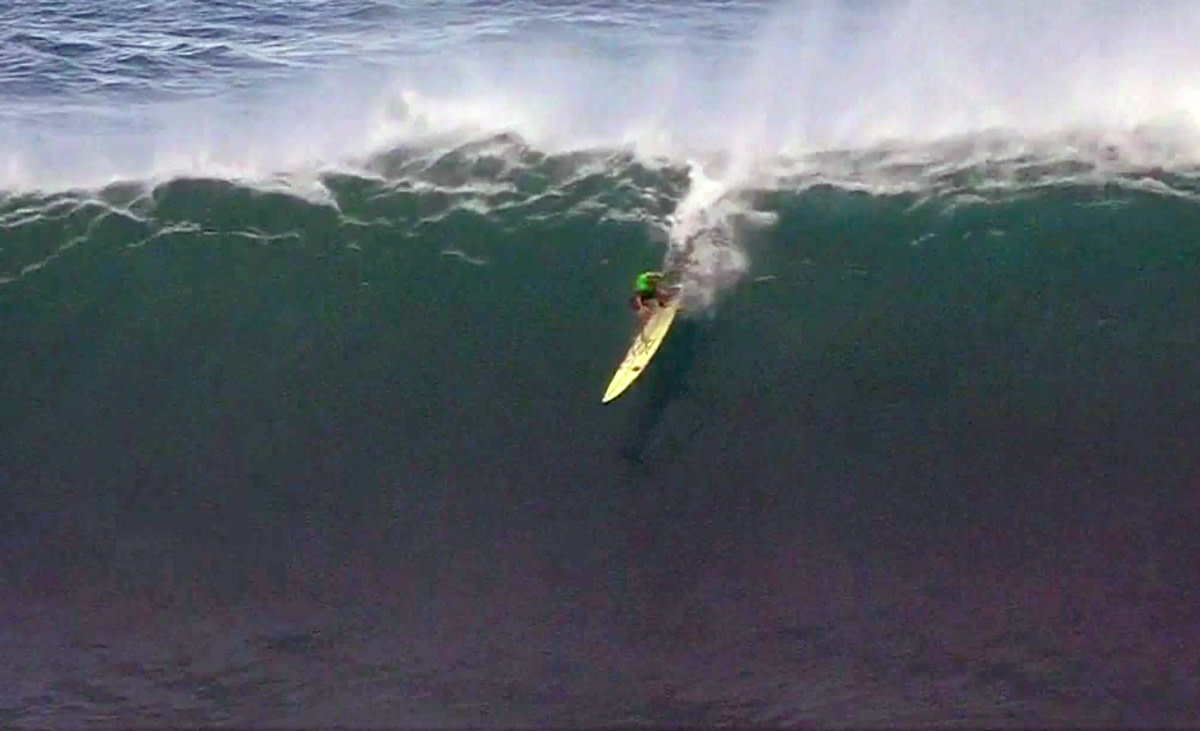 About 10 minutes later another jetski went down, but this time the driver had to jump off as the wall of whitewash coming at him was even bigger than the one responsible for the first jetski slam.
As it smashed against the rocks onshore, Erickson completed a wave gracefully and scored a 3.93.
Following Erickson's score, all the women were putting it all on the line to land the spot in first place. Most notable, Kennelly as multiple massive slams didn't stop her from charging another one (on one of the biggest waves of the morning) which scored her a 2.97, and pushed her to first place with a total score of 8.61. This dropped Erickson's 7.86 total score to second place and Moller's 5.80 to third.
Shortly after it was realized that the race for first was reaching its pinnacle, Alms took it one level higher when she risked it all on a late take off on a massive set wave. With a score under what she needed, she signaled a jetski driver and got back out there, hopeful to get one last opportunity to turn the heat.
With just 10 minutes left, Kennelly showed her passion and drive to win as (already in first place) she was eagerly sitting on the peak, attempting to provide herself with more opportunity.
At this point, the only competitor to not take off on a wave was Valenti. With last place needing only a 4.31 (which would then be multiplied by 2 if it was her highest score), the race for first was still underway.
With just 90 seconds left, another set rolled in – giving hope to those sitting below Kennelly.
Although Erickson was the only woman that completed a wave in the finals, the waves she rode did not score as high as Kennelly's, and the hard-charging veteran claimed victory at the 2018 Jaws Challenge.
For access to exclusive gear videos, celebrity interviews, and more, subscribe on YouTube!