One of Canada's Toughest Canoe Routes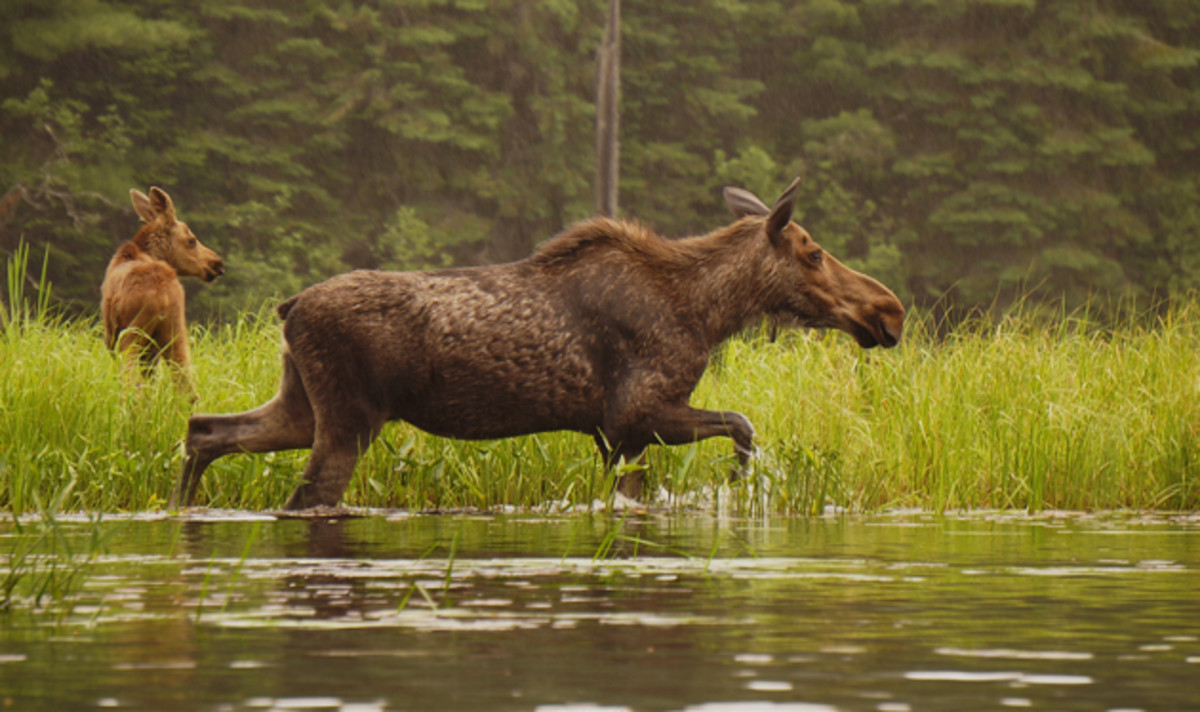 Kevin Callan
The idea to take on one of the toughest Canadian canoe routes came on the way home from Canoecopia in Madison, Wis. We had a long delay on the tarmac, and 10 minutes into the hour-long wait an odor coming from the guy sitting beside began to brew. It was a mixture of body stench, foot funk, bad breath and something unidentifiable. I hated being there. It was so claustrophobic, I felt like a goldfish at a carnival—I prayed someone would throw the ring over the pin, win me and take me home in a baggie. To survive this I knew I needed to go to my happy place.
I searched my side bag and found an old Algonquin Provincial Park map on the very bottom. It was stained with coffee, weathered and torn at each corner, and even had a few dessicated mosquitoes squashed on it. Planning my next canoe trip in Algonquin became my salvation, and out of that long, smelly delay came an insane trip titled The Meanest Link. The 20-day route is made up of 220 miles, 55 lakes, six rivers (three to be paddled upstream) and 93 portages adding up to 42 miles.
This route is the brain child of the Algonquin Outfitters staff, Alex Hurley and Gordon Baker, devised in the summer of 2004. They combined four challenging canoe routes connecting the four Algonquin Outfitters stores serving Ontario's Algonquin Park: Oxtongue Lake, the city of Huntsville, Brent Community on Cedar Lake and Lake Opeongo. It was named in honor and memory of Bill Swift Sr., one of the founders of Algonquin Outfitters. Swifty, as he was most often called, had other nicknames, such as Mean Dude or Meanest, which were a tribute to his gruff exterior persona.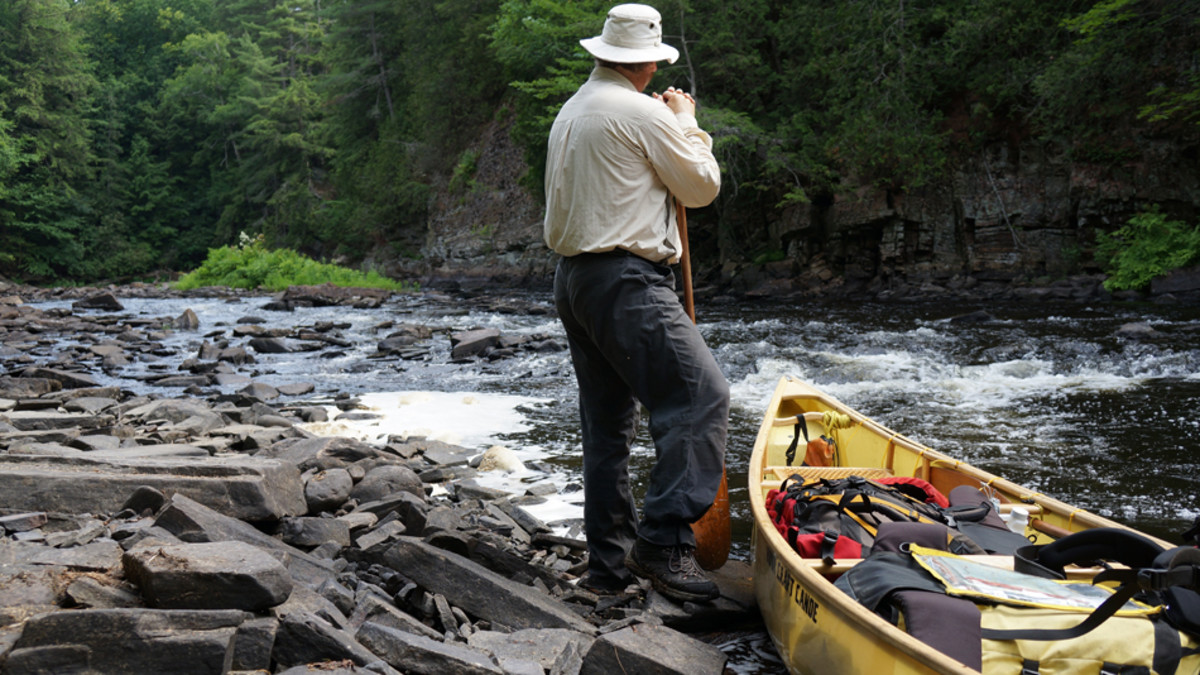 It was one crazy trip; one I wouldn't do again but an experience I'm glad I had. I lost 10 pounds, gained muscles I've never seen on my body before and had mosquito bites all over my genitalia. Doesn't sound pleasant—and some of it wasn't. The most prominent silly portion was going up the Big East River. Never again! Four days of walking up rapids 80 percent of the time—sometimes up to your waist. Andy, my canoe partner who took some holiday time to join me, was pissed at my route choice by day two. That's way too early for a canoe partner, and good friend, to be pissed at you.
His profanity was somewhat justified, however. Algonquin Outfitters' traditional route around Algonquin Park is properly titled. The Meanest Link is exactly that—mean. Problem was, my main focus of the trip was to promote more people to get out and paddle wilderness areas for long periods of time. I think the trip accomplished that. By the half way point Andy and I had gained over 10,000 people following our trip on line, all having the urge to be with us.
What kept us going was the sheer magnitude of Algonquin. This is one big and beautiful park. By day 12 we were more relaxed, more in shape. The area we were paddling in also didn't have many visitors. We were alone and truly enjoying the wilderness solitude. It reminded me so much of a quote I like from Robert Perkins film "One Man in a Boat." Perkins looks out at a remote wilderness section and says, "I feel like rolling it up in a ball and swallowing it so no one else can have it."
Ending the trip was just as consequential as starting it. We unknowingly chose the day of the big Huntsville bathtub races to finish. Helicopters buzzed overhead, speedboats and Jet Skis churned up the water around us, and even a police boat pulled us over for a ride check. In the confusion Andy and I found ourselves in the center of the bathtub race and had the organizer belittle us from the loudspeaker.
Hundreds of people lined the Huntsville docks, but only a handful were there to witness Andy and I complete our epic trip. Baker from Algonquin Outfitters, and a couple of his staff, helped us unload and portage through the fans of the bathtub race. The ending was perfect for us, really. Rather then have banners hung and people cheering for us at the finish line, our accomplishments were overshadowed by a bunch of locals propelling themselves across the water with motorized bathtubs.
You'd think that we would be craving the company of other people, or at least a chance to drink a beer and feast on a greasy burger and fries. The whole ordeal, however, was an absolute culture shock. Both Andy and I missed the wilderness and were having a very difficult time adjusting. There were definitely countless times during the trip where we wanted to give up on battling the bugs and long portages. But now we had this strange desire to paddle away from the comforts of Huntsville and do the foolish trip all over again.
That was the proof I was looking for—that feeling of association with the natural world after spending a long period of time amongst it. It was the verification that the desire to immerse oneself in a wilderness setting overpowered the addiction to civilized comforts. That's what happened to Andy and me.
We weren't normal. The average person is not playing out in the woods for long periods of time anymore. Back in the 1930s, outdoor guide books had a typical trip rated to be one month. In the 1970s it was 10 days. In the early 1990s it dropped to five days. Now, the standard trip is a mere two days.
To quote John Muir: "Thousands of tired, nerve-shaken, over-civilized people are beginning to find out going to the mountains is going home; that wilderness is a necessity…"
If we continue this trend then I'm afraid there will be a mass disconnect with the wilderness—which in turn will be the disintegration of wild areas due to our lack of association with them. I'm not saying you have to complete an insane three-week canoe journey around Algonquin to feel the connection—but trust me, go beyond a weekend outing and you'll never be the same again.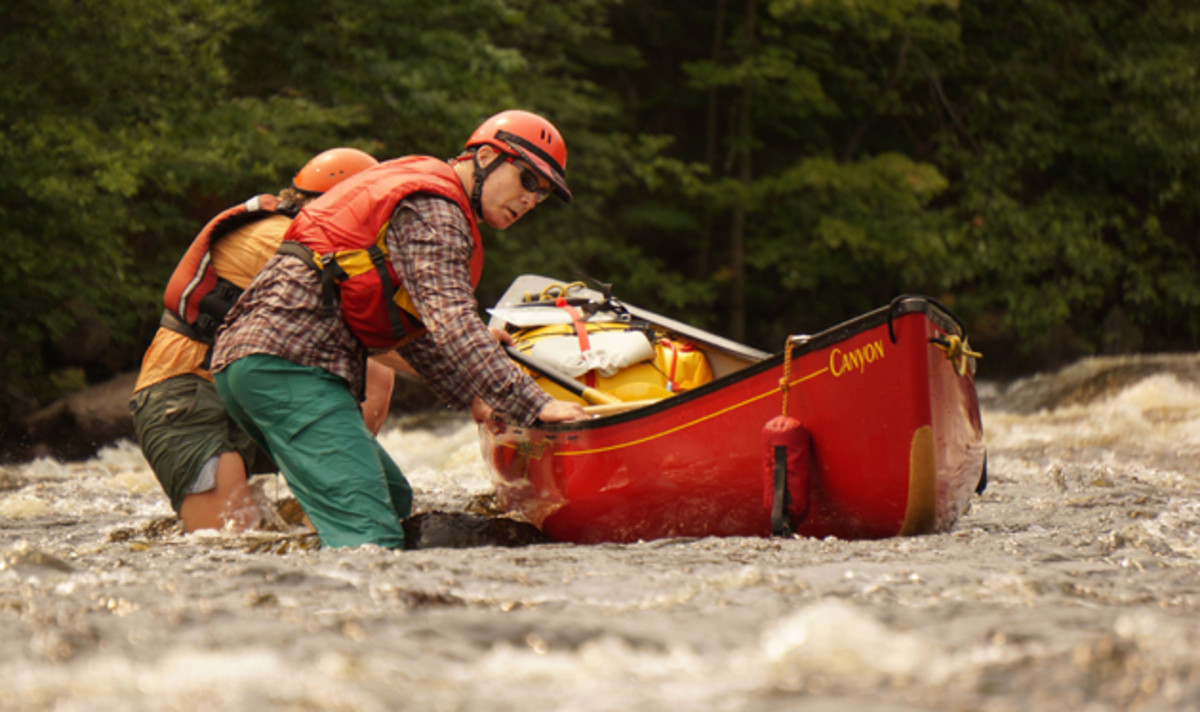 Click to watch the second episode
The article was originally published on Canoe & Kayak
For access to exclusive gear videos, celebrity interviews, and more, subscribe on YouTube!