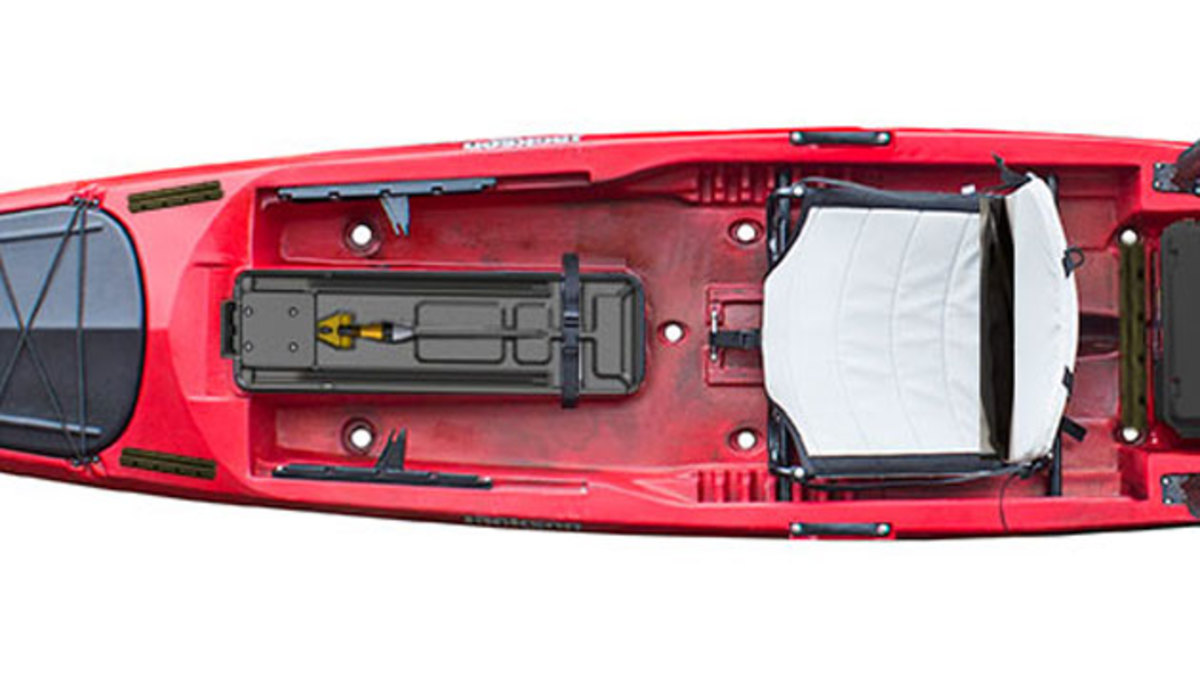 By Paul Lebowitz
True to its name, Jackson's upcoming sea monster of a fishing kayak can't be restrained or contained. The company isn't exhibiting at ICAST – they are waiting for Outdoor Retailer, just a few weeks away – but today revealed most of the Kraken's fishing features. It's a long list full of many firsts, for Jackson Kayak and the sport as a whole. "The Kraken is a kayak designed for some of the most challenging paddling environments in the world," according to a teaser dispatch from Jackson HQ.
"With all these beast boats coming out, the Kraken is going to put the kayak back in kayak fishing," says Jim Sammons, a Jackson fishing team member and star of the the cable TV show The Kayak Fishing Show with Jim Sammons. Sammons is known for his big fish exploits in boisterous water. The Kraken is his dream and, to a large extent, his brainchild.
Sammons and a Jackson design team headed by Tony Lee have collaborated on the design. Back to that dispatch Jackson leaked. Kraken design imperatives include the ability to punch surf, easily and efficiently navigate rough water, and most of all, beat big fish.
"It will handle the weight, the gear, (the ability) to position equipment and manage the process of landing big fish. The Kraken accommodates live bait challenges, rod storage, fish finders and will come equipped with gear boxes (Plano Ammo-style box and custom KKrate) and, like all Jackson fishing kayaks, be ready to fish," the Jackson dispatch continues.
The Jackson teaser document is short on details, but lifts the lid on several intriguing firsts, for the boat and in some cases kayak fishing. There's a bait pump scupper that works with the included KKrate to provide ready-made bait management. An improved version of Jackson's famous Elite Seat will offer adjustable trim – it slides fore and aft in the cockpit. It will be lashed tightly to the boat by a new Elite Seat Retention System – a solid foundation is critical for advanced boat control in surf and other nasty water.
Sammons is excited that the waiting is nearly done. "I have been waiting for a paddler's fishing kayak that has all the features I need, can carry me and all my gear and is a joy to paddle for miles and miles and the Kraken is that boat," he says.
There's more, much of it visible on the top-down deck photo of the prototype shown below. The center hatch is hinged and studded with tracks for accessory mounting, and big enough to slam fish below decks or to stash rods for a surf transit. Serious anglers often take more than two rods – there are four rod holders mounted behind the seat.
This is a first, a purpose-built bilge pump scupper. It joins a transducer compatible scupper, an in-hull battery storage solution, adjustable footpegs and more, including a robust tie-down system for the KKrate. "If you roll you can be confident the KKrate is staying put," the dispatch reads.

The article was originally published on Kayak Fish
For access to exclusive gear videos, celebrity interviews, and more, subscribe on YouTube!